perpetualharvest
Blue Kush Auto
Spring 2020
One Blue Kush auto planted outside. Didn't get much light in the beginning of its life due to cloudy / wet weather. Got about 9 hours of sunlight a day. Moved inside 7 weeks after sprout under 18/6 100w LED QB. 2 gallon airpot.
Hanging to dry! Not sure what to expect yield wise, unfortunate I had to cut early. Next round will be better.
3 years ago
Well fans, I'm chopping today! I recently learned about herming and this plant is doing that. Hurray!
3 years ago
PerpetualHarvest Btw this plant could probably go longer based on the trichomes but I don't want one of those balls to open
PerpetualHarvest Btw gonna do the final trim once they've dried in 5-10 days. Yield wise I'm guessing 20 grams lol. Good news is this frees up a pot!
Watering with coconut water
3 years ago
Thickening up😳
3 years ago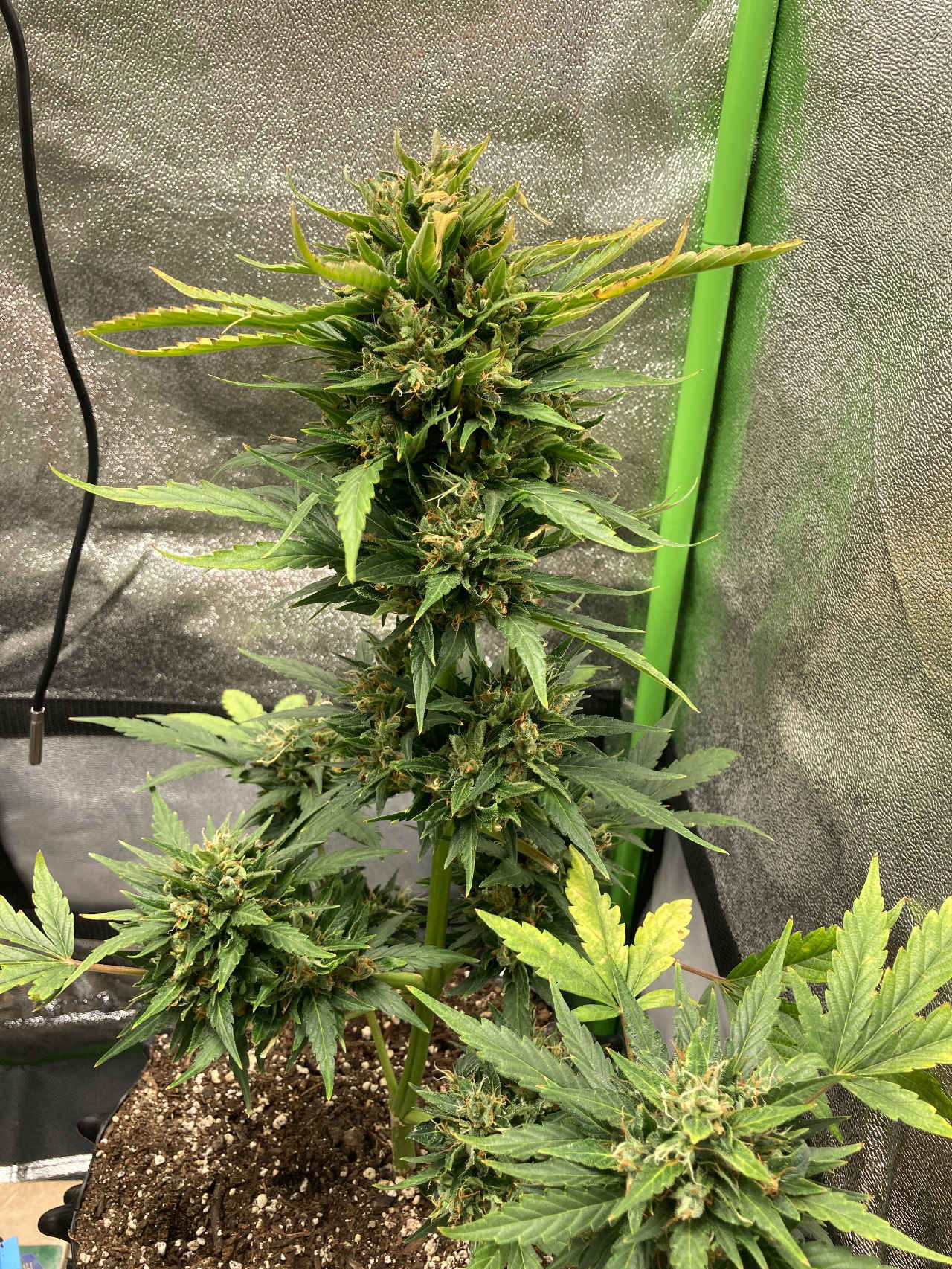 Still fattening up. Buds looking decent, really hope this finishes strong. Probably will water tonight with molasses as usual but a bit extra for that late flower stage carbs / sugar. I attempted to water at night and saw I have a bit of a gnat problem meaning I've been watering too often. Hopefully it isn't too damaging
4 years ago
She is starting to fatten up!
4 years ago
PerpetualHarvest Pulled her out to water, lots of light stress on this girl up top. Hopefully her buds fatten up before we run into any major problems
Day 63. Watered with blackstrap molasses this morning. Plant looks to have most possible issues. Definitely light stress, calcium deficiencies, probably others. Hopefully she will finish soon so I can get started on a real fully indoor grow. Still has the nice OG Kush smell, really enjoying the gassy smell.
4 years ago
Some big time issues starting to develop. Makes sense there are nutrient deficiencies since I have no nutrient.
4 years ago
PerpetualHarvest @Rex don't think that's a solution here, this is only FFOF not any sort of living soil. However my next run will be with a living soil so stay tuned
Starting to get some light burn among other issues. Inside for 6 days now
4 years ago