Flower
Room
Posting some flower room pics
Snoops Truffizzle getting chopped soon fo shizzle
4 months ago
LeChron James I do recommend this one. Ran two seeds and both plants were incredibly vigorous and will end up with great yields
View 7 additional comments
Columbiana/Starfire Genetics
5 months ago
View 6 additional comments
Bapple Fritz/Starfire Genetics
5 months ago
Gelato Punch/Elev8
5 months ago
Gelato Punch. If you're looking for a fairly easy plant to grow that smells and tastes great with a wonderful relaxing but not sleepy feel this is it
5 months ago
Vgrow What is that yellow things in there??
LeChron James I call it a yo yo. It's spring loaded and has two hooks on it. I hang one end from the light/ceiling and connect the other end to Bud heavy branches to keep them from falling over
Snoops Trufizzle from Elev8 lookin SO GOOD
5 months ago
Grandpas Cookies (Ethos Genetics)
5 months ago
Columbiana is getting close
19 days ago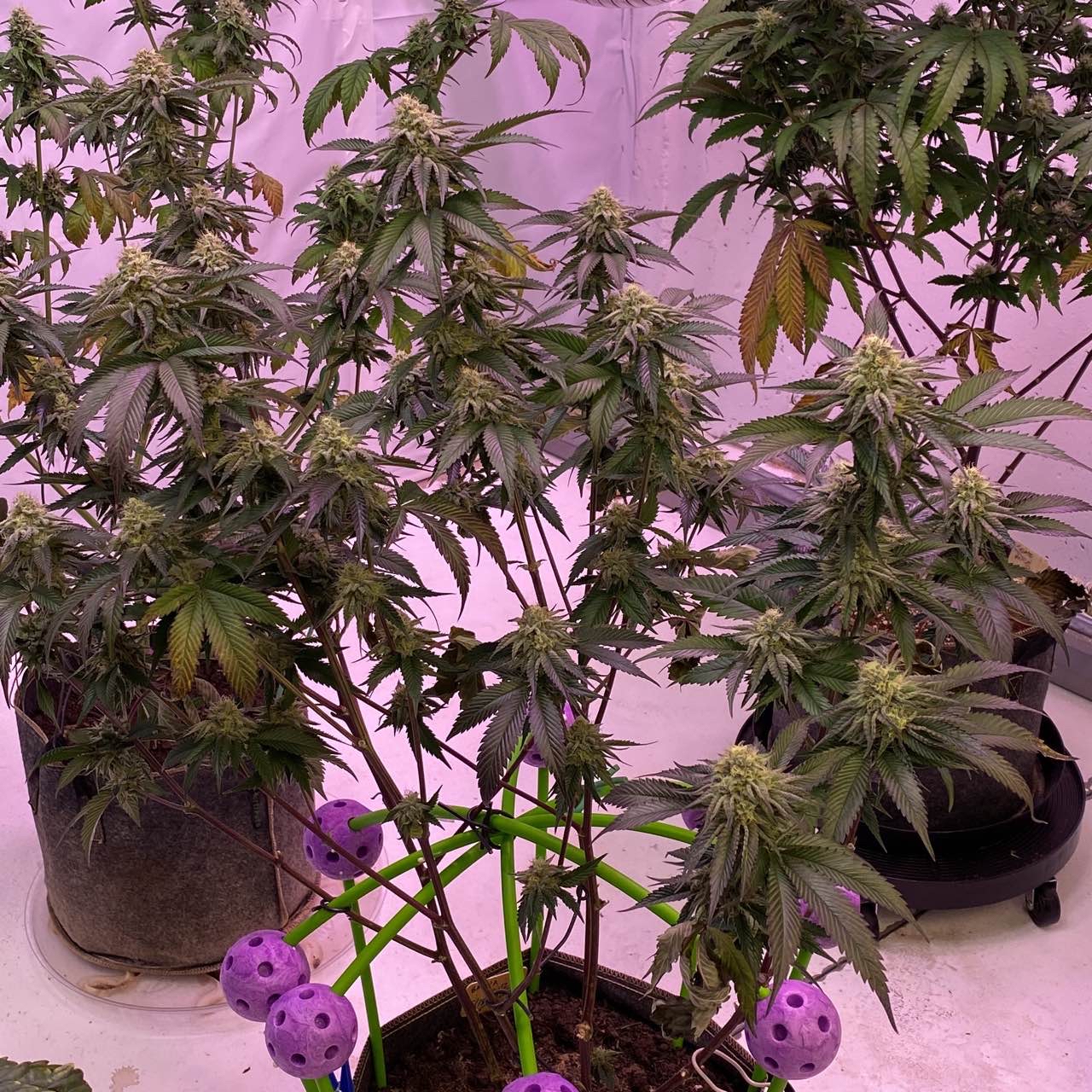 Banana Splitz
5 months ago
Vgrow What is those purple things??
LeChron James An experiment lol. They were from a fort building toy my kids had and we're done with. Kind of like tent poles. I put them in the fabric pot to build a sort of solid under canopy scrog structure.
LeChron James A lot of the phenos I'm growing have very heavy buds but I don't like using scrog nets.
Limonada #5/Starfire Genetics
5 months ago
mushadog I wish y'all could smell this pic. Super sweet and lemony
Devanguy56288 That's a beautiful plant. Hope to get on that level.
LeChron James You'll get there. Happy to help. This one is just a baby. I have 3 phenos in the running for round two. Can't wait to see which one wins so I can grow a full sized one.
Snoops Trufizzle lookin good
5 months ago
Grandpas Cookies hangin in there. Looking forward to the other 2 phenos making their way to the flower room
5 months ago
Snoop's Trufizzle/Elev8
5 months ago
mushadog Did a quick flip on these two Snoops Trufizzle phenos. Despite to short veg the plants caught up with the rest of the garden, more than doubling in size. This pheno pictured is drinking a gallon of nutes per day. Excited to see how the buds turn out and looking forward to running the cuts back on a normal veg cycle
Trying out 3 gal pots. More work but results seem to be there. Guicy G day 21 of flower
14 days ago
Columbiana. Not ready to flush yet.
5 months ago
Apex about 2 weeks on to flower. Good amount of Bud sites. Build A Soil is a good match for Apex so far
5 months ago
View 11 additional comments