Royal Cheese🌱
April 2023 Closet Grow
Planted directly into Root Riots, on April 10, and it came out of the rooter 2 days later on April 12th 🌱
Royal Cheese by Royal Queen seeds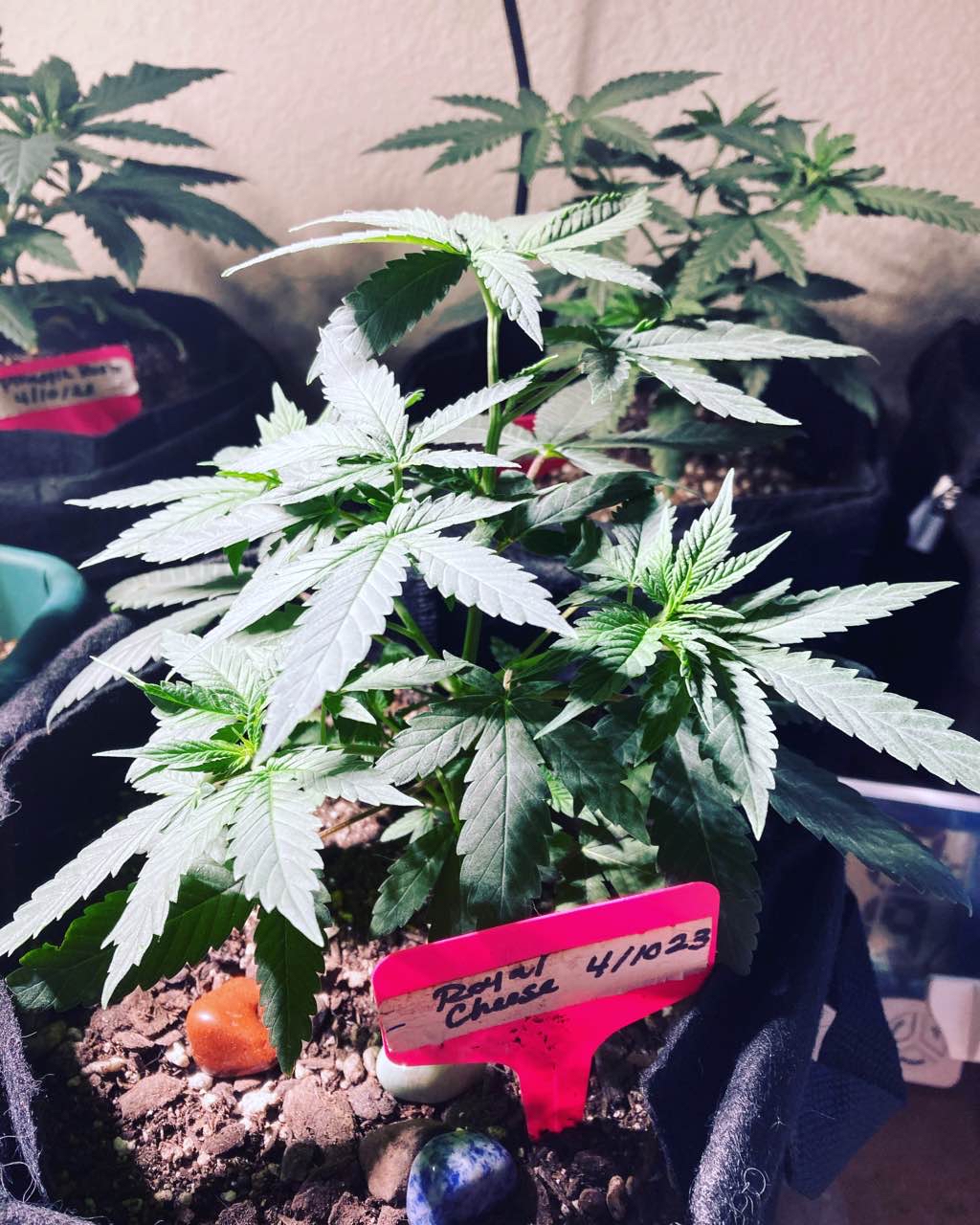 gypsygrowgoddess This beauty is just growing so fast, after topping, and it's such a stout, bushy plant 🔥
gypsygrowgoddess It's a photo period. She's a cross between Old school Skunk, and Afghani. She's definitely short, and stout. I'm amazed how quickly all the new growth came in after topping on May 10th the others were topped a day earlier and her new growth is most noticeable!
Drizz Plants plant looks good nice job👍
View 3 additional comments
gypsygrowgoddess Gave 1st feeding of Down to Earth Veg, 2 tbls per gallon, added more worm castings and topped off with fresh happy frog soil, and watered in lightly.
gypsygrowgoddess Aww. Thank you very much! This is my 2nd grow. I did a closet grow in Oct. of 2018. They all came out nice. But I quit for quite awhile because After ordering from Seedsman seeds, I had so many problems with germination, I just gave up. I really missed growing, so in late March, I ordered from Royal Queen Seeds, and thankfully had much better success. I'm hoping to get some other growers seeds, and be a tester, and breed my own, and pass them out to fellow growers, to test out. I really love the grow community, everyone is so supportive and down to earth. 🙂
organic_grower Ya I love growing too! #1 hobby lol I love smoking my own product. I'm glad you had success with your second round of seed order don't get discouraged over some shitty seeds. Any questions you have I will try and help if you need it. Happy growing goddess!
🐈 Cats 🐈‍⬛ & Cannabis, go hand and hand lol! 🪴🌱 Meet Stormy. … So far, she hasn't tried eating them, just wanted to sniff them, because they were on her table. Lol! Topped right after these pictures. 🙂
18 days ago
ig:@eaegifts Beautiful kitty. Make sure he's not a plant eater like mine lol
gypsygrowgoddess Thanks. So far, Stormy just looks, and smells… I've seen a lot of YT grow vids that show how much cats love weed plants! Lol, I'm definitely going keep a very close eye on her! 🙂
View 4 additional comments
Transplanted into 2 gallon fabric bag, and began veg lighting schedule of 18/6 on Saturday, 5/7/23
19 days ago
Planted 4/10/23 came up 4/12/23
a month ago
April 13-18 day 4- 12 Royal Cheese 🧀 early days
7 days ago
gypsygrowgoddess These two were the first to pop up… Shining Silver Haze, and Royal Cheese