sabbott15
First autoflower grow
Fall 2020
Single autoflower plant, in dwc system
CHOPPED! Shes now drying!
2 years ago
scottishstu 🥳🥳🥳 Reckon you'd do another auto? Once my girls are done I've got some Pineapple Express autos im gonna try for the first time 😀
Flush began 2 days ago. pH is all over. Saw it at 8 just now. Crazy stuff. Plants still look tood. Fans leaves mostly yellow, which im liking at this stage. Trichomes getting cloudy but still a few days left.
2 years ago
Jan 1: flora 10 4 22 calmag 10 ph down 9 Ec 970, pH 6.2 Jan 4: Ec 1.2, pH 6.0, some fan leaves are definitely yellowing, with signs of calmag deficiency. I think calmag damage is done, and they are yellowing due to age as prt of life cycle.
2 years ago
ogeast For your first grow, I must say you did good 👊
Dec 29: ec 1.2, pH crashed down to below 5.5 again! Ec is up by .2 also! Maybe 12 pH down is too much!!! Added .5mL pH up Dec 29: morning pH back below 5.5. Added Another .5mL pH up. Ec up to 1.27 now also Dec 30: pH below 5.5 AGAIN! Now with major rust spots on leaves. Definitely CALMAG lock out due to pH being so low last few days. Pretty annoying because it just wont stay high. I added another 1ml of pH up its now sitting at 6.3 will check again tmrw
2 years ago
Dec 26: well i checked pH and it was below 5.5's which really sucks. Didnt even check ec, but topped up res by a couple inches pH now 6.1 ish but need to check again tn. Lesson learned: must check pH after adjusting. Dec 27: 1am ph is 6.25 Ec .8 need to do wc tomorrow Dec 27: flora 12 4 20 calmag 10 pH down 12 Dec 28: ec 1.03 pH 6.0
2 years ago
Dec 24: ec back up to 1.3's water dropped so i topped up. Ec now in 1.1's pHing to 6.1 (currently 6.35)
2 years ago
Dec 18: Ec 1.125 pH 6.15 Dec 21: ec rose to 1.34. I topped up as water also dropped a couple inches. Ec now back in 1.1 range, pH 6.3 Dec 22: ec now 1.23 up from 1.1 yesterday. pH 6.0
2 years ago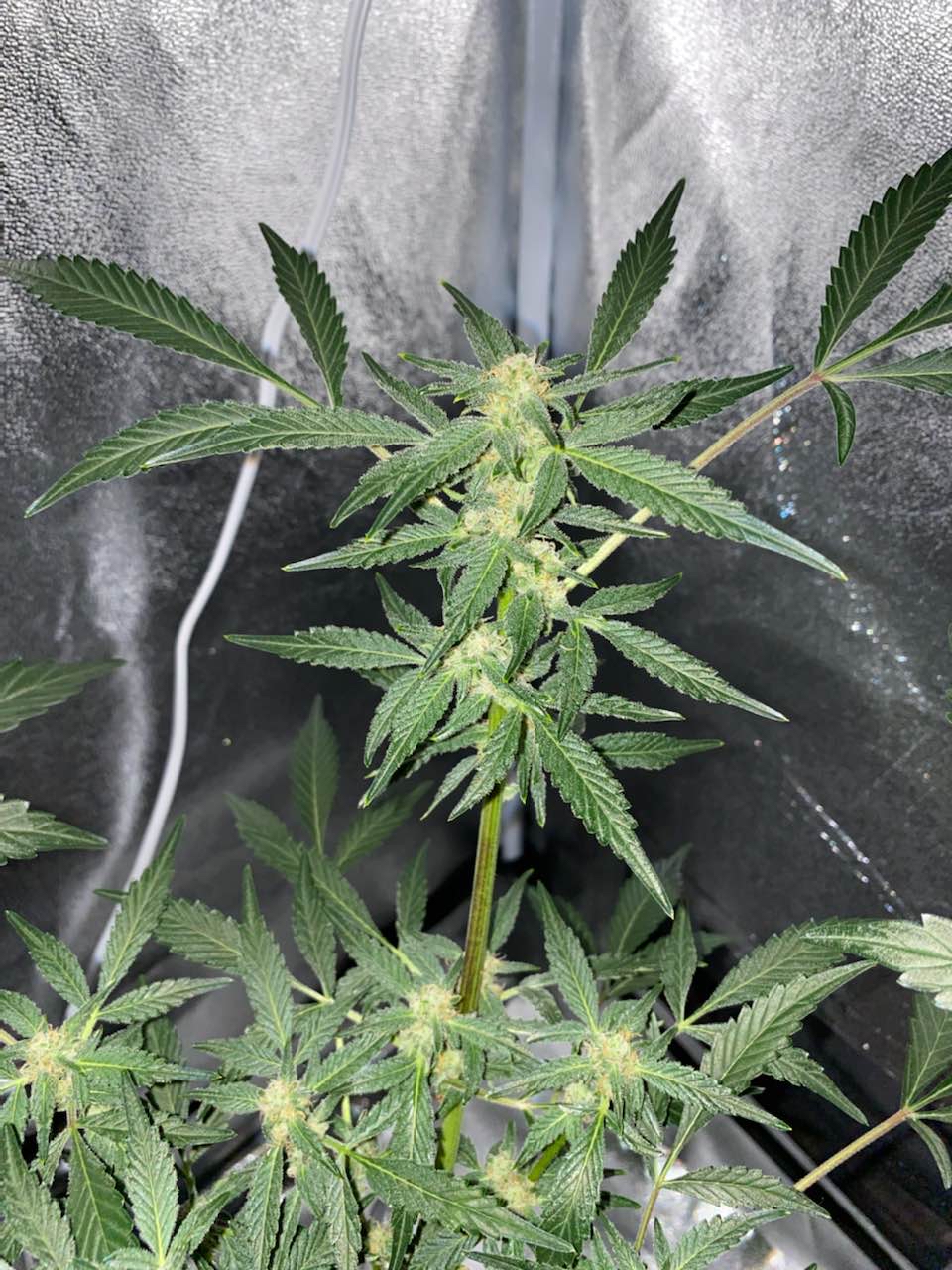 Dec 17 12.5 5 20 flora 10 calmag 12.5 ph down + .3ph up, pH 5.85 EC 1.06
2 years ago
BURNT TIPS! N TOXICITY! I dont know if EC 1.5 spike is what did it or if the 1.3's were too high. I noticed some slight clawing, and leaves had seemed dark for a bit. I dropped ec to 1.11 today by dilliting res. Hoping this issue stops i dont plan to go past 1.3 in peak flower now.
2 years ago
Dec 9: 15 6 22.5 flora 10 calmag 12.5 phdown. 2hr later EC 1.12 pH 6.05 Dec 10 EC 1.51... very high Dec 12 EC 1.54 plant showing slight signs of burning... no truly burnt tips but slightly waxy maybe close to burning. Added tap water (and pH). Ec now 1.32, pH 6.3 ish.
2 years ago
Might need new ec meter mine keeps showing .8 then 1.1 ie its jumping a lot. Otherwise all is well. Dec 3: 15 6 20 flora 10 calmag EC 1.262, 1.302 2hr later 12 am ec 1.358, ph 5.91 apparently ec is now 1.036 at 8:25 am...
3 years ago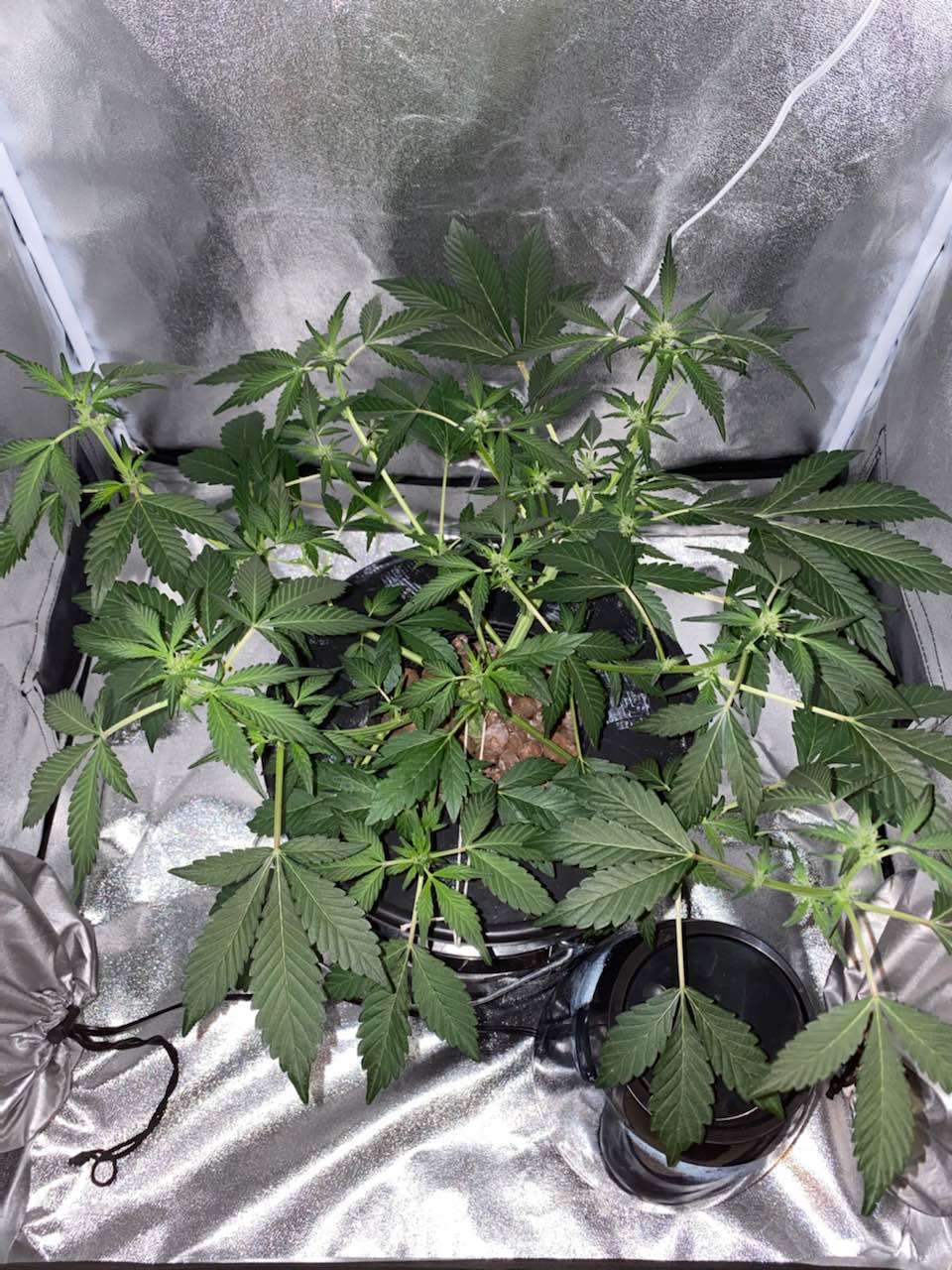 Dec 3: 15 6 20 flora 10 calmag EC 1.262, 1.302 2hr later 12 am ec 1.358, ph 5.91. Definstely rapid growth occuring
3 years ago
Flowering has commenced. Roots look amazing. I had a scrog in but took it out bc it was very inconvenient needing to move bucket lid with it to check ph and ec. All going well. Ec went from 1.4 to 1.5 but plan seems to not be burning so i leg it do this. Rh holding steady with new humidifier at 47%.
3 years ago
Got a humidifier humidity now 45-47
3 years ago
EC 1.39, ph 5.6, both veg and flower lights on now. Might be too intense but we will find out. Lights still 20-4.
3 years ago
Scrog installed. Plant doing well. 1.37 ec ph 5.6
3 years ago
Lst still going. Slight yellowing if new growth so i upped ppm to 585. Going to switch to ec readings for next grow as i just learned about 700 vs 500 ppm scales. All going well still lst. Roots look nice, top feed been removed.
3 years ago
Preflowers decided to say hello. Was hoping id have more veg time but ill start counting flowering weeks once we have bundles(bundles of pistils).
3 years ago
500ppm, ph 5.5. slight clawing occurring. Mby overwatering mby ppm. Roots well established so i unplugged top feed. Will remove from bucket on next wc. Lst going well some new growth veins yellow.
3 years ago
More lst main stem now lower than side growth
3 years ago
Cut off the big leaf
3 years ago
Lst going well. New growth is benefiting from light access. Might defol this one big leaf, but dont want to because its health new growth so trying to bend it even more. Plant is running at 439 ppm after today wc, 6.2ph (might lower it soon).
3 years ago
Have drilled holes in bucket so i can lst easier. Growth going well.
3 years ago
Also defoliated some leaves that were blocking light to new growth sites
3 years ago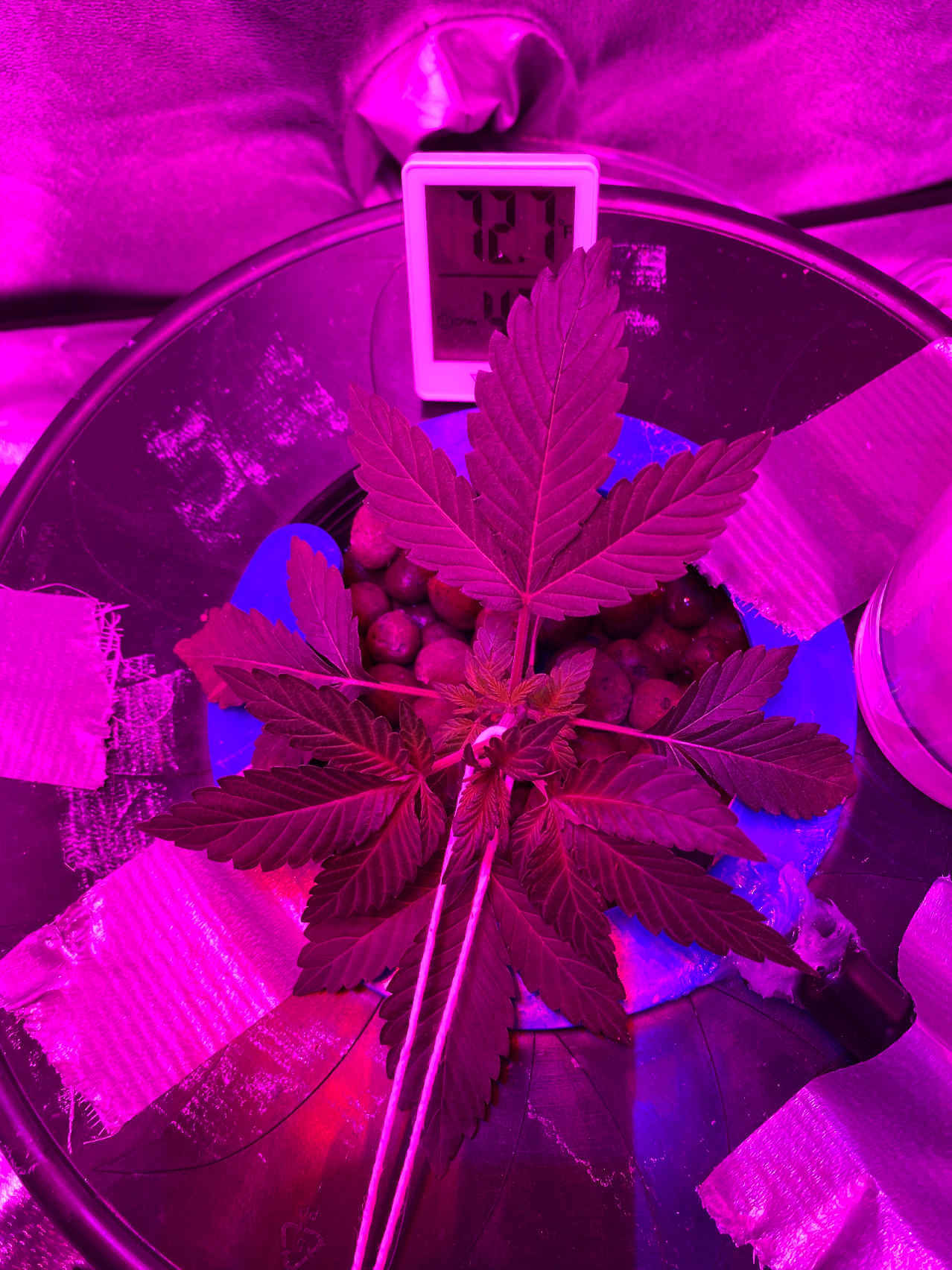 Just performed a small lst to get the lst ball rolling. Need to drill some holes in the lid so this tie is not permanent.
3 years ago
I got some great white and dosed it in the bucket and a feed. Leaves seem slightly drooped but new growth is healthy, but slightly droopy trying to trouble shoot that rn. I plan to LST in a few days
3 years ago
Looks healthy first set of leaves slightly damaged likely due to water droplets rest seem fine slight discolouration on second set of leaves.
3 years ago
Accidentally had pH off for a week. Want to let her keep going to see what happens. Weird deformation on some leaves
3 years ago
Seedling slowly stretching, first set of single digit fan leaves growing in. Seedling is collecting water droplets on the leaves which is pretty strange, but im guessing this could be due to humidity as i have it under a glass. Hoping this goes away so it doesn't cause the light to be magnified by the droplets and burn the leaves. Other than that, all else is well.
3 years ago
Sorry for blurple. Will try to use flash next time. For now, i use little airline tube cuttings to redirect the water flow to the soil tube, as the roots aren't long enough to properly absorb water. Plant is also under a big clear bowl for humidity reasons.
3 years ago