Orion F-1 Hybrid Auto
April 10,2023
Planted April 10, came up April 13
Orion F-1 Hybrid Auto by Royal Queen Seeds
NopeQQ the little one is cute, but is it worth the effort, apart from the love? I mean.. shes tiny 😄
adders Still looks so satisfying 😅👀
gypsygrowgoddess Sad that this beautiful tiny little girl went into flower already… I wonder if it will get taller and keep growing a little more?? This would be sad, if it doesn't get any bigger..🥲🥲
BillyGoat That's the only thing about autos I hate, You just really don't know
phriedphoenix When growing autos I've had the most success using 24/7 light for veg
Drizz She's going to be a little plant, go for quality👍
Noticed first signs of pre flower, yesterday 5/15/23 🌺
12 days ago
gypsygrowgoddess Wish it would have grown way bigger, before this happened, but I have heard this happens often, and it just happens…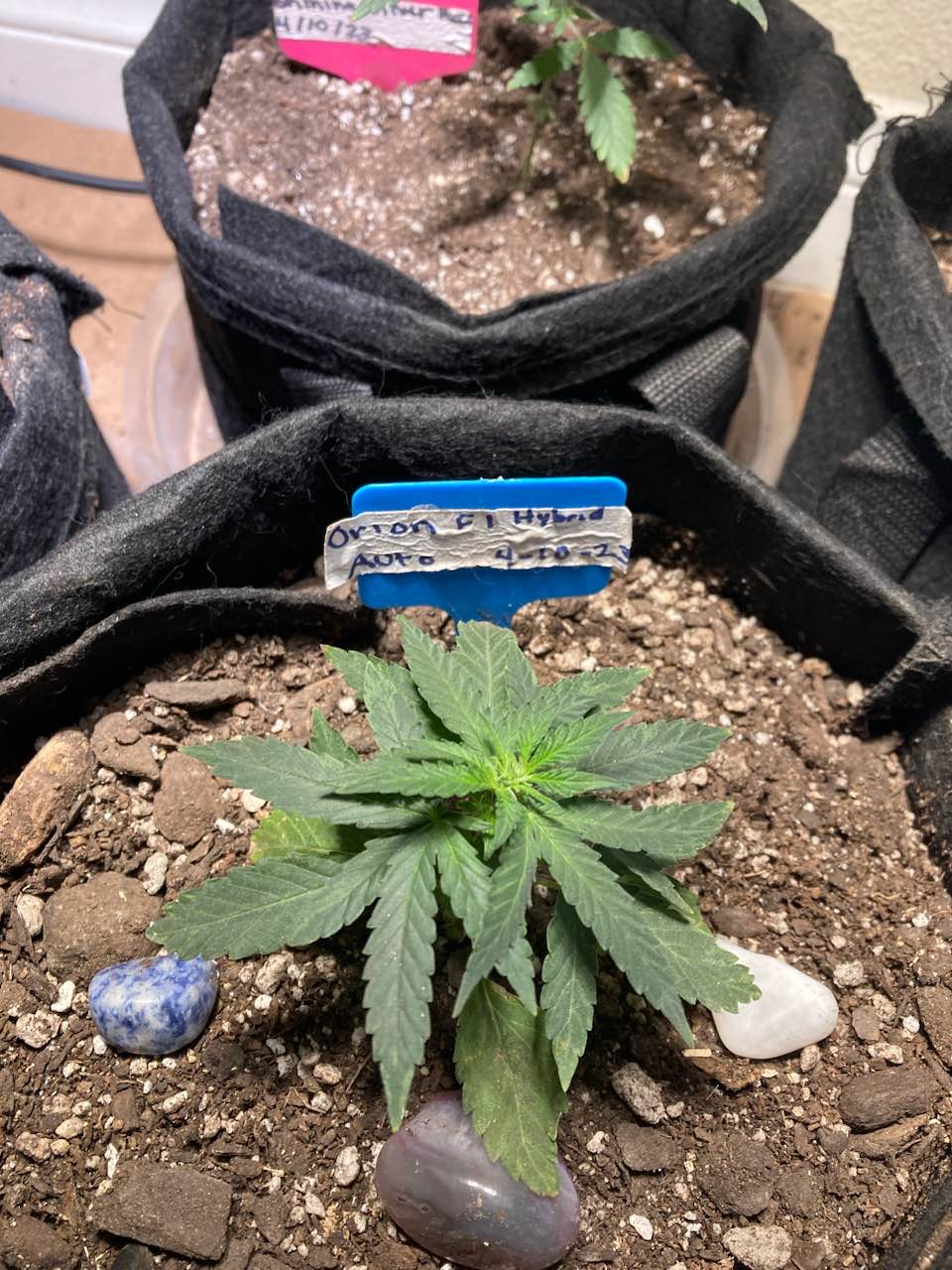 🌸 First signs of Flower 🌺
13 days ago
gypsygrowgoddess Am I seeing things, or does it look like this plant, is starting to show signs of pre flower on the top new growth? I think I see pistols…
gypsygrowgoddess Yep. I thought I would add them for good energy! And they look pretty in pix. 😊
theestallion i am very happy to see someone else exploring crystals i will try as well honestly
View 5 additional comments
Gave 1st dry organic fertilizer Down to Earth Veg 2tbls. Per gallon, also added more worm castings, and topped with more Happy Frog Soil with 1/3 perlite added. Then watered in lightly.
16 days ago
Std LST last night, by using a clip, to lightly hold down the main stem, and she's already facing up on the top. She's starting to grow and develop pretty good. She's a smaller plant, so won't be too tall.
17 days ago
Transplanted into 2 gallon fabric pot, Thursday 5/5/23 , and moved back into my closet with the other plants 🪴 Began the vegetation 18/6 light cycle on Saturday 5/7/23 for all the plants 🪴
19 days ago
Walter Green Interesting to follow this strain I was really thinking to buy also a f1 seed but still don't buy it
gypsygrowgoddess I actually got this free from Royal Queen Seeds for filling out a survey on the RQS site. They had the F-1 series just come out in April, I think, so there's not much feedback yet, but I really enjoyed this one so far, because the leaves came out in a trifecta each time. So it looked like a pretty little star. ⭐️ Orion F-1 is a smaller shorter plant, so it is perfect for me, because I don't have much space, so I'm growing in my closet lol! But she's a great little plant so far, I can't wait to see what she grows into, and how potent she'll end up. I'm sad that it's an auto, so I can't clone it. I love the star pattern of this one! 🪴🙂
View 4 additional comments
Orion F-1 Hybrid Auto
a month ago
gypsygrowgoddess She grew so beautifully… What a shame, she started flowering way before she was big enough… I wonder how much I will get. Yet, as pretty as it was, and since I have never seen anything like this before , it still was a neat experience, and since it was given, for filling out a survey, it wasn't like I lost anything. Just gained more knowledge of how unique each plant can be. 🙂
Early days of Orion F-1 Hybrid Auto from Royal Queen seeds. It's been growing in a trifecta shape, since day one. Like a cute little star ⭐️ I've never seen one like this before.
15 days ago
adders That's a really cool looking plant! 😄
View 9 additional comments