AK-107 Autoflower
Winter 2021
In Fox Farms Ocean Forest 1 gallon pot with fox farms nutrients as well. Lst'd early on but I believe it stunted it's growth more than anything. Currently tucking leaves out of the way and pulling branches to expose the little bud sites. Grew quite fast and is showing signs of preflower with the white pistil hairs poking out all over.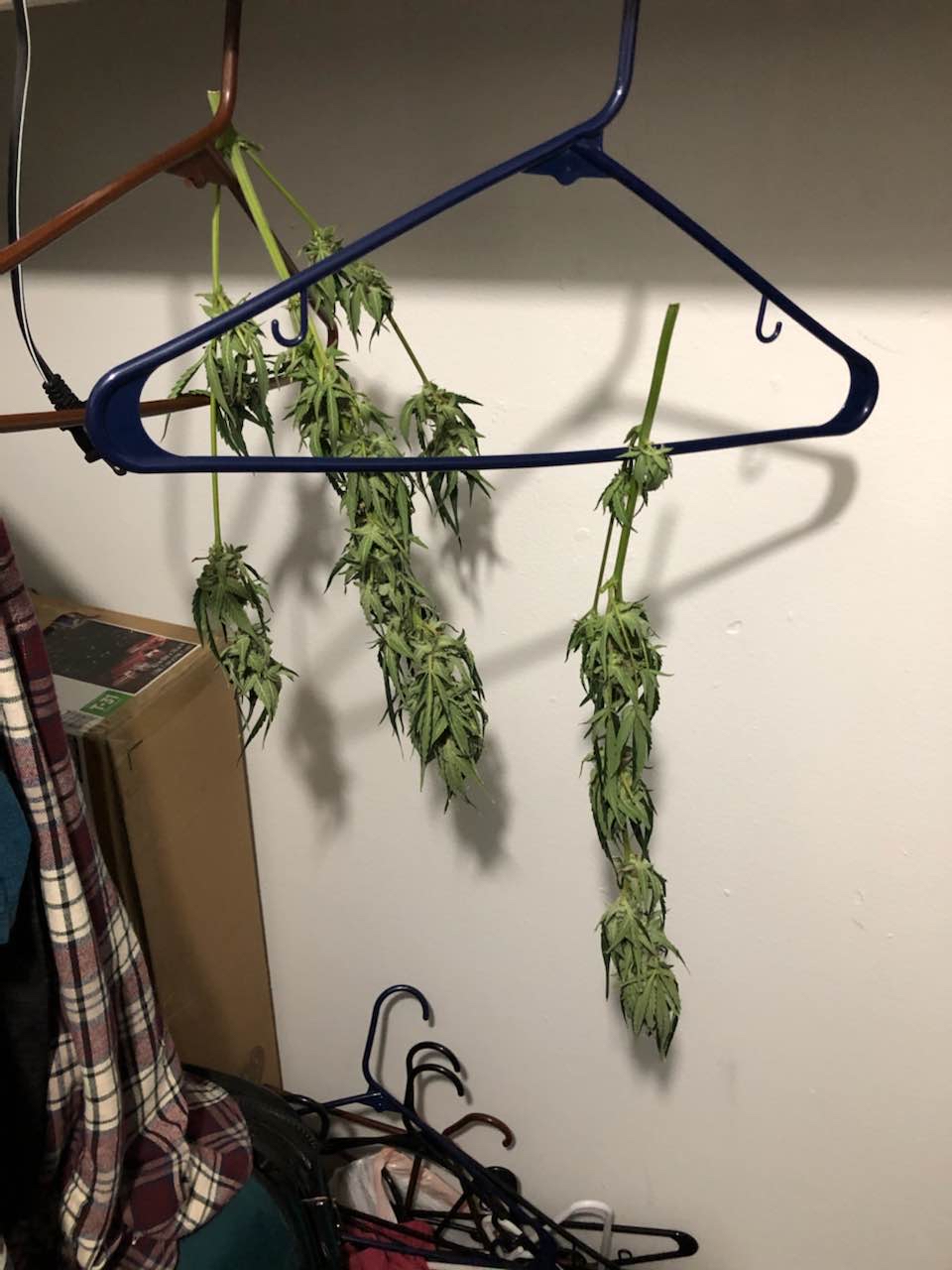 Decided to chop it yesterday for the sake of room in the tent. This is my first grow and I have learned so much! Nugs would have been wayyyy bigger if i had grown this auto on 18/6 instead of 12/12 but it's okay I know better for the future! Now I can focus on the two monsters left in the tent and give them all the time they need to ripen up. Going to trim and put in jars on Thursday:)
a year ago
'Ol Lawson 👏👏👏👏. You succesfully harvested and eight.
Might be chopping this girl sooner rather than later. I need the room desperately for the other girls they are crammed in here. The trichomes are starting to look cloudy so I will most likely be harvesting in a week or so. Can't wait to get this thing out of here!
a year ago
Hairs turning very orange
a year ago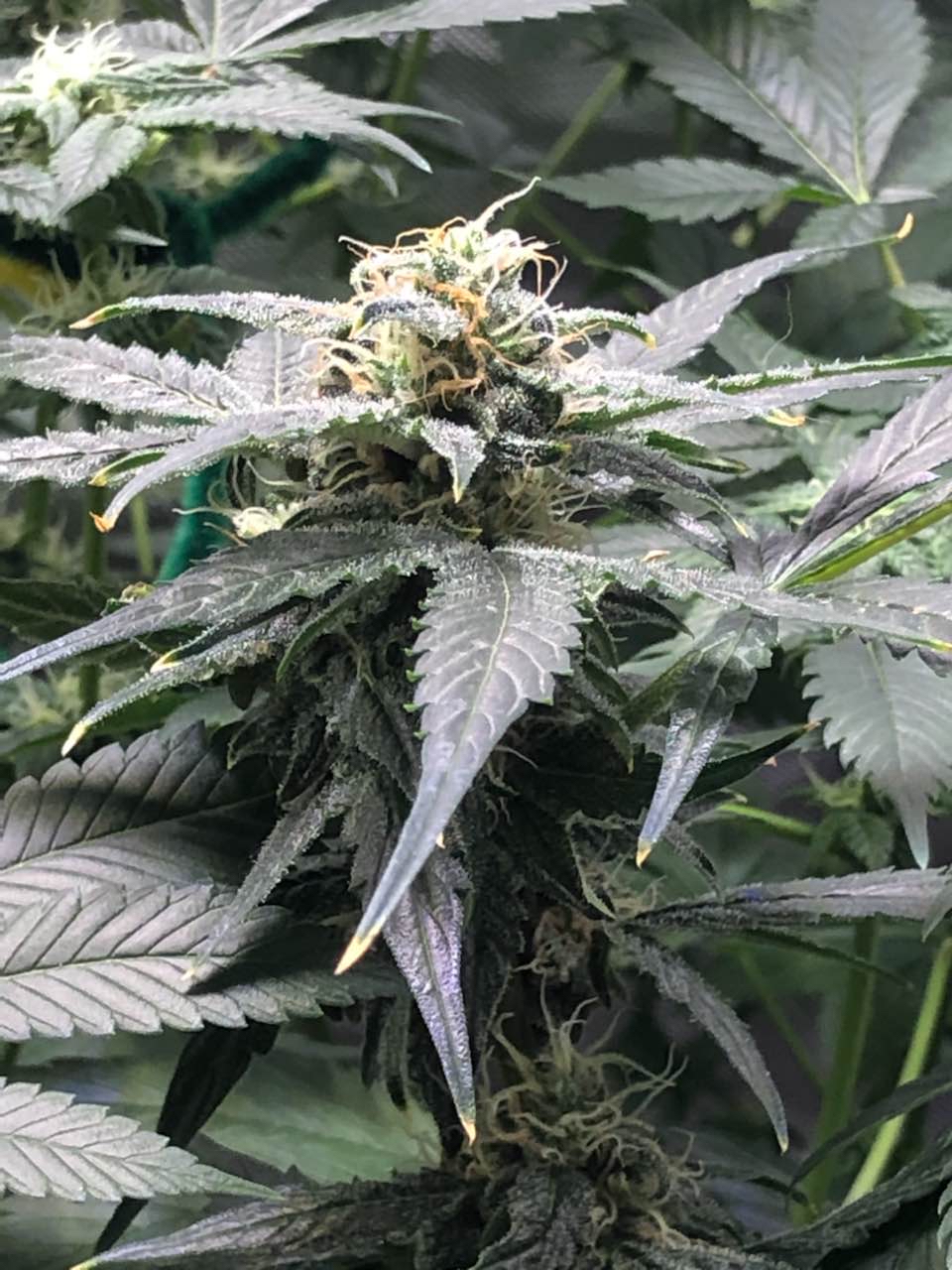 Filling in slowly but surely. Sorry about the cat hair in the pics if you see any it gets everywhere
a year ago
jointventure I know your pain too well friend. On my harvest day I had to add an extra step of removing all the pet hair. Regardless these buds look frosty and beautiful keep it up!
Took her out for some pics. She's really small. I wish I could have left the lights on 18/6 it would be much bigger by now. I'm thinking about chopping it very soon just to make room for the other girls
a year ago
Doobie123 It's on 12/12 because the other 2 I have in the tent are regular seeds not autoflower
Buds are turning really orange finally :) the smell is sweet and there is a ton of trichomes covering the buds ❄️ noticing some new hairs coming out of top of buds not sure if it's fox tailing on me. I'm ready to get this thing chopped so I can make room for the other two massive girls in the tent
a year ago
Buds are fattening up🌱 bought a jewelers loupe to inspect the trichomes it's coming in the mail in a few days. Eager to get this plant harvested to make room for its sisters that are taking over the tent
a year ago
Spotted first signs of orange hairs!
a year ago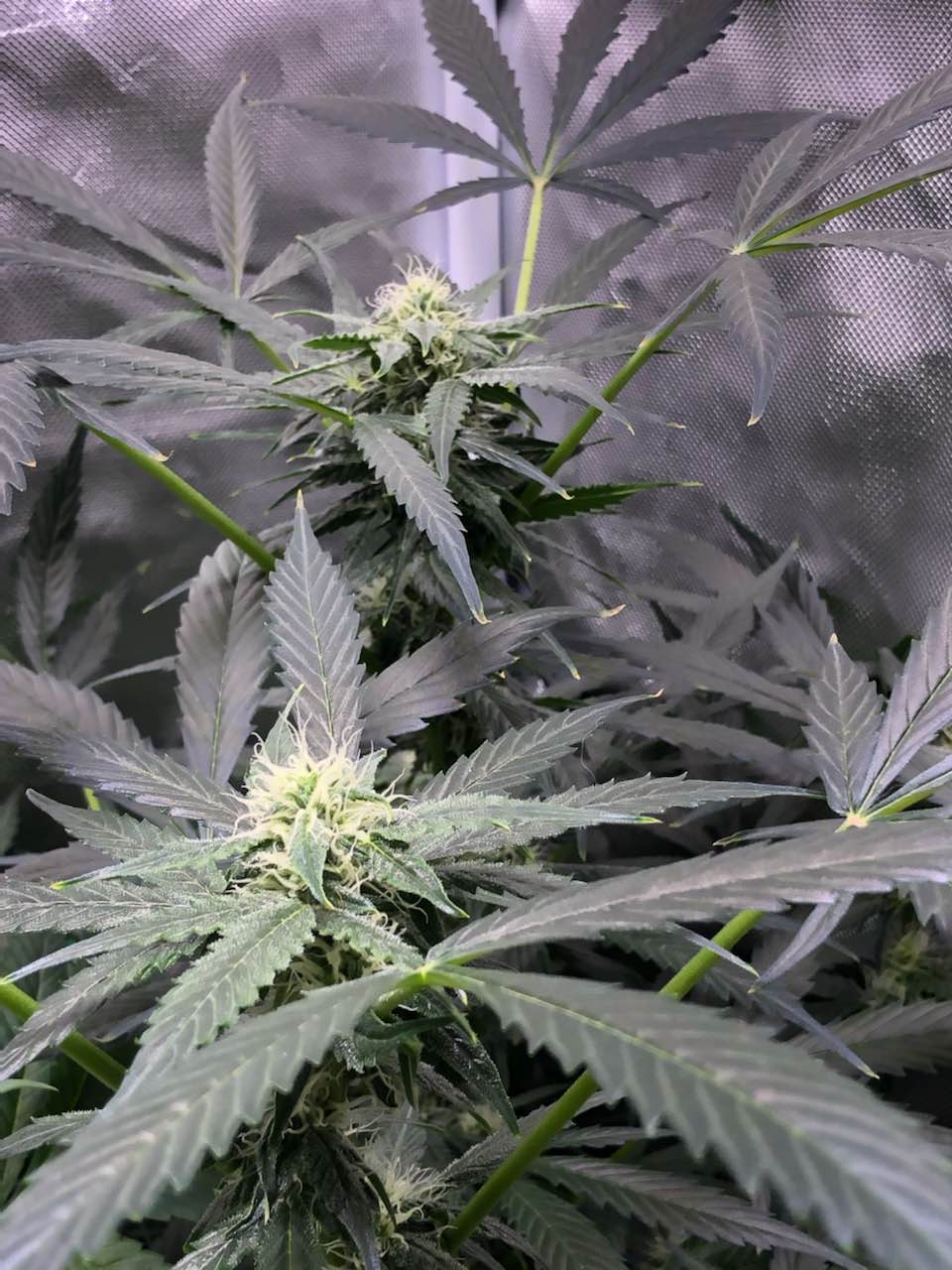 She is looking great! I have a question for my fellow growers: should I defoliate the leaves to expose the lower bud sites? Let me know what y'all think I am curious to see if it will hurt the plant or not
a year ago
iGrowCulture I'm a beginner, but imo I would research the resiliency of the strain your growing...and make my decision from there. If you're worried about putting to much stress w the defoliation try tucking first to see how she responds...but I wouldn't worry too much about a lil cleanup. Best of luck
Buds are forming nicely for being on 12/12🙏 had nute burn symptoms showing so had to flush the soil with plain water and has since recovered well. The leaves that were effected still look bad but it seems to have stopped it from getting worse. I noticed some hairs turning orange on several places below the bud sites so all of them should be turning soon! The smell is nice as well I am loving this strain 👍
a year ago
Doobie123 Yea I started to realize that it's easy to over feed them. In the future I will be taking it easy on nutrients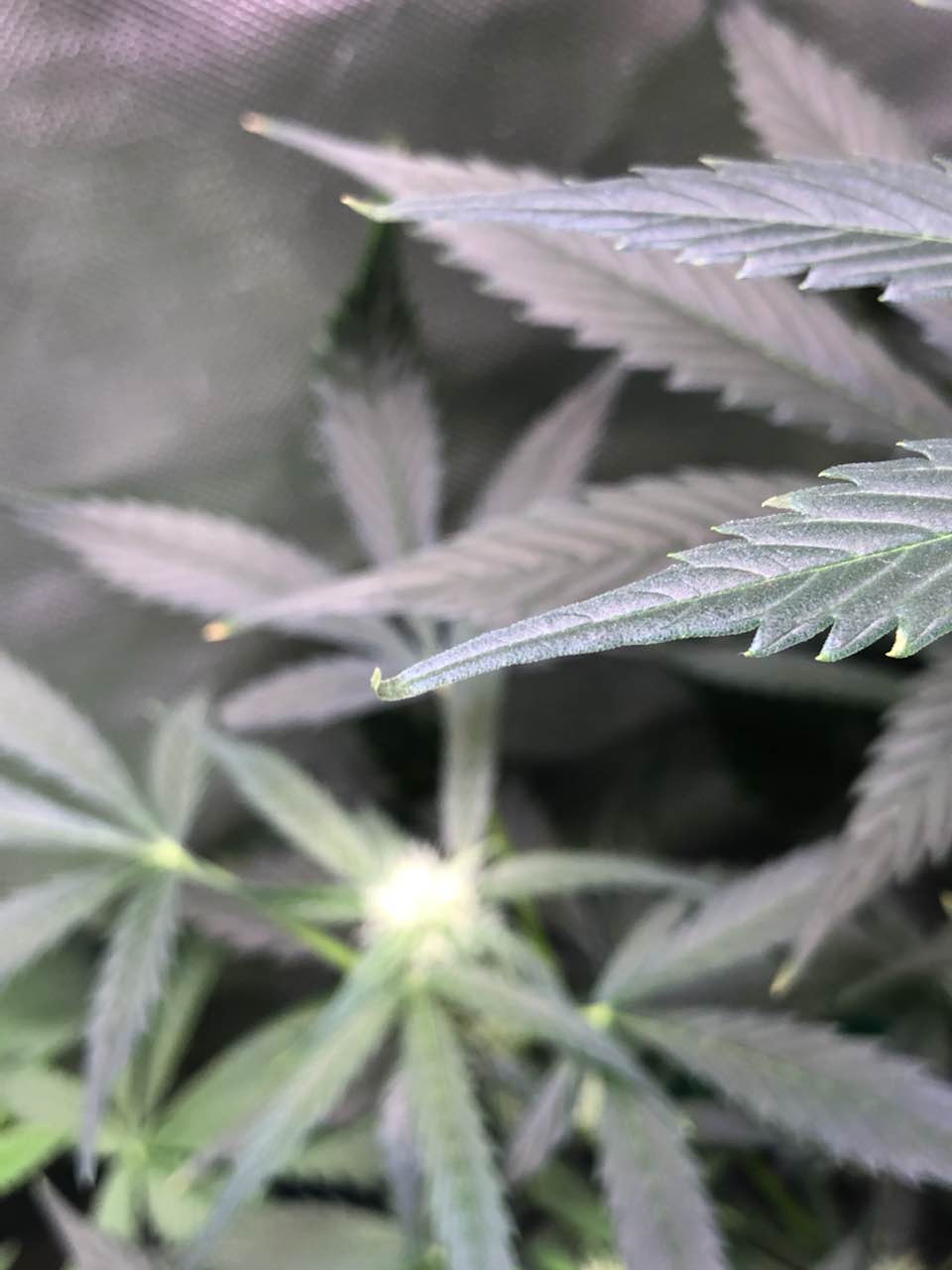 Is this a sign of nutrient burn? Happened 1 day after giving flowering nutes, probably didn't need anything after all. This is my first grow and first sign of nutrient imbalance to me. Anyone know what leaves curling upward means?
a year ago
combatmedic81 Yes, nute burn. I would go just ph'ed water a couple feeds
Paradise Grower This is not nutes burn, tips arent rolling up with nute burn, thats light burn you got there my friend
Doobie123 Ahh okay I think it may be a mix of both I am just going to feed water and raise the lights a bit they grew into the light kinda quick. Thank you guys I appreciate the advice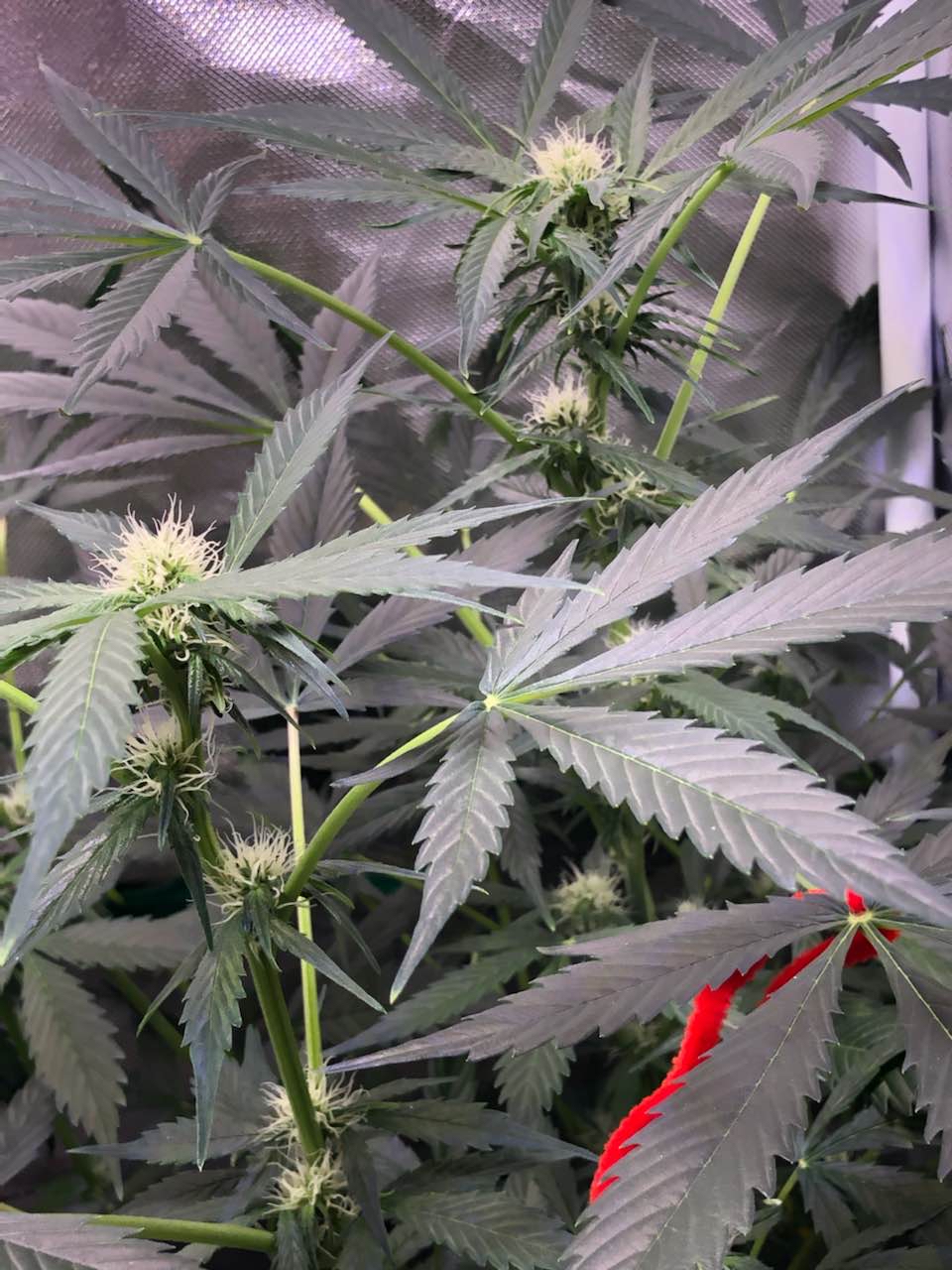 Trichomes are beginning to cover the leaves and the hairs are still light in color. When should I begin flushing this beauty? She looks like she has a lot of life left in her I don't want to cut her short. Any suggestions?
a year ago
She is maturing and starting to look beautiful. Trichomes are showing up on main colas and hairs are starting to look light brown in color. Waiting for pot to dry out a bit more before watering next.
2 years ago
She is flowering nicely, however I noticed the tips of the leaves were starting to get burnt so I decided to flush it with water this afternoon to correct the soil. Should be looking better in a few days.
2 years ago
Starting to pack on the buds! She stretched about 4 times her height and is now in full flower mode. Day 17 of flower going to water again with nutes tomorrow morning. Can't wait to see this thing grow ! The last picture is what the main bud looked like 1 week ago :)
2 years ago
Autoflowers grow super quickly! the buds are stacking on about 2 weeks into flower. I could not believe the height it grew once the hairs showed up. She is soaking up the light nicely and showing no signs of any deficiencies. I've been growing her without ph'ing the water or dechlorinating it either lol . I figured if there was an issue it would show up on the leaves but so far nothing has been affected whatsoever and it grew vigorously and lush despite my rookie mistake of training it too early on. The buds look like they might fatten up and produce a somewhat decent yield for my first ever home grown marijuana plant. Happy growing!
2 years ago
Sweet & Sour Chicken Very nice plants !👌🏽 What type of water do you use? Tap? Distilled? Purified water?Reverse osmosis? Spring water?
Doobie123 I use simply tap water, I haven't ph'd the water once or even dechlorinated it. I suppose I must have good water in my area because they seem to be doing amazing
View 2 additional comments
She is looking great and perked up, decided to turn her around and tuck her in the corner to promote growth on the other side. Lovin it
2 years ago
About 5 days into flowering for this girl. She is next to 2 photoperiods so as they veg out completely, I will be finishing this auto. It's not probably going to yield very high, but it is truly my first plant I have ever grown to this stage in growth so I have no idea what the results will be. Let me know if I'm doing everything okay or if there are any suggestions of how I can make her happier :)
2 years ago
Lookin good! The tops are growing even with one another and starting to look full.
2 years ago