Spring Indoor Flower
Flowering the mother
Flowering the Royal Cookies mother and RPK Auto that didnt autoflower. Using scrog net for Royal Cookies
Royal Cookies, Royal Purple Kush
Stretching has slowed, hairs and trichome time 🔥🔥 fed Gaia Bloom boost day 20
a day ago
Think i may do some more defoliating on these two today. Gotta top dress with gaia bloom mix in a few days
5 days ago
Plant is growing towards the 2 lights at different pace. Still all good tho! Good roots, some popped out of the soil
7 days ago
Raised the RPK and defoliated both girls pretty good. RPK has a weird mutation where it grows 3 sets of leaves per node vs the regular two making it fun to defoliate
10 days ago
Looking for suggestions on what to do with the plant on the right. Shes getting blocked by the other plant in the tent and prob wont do well due to that. Im thinking of throwing it outside but its already almost 2 weeks into flower. It was supposed to be an auto but never auto'd until changed the light schedule change to 12/12. Outside or keep it in and hope for the best?
10 days ago
Drizz Prop her up on something so she meets the net and maybe defoliate a little
Drizz You can fit her in on the side just match her bud sights and do some defoliation. On both plants so she fits comfortably. You've got this growmie👊
piperboy007 Thats not a bad idea ill do it up this afternoon before lights out 👍🏻
View 1 additional comment
I cant believe the growth on the RC! Ive had to raise my light twice since switching to flower
11 days ago
View 3 additional comments
Hairs popping up on both plants, seem to be happy girls despite the high 20's low 30's temps
12 days ago
Still stretching!
15 days ago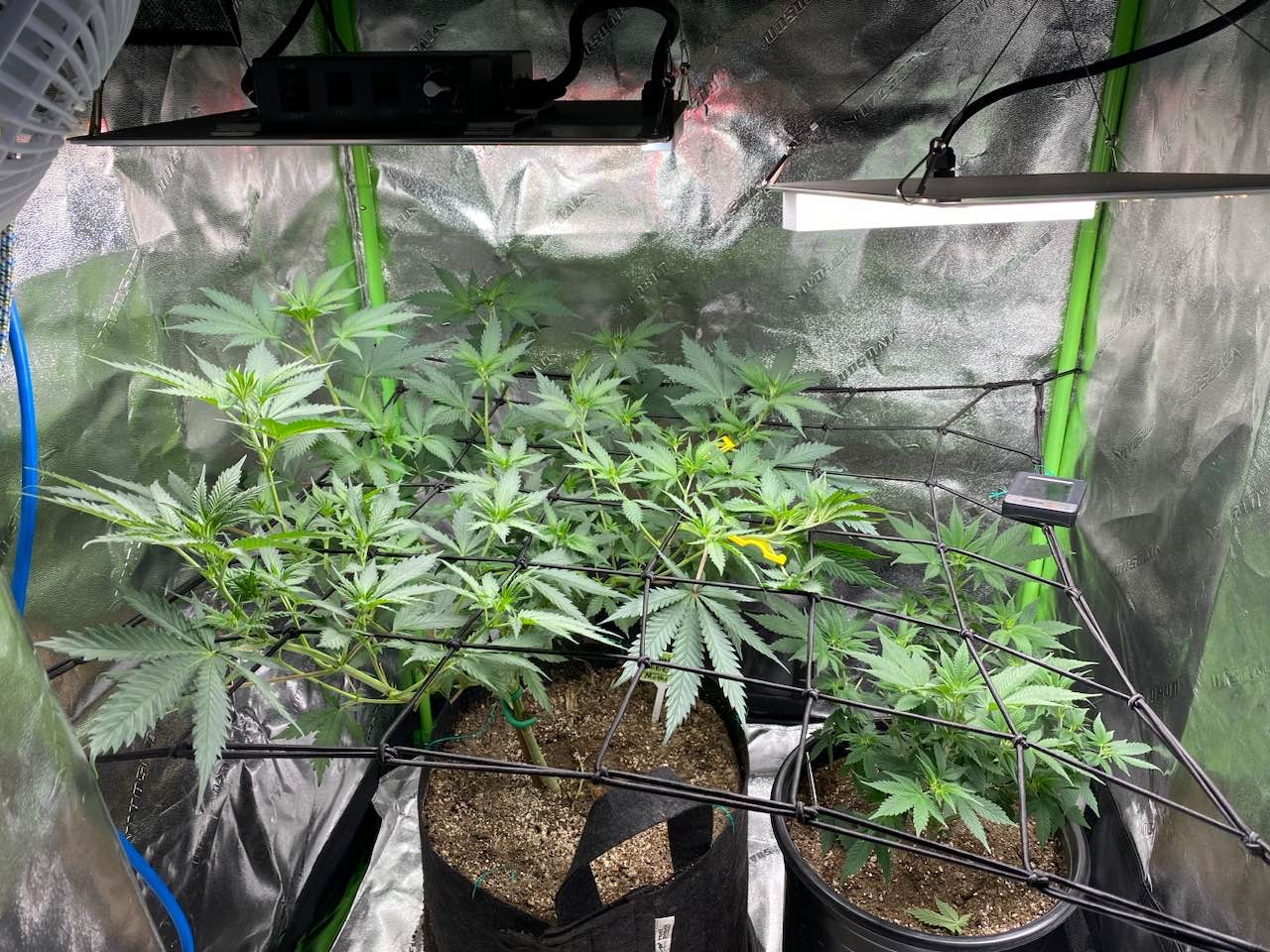 I forgot how much the R.C can stretch so quickly. RPK got some defoliation to allow more airflow.
17 days ago
Only been two days and the Royal Cookies is already starting to stretch! Using budclips to train back the bigger branches that cant be tucked. Gunna be my biggest plant ive flowered! Cant wait to see how this run goes
20 days ago
Day 1 of flower as of this evening. Cant wait to see how these girls turn out! 65 Days of Veg for the Rainbow Cookies
23 days ago