Oh! Even stink would say that stinks! - Fat Bastard
Spring 2023
Four Fat Bastards in 3 gallon fabric pots stuffed in a 2x2x4. The info on this strain said it would surprise even the most experienced consumer. Let's see.
They've grown quite a bit. I fed them nutes last week. I'm planning on topping them possibly next week.
3 months ago
My how they have grown! #2 is showing signs of a possible deficiency. I haven't fed nutes yet, so I guess it's giving me a sign to start. #3 is about a week and change behind the rest. So I'll give it water when I feed.
3 months ago
Water feed in the P.M. Praying leaves in the A.M.
4 months ago
Pic's from yesterday morning. Going good for now.
4 months ago
I kinda LST'd the main stem bc they were all leggy. I basically dug out some soil from underneath, leaned the plants over, faced the leaves back up with plant ties, and buried the stem with more soil. I top dressed 1 tbsp of used coffee grounds to each pot and sprayed non PH'd distilled water.
4 months ago
Second set of leaves are coming out in FB 1 & 2. FB 3 is behind by a lil over a week and seems to be deformed. FB 4 started out fine but also seems to be having an issue bc the second set of leaves are very small.
4 months ago
FB#3 makes an appearance, finally.
4 months ago
FB#3 is in full effect.
4 months ago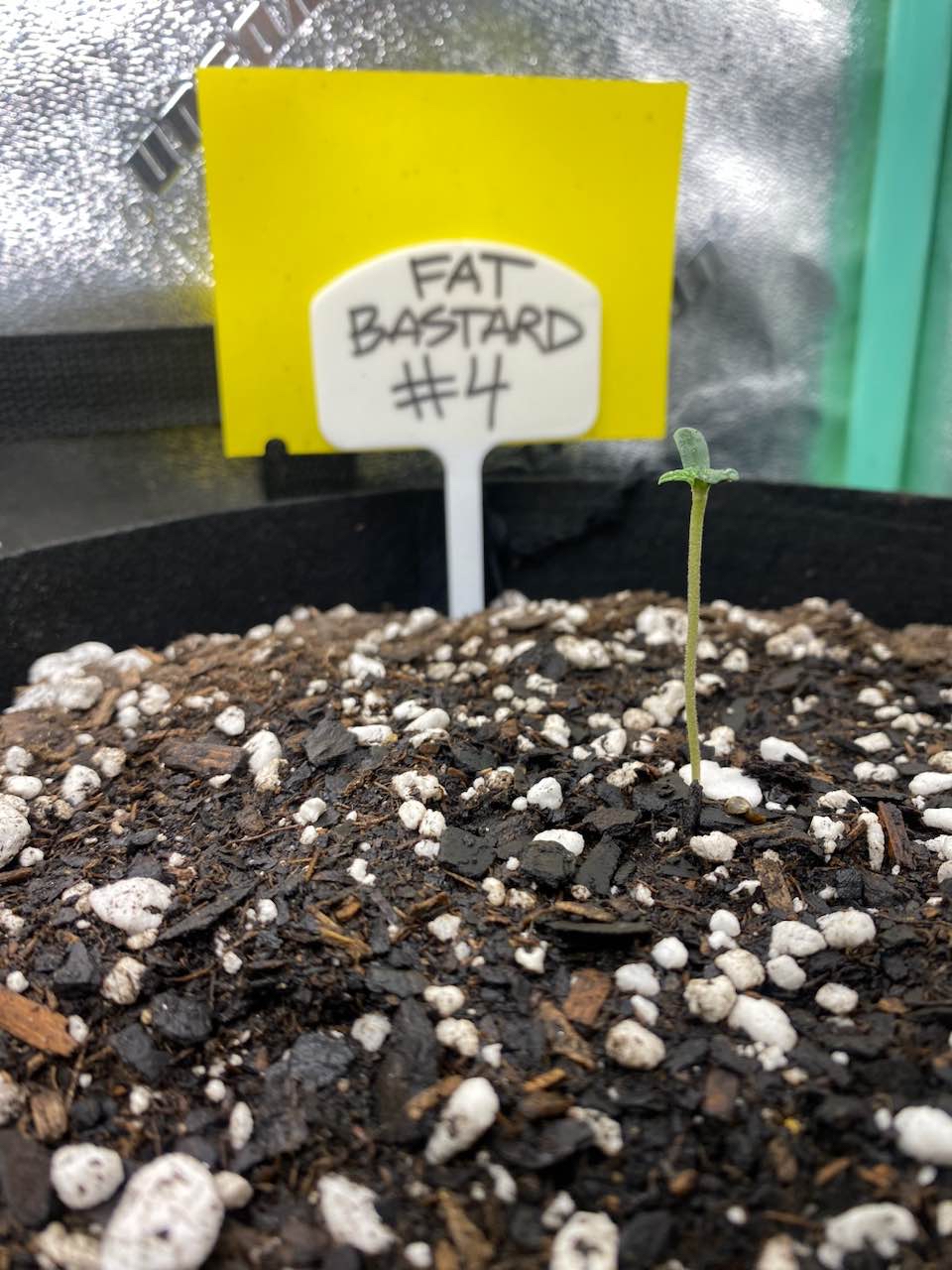 To my surprise my last FB seed popped today. I immediately planted the seed in the soil ( FB#3 ).
4 months ago
Godsproblem It literally had a nub of its taproot coming out the shell. Last night I decided to surgically remove dirt to find the seed, which I did, and saw the taproot did grow, but growing horizontal to the soil. So I made a dimple in the soil and placed the seed into the soil with the taproot facing down. 🫰🏽
FB#3 bean seems to be a dud. So I'm trying to germinate a Fruity OG Kush ( pic 1 ) and Jungle Boys Hot Cakes seed ( pic 2 ). I still have my last FB seed trying to germinate. It's been 2 days and doesn't look like it's going to pop. Honestly if the JB Hot Cakes pops, it's going in.
4 months ago
ig:@eaegifts Do you ever do 12hr soak then plant or always wet napkin in warm temps?
Godsproblem I just do the basic. Seed in damp paper towel placed into a ziploc bag. Then I check before I leave. Get back from work, check. Until they pop.
G8keeper I soak mine for 72 hours, they almost always have a nice taproot. Then I pop then strait into a plug.
FB#4 sprouted. Idk if FB#3 is going to make it. I will germinate my last FB bean if I don't see anything before the end of the week. I had to remove the shells on all 3 sprouts. Sprayed non ph'd distilled water.
4 months ago
Since the was no sign of life from FB#3 I'm hoping my last FB seed germinates.
4 months ago
G8keeper ILGM.com….if the seeds don't germinate they send you new ones. They sent me 20 new seeds I was shocked!!
FB#1 made its appearance this morning…Several hours later, she pushed out some more. Then I noticed FB#2 sprouted.
4 months ago
MrFantastic I was just looking at this strain yesterday! Following
Godsproblem I saw it was a new strain with a high THC percentage and thought, why not?
MrFantastic Yea my thoughts exactly, I'm so glad to see someone trying it out. My space is full until late august but I'm sure this will be in there next!
Looks like 3 / 4 seeds showing taproot. Definitely 2. So I put them in "order", 1 through 4, from longest taproot to none. I sprayed the soil generously with non ph'd distilled water. 🤞🏽
4 months ago
🫰🏽The girls are baking in the moist oven. 4 pots prepared and cooking for a few days. It's my first time using FFHF. I mixed it with a little bit of FFOF, worm castings, and perlite…I read this strain would put the most experienced consumer on their a$$. Only time will tell.
5 months ago