Lookout they're autos‼️💯🔥🚀🌱💯👏🙌
Started 2292 Chem D started 2502
Going to run these in three gallon fabric pots and flower in the veg tent using a mars hydro tsl-2000. Going organic using recycled soil top dressing and teas as needed. 🔥👏👏🎉🧬🚀🙏 Ethos Chem D auto seed planted day 21
Barneys Runtz, Sour Stomper , & Chem D
Sour stomper filling in alright🤙 The runtz is starting to get some color and a little frost🎉. Day 26 for the Chem D and looking 💪 let's see what happens.
2 days ago
Day 23 for the Chem D and it's be poppin off 🎉🚀🌳Repotted to a 5 gallon and got some training she could be a good one in the works.
5 days ago
Justin Hamilton Looking real nice. I am going to try starting in a smaller container. Was thinking about those peat pots?
Discpimp Appreciate that thank you. I do think starting small and gradually upsizing really does help get a solid root mass. Started this one in the old solo cup and it's worked out good so far!
Rolling along! Sour stomper kind of has the sad Charlie Brown Christmas tree thing going but still alive so sky point that shit. Chem D recovering from its fim.
9 days ago
They are still alive feeling like the runtz plant might turn out alright. Fimmed the Chem d today (day 16) just for a goof. Let's see how that works out. TGIF💨🔥🎉👏
12 days ago
Sour stomper and runtz starting to stretch it out. The Chem d (day 12) starting to get a move on. They have more space inside here now so they can rock the fuck out🎉 or not🤷‍♂️
16 days ago
Fasten your seatbelts for these 🤣🤣. Gonna need a monster stretch to get more than a quarter 🤔 Will let these finish but not starting anymore autos for a while. This 👀dismal🤙
21 days ago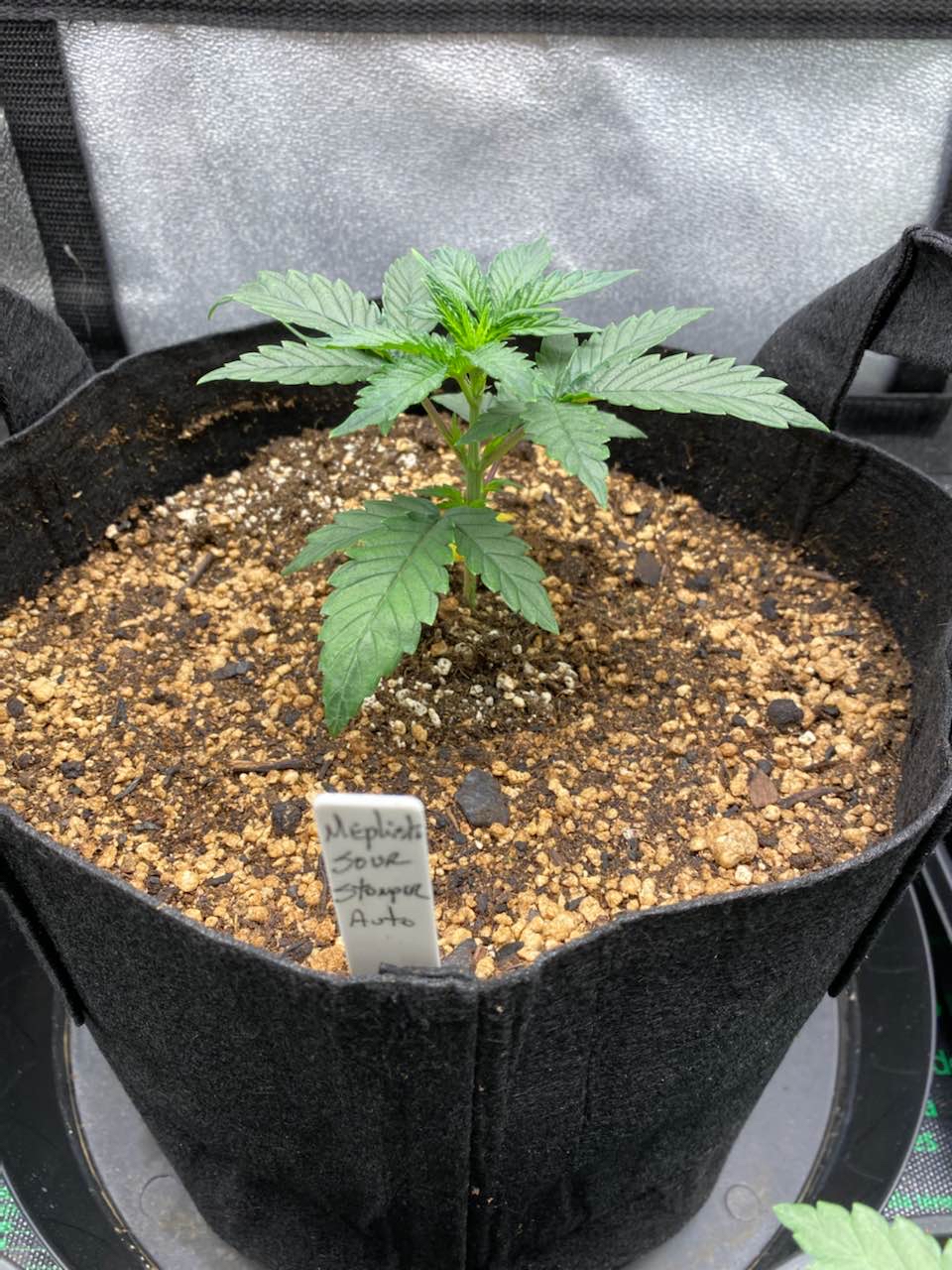 Sour stomper is coming back from the dead just needed to plant another seed to scare it into submission 🤷‍♂️ Might also still suck I suppose!🤔 Happy Friday gromies🤙🎉💨🔥🌳 Chem dawg popping out to say hello.
a month ago
IG @stick_e_fingerz Bro the chem dawg is gonna show out I've got some of those going rn and they're loving life
View 9 additional comments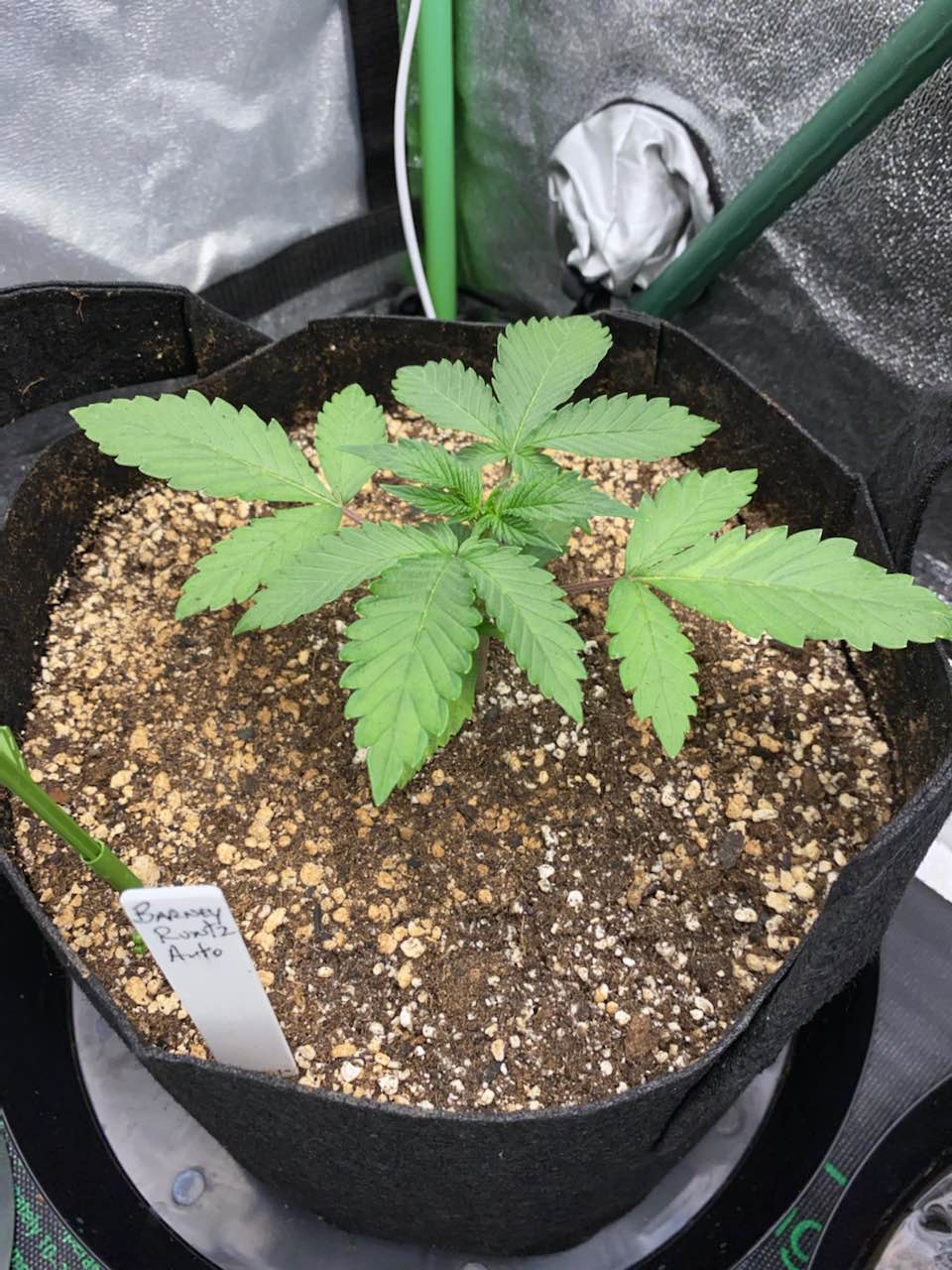 Barney's runts looking straight. Sour stomper not so much give that one the old sad trombone. Same exact shit on all 3 I've tried. Out of nowhere look sad as fuck and just stop growing around three weeks 🤔 🤷‍♂️ Ethos Chem Dawg auto freebie into a solo cup this morning as a replacement. 🎉🤙
a month ago
Barney's runtz is really starting to take off and the sour stomper is still kicking which is cool I am 0 for 2 on those fuckers. Just how it goes sometimes if this one starts to look like trash gonna pop a couple of chem d autos to take its place.
a month ago
Into the 3 gallons. Roots looked great and hoping these will 🚀💪🌱🔥🌳👏🎉
a month ago
Looking just lovely today. These two will go into their final home three gallon fabric pots before the weekend. 👏🎉👀🔥🌱🚀🌳🍻
a month ago
Current status happy and healthy. 👏🎉🚀🌱
a month ago
Discpimp 🎉🍻OG! Funnily enough I just finished brewing one of those 48 hr teas you posted a while back from some book. I am gonna put it on the outdoor ladies this afternoon! Thanks for spreading the love bro🤙👊
organic_grower What you wrote doesn't show up on your post..only in the menu with the alarm bell I can see what you said.. that's awesome you brewed a tea!!
View 1 additional comment
Gonna leave them covered for few more days. Picking up some steam and looking good.
a month ago
Started a new journal for the autos figure it makes sense. Day 0 was the day dry seed went into starter cube.
a month ago