CheeseCake & Northern Lights
Autoflowers
~ CheeseCake Autos x3 ~ Northern Lights Auto (Front Mid) ~ (Autoflower) ~ CANNA Terra Professional Soil ~ CANNA Bio Terra (CC3R only) ~ 20/4 Light Schedule ~ WATER ONLY GROW (no nutes)
NL - Day 21 - Week 3
2 days ago
zenmaster A sad update today Yesterday in attempts to to try and keep her bent over, I accidentally snapped the main head cola off !! At first I was very annoyed by my mistake, but in hopes that she doesn't die from this, I hope it will turn out to be the equivalent of topping I normally only do LST and never do topping due to autoflowers fast life cycle but the mistake happened out of my control, so hopefully she will recover from this and the 2 lower nodes under the main cola will grow upwards and create 2 medium sized top colas instead of just 1 large main cola Only time will tell how she comes back from this, but until then I don't plan on doing any more training to her as she is already stressed enough as is, just hope the end yield result isn't affected to much by this accident
CC - Day 35 - Week 5
3 days ago
zenmaster CC1L starting to show some hints of purple, still the most mutated leaf structure CC2M showing lots of signs of purple, buds still very small CC3R is the only one to still not start bidding yet, slight stretch to the main stem, only 1/2 single pistils spotted, very slow paced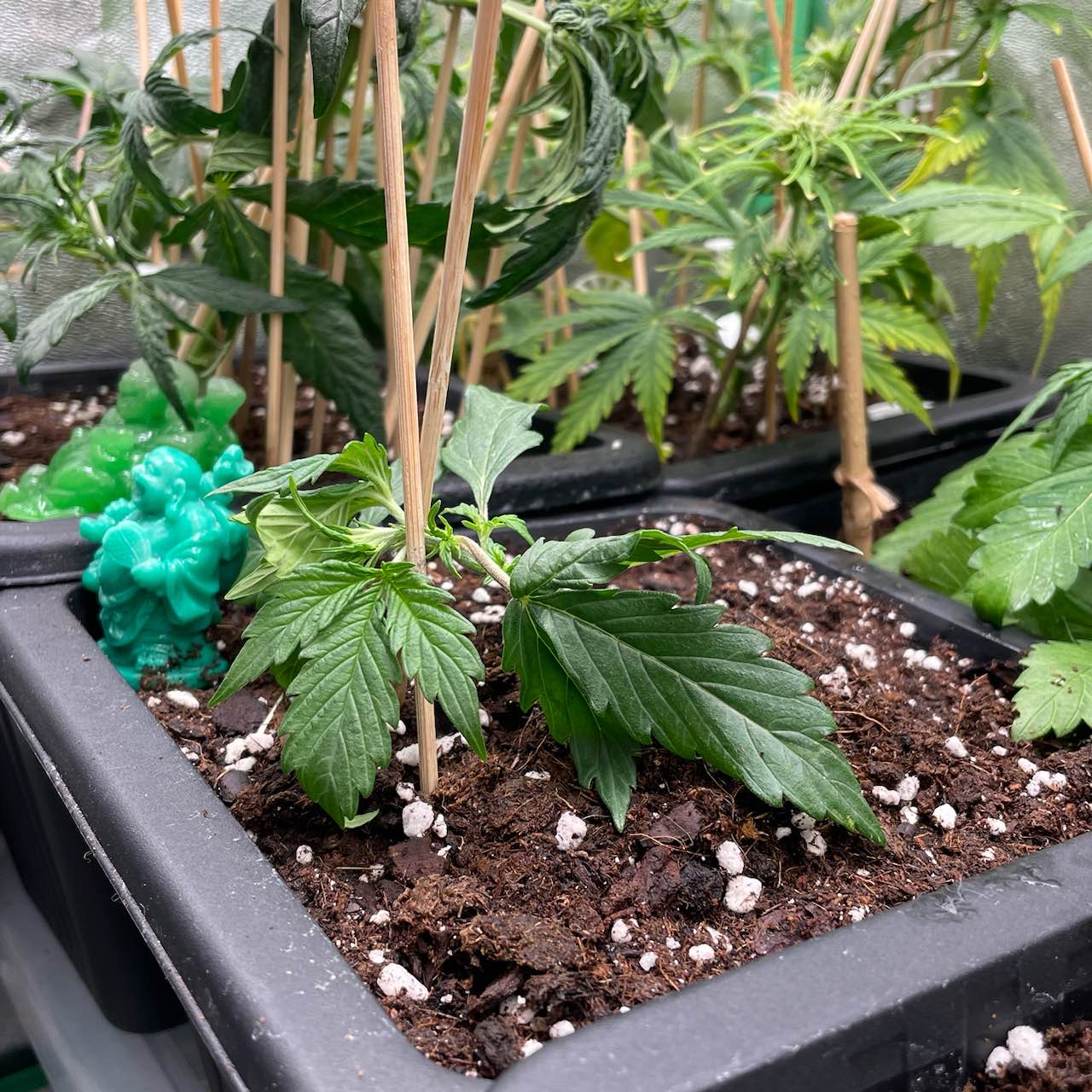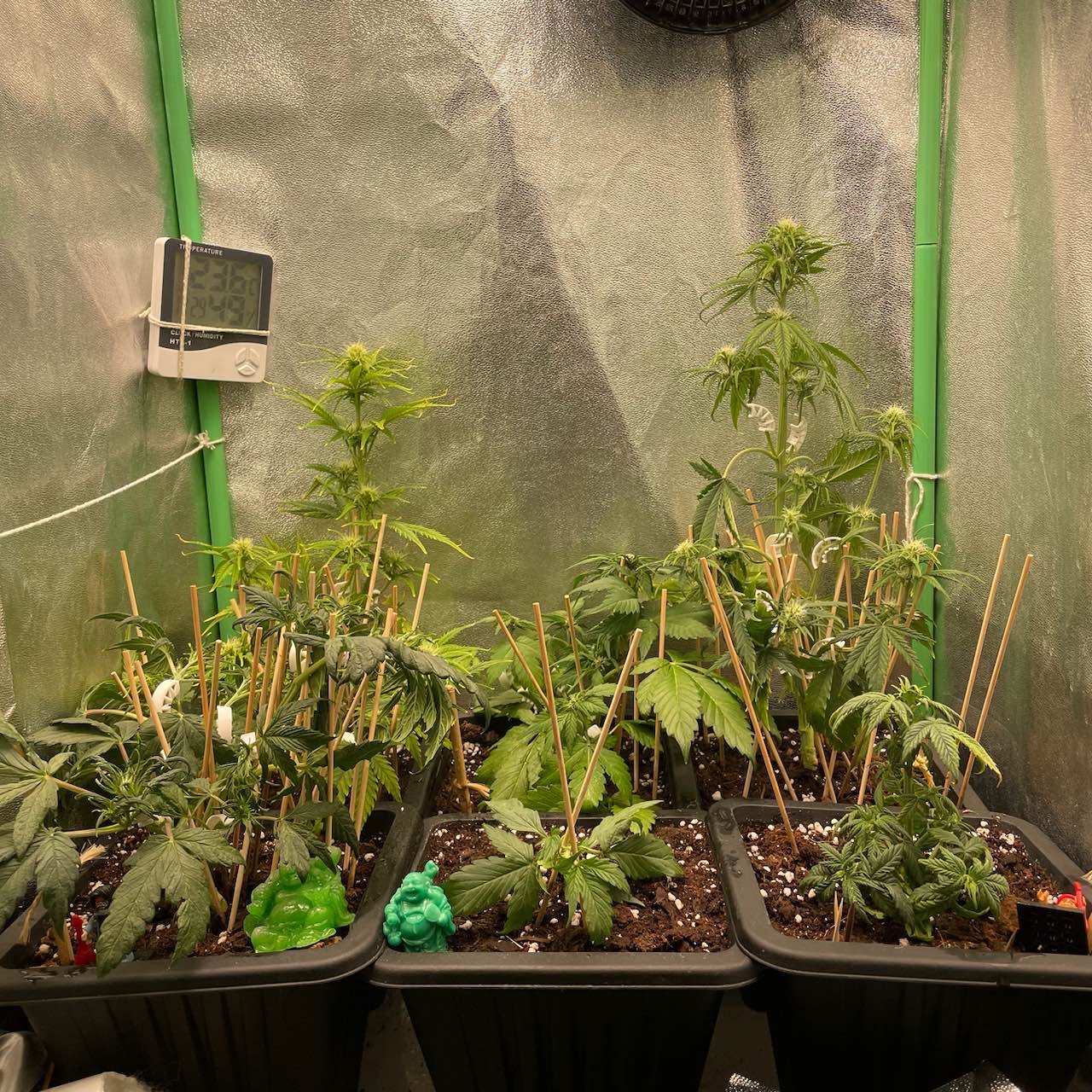 NL - Day 14 - Week 2
8 days ago
zenmaster So far so good Now we're into the second week, 2 bamboo sticks were added to create a slight bend 2-3 days ago Today the 2 sticks have been repositioned to lower the stem lower to the soil again to allow more exposure to underneath branches
CC - Day 28 - Week 4
10 days ago
zenmaster CC1L is the most mutated of the 3, starting to show a few pistils at nodes CC2M is still the greenest and the budsites are now starting to show purple tones, staying true to the last cheesecake run CC3R is least healthy with yellow spotting on leaves, possibly calcium deficiency from the Bio soil instead of the professional soil that the others are in, 3R is also very short and branching outwards low reacting from the Mylar
NL - Day 7 - Week 1
16 days ago
zenmaster 1sts have fully opened up and 2nd sets are now starting to come through more No signs of 3rd sets just yet
CC - Day 21 - Week 3
17 days ago
zenmaster CC1L she looks like she has a mutated structure from the way the stems are growing and the leaves look plasticky similar to CC2 from the last CheeseCake run CC2M very busy and natural looking, a little leaf has grown in the soil as well, this isn't the bio soil but from the way she's growing it looks like it possibly could be and the soil supplier didn't supply the right soil, she looks very healthy nonetheless CC3R very shorty and thin leaves, not the healthiest looking so instead of doing LST like the others, Mylar has been added to help lower branches grow outwards, no LST will be done to this one
NL - First Life.
21 days ago
zenmaster 3/6- day 1 in soil, not above soil yet 3/7- above soil, 1st tips showing
NL - Germination.
21 days ago
zenmaster Northern Lights auto (Front Middle) 2/28- Dropped NL in water 3/1- 24hrs no crack 3/2- 48hrs no crack 3/3- tiny crack, small taproot tip 3/4- taproot grown half length to ready 3/5- fully cracked, planted in soil
CC - Day 14 - Week 2
24 days ago
zenmaster A nice amount of growth over the second week CC1L and CC2M are both doing great and standing about an inch tall and spreading out, while CC3R is still pretty low to the soil and has much thinner leaves Added bamboo sticks to bend the direction of both CC1L and CC2M… CC3R isn't tall enough or has a strong enough structure to bend just yet
CC - Day 7 - Week 1
a month ago
zenmaster Over the first week, all three have popped above soil and shed their shells They're all roughly at the same stage, all 3 are working on increasing their 2nd sets
CC - Day 1 - First Life.
a month ago
zenmaster One day after plant, all 2 have popped up above soil All 3 still holding onto their shells, hopefully will shed by tomorrow or the day after
CC - Germination.
a month ago
zenmaster 3x CheeseCake Grow (2 in Terra Prof. 1 in Bio Terra) 14/2 - dropped x 3 CCs 15/2 - 24hrs all 3 no cracks 16/2 - 2/3 cracked showing small tips 17/2 - all 3 cracked, not long enough yet 18/2 - all 3 roots long enough, planted all 3 CC1L & CC2M in Terra Professional soil CC3R in Bio Terra soil