Trisha (Mohan Rahm Auto)
2023 solo cup challenge
These fucking seeds were the worst. I went through 5 seeds only for 1 to partially germinate.
She hermed 😰I knocked off a little thing that looked like a seed/bananner and this is another one I just found. Ended up stripping the cup to have a look at her root system. Not as much myco action as I thought I'd see… I always see this white silky mass on other peoples but maybe this was due to the small container and dry spells every day. Things I've learned? Stress is real on a plant. Container size matters if you don't have the time to micro manage and respond to necessary changes. Might need to raise the myco I use. Mobile and immobile nutrients! Herming plants doesn't mean you cannot harvest. I harvested once when my other plant was herming but she was later in flower anyway. I was told that sometimes a plant can Jerm for a short period then stop producing the make components and go back to flower. Something to think about if I'm ever in a desperate situation. This strain was cursed from the beginning and I only got one grow to a real veg stage out of 7 seeds… RIP Trish…
6 months ago
Watered her then took the microscope inside for a peeksy
6 months ago
Watered and fed her alongside Charlotte. Her leaf is showing some purple idk why. She started frosting!
6 months ago
ZaddyXL I've never had a plant that turned purple, so I wasn't sure if this was genetics or what
Gave her a watering today with just ph water no additives. She's starting to yellow slowly at the bottom again even though I'm watering daily. Twice a day?? Nute lock?
6 months ago
bigbudz1776 When is the last time you fed? What are you feeding her?
ZaddyXL Today. I feed her daily with the fox farm trio
View 4 additional comments
She's liking the daily feeding
6 months ago
3tspn BB, 1tspn GB, 2tspn TB, myco and molasses phed tap water. She's getting watered with her sisters now. Water/fed her yesterday the 8th with filtered tap again. Been keeping up with the daily watering which seems to have helped a lot. Added a tspn of Grow big nutrients and tspn Tiger bloom, myco, molasses and phed it. She was watered with her sister Charlotte who needs less nutes. I two budded her at the lower sights and removed foliage to give light to lower sights. She seems to be on the right track now with these boosted nutes.
6 months ago
Started giving her a full watering at the start of the light cycle and it helped. I used filtered tap water this time and added the usual amendments with 3tspn bb, 1tspn gb, and 1tspn tb, realized I forgot to add the second, and then added it to finish watering. Noticed no difference the next day after using tap water! She shares food with her older sisters since she's damn near caught up with them. She's now budding! She seems to be rebounding with the daily feeding regimen. Defoliated in the morning just to ensure light is even, I also gave her the two budding treatment and removed the lower shoots
7 months ago
Watered her today again with the same mix. Boosted npk looks to be the fox. She looks happy and leaves are perky.
7 months ago
She's still yellowing… I fed her again today and I'm going with the feeding schedule for the other two sisters flowering rn. 3tspn bb, 1tspn gb, 2tspn tb. Then added myco and molasses, but forgot to level the ph! It was around 6ph flat. Hopefully this does t do anything too bad. And hopefully this boost of npk helps her. The bottom leaf is completely yellow and withered now.
7 months ago
Gave her another full watering with the nutes. She's getting more yellow at the lower leaves. Looking at the chart she's all over the place… biggest thing looks like a nitrogen deficiency and phosphorus excess, which is displaying as calmag deficiency… help!
7 months ago
Going to water her again today, i made a mix on the 26th and watered her twice since then. Added a half a tspn tiger bloom to the mix to see if that helps her. Just about every day if not every other day. Her lower leaves are yellowing. I also put ties on again to even the canopy. She sitting at about 230 par but I'm going to raise her.
7 months ago
Doing good, I think she began to flower? I see pistols and she's definitely a girl!
7 months ago
Gave her a full watering today since she seemed light. Removed most of the ties. The new ties I put in were doing well, but she's taking a little bit to bounce back.
7 months ago
Gave her a watering yesterday with nutes mix I had from prior mixing. Put her through a few bends just to make sure the canopy ends up the way I need it to and everything is herring light
7 months ago
I was bold and moved with confidence yesterday. Removed a shoot that was really low to the soil and struggling to grow. Removed massive fan leaves in the middle. Thought about topping her but decided to lst instead! She took to it well overnight and was perky this morning. She also seems to have liked the feeding yesterday. Look at the 90 degree angle! Got home and pruned a few leaves and adjusted the tie she's sitting around 400 par I think
7 months ago
Gave her a full watering with her own mix of nutes. .5tspn big bloom and .25tspn grow big with myco and molasses. Ph balanced of course Vegging along nicely. She gets dry quick so I think this is where the micromanaging starts. Getting about 360 par
7 months ago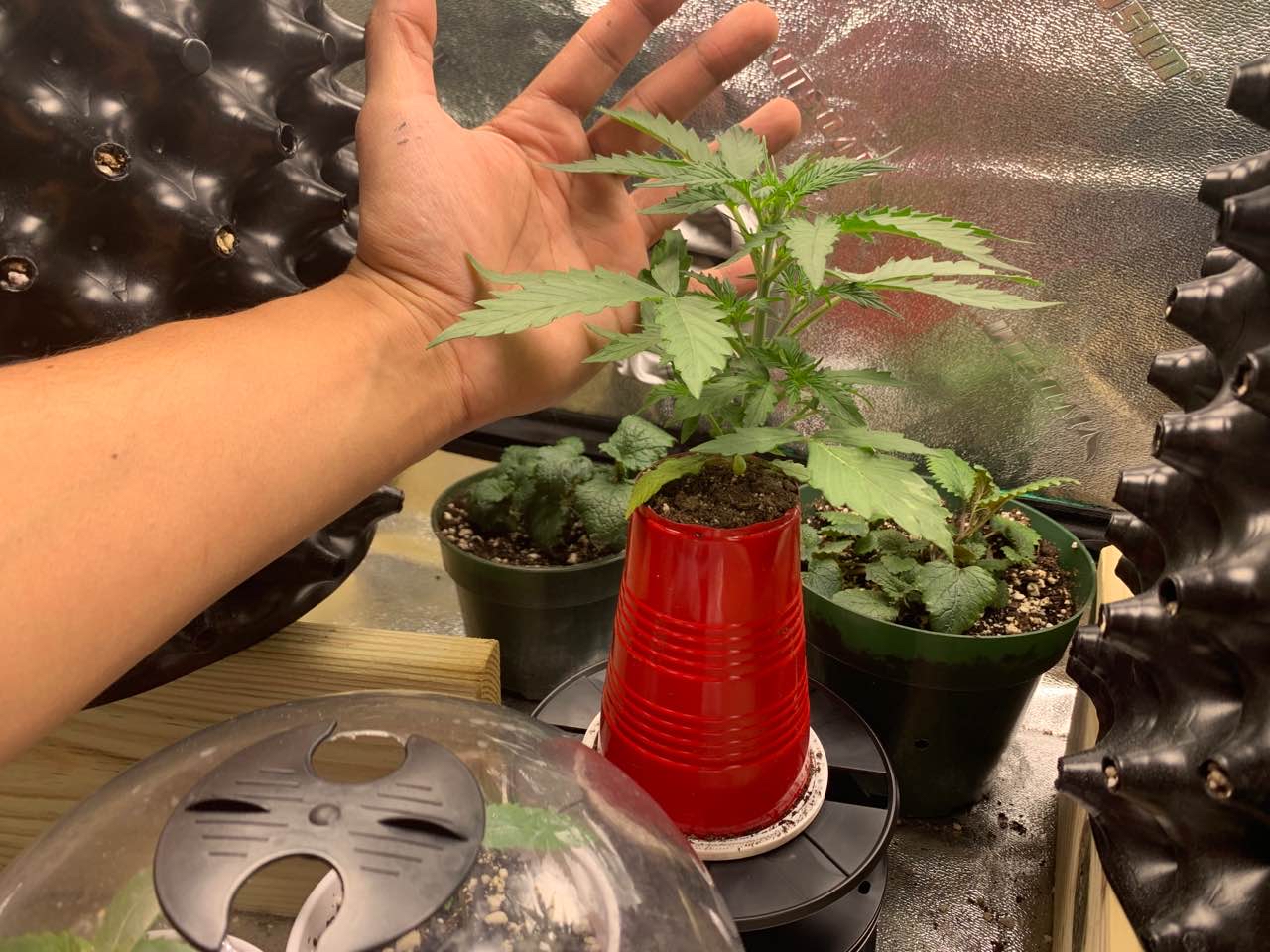 Added some spools to raise the cup, she's getting about 361 par now. Just a spray here and there yesterday but today I'll be away
7 months ago
First feeding yesterday. She seems healthy, but I figured I'd stay ahead of the game since she has less soil to work with meaning less nutrients. Fed her with big bloom and grow big (A few drops of each to maybe equal an 1/8th of a tspn), molasses, and myco. She's on the 5th node I believe and her lower sites are starting to reach. Maybe I'll try topping her?
7 months ago
Lights are moved up higher from her, but she's doing fine with about 300 par
7 months ago
Loving the environment. At our 4th node! Gave her a full watering with myco and molasses oh balanced of course. Also one half of the rent is in flower, so the light has been turned up and raised just to note this change in environment.
7 months ago
She's gaining size fast
7 months ago
First five point leaves! Exciting
7 months ago
Watered with myco and molasses. Continued to spray with high humidity.
7 months ago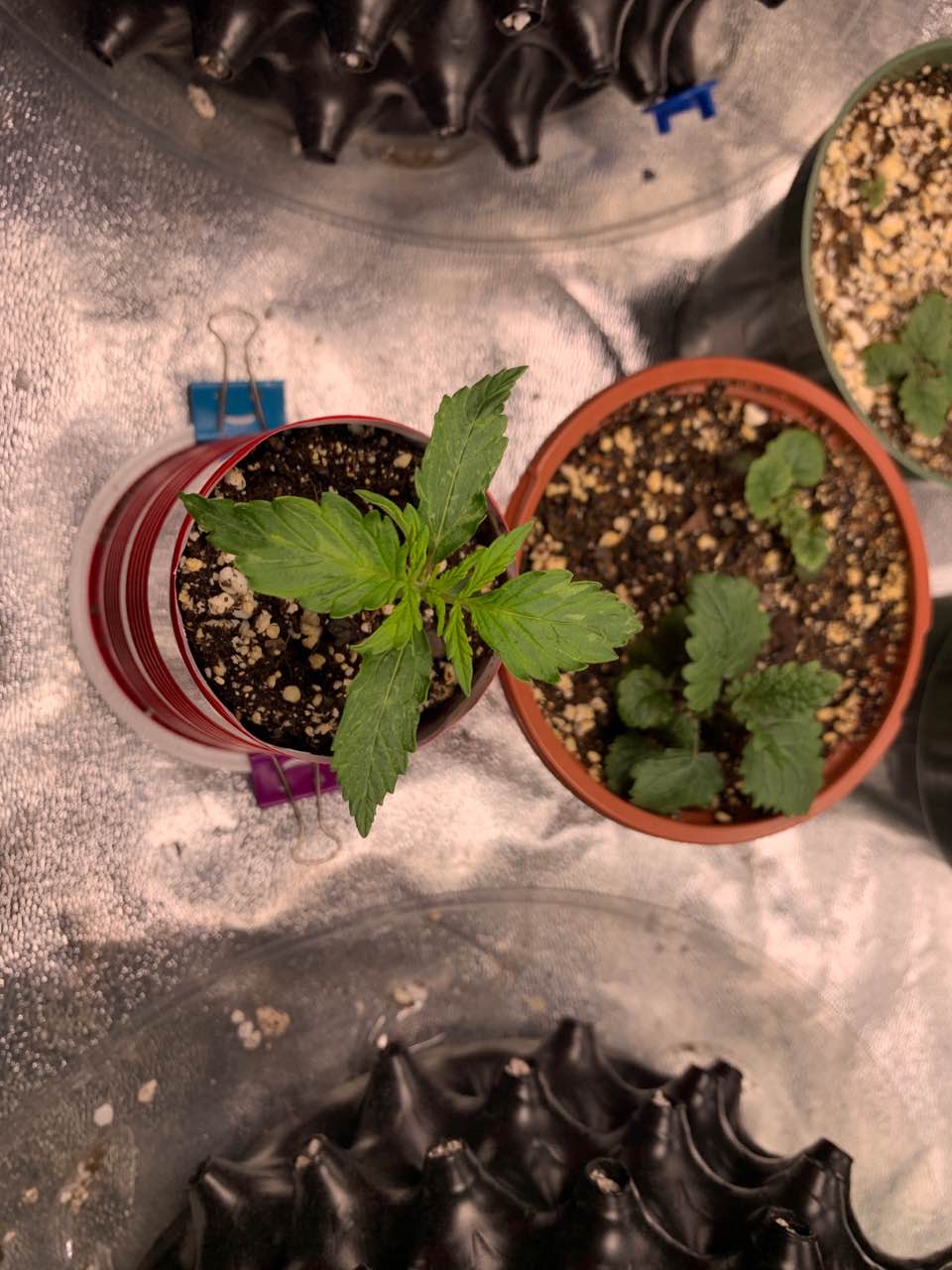 She's picking up speed! Humidity is high so haven't watered yet and she seems happy this way
7 months ago
Vegging nicely! What's this discoloration I'm getting though?
7 months ago
Gave a full watering yesterday with myco and introduced 3/4tspn blackstrap molasses. She seems to be doing ok and already gave off the first three point leaves on the second level
7 months ago
Here you can see more of the discoloration. The humidifier turned off last night idk why, but I sprayed her this morning and turned it back on. She's moving, just slowly.
7 months ago
Took the dome off against my better judgement. Just got tired of having to wet the cover. RH when lights are off is about 60% but lights on is 50%ish. Should be watering today since I watered Saturday.
7 months ago
Loving the lights and environment, gave her a full watering on 2/4
8 months ago
First true leaves are making their debut! It's been a long time coming but we're here finally. Moved her in between both lights and she's continuing to lean towards the higher up light surprisingly, must mean there's more power there?
8 months ago
She's grown and colored a bit and is now under 70% light at 230"par". The others are farther along so I dropped the lights and turned them up for veg. The humidity dome is still being used.
8 months ago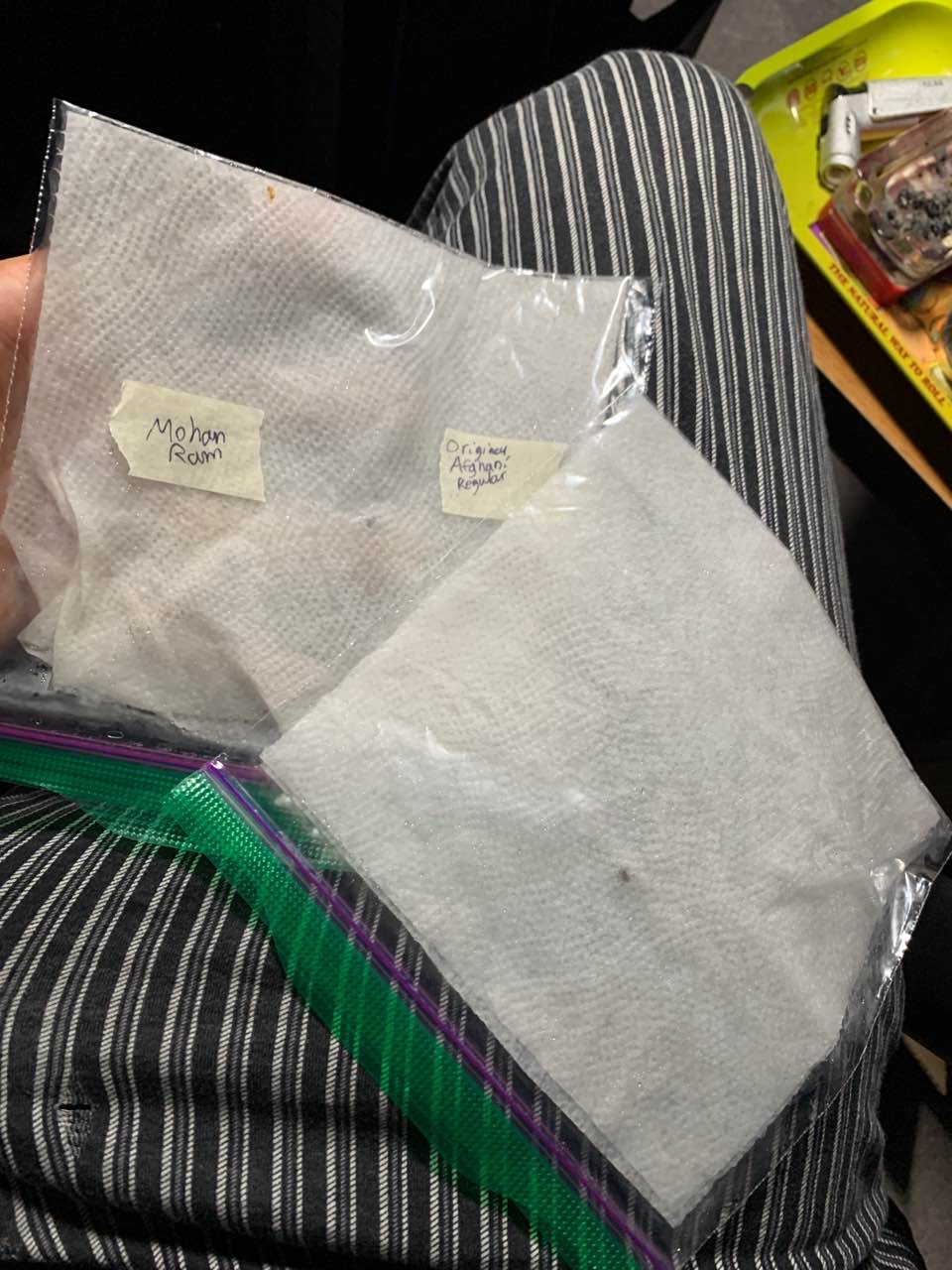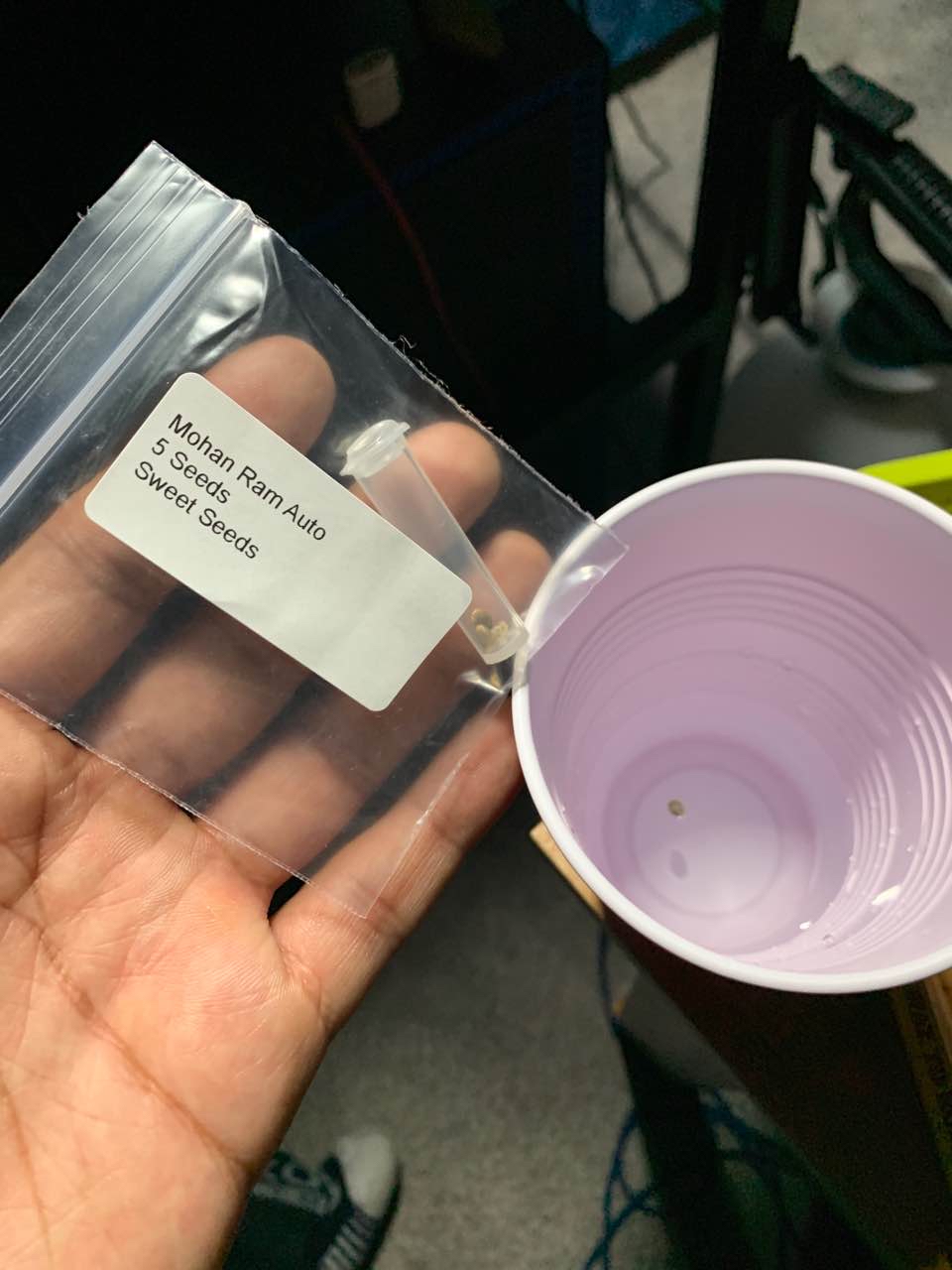 Only one seed has shown activity out of the 5 attempts so far. The one I first soaked in phed water and set in the bag was one 1/29 and it's finally showing life. It popped open but the tap root was covered by the inner shell lining. I peeled that, and a day later cracked the shell of the seed open. It finally showed new growth this morning so I planted her today. 75% ocean forest and 25% roots organic.
8 months ago