Grow 1
CKS Feminized Photo
Two photo Devils Crack plants (CKS feminized). Soak date 7/18/21. To be grown in 5 gallon grow bags using Fox Farms trio nutes and FF Ocean Forest Soil. FIM, SCROG + LST
Day 56 flower watered today plain ph 6-7 more days and she's getting the axe
a year ago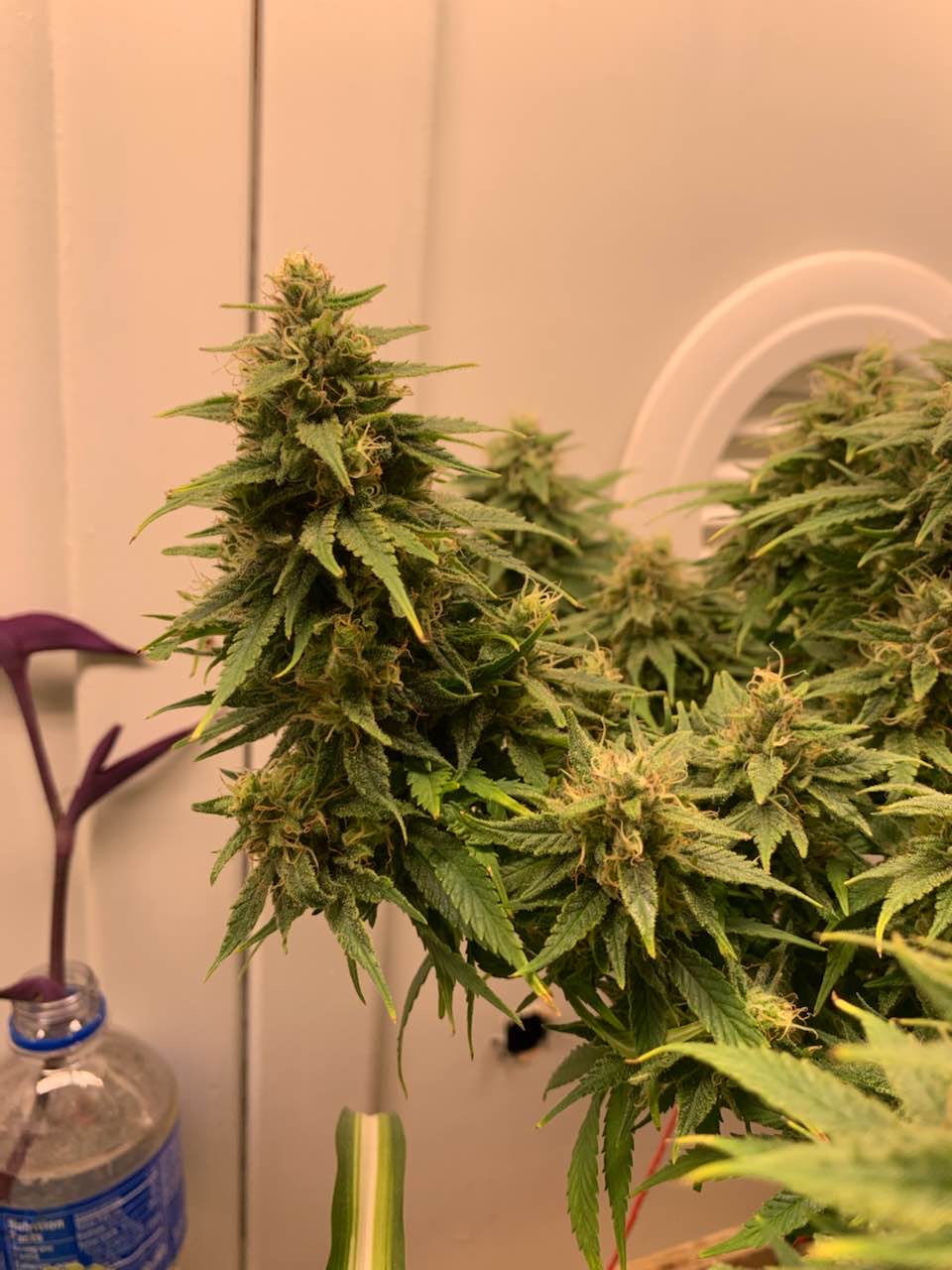 Day 52 flower. Watered day before yesterday with plain ph water. She shan't be much longer.
a year ago
Flower day 49 (week 7) regrettably I had to chop #1 2 weeks early. She had Hermed and was posing a risk to #2. 2 weeks to go on #2.
a year ago
Flower day 45. Watered with nutes on day 44. 1.5 gal 15ml tiger bloom, 50ml big bloom, 5ml cal mag. Removed my scrog to do some heavy LST to open them up these last few weeks. Accidentally broke a branch off #1 oh well. I've got it drying and we shall see how she smokes as an early sample.
a year ago
brotch The training is on point!
Flower Day 41. Watered with 1.5 gal pH per plant. 3-4 more weeks to go and these babies will be cut down.
a year ago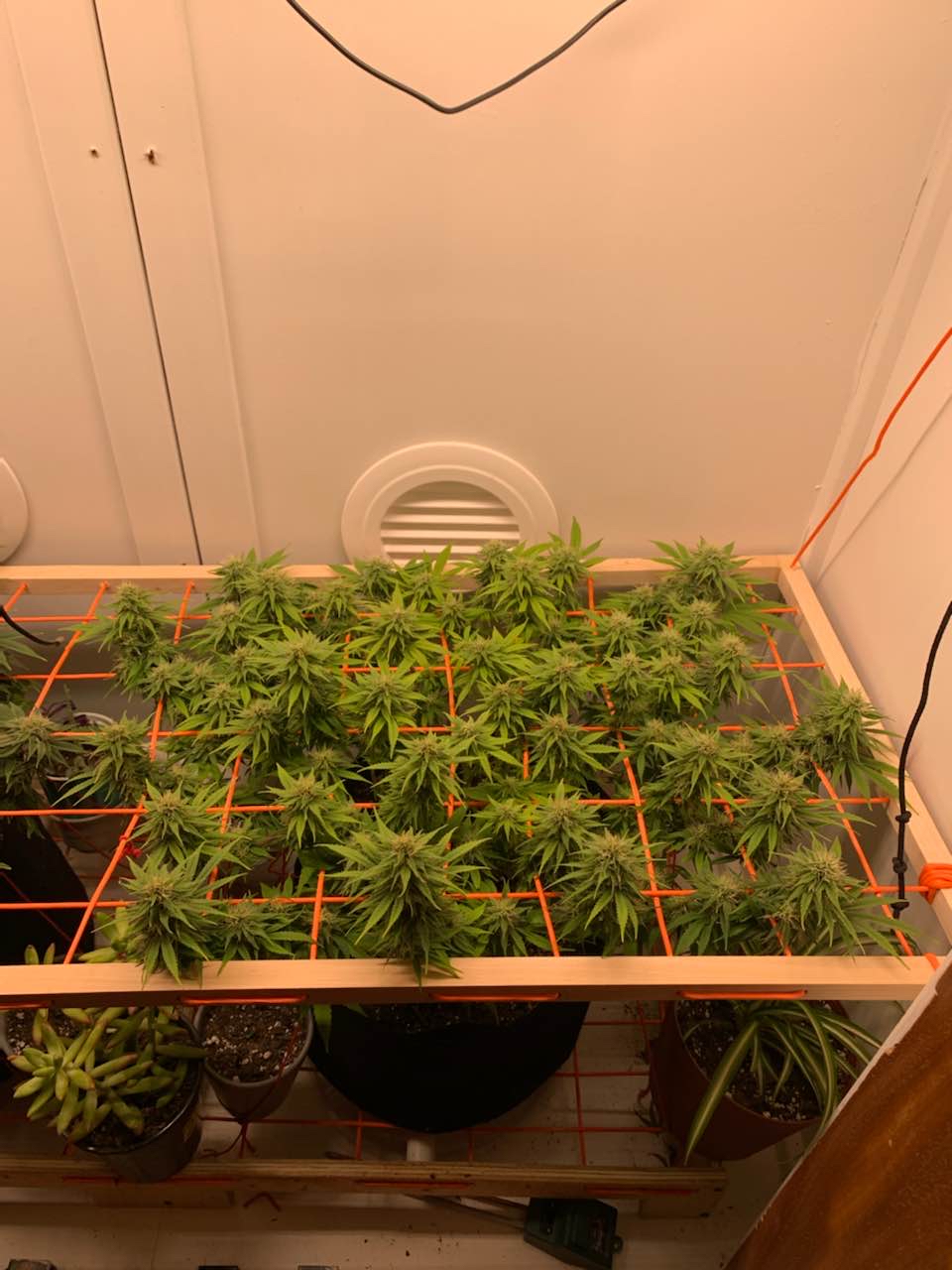 Day 37 of flower. Watered with plain pH 3 days ago. Watered today with full strength nutes but cut back on N. Only half the usual Grow Big. Next feed will have no Grow Big. And up Tiger Bloom to 15ml. 1 gal per plant at 3 days gives enough run off
a year ago
Day 30 flower period. Have both plants 1.5 gal of water. 1st gallon 5ml gb 45ml bb 10ml tb 3ml cm+. Followed by .5 gal plain pH water to induce runoff.
a year ago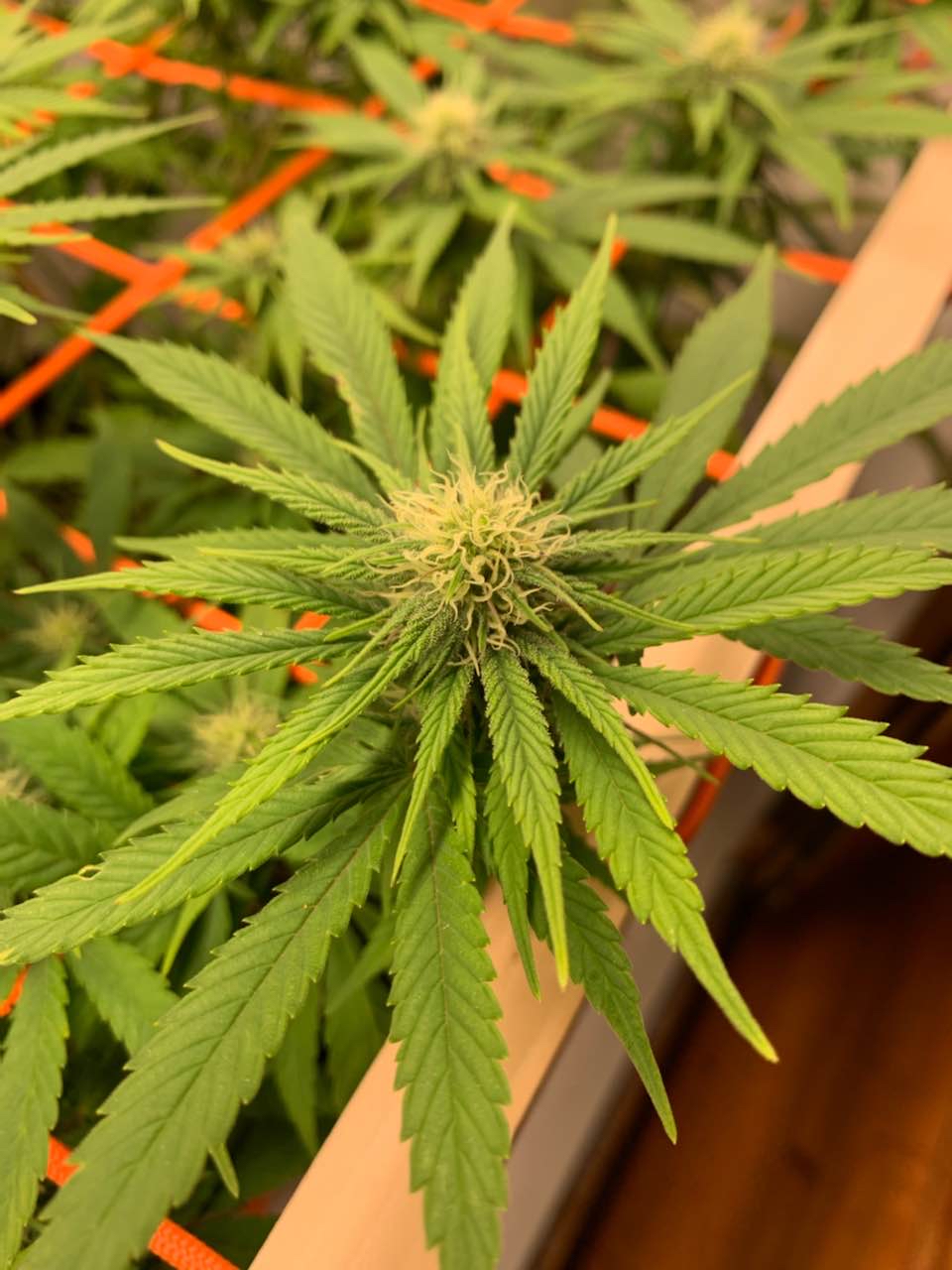 Day 24 flower. Watered both plants with 1.5 gal pH water with recommended 10ml sledgehammer for the 1st gallon then .5 gal regular pH water. Buds are getting fatter and starting to ooze that sweet goodness (trichromes) lol
a year ago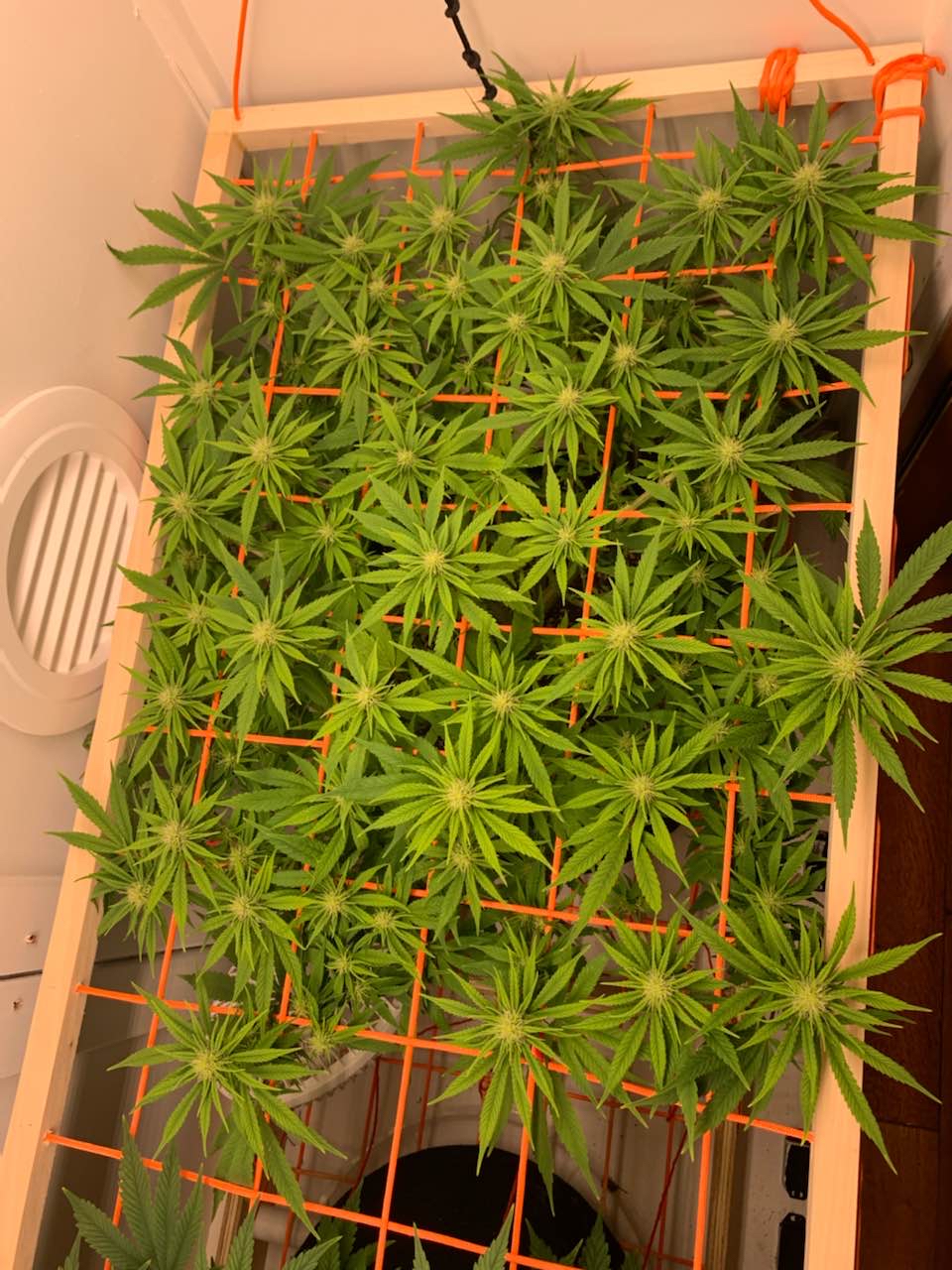 Day 23 of flower period. Buds are starting to get plump. Next water will be plain pH with a bit of sledgehammer mixed in. Things are going good. 3 weeks and 2 days down, 6-8 weeks to go.
a year ago
Day 18 of flower. Watered today with nutes. No cal mag only trio. Also defoliated and cleaned up all the suckers. Only tops are canopy tops now and the under foliage has been removed.
a year ago
Steven Thanks! I built it myself using an old 1940's armoire
Day 13 flower. I added a 6" fan to the bottom of the cabinet to try and help #1 dry out quicker. #2 drys very well and is doing good. #2 is definitely the superior phenotype. I also did some re-weaving and defoliation today to even out the canopy on #2 mainly but took some leaves off of #1 as well.
a year ago
Day 12 of flower. Net is taking nicely. Both plants confirmed female I think. More white hairs visible today. Now we wait for them to start stacking. I just can't wait until these things are in full on bloom with big flowers. #1 is still taking longer to dry out. Both plants get plain pH water next watering.
a year ago
Some better photos of bud sites forming. Day 12 of flower cycle.
a year ago
Day 2 of flower. Took them outside and gave 1.5 gal of plain PH2O per plant to run off some salts. Hopefully these babies don't outgrow my indoor cabinet.
a year ago
The girls are doing well. 1 is really starting to fill out. Plants are just about the same height. 1-2 weeks to go until I flip to flower. Water today right before vacation. Hope they make it by themselves until Monday.
a year ago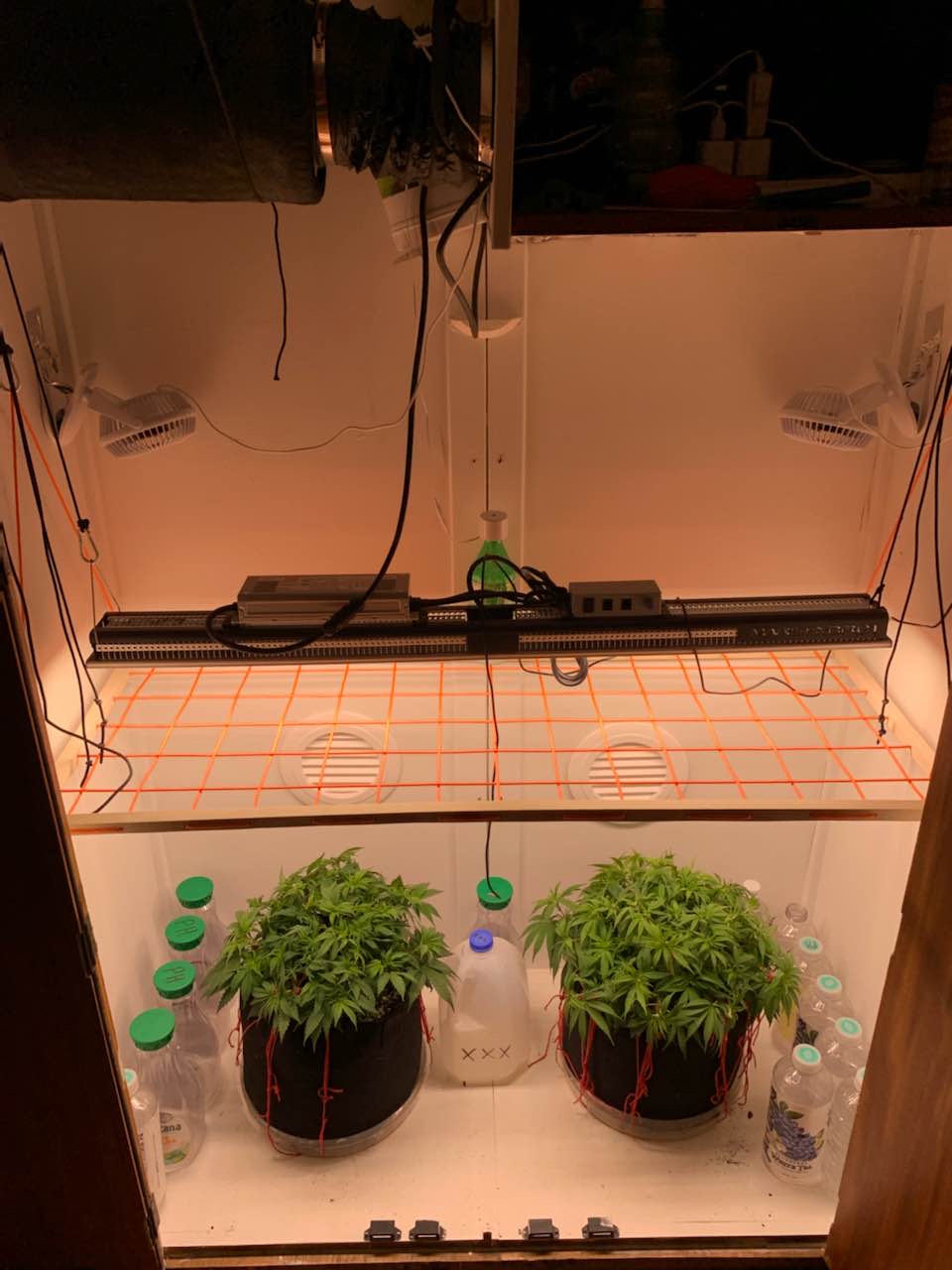 Have been giving 1/2 strength nutes every other water GB BB TB and CM. Continue to LST. 1-2 weeks from now I will start the flowering process. Both plants are showing signs of sexual maturity. 1 has finally ALMOST caught up with 2. 2 is going to force my hand on the flowering flip. She's getting big.
a year ago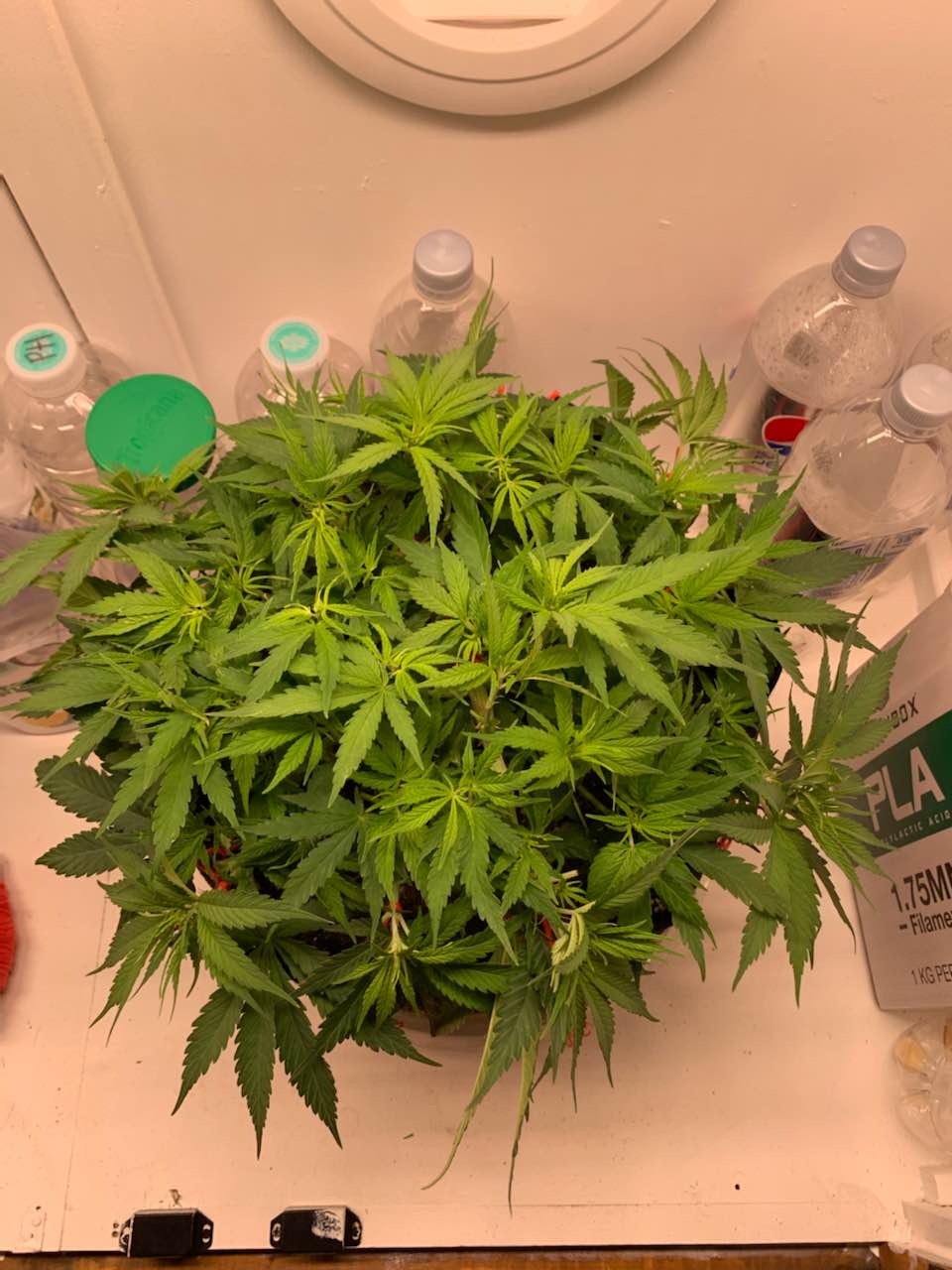 Took a few more leaves to open up some light to the lower tops. Said I would leave them alone but I lied. Now I'll leave them alone lol
a year ago
optimusprime80 It's so much harder to leave them alone than non growers believe! Lol. I'm 100% the same.
Still looking good after the flush. I'm not going to defoliate anymore for awhile.
a year ago
#1 is finally catching up to #2. Watered 1/2gal of sledgehammer per day plant, then watered again with 1/2gal of sledge + nutrients say before yesterday. Plain PH next water then introducing tiger bloom. Defoliation and LST tonight. Looking good.
a year ago
Peng They look overwatered, try watering more quantity but less frequently
Watered yesterday with 3/4 strength 1/2 gallon per plant. Continuing vegetative defoliation to expose lower branches to light. LST so far has kept the plants at around 8 or 9 inches tall. Before and after photos showing defoliation.
a year ago
Mixed up a gallon of nute water. I used 10ml of Big Bloom and 4ml of grow big in this watering. That's a little less than half strength. Gave both plants 1/2 gallon each. Both plants ran off slightly and the ph was near perfect. We'll see how they handle this nute boost. Also pinched stems and LST.
a year ago
I think I'm going to go ahead and give the girls a dose of nutrients tonight. They seem to be using a lot of water so I figure I may as well feed them.
a year ago
kactai That cabinet is very pleasing to the eye. Nice clean grow!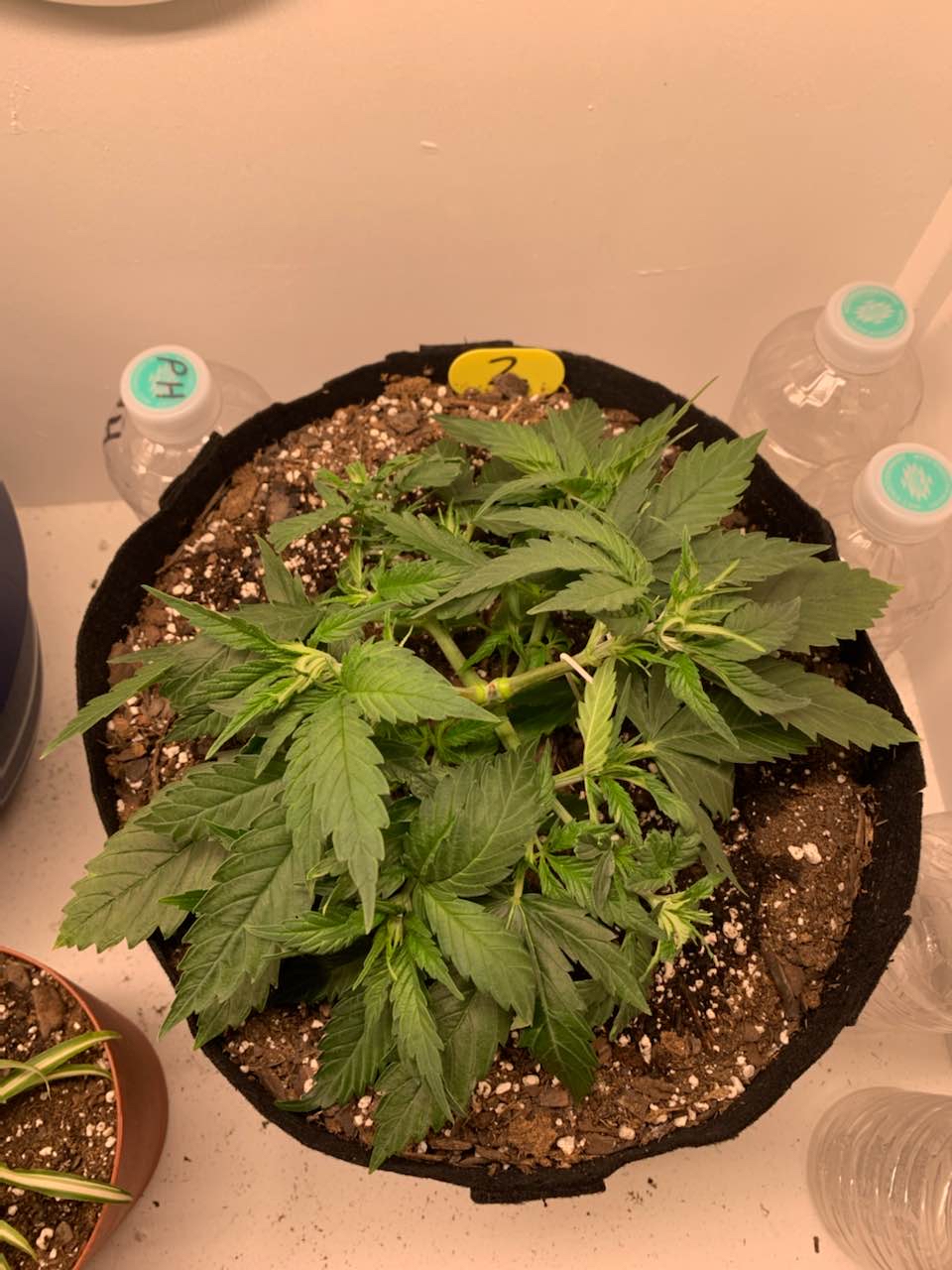 LST both plants. I took 3 fans off #2 to expose the hot ends better, #1 got the same FIM treatment as #2 did on her main laterals below the 2 main tops. Watered sparingly.
a year ago
I went ahead and topped #1. She's not as big as #2 but she got topped at the same node. I still have not fimmed the new growth below the top site because they are not developed enough yet. #2 has exploded with new growth since I topped/fimmed her. The LST is doing wonders for her
a year ago
Added some long sections of 3D printer filament as LST stakes. Works swimmingly!
a year ago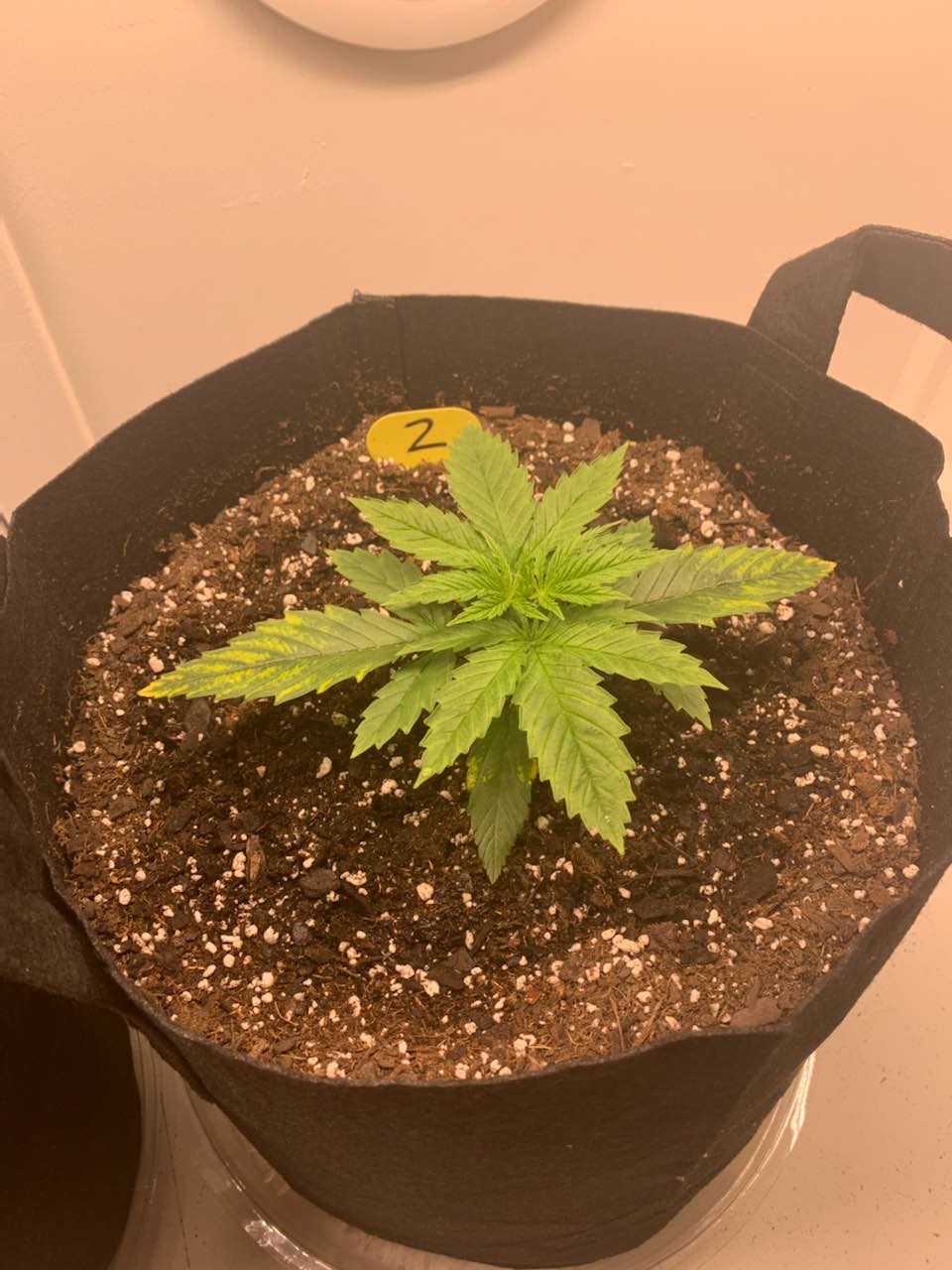 Watered again today with half a big bottle of PH water each. Hopefully I'm not overwatering. Soil was dry all the was as deep as my pointer finger will go but still reading pretty moist near the bottom of the bag in my meter.
a year ago
I went ahead and topped #2 and began LST by bending all the branches down. Hopefully the new growth a node below where I topped will catch up to the new tops once they emerge. We will see. #1 is still too far behind to top. Note to self don't drop a grow light into one of your plants next time.
a year ago
Checked moisture with meter today. Root zone still wet. I noticed a huge difference in these plants stance after a full watering on day 17. Not sure why there is such a difference in growth between 1 and 2. 1 came up 1 day after 2 so I think it may be genetically deficient or something.
a year ago
RiskIt Could just be the old "all plants are different" thing you could have to identical seeds and they both could grow very differently every seeds it's own personality 🤣
Transplanted into final pot and medium. Gave both half a bottle of my PH water. Roots were in the bottom of the smaller pots so I went ahead with the final transplant early. Fingers crossed!
a year ago
Transplanted day before yesterday. Watered that day. 1 is still being kind so slow but is growing. 2 is growing rather quickly and has begun her second node. 1st node has fan leaves of 3 fingers. Sprayed the top of my soil and added 5ml of my vinegar water to each plant tonight. Both plants showing signs of some type of stress (little yellow spots) this is due to a combination of hot soil, the light being to close and soil getting on the leaves.
2 years ago
1 still hasn't caught up with 2. 2 is showing great promise. Very strong fast growing plant.
2 years ago
Added some soil to the top of the cups to bury more of the stalk. First transplant coming up in 12 days or so. The first node past the single serrated leaves is coming in on both specimens. Hopefully 1 does some catching up since it popped a day later than 2.
2 years ago
Watered both plants last night when the lights came on. Gave just enough water to see some drip out of the bottom of the cup. Both seem to be thriving.
2 years ago
Specimen 1 has erupted and is doing well. Now we just wait for them to grow grow grow
2 years ago
Specimen 2 is above ground, still waiting on specimen 1 to erupt.
2 years ago
Specimen 2 is beginning photosynthesis and is standing nearly vertical now. Still waiting on Specimen 1 to show herself. She has shed her hull and is well on her way to being above ground. We will likely see her tomorrow morning.
2 years ago
Examined both seeds via toothpick excavation. Specimen 1 is unpopped but specimen 2 has a very healthy tap root development and is well on its way to erupting.
2 years ago
Specimen 1 has popped and has a tap root. Excavated both seeds again to check on them. Hopefully nothing went awry. Both seeds confirmed viable germinations. Now we wait to see them erupt to the surface.
2 years ago
Had a difficult time keeping my plate warm during germination, so I decided to do a soil germination. Soaked seeds for 16 hours then let them stay in the plate wrapped in a wet paper towel for an additional 9 hours, then I planted them directly in Fox Farms Ocean Forrest soil. 🤞
2 years ago
Got up and noticed the soil was quite dry so instead of spraying I poured a little water down the sides of the cup, enough to where it dripped out of the bottom just a little bit.
2 years ago
Started "the soak" 7/18/21 @ 9pm EST.
2 years ago