bassman654
Auto Grow
3 auto flowers
Combining my auto grows. Ima let them live in the 1g pot. 50/50 soil coco amended with the usual stuff.
Auto Masszar/ Auto Massassin / Auto White Widow
One down. 2 to go🤣🤤🤤
3 years ago
They are just about done. The smell is off the charts.
3 years ago
Buds fattening up nicely. I transferred them all to 3g pots. The Auto Massassin streached a lot but looks like its done now. The Auto White Widow is still amall in comparison to the otthers.
3 years ago
Auto Masszer got so big I had to put it in a 3 gal pot. The buds are stacking up very nicely. I fed them today ph'd to 6.0.
3 years ago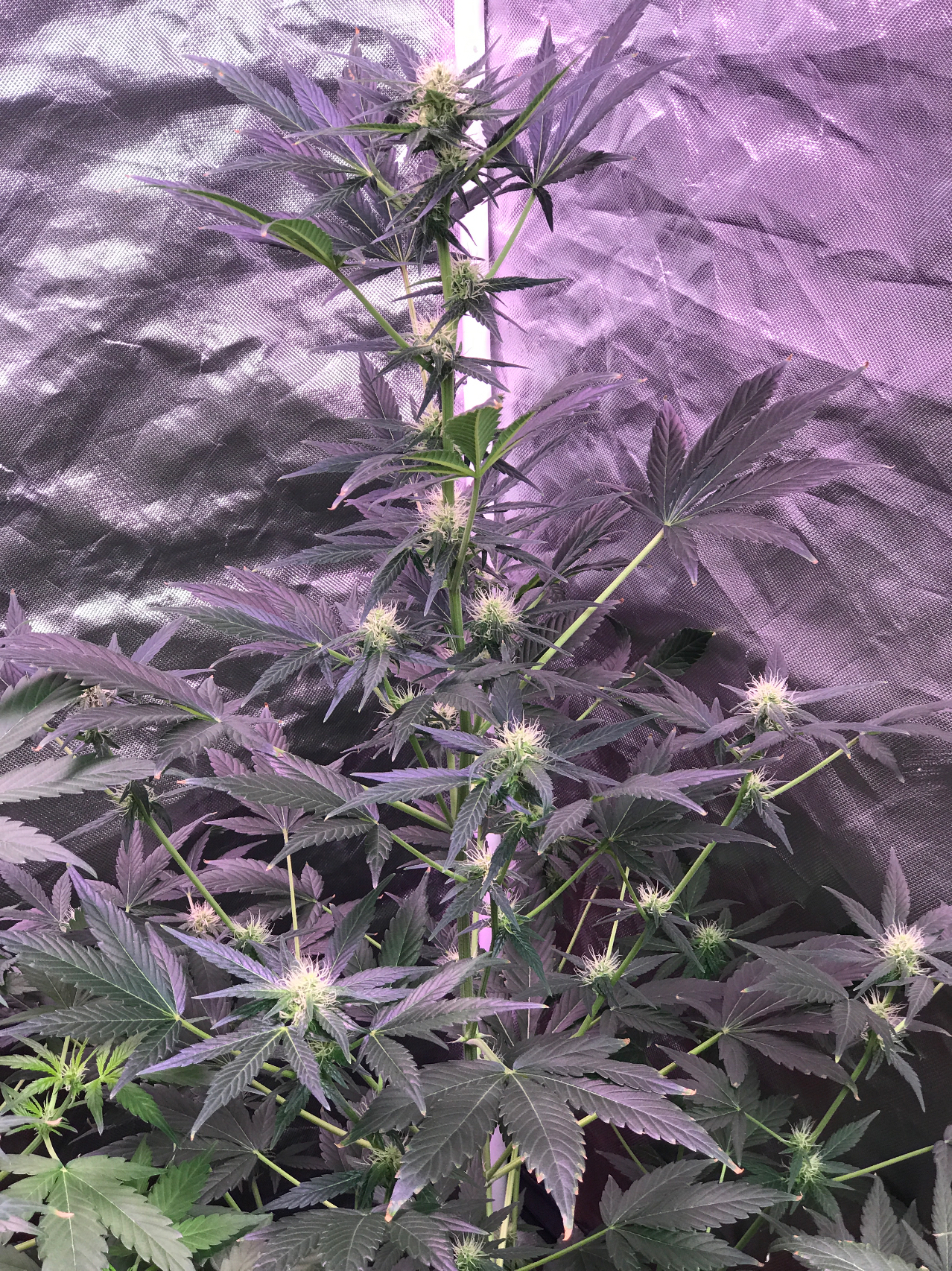 Looking good 😁
3 years ago
Buds look good and started to faten up.
3 years ago
The Auto Masszer is budding 😃 She's almost ad tall as the others.
3 years ago
They got too big for the table. Had to put them on the ground.
3 years ago
Looks like this one is getting ready to flower. Its been on 12/12 the whole time so, it seems about right on schedule, i think.
3 years ago
Auto plants are looking good. I watered / fed today. The little white widow keeps wanting to fall over. I have to be real careful watering it.
3 years ago
Coming along nicely. The white widow is starting to take off finally. That auto Masszar is a monster. Looks like it's been topped but I haven't touched it.🤙🏾
3 years ago
Wow look at the size difference a few days makes. The white widow is only a week behind and looks like it just started.
3 years ago
Walty Wow....that's amazing the difference in growth between the two.
Autos looking a little light green. Time for a feed. Other than that, growth is steady. The Masszer looks like it's gonna be huge for an auto.🤙🏾
3 years ago
The Masszer I think is going to be a big one as far as autos go. It's the oldest the auto Massassin is about a week behind and the auto white widow as you can tell is just barely a week old. I had to add more dirt because it's too strechy. All in all they look ok. There's some nutrient burn so ima limit it to plain water and molasses ph'd to 6.5 for a while
3 years ago
After the power failure they didn't get proper light for about 2 days. They seem to be bouncing back.
3 years ago
I have combined my autos into one grow log. The bigger one is about a week older than the other and, on the bottom I've just planted another auto white widow. This is the 3rd try and I still have one seed left. These are all going to stay in 1g pots cause autos don't get that big. Any help with this grow is greatly appreciated.😎
3 years ago
Walty I've never grown an auto, but I understand that you are dealing with a predetermined timeline. So you don't want to do anything stressful that slows the plant down and uses up valuable time (for example, they don't recommend transplanting). That's all I know man....but I look forward to watching your grow!
Bassman654 I've only grown a couple autos and found out the hard way that any shock you give them sends them into flower. So ima just let them do their thing in the corner of the flower tent and see what happens. Hopefully they turn out better than the last one's did.
Looking better. The leaves are starting to darken up a bit.
3 years ago
FengShui R those 3 autos in the 3gallons, are they in your veg room w other non auto plants? Just curious I could see other plants in the pick and I've heard of many of people that do put autos in there veg room
Bassman654 Yep they are in the veg tent . The others in there are about ready to flip. When that happens they all will be move to the flower tent.
Looks like they can use a little calmag. But they otherwise ok.
3 years ago
Looking good. Not too strechy and look who decided to pop up? The Auto Massassin😂 I should have waited another 24hrs before popping the Auto White Widow. Now I'll have 3 autos going.🤷🏾‍♂️
3 years ago
Have a little water with seaweed.
3 years ago
Looking good. Not too much of a streach.🤙🏾
3 years ago
We have sprout 🤤
3 years ago
Bassman654 I pit it under a low wat light to get it started before I move it to the tent.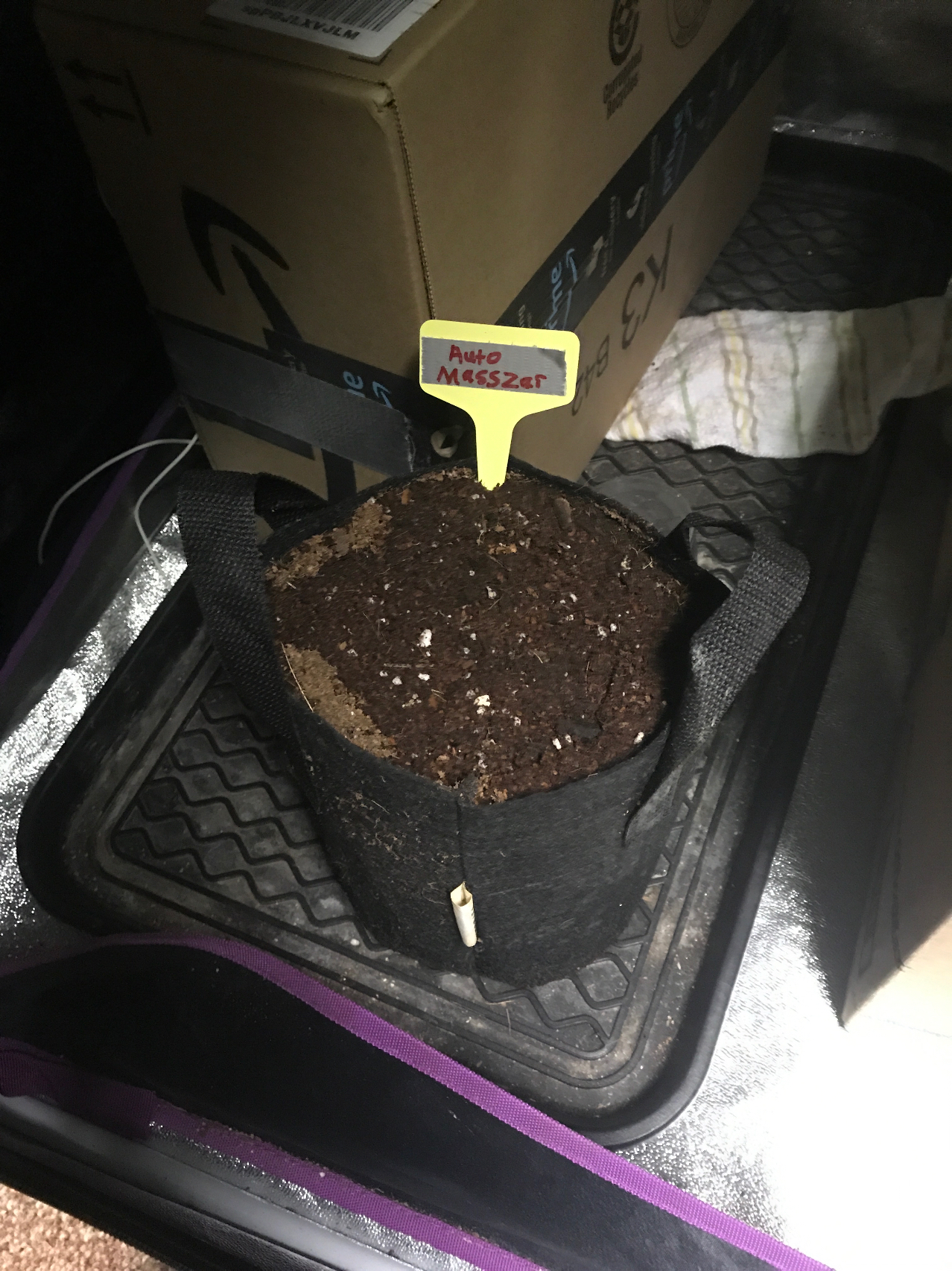 Waiting for it to pop up.
3 years ago
I soaked it for a day and put it straight into a 1g pot. See y'all in a couple days when it pops up👍🏾
3 years ago