Clone Run
Last '22 Fun Run
As of today 10/03/22 her moms been flowering a few weeks, tossing this lady if I don't like moms end results but otherwise will keep a mom. 11/01/22 will be day 1 of 12:12 and journal starts with acclimating not full on Veg. Edit-Looking for an ounce dry..she low yield/stupid high quality
📅Day-22 WK4 12/12 (11/22/22) 🌱Plant-? 💡Light-30" @66% 💦Nutrients-321/PK100%/AACT/Recharge 🏠Environment-70-75F 55%RH 📝Been tryna work on what appears to be a K issue but it's looking like a lockout so gave her 1 gallon h2o w/FloraKeen today ph'd @6.4, going back to feed tomorrow. Her stretching was minor this run under stronger light and adjusted schedule so opened her back up with ties.
4 days ago
📅Day-15 WK3 12/12 (11/15/22) 🌱Plant-15x20x8" 💡Light-30" 💦Nutrients-321/PK50%/AACT/Recharge 🏠Environment-70-81F/40-55%RH 📝Swapped out exhaust, foliar fed Mg for the color and nutrient imbalance, the mix could possibly be too "hot" but ain't no fun without learning. Hopefully we can get more stretch by end of wk4, watering frequency dialed back because she's holding water On a side note I just began harvesting her S1 seeds
11 days ago
Rhizosphere life's increasing wonderfully.
16 days ago
📅Day-8 WK2 12/12 (11/02/22) 🌱Plant-12.5x16x7.5 💡Light-30" 💦Nutrients-Jacks321/PK50%/Recharge 🏠Environment-70-81F/40-55%RH 📝Nothing special done to her just minor training.
19 days ago
Bushing out nicely and her sister in Veg started lst today
22 days ago
Looking like she settled in nicely and we decided to repot her sister clone today into a 1Gal since she's been in a cup the entire 31 days these been going.
24 days ago
11/01/22 📅Day-1 Wk1B (Day29 Overall/Clone) 🌱Plant-8x12x5.5-6" 💡Light-28" 💦Nutrients-Jacks321/Sugars/Foliar 🏠Environment-75-80F 55-60%RH 📝Dried out enough rite on time to repot and flip to 12/12 early this morning, amended her pot for the high brix idea (Blue Book) and also jumped rite back into lst to maintain good light penetration plus shape. The high brix amendment is a test of plant knowledge as well as improving the methods/quality so hopefully we get another smooth grow w/o any problems. Goals only 1-1.5oz dry.
a month ago
Still training and gave a foliar spray after seeing either a gnat or fruit fly flying around in the Veg space.
a month ago
Plucked 4-5 fan leafs and adjusted lst. 3 more days Veg left, she needs more plain water or FloraKleen for the salt still built up but she's still growing at a good rate.
a month ago
Snapped a top during lst and lots of super cropping. Salt flush for the obvious nutrient buildup and back to stretching her out, thinking she can grow about 50% bigger before flip on 11/01/22. If she's dry fast enough she'll get repotted to her final home this week but if not we repot on flip day.
a month ago
Low feed and we're gonna add some more ties later today to hold things down better because she's bouncing back too fast for the lower growth to catch up even when super cropped.
a month ago
Showing great growth and shaping from the training, 10 more veg days to go then flip on 11/01/22 for exactly 4 weeks Veg. Removed 1 leaf
a month ago
Minor trim and bend, nice growth from her since last update.
a month ago
Doing great just working on size, cup clone is growing better but still expect the 1 gallon to be ready on time for flip.
a month ago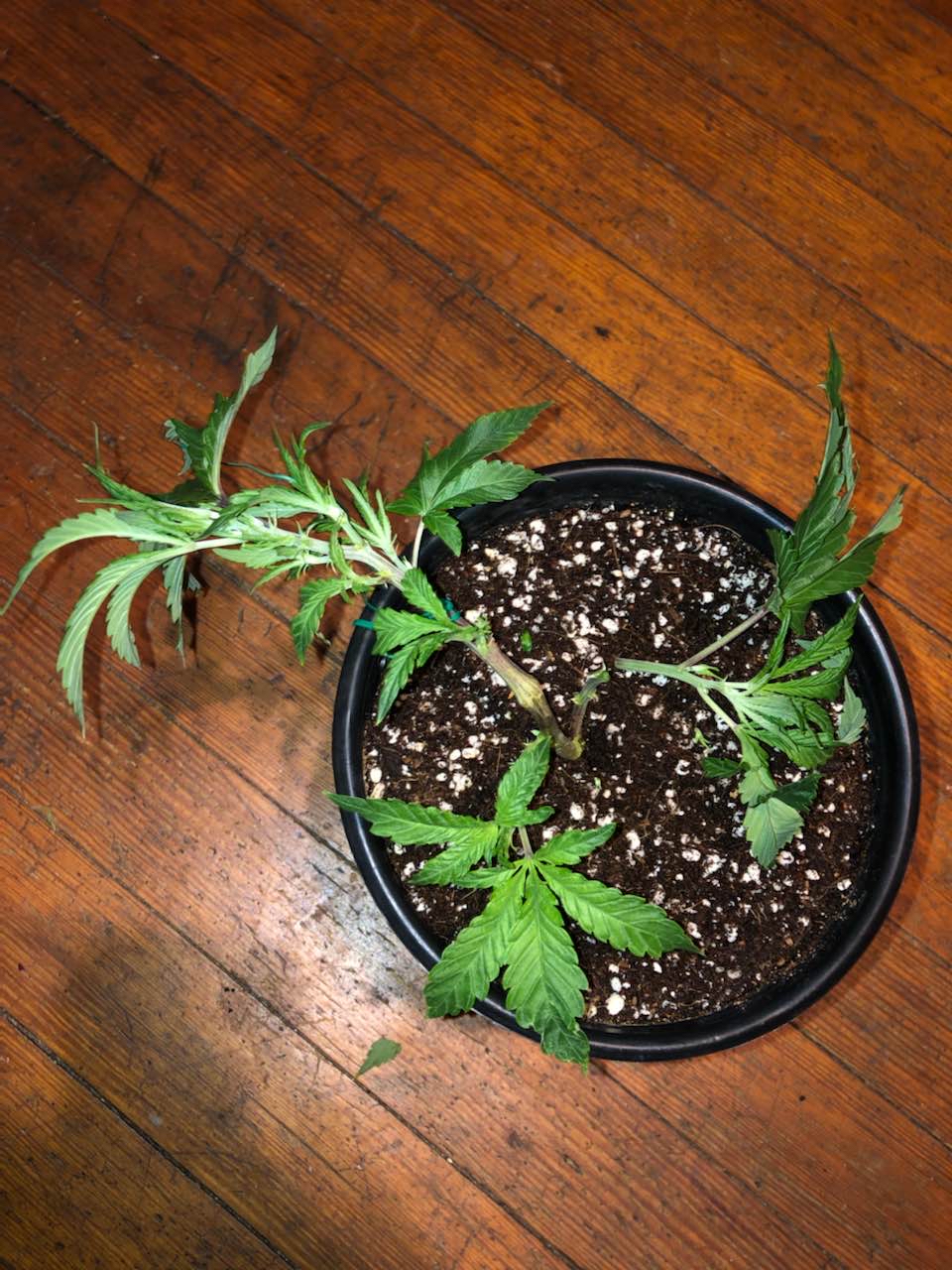 Started getting bushy immediately so trimmed and bent a few days ago. Snapped a branch by mistake when training so we'll need to work a bit more on the other stuff to compensate. Pic 1 is today, 2&3 at training.
a month ago
Bit of a rough cloning session without nutrients but both will recover in a week, we repotted into the 1 gallon a few days before the cup as that'll be the focus of this journal. Pic #1 is today and #2 was a few days ago, the cup will be a mom and the 1 gallon will be ready to flower in 3 weeks. Side note-Finally purchased a cloner that should arrive this week.
2 months ago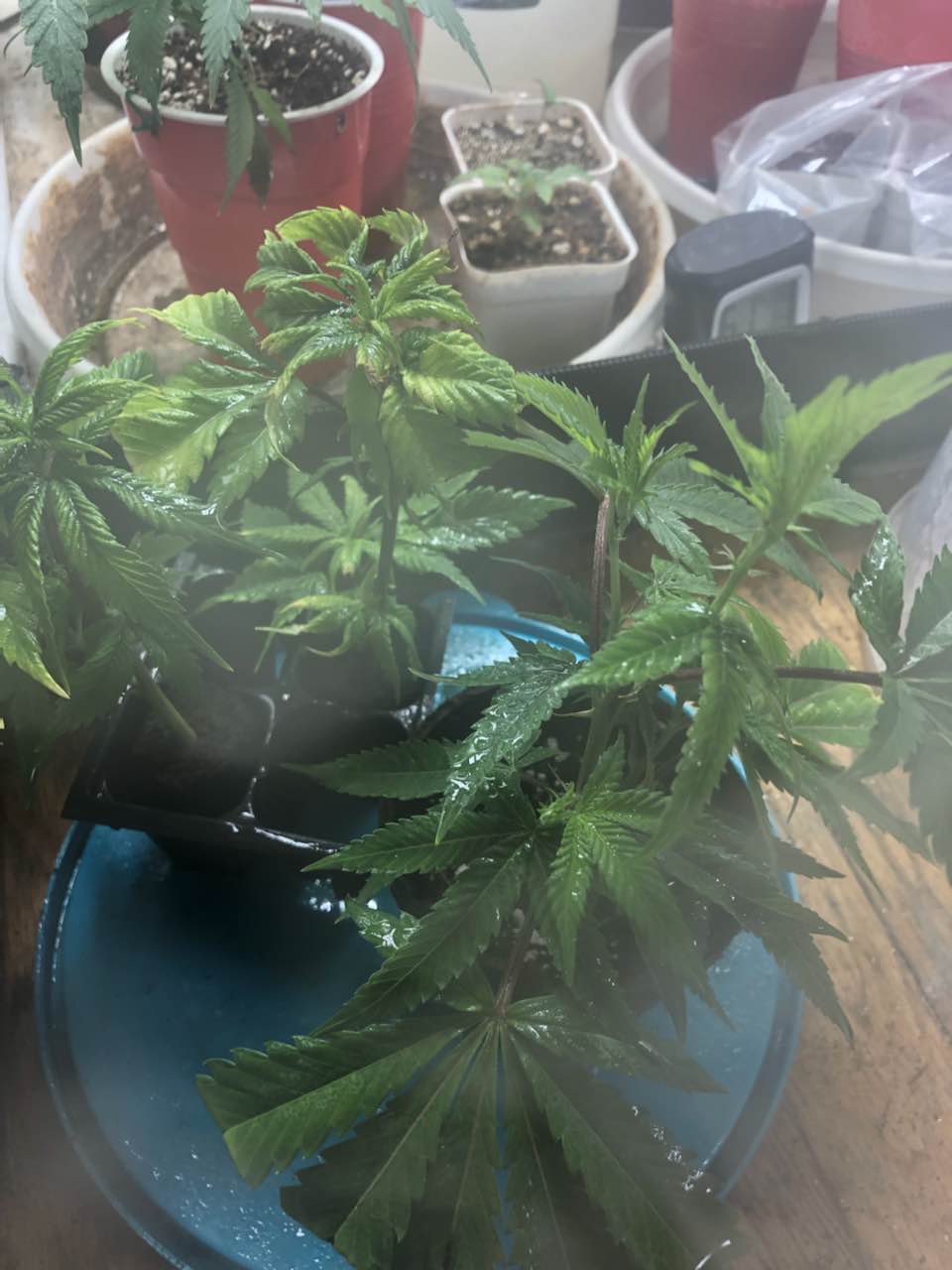 Rooted and acclimating with high rh/mist/fog, gonna run the girl on the left and she'll go directly into a 1/2 or 1 gallon pot with 2 gallons as her final home. May add some other to this grow
2 months ago