SmokeMyOwn
Blue Eclipse Auto
Fall 22
Hydro grow. 60x60x78" tent/ Medic Grow Fold-8/ 7.6 gal. Res/ fox farm nutes/ 130 days to harvest
Blue Eclipse Auto (Sativa dominated)
ITS A BOY 😢 GAME OVER… TILL THE NEXT ONE!
16 days ago
🚨 ****she is in ICU right now!! I think I had all sorts of problems come all at once…. My ppm was too high (thought this one could handle it), VPD was way too high, RH was too low (according to the VPD chart), temps during lights off was too low (switched to 24/0 lighting to stabilize temps) I'm going to give this 2 more weeks to recover. If she looks worse than today I'll stop this diary. Next up will be a GDP Auto. I had great success w that strain!😎
3 months ago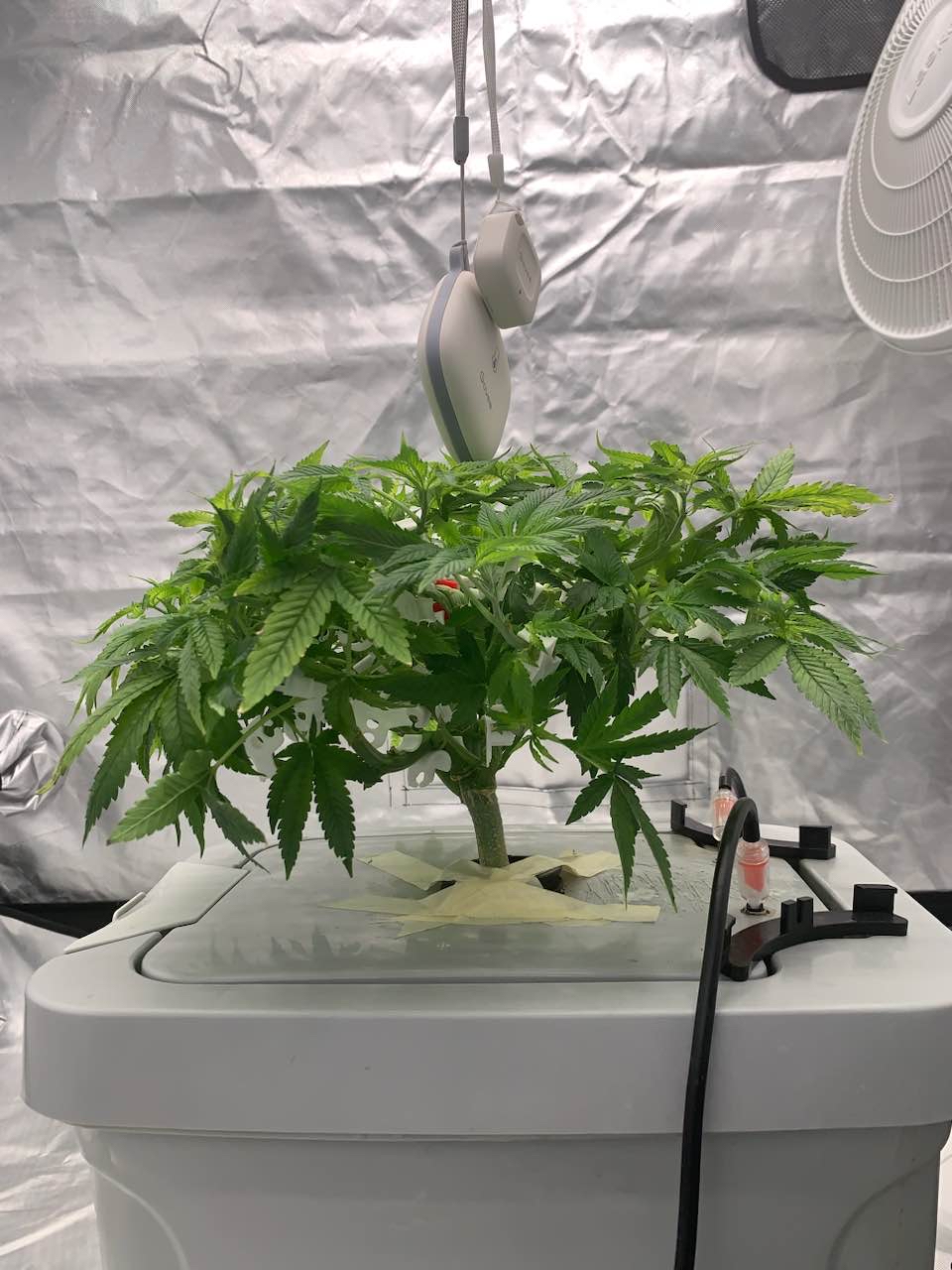 934 PPM 5.69 PH 71*F WATER TEMPERATURE Did my last major defoliation until she starts flowering. Realized my VPD was too high. Lowered it by upping the humidity and slightly lowering my ambient temps to around 70-75*F with humidity around 60%. I'll give her a bout 7-10 days to recover. Waiting until day 80 before I switch the lighting to a 12/12. Just in case she doesn't express her auto flower genes.
3 months ago
PPFD: 590 PH: 5.60 Humidity: 53.4% (weekly average) PPM: 1000 DLI: 41.9 Avg. Temp: 74.6*F/23.6*C I've been trying to figure out what was going on with her over the last week or so. Finally did another res change and saw the issue… I dropped my hygrometer in my res (don't know when). This caused all my problems 🤦🏿‍♂️ and probably a reason I haven't started flowering yet.. Hopefully all my issues are gone. We'll see in the next coming days 🤞🏿
4 months ago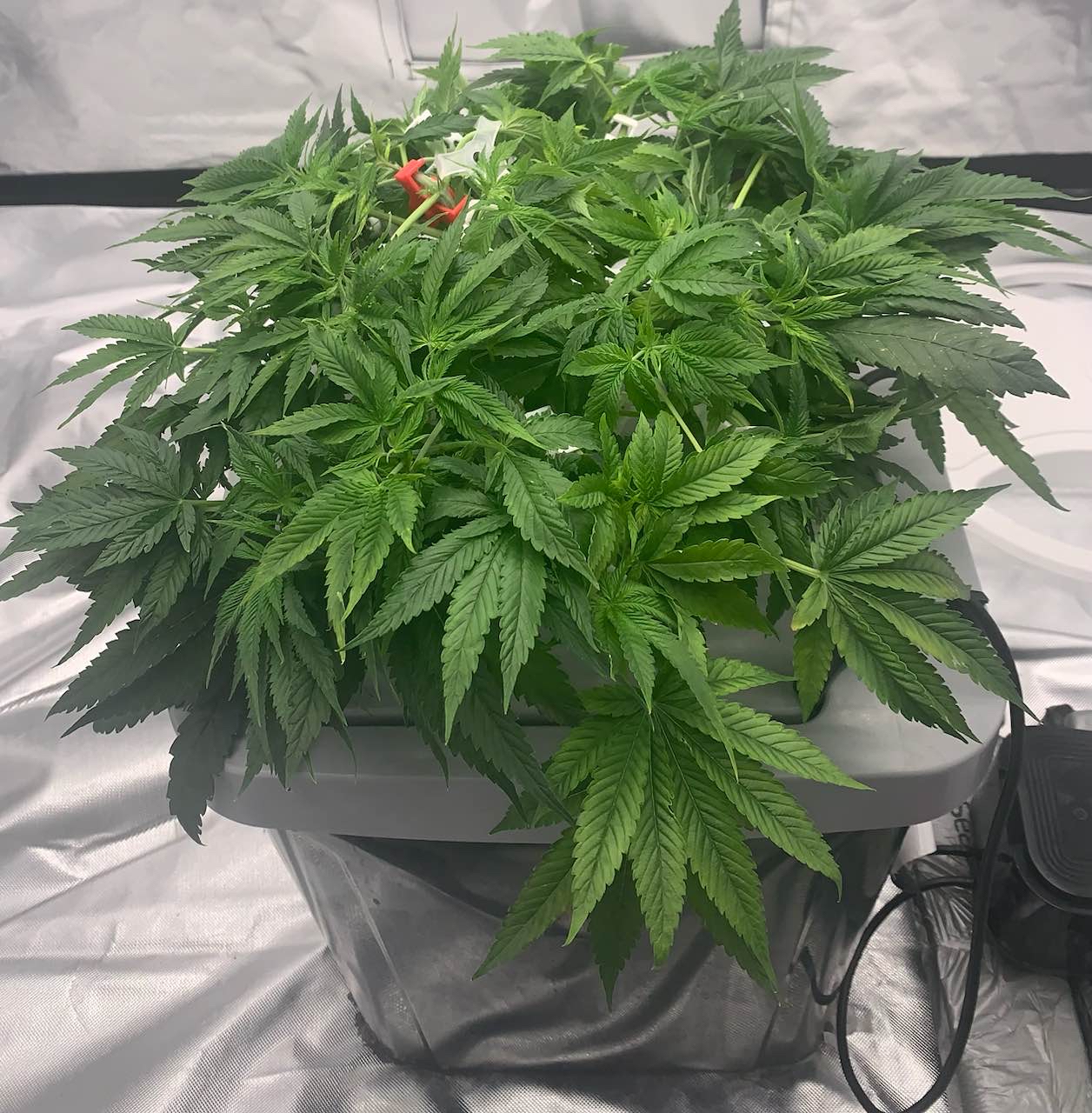 Since I now know this baby is going to take a longer time until harvest. Unlike most autos. I have started "playing" with her to try and achieve a 1lb harvest. I have topped a couple shoots. Main goal before flowering is to achieve a 3' width. Right now I'm at 18". Ppm was lowered to 946 as I was still seeing a little nute burn. She's going through a lot right now so the next week I'm going to leave her be. I'll check values every other day (ec/ppm/ph/humidity/temps)
4 months ago
Still coming along. Nothing new.
4 months ago
Ph:5.62 PPM: 1010 Had to do a 1/2 res change. Ppm was too high. Causing some leaf burn. Emptied 1/2 res (4L) and replaced with a lighter nutrient solution to bring ppm back to 1000 Did some heavy ish defoliation. Middle of canopy is open now. Will do one more slight defoliation a week after flowering I think.
4 months ago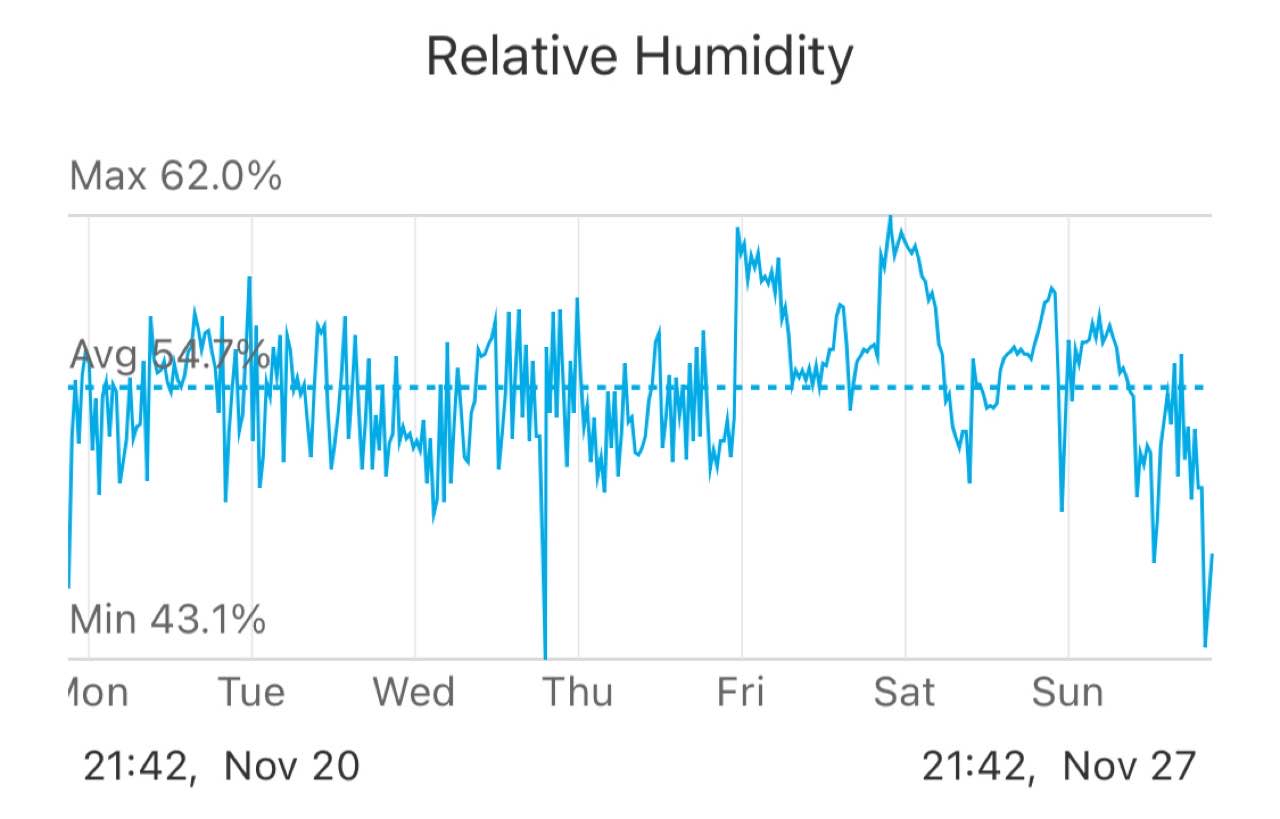 PPFD: 670(top highest) 600 (lower area) PH: 5.64 Humidity: 54.7% (weekly average) PPM: 1290 DLI: 49.6 Avg. Temp: 73.6F/23.1C Look like I have a small nutrient deficiency with Nitrogen. Refilled 3/4 th gallon of (mixed) nutrient solution to main res. Used more GrowBig solution (10ml) to address nitrogen deficiency. Also added a 1/4tsp of MYCO+ to better aid Nitrogen as well. **Yes. I know the PPM is a bit high. I'm going to let it drink 🤷🏿‍♂️ will of course monitor for any nutrient burn. ***Will refill next top up with 1/4 strength nutrients unless flowering starts. 🤞🏿
4 months ago
Light upgraded today! Ppfd 660-690 Dealing with what looks to be a Nitrogen deficiency… adjusting nutrients. Will check all numbers tomorrow or day after. Monitoring temps/humidity tonight.
4 months ago
Topped up water today. Used 1/3 strength nutrients (fox farm trio + cal mag plus) PH:5.50 (topped up water) PH: 5.56 (main water) after using ph down. Was at 5.87 before ph drops. PPM: 1100 New light on its way in a couple days! ☀️
4 months ago
Did more lst and some light defoliation. Why not 🤷🏿‍♂️
4 months ago
PPFD: 581 PH: 5.77 Humidity: 56.5% (weekly average) PPM: 1100 DLI: 41.4 Avg. Temp: 72.7F/22.5C Just realized this auto takes 130days till harvest. This auto will be a monster soon! Changed out air pump to a bigger output. Also upgrading lights to MedicGrow Fold 8 soon😎
4 months ago
Same news. Waiting game. ⏰
4 months ago
Still waiting for flowering.
4 months ago
Ppm 1100: Ph: 5.66 Thought she would have started flowering by now. Still trying to stabilize the ph after res change. Looking good so far. No signs of nute burn. 😎
4 months ago
LST'd the main branch to bring more light to the middle and still attempting to even canopy.
4 months ago
Ppm 1100: Ph: 5.56 Water Res. Change today. Added new mix of nutes. (7ml/g Big Bloom: 5ml/g Grow Big Hydro: 5ml/g Tiger Bloom: 3ml/g CalMag: 3/4 tsp Myco+) Used LST clip to bend main branch to expose more light to bottom bud sites. Trying to even the canopy. This strain has tight spacing between the nodes, making LST a bit difficult. Also cut a bigger fan leaf to allow more light through. ***just realized I put too much TigerBloom. I should've went half strength. Oh well. I'll continue to check her daily for signs of nute burn.*** Red LST Clips= Main stem Clear LST Clips= Fan leaves White LST Clips = Side branches
4 months ago
😎 I believe I should start to see the sex soon. Will take closer pics soon.
4 months ago
2nd pic is from the backside. Should be starting pre-flowering very soon!
4 months ago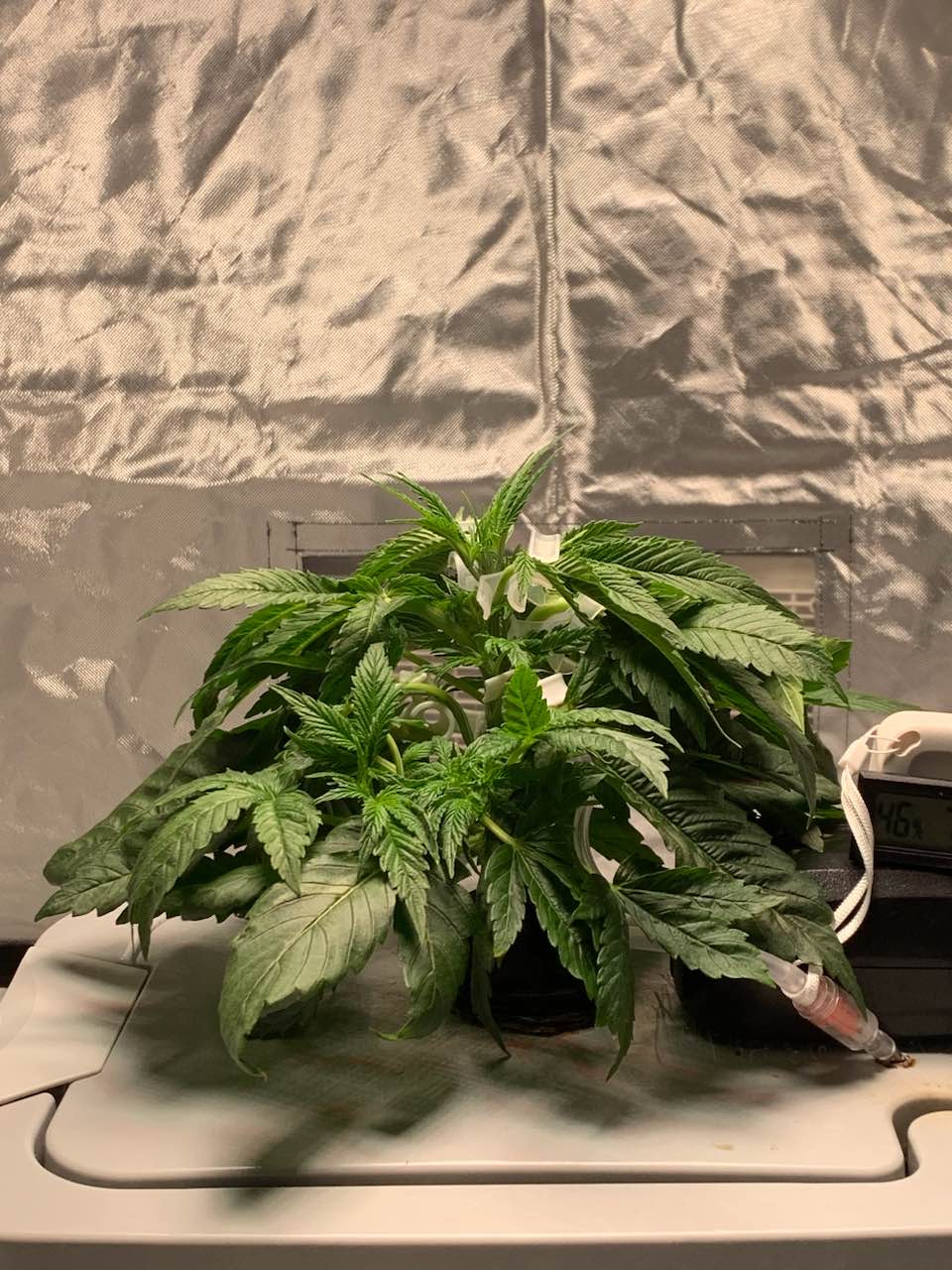 PPFD: 538 PH: 5.65 Humidity: 57.9% (weekly average) PPM: 800 DLI: 37.4 Avg. Temp: 74.7F/23.7C Maintaining maximum light coverage. Moving big fan leaves to expose more light down/around the canopy. Aka… LST
4 months ago
SmokeMyOwn No. It's a hydroponic system. I did use potting soil in a net cup as a starter. You can see it in the beginning of the grow.
Jay-Root I'd recommend upping your ph, aim for around 5.8-6.2. Too low may cause nutrient uptake issues
View 1 additional comment
More growth! More LST!
4 months ago
Doing lst on some branches. Still moving bigger fan leaves to get more light below. Accidentally broke off fan leaf… oops 😅
5 months ago
Continuing LST on fam leaves. Checking all measurements tomorrow.
5 months ago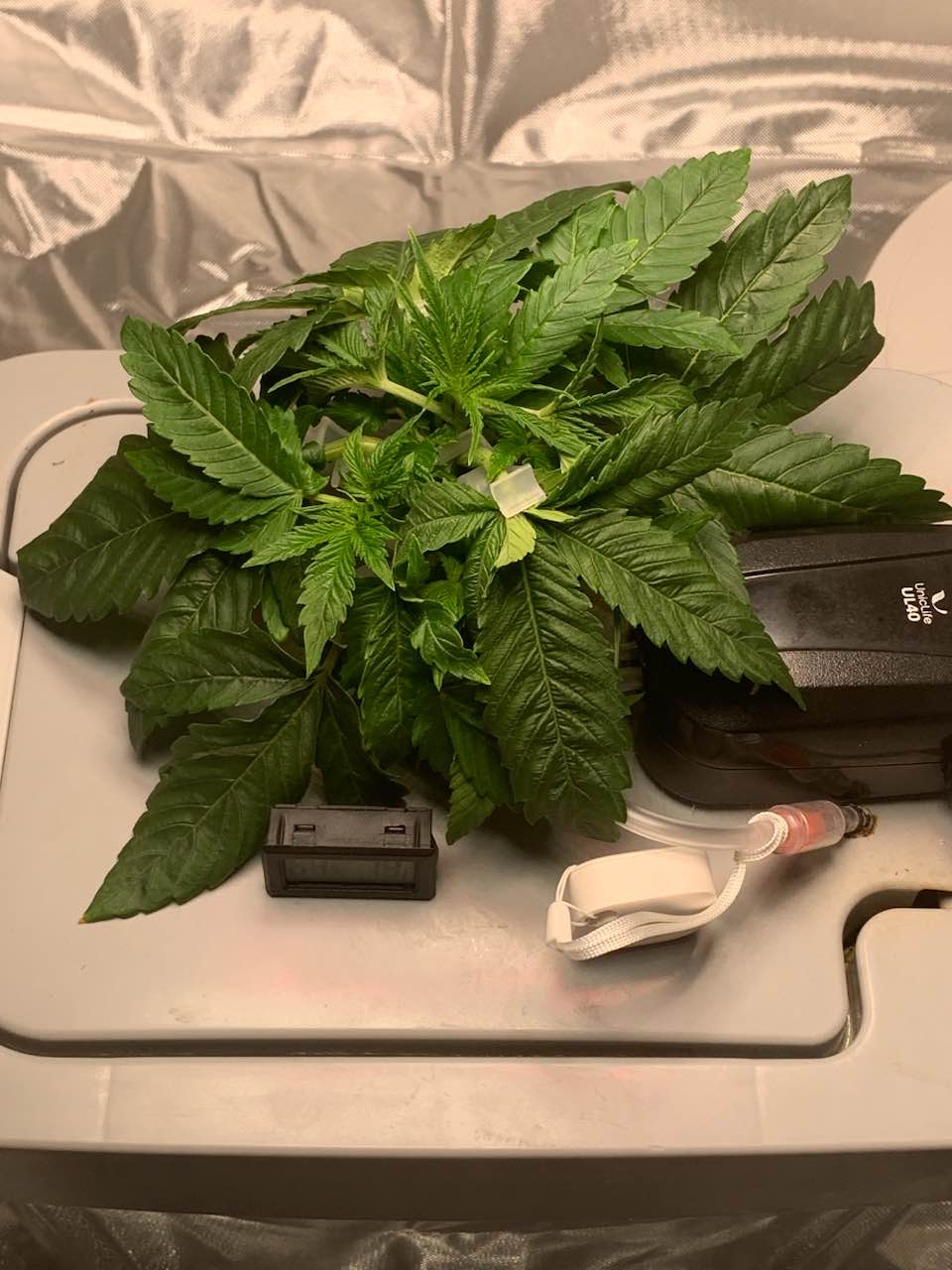 DLI:35.4 PPFD: 488 Ph: 5.52 PPM: 797 Was an unusual warm day today. Tent temperature reached about 80*F. Just bought dehydrator to control humidity better. 😎
5 months ago
Short bushy auto. Doing lst on fan leafs. (Using lst clips to move fan leaves to provide better lighting)
5 months ago
Bringing humidity down a bit more (52-58%) starting tonight. Keep eye out for nute burn.
5 months ago
Nothing to report today. Was supposed to check ph/ppm levels today, will check tomorrow. Ppfd was around 488
5 months ago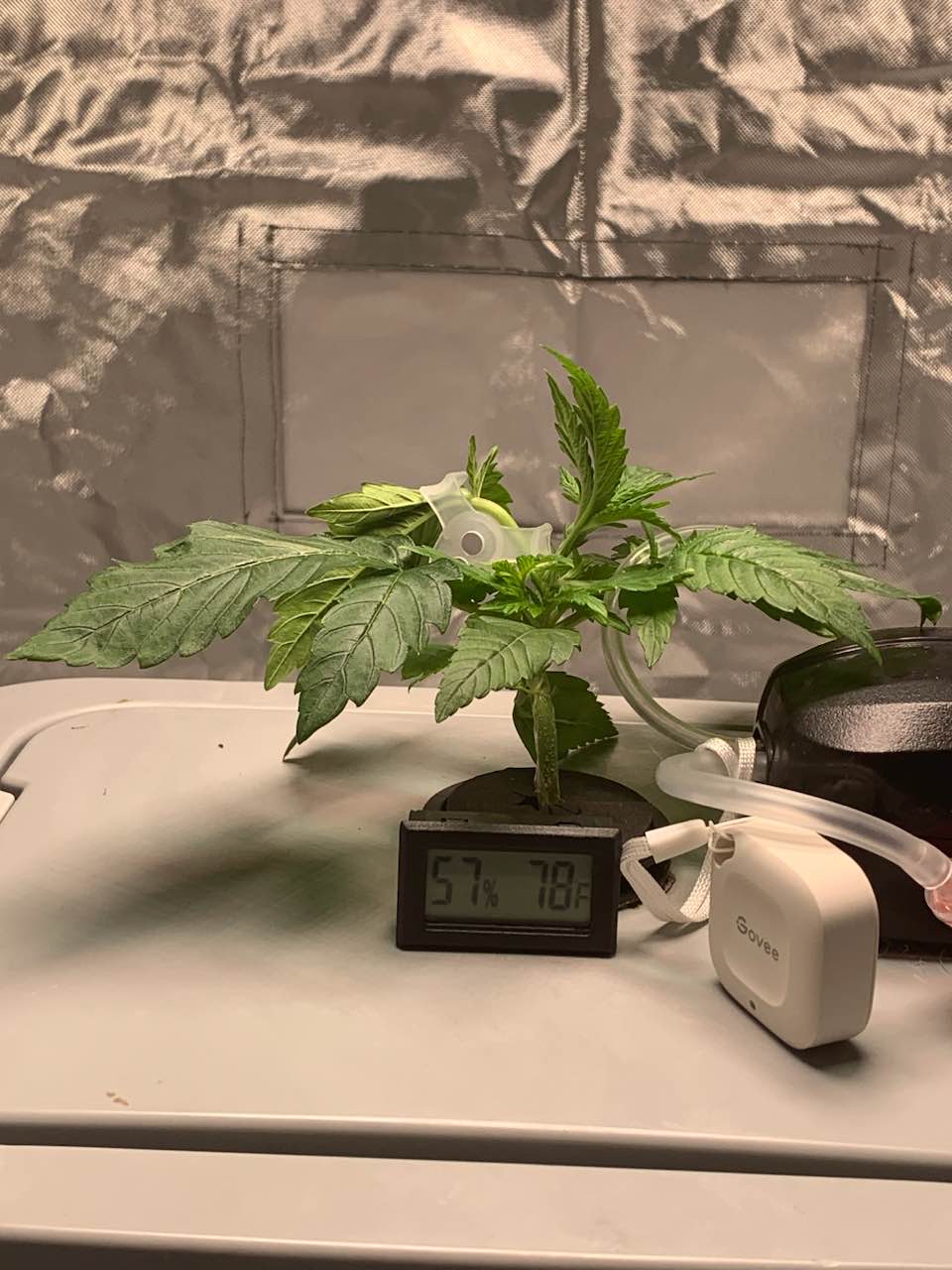 Bushing nicely. Will check ph/ppm/ppfd tomorrow.
5 months ago
See more node areas. Looking nice. No nutrient burn so far. 🤞🏿
5 months ago
😎 first 5 finger blades. Working on dialing in the humidity to 50-55%
5 months ago
In veg. Growth should increase exponentially soon. Lowered light to read around 440 ppfd. Light is around 17-18" now from 22"
5 months ago
Moving to veg cycle. 5.86ph. 730ppm
5 months ago
Couple more days till veg! Might fim. Lst next week I think. 5.68ph
5 months ago
Prob be in veg in a couple days!
5 months ago
1 more week until veg 🤞🏿
5 months ago
Nothing to report.
5 months ago
No news = good news 😎
5 months ago
Stretching more than I want. Lowered light to 20" inches. 5.61 ph
5 months ago
Moving along nicely. Water ph'd to 5.5ph. 444ppm. No burnt tips. Roots in water now.
5 months ago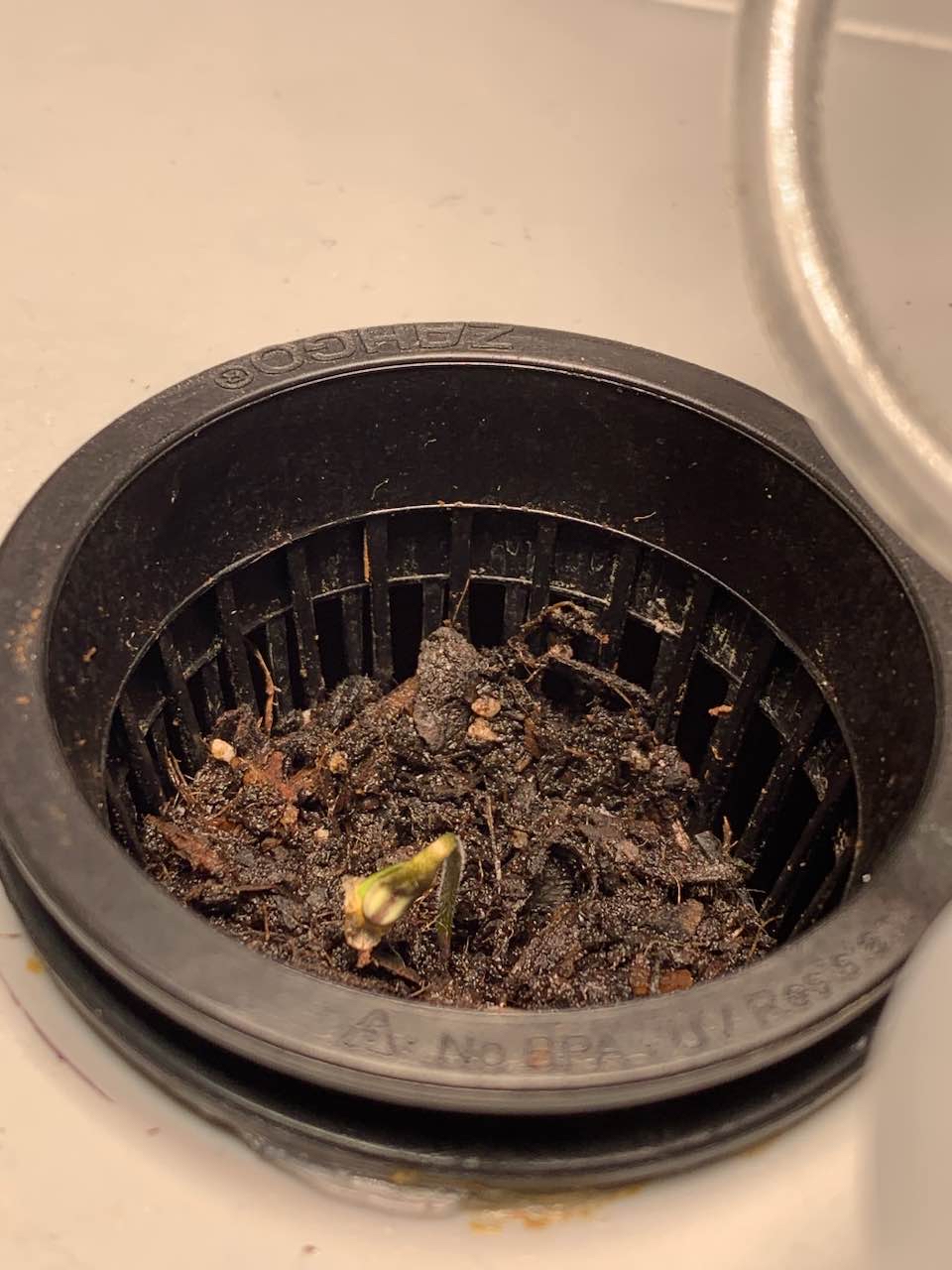 Day 3 in soil starter. Root visible at bottom of net cup. Roots should be in hydro soon.
5 months ago
Day 2 in soil.
5 months ago
Dropped in water. Will wait 3 days to put in soil starter cup. Then put in hydro setup
5 months ago