Fosterfire
Zkittles
Winter grow
1 Zkittles to hold me over. Using foxfarm ocean forest in 5gal fabric pot under mars hydro fc4800. She's got all the room to spread out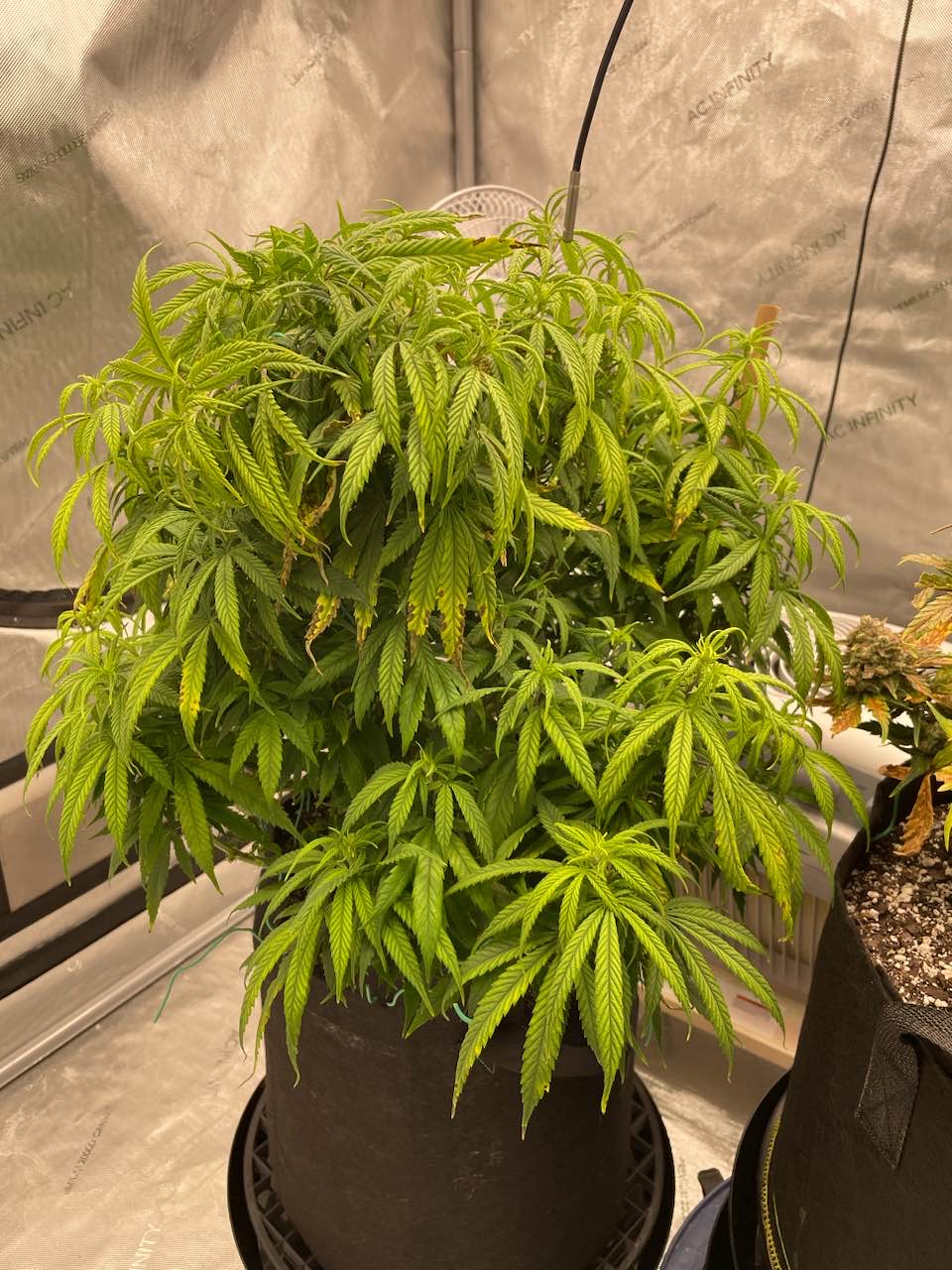 Hitting the switch tonight finally. Been in veg longer than I planned but putting auto in with photo has been a dream come true a dream I care not to have again
9 days ago
adders sounds like you've had fun 😅🤣
I so regret planting my gp auto which still not ready. Regardless I'm ready to switch to 12s so Zkittles can finish someday. Not sure if I need to or should defoliate before and if so shoul I wait after defoliating ? Anybody? Fed FF BB 1.5 tsp,, 1tsp gb 1tsp mag/cal Notice some issues in a few spots. Fed very little so far
15 days ago
xuzen I think it needs to be defoliated pretty heavy. The inside of the bush is super dense. Also looks like you might be over watering or possibly under watering
Fosterfire I'm going to remove all the lower insides. I'm watering every other day and I go by weight . Thanks
So far best grow to date. Longer than I wanted but looking good.
25 days ago
Took her feeding just fine so far.
a month ago
First nute feeding hopefully I didn't go overboard. I kept everything low to start. 1 tsp each grow big,mag/cal, and big bloom. 1/4 tsp open sesame. Ph of feed was 6.6 with RO ph 6.4.. forgot to get ppm of nutrients, RO ppm a touch on high side 1761.
a month ago
You would never have known that I just removed another plants worth of leaves.pic 3 is oldest pic
a month ago
LeChron James Something is going on…any theories? Would be curious about PAR, temp, and nutes.
Drizz Check ph and maybe iron
Fosterfire I'm not following how can you tell. I haven't given any nutes . Ph 7 ppm ro 801,. I'm at a lost
View 8 additional comments
Took a gallon until some ro. Ppm 851 First grow where I haven't fed early. She looks good but seems small for almost 8 weeks
2 months ago
Watered and trimmed, readjusted main stem
2 months ago
Moving along, still showing no signs needing nutrients.
2 months ago
Continuing with just ph'd water I did add a top layer of worm castings for the first time.
2 months ago
Fed phd e water and some cleanup at her base.
2 months ago
Drizz Looking well taken care of nice grow👍
She's lookin like a hot mess right now only time will tell
2 months ago
Just continuing with lst got to get the main cola equal
2 months ago
Drizz Looking good is cut that brown leaf nice plant 👍
Fosterfire Thanks. I plan on doing some trimming of the lower leaves. Anything not receiving enough light or touching the soil.
Just some minor tweaking of the leaves
2 months ago
Ph balanced water and started lst may top her haven't decided yet
2 months ago
Just ph'd water about 1/2gal. She seems a bit small for a month. May top soon if she puts some height on
2 months ago
Just some water for this gal
2 months ago
Coming along nicely
3 months ago