Dos Si Dos Auto
First Indoor Grow
Coco Coir , Organicus 99 Nutes, CalMag, Spider Farm 1000
Dos Si Dos - Barney's Farm Auto
Going into cure. Super happy with the quality and yield. Will grow this again!
4 months ago
Harvest day. Ready sooner than expected, but the trichomes don't lie!
4 months ago
Trimmed some lower larf. Maturing fast. A little nute burn
5 months ago
No big adjustments. Some more scrog'n. Trying to keep humidity down. 🍀
5 months ago
Buds are beefing up. Trying to do as much scrog as I can. Cut a few leaves.
5 months ago
Cutler This was one of my favourite Barney grows. They're autos never miss.
Is there a such thing as too many buds?! I'm pushing the limits of bending branches. Thanks to those who gave advice on the last pic. I did a flush and she perked up. 🤞
5 months ago
Caliban All good. Lol. Just keep an eye on the canopy. Looking good!!
View 2 additional comments
Scrog net is helping to even them out. A little leaf dropping. Any thoughts?
5 months ago
Zylun Flush it carefully spraying it with water then feed again
zdgrows37 Are you checking run off ph/ppm every time you water?
View 3 additional comments
Had to leave her for 7 days with the auto drip system. Stressful! Luckily it all worked out great! Put up another net to do some training. Bumped up the nutes to 4ml per L
5 months ago
Just starting flower. Bumped up nutes to 3.5 ml per L
5 months ago
Just starting to see pre-flower. Did a little more defoliation. Training on the first net.
6 months ago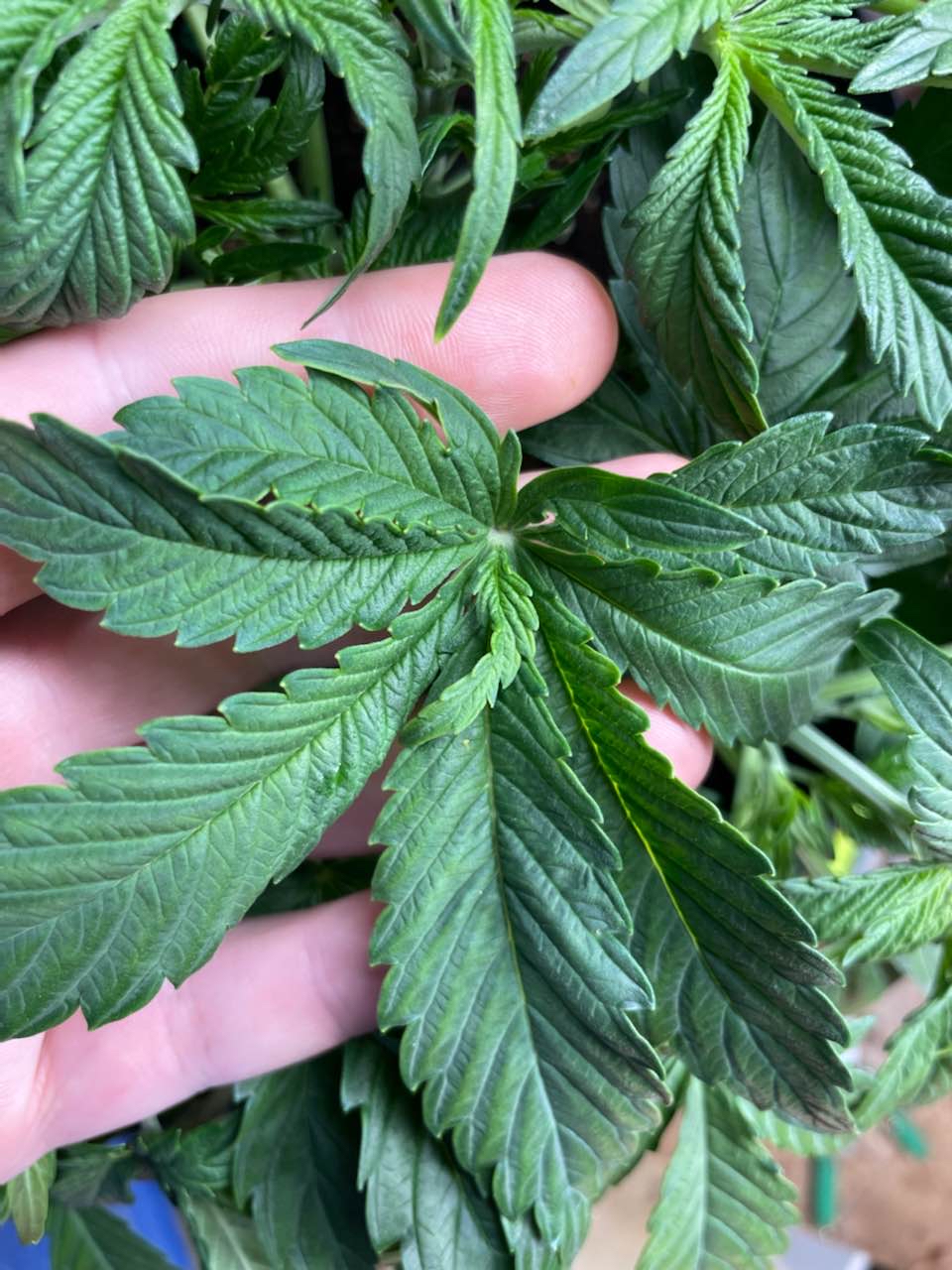 Heavy trim before/after pics. Also a pic of an odd leaf growth. Bumped nutes to 2.5ml per L
6 months ago
Explosive growth while on vacation. Auto feed system and auto drip tray pump working well!
6 months ago
LST, leaf tucking, a little trimming
6 months ago
Started LST. Looking good
6 months ago
Brohaim How do you like the ring waterers? Been looking at one just like that on Amazon.
parmasenjohn So far so good. Watched a bunch of YouTube videos. My set up is mostly based off a video from Highigan. The rings he had were no longer available. Wish the rings had a larger opening so they were easier to slide on and off.
Auto water seems dialed in 🤞
6 months ago
Family Pharm Fluff Hey ma I'd like to pick your brain on the auto water system are you using a tank or hooked up directly to a source also are you able to feed liquid nutrients through this system with out clogging?
combatmedic81 @family pharm fluff. You can send liquid and granular nutes with the right pump. I bore out the feeding holes in the ring. Seems to work fine
View 4 additional comments
Adjusted well to 5 g pots. Auto water set up
6 months ago
Transplant tomorrow
6 months ago
Roots hitting bottom of cup
6 months ago
5.8ph water with CalMag
6 months ago