Blueberry
2021
Blue Berry Automatic is an auto-flowering Blueberry strain that was bred from a Lowryder #2 male plant and an old-skool Blueberry from Sagarmartha Seeds. This Girl is a non stop party. She is a rapid grower in Veg all the way through flower. There is more to this plant than a single cola for sure! The lower structure produces plenty of buds for bigger yields and tons of trimming fun 😛 . This plant's flowers are high in thc for an auto and the flavor is very fruity although it should be made clear that not all plants develop the lovely colors that Blueberry has become famous for although some plants will, Colors from purple to Grey are more often seen when the plant sees lower temps in flower. 9-10 weeks from seed to Harvest Sativa / Indica Hybrid: % not determined Feminized seeds THC 20-25%
8 week marker. She seems to be moving along but not as fast as she should I'll give her extra love and watch her carefully
a year ago
I watched this spot slowly progress n get worse any ideas of what this could be from?
a year ago
Fed today with some incredible bulk organic bloom booster cal/mag phosphorus and potassium
a year ago
Fed today with recharge and added some phosphorus and potassium
a year ago
placed her underneath some blurps to see if it'll make any difference exposing her to different light frequencies
a year ago
Just spreading her trying to get some light where it counts. Trying for a better lst train next run, beginner grower problems 🤦🏿‍♂️. Starting to notice the bloom booster kicking in from a couple days ago watered today with cal/mag and recharge. Trichomes starting to develop alongside pistils 🤞🏿. Also just curious if anyone's ever used left over nutrients from a feed and stored it into a bottle??? Please help lol
a year ago
budman0211 Careful spreading her!! That's how u end up with kids!! 😂
Peng I think mixed nutrients need to be used the same day otherwise it's inviting bad juju
Been feeding foop bloom 1&2 the last 2 weeks to get her ready for flower. Now I'm gonna hit her with some incredibulk bloom booster lol organic that is
a year ago
dstew0626 That shit will get it done right there! Looking good growmie!
tae_94 Haha man I went into my shop to get some basic shii and I definitely was pressured into buying this one damn employees man but yes I'm excited to see how this changes her. How often do you guys feed this to your plants. I'm thinking of using this with some recharge like alternating with water feeds
dstew0626 Same as @badkarma I haven't had any issues following the package I've heard you can go a little less and still get great results
View 2 additional comments
Been trying to figure out what's these yellow brown crunchy small spots that only appear when I switch into flower
a year ago
tae_94 Damn that could definitely be it because it's a pattern of something I'm missing. And usually I'm not sure when to start feeding that phosphorus and potat maybe I'll have to start a lil earlier before flower.
tae_94 Good looking out it's always amazing to post looking for answers and them actually getting figured out I appreciate it heavily
Lst. Did some heavy defoliation she just keeps on vegging we will see how she takes it. Fed bloom1&2 foop. She is starting to show some pistils. Also raised the lights a bit to promote a lil stretch as she stretches lol
a year ago
Caliban Question. Why bother defoliating an auto since you are on a strict timer for growth? Why not let her grow as much and use every leaf for energy? Asking as a photo period grower.
tae_94 Well considering the genetics she overly grows and rapidly so I want this plant mostly using her energy on her flowers and buds. I usually snatch all most sucker leaves especially ones that are big and in the way. They most likely are a waste of energy. More over i try to experiment with every auto as far as how much damage a plant can take Everyone thinks differently and also genetics are different. Lmao I'm just trying shii with these autos
tae_94 But yes she keeps putting her energy into vegging for and not promoting flowers so I take those leaves the same as an photo and honestly I'm curious to see what happens as my next run will be my first photos ever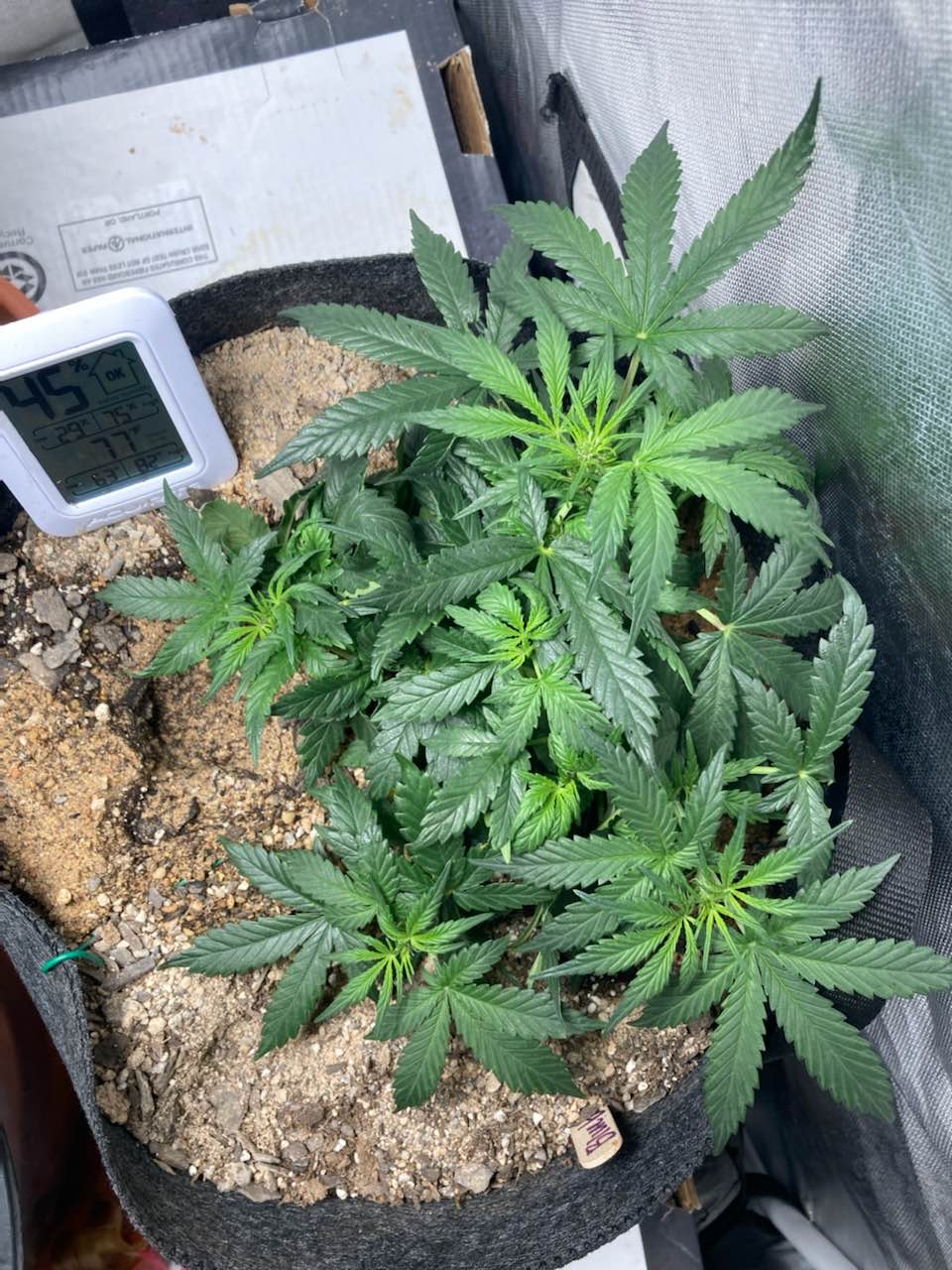 1 week of growth
a year ago
Update on lst shes vegging outta control tho
a year ago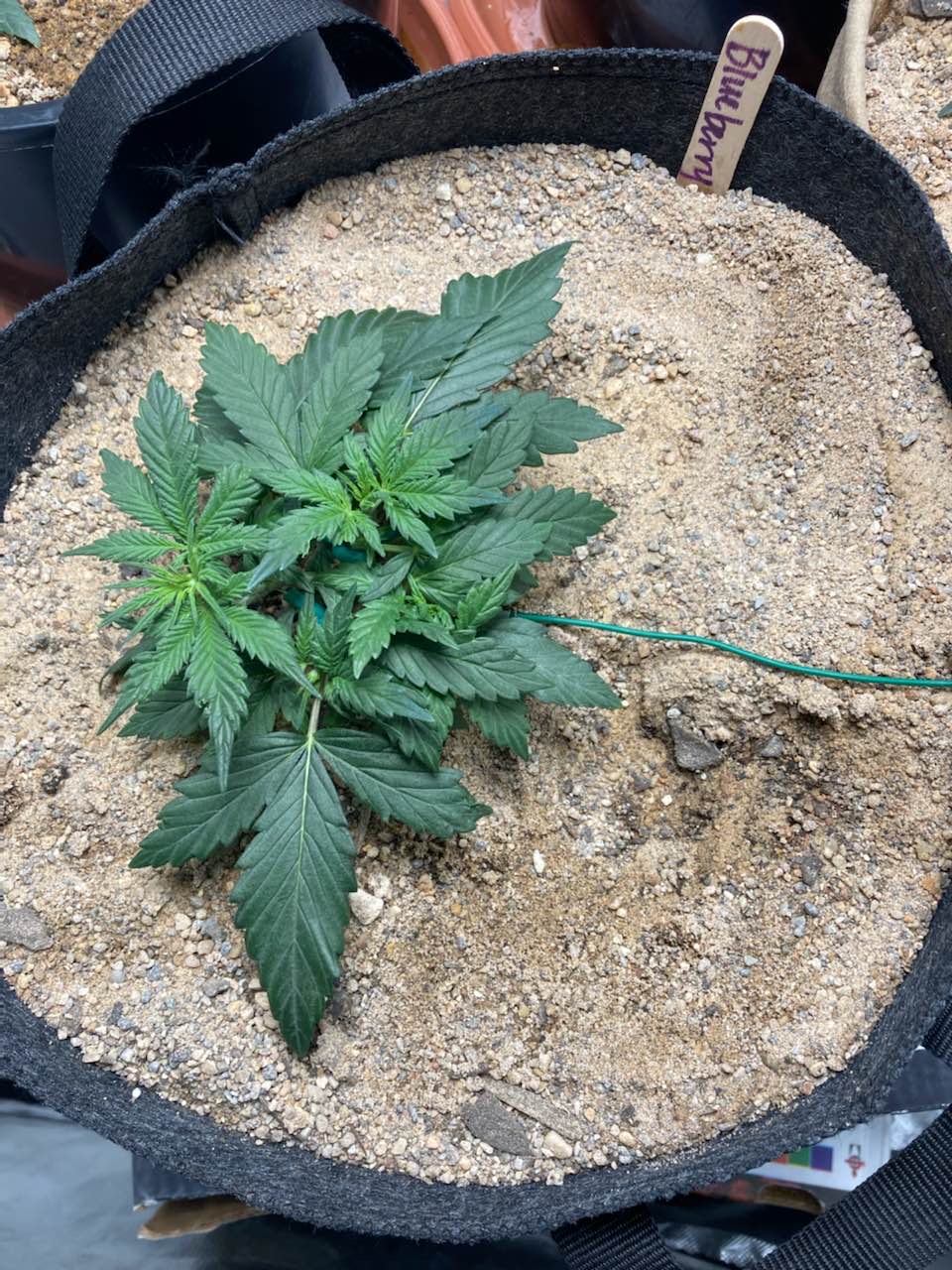 Day 25 of lst giving water every 3 days gonna try n stretch them roots m make em work
a year ago
Week 2 - terrible Job done on LST had a few bug problems so I layed some sand down and have been implementing mammoth 🦣 canna control
a year ago
Showing tremendous growth
a year ago
Transplanted in finale home
a year ago