Round Three
Mystery/Bag Seeds
Indoor 3x3x5.5 tent, 2 Vivosun VS1000 LEDs, 2 plants, 5 gal. fabric pots, 70% coco coir, 30% perlite, one using bottom 1/3rd living soil (Kind Soil) (VA) and one using liquid nutes (Dyna-Gro Grow and Bloom) (PA)
1x PA Mystery Seed, 1x VA Mystery Seed
That's a wrap! Got a total of 134g off this girl! Can't wait to see how she smokes. This was a fun grow! ✌🏼😊
4 months ago
Well, tonight was the night. Gonna miss watching this one grow but I can't wait to see how she smokes! 😊
4 months ago
Took these pics last night. She's almost ready! Trichs on the leaves are turning amber, heading into week 7 of flower. Starting to think about when to flush and chop….maybe another week or so if the trichs on the bud start turning. Any thoughts growmies? One thing is for sure though: I can't wait to try some of this one!! 😅
4 months ago
Caliban Nice run. Looks like about 30% Amber to me! I like to harvest about now. I never flush with organics. Just stop feeding about 2 weeks out and let the plant consume what's left. Look great!
View 10 additional comments
Are her leaves changing colors? 🤔
5 months ago
troviii Nice! Haven't had any change like this before. Lol… yep, a 3x3 tent. 😅
View 2 additional comments
Gave her 4L of 6.7PH water tonight and pulled a few dying leaves. She's got something going on with a few leaves towards the top. Thinking it might be heat/light stress? Also checked run off last watering and soil PH was running kinda low, so I increased PH a bit. She's still looking strong though! Going into week 5 of flowering. 😊
5 months ago
troviii @Troy Farms Thank you!! Potassium, eh? I'll check into it! I've been using the Dyna-Gro Bloom every watering but maybe I need a potassium supplement. 🤔 Can't wait to see how this one turns out though. 😁
Alright Growmies, how much defoliation is safe at this stage? I feel like she could benefit but I don't want to stress her either. Any advice for me? TIA! ✌🏼😁
5 months ago
greyenvy At this point can remove anything hidden and yellowing near the bottom 1/3rd. Then pluck any fans blocking bud sites directly. You have a good spread so prolly not much of that.
Chief Smokalot I agree with greyenvy. What this person is talking about is A.K.A "LoliPopping"
troviii Thanks everyone!! I appreciate all the info!! I wasn't sure but thought she was getting a little bushy. I tried to keep the bottom 1/3rd pretty well stripped of any leaves, but I may need to go in and remove a few again. Just curious because I've seen some people take a ton of leaves off and I am afraid to hurt her this far along now. Lol Appreciate everyone taking the time to help! 😅
3.5L of 6.6PH tonight. ✌🏼😉
6 months ago
troviii Aw, thank you! My first photoperiod plant! I'm pretty stoked about her. Lol 😅
Just chugging along! 😁
6 months ago
View 1 additional comment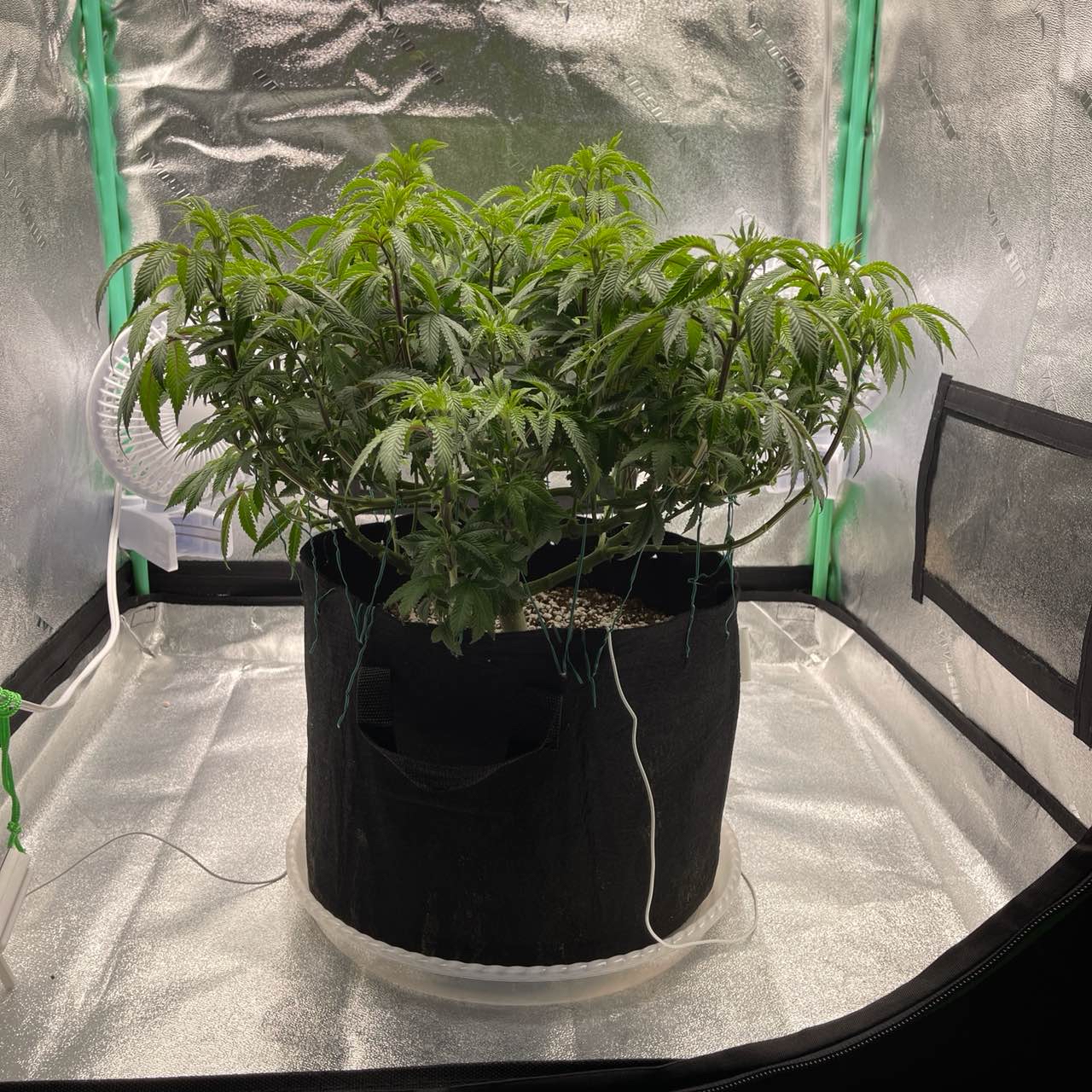 Watered and defoliated. Moved lights back up to 24" above top. Flipped to flower, 12/12 light schedule. 🤞🏼😅
6 months ago
Haven't updated in a while, just keeping her watered and looking pretty! 😅 3 more liters of 6.5PH tonight. What do you think growmies? How is she looking? I'm thinking about flipping to flower in a few weeks so they don't grow into my lights. First time growing a photo so I'm second guessing everything. Lol 🤣
6 months ago
Well, I removed the male. 🫤 Gave her 3.5L of water tonight, did some defoliation and LST… now just letting her grow a bit more before thinking about flipping to flower. ✌🏼
7 months ago
3L of water tonight… and some gender reveals! 😅 Well, I know one is definitely a girl. What do you think, is the other one a boy? 🥺
7 months ago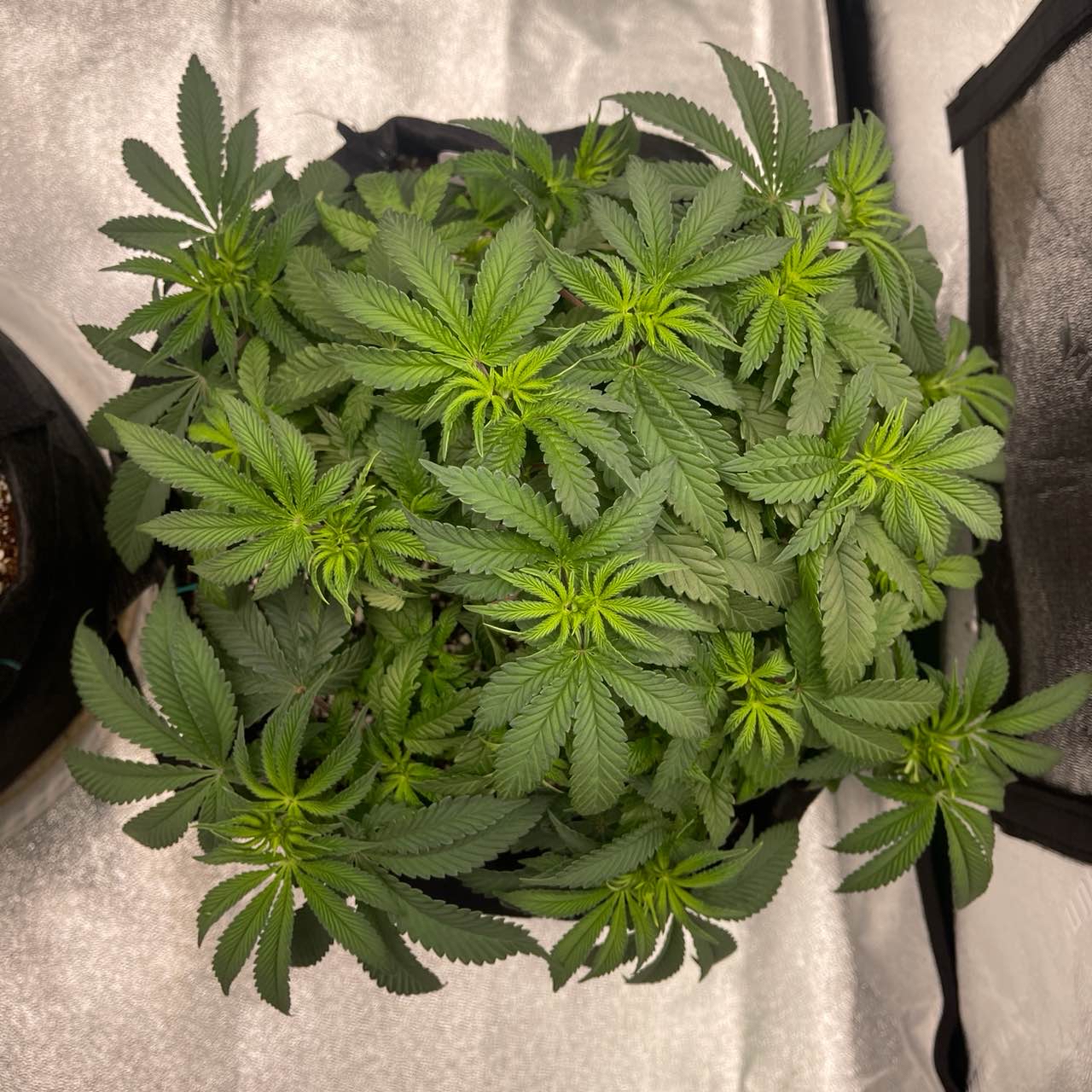 Alright growmies, help a n00b out please! Aside from giving each 3L of water tonight, I started looking for signs of gender. I have my suspicions, but what do ya think? Too early to tell? Thoughts? Lmk. ✌🏼😁
7 months ago
bonojohnson Looks like a pistol starting to grow In pic 6 and 7
bonojohnson I'd wait a week and if it is you'll be able to tell for sure
View 2 additional comments
More 💧 and some defoliation. ✌🏼🙂
7 months ago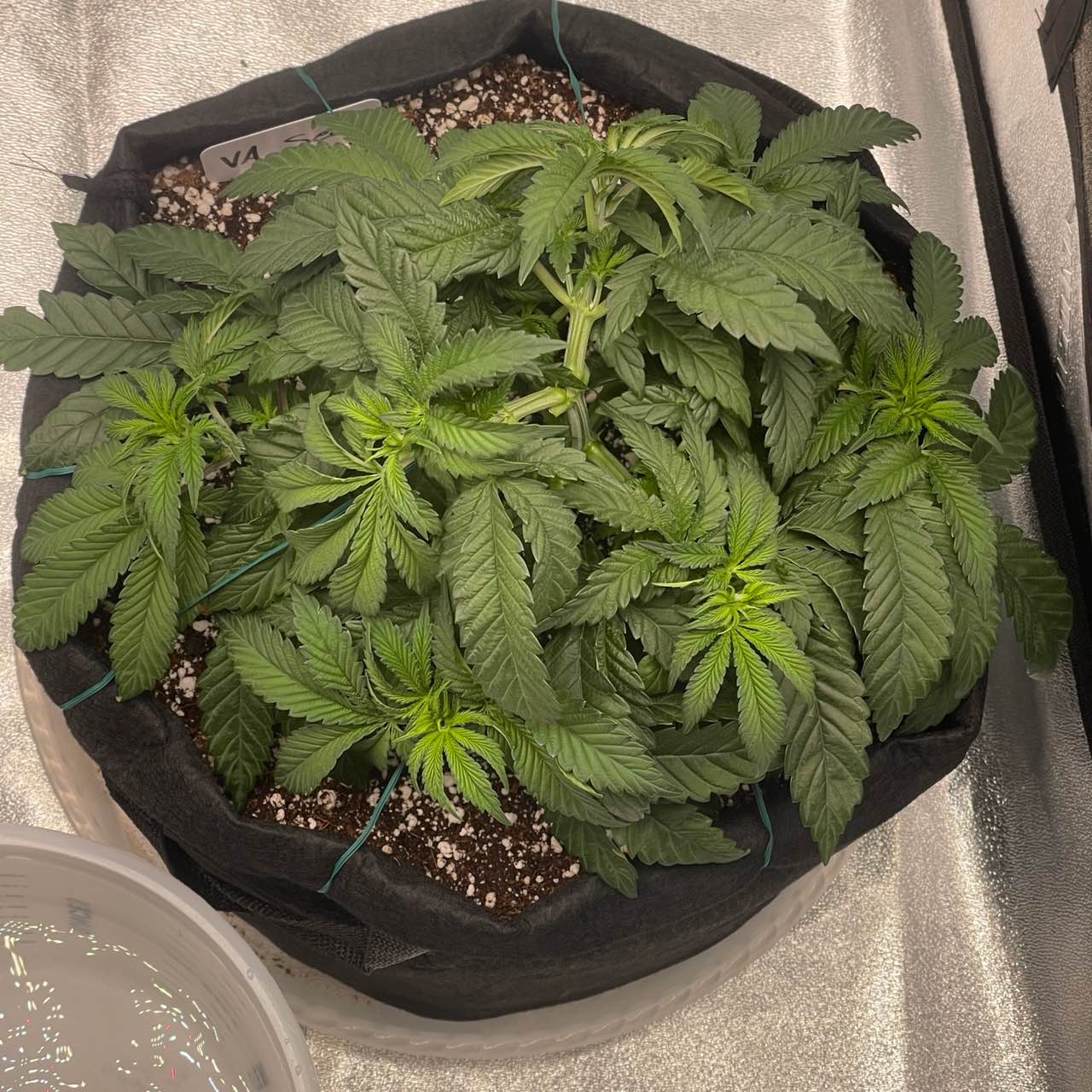 2.5L of water for each plant tonight. Light intensity increased to 100%. Lights hanging approx. 24" above each plant. Slow and steady now! 😅
7 months ago
Another 2L of water for each plant tonight. ✌🏼😁
7 months ago
Gave each girl 2L of water tonight and raised light above VA to approx. 26" above, still 75% intensity. VA bottom leaves aren't too happy… no clue. Cal and/or Mag deficiency maybe? Going to keep an eye out for any other changes.
7 months ago
Gave each plant 1L of water. VA was 6.5PH with 1ml of CalMag, PA was 5.8PH with .75ml of Dyna-Gro Grow nutes and 1ml of CalMag. Turned lights up to 75% intensity and adjusted to 24" above each plant. Also tried topping the VA plant, pic 3 is a closer shot of it. I hope I did it right! 🤞🏼😅
7 months ago
Transplanted the PA to the fabric pot tonight and gave each a little water. They'll have a more thorough watering in another day or so. This round is going to be interesting since I'll be using liquid nutes with the PA and living soil with the VA. I also plan on trying to top my VA seed so… experiments all around! Lol… Still keeping my fingers crossed these are girls! 🤞🏼😅
8 months ago
So, one of the VA seeds popped and taproot grew over the weekend. That one went in the dirt on Sunday and by Monday night was standing tall above the surface! The other 3 seeds were duds. Tried soaking one more seed I had and it was another dud. I was about to toss them all on Monday night when I saw the tiniest taproot poking out of one of the PA seeds. That one was slow growing and took all day yesterday and today to grow to about an inch. I just finished planting that one tonight (Wed). Fingers crossed these 2 are females! 🤞🏼😅
8 months ago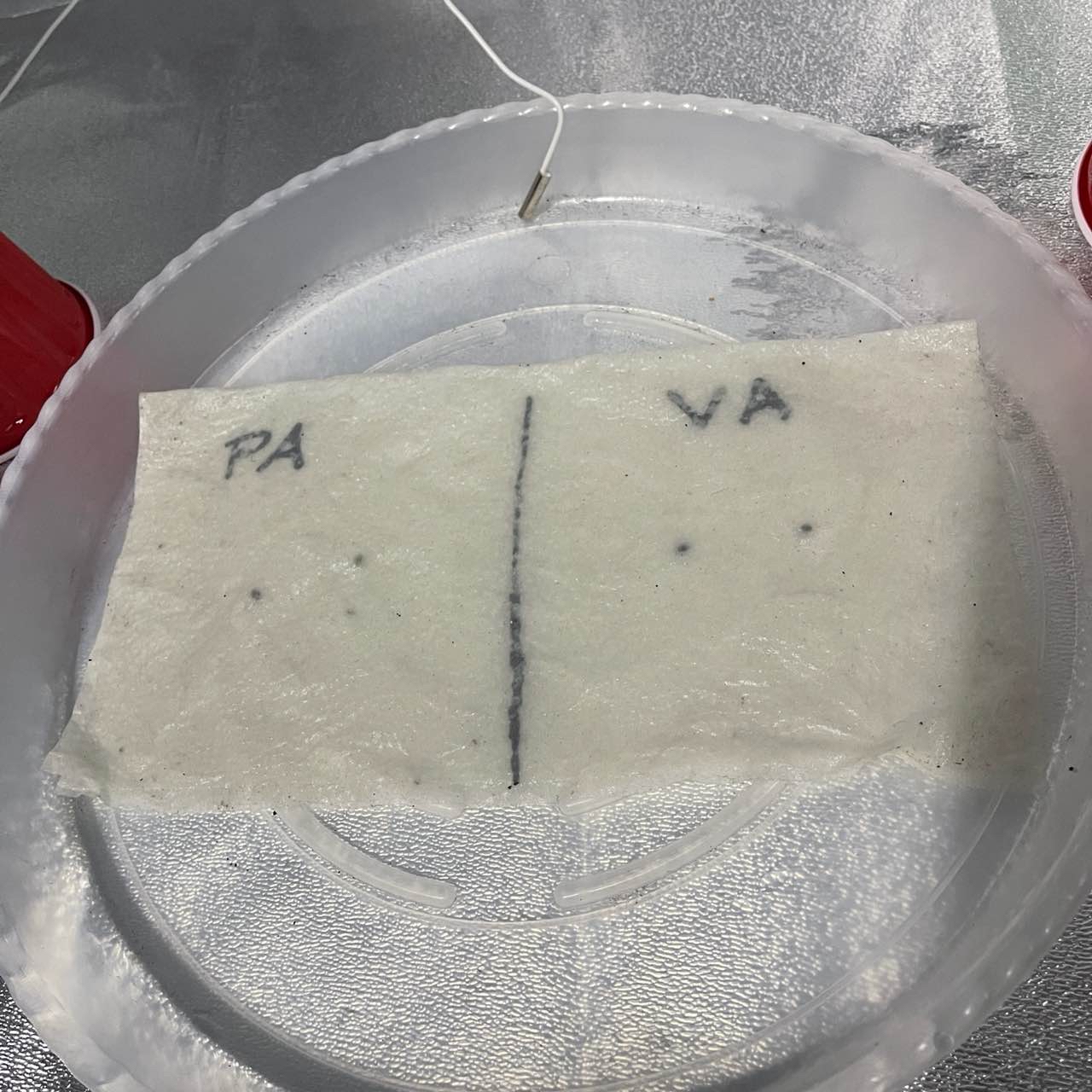 Seeds sank after 24hrs soaking, moved to paper towel. (3/31)
8 months ago
Wasting no time… 😅 Soaked in 6.5PH for about 24hrs (3/30 into 3/31)
8 months ago