gabedn
LB rooting
👼🏻
1st time rooting clones. Two LB clones taken 1 week before flower: 1 in peat pellet & one in oxygenated enriched water. 6 LB clones taken 1 week after flower: 3 in cubes, 3 in oxygenated enriched water. All started in water. 2 didn't make it. Transferred to soil in Dixie cups before 1 gallon pots.
1 of em has 3 growth tips. The mother plant has 2 of these mutations and the buds on the are thicker than the terminal buds There's some burn spots from spraying the top of the leaves I think, and the little led couldn't be secured without falling down so I removed it until I can get a clamp for it. I haven't been giving them much attention, just the same foliar feed and straight tap water every other day.
4 years ago
Growing steady. Probably ready to transplant within 2 weeks. I'll need new nutrients before that
4 years ago
May 8th Don't have a phone right now so I haven't been able to update. In the last week I've transferred them all to soil cups. Pulled one and there's another I might pull soon. 4/5 are strong though. Continuing to foliage feed them. The worm castings should be enough for the roots to feed on until I transplant. CFL and LED are 5" above Exhaust from tent is circulating the air over them.
4 years ago
Water was nasty, from the rapid start. Cleaned that. Added 15mL sensigrow 10ML b52 They're growing alright, got a few contenders here. The leaves are all smooth like wiffy's were aha neato. Covered with towel; gotta go scavenge more materials for this glass bubbler. I've been pretty lazy around my grow lately cus I've been busy with some new stuff, but I just wanna set these guys up for a new home.
4 years ago
wiffybead Awesome setup!! Definitely going to look into this method of rooting. I like that you can immediately see the progress.
gabedn I like that too, but ofc I should minimize the light exposure. There was a little gunk in It this morning so I rinsed the roots and put them into soil this morn. But yeah, if it were light proof it would be dank! Love how easy this shit is lmao
Potted 2 more cuttings. Watered them and placed under cfl. Transferred the rest into a glass bubbler with all 4 air stones & around 5 gallons of water. Covered it from light. Will just foliar feed these until the roots are big enough to pot. Small Led 6" above. Leaving for 6 days so this is more sustainable. Ppm: 30 Ph: 7
4 years ago
Poured around 100mL of the foliar spray in res. Ppm: 45
4 years ago
They're all rooting now, waiting for secondary roots on 4/5. Another cutting is ready for its new Dixie cup home. Continuing to foliar feed until I transplant into 1 or 3 gallon.
4 years ago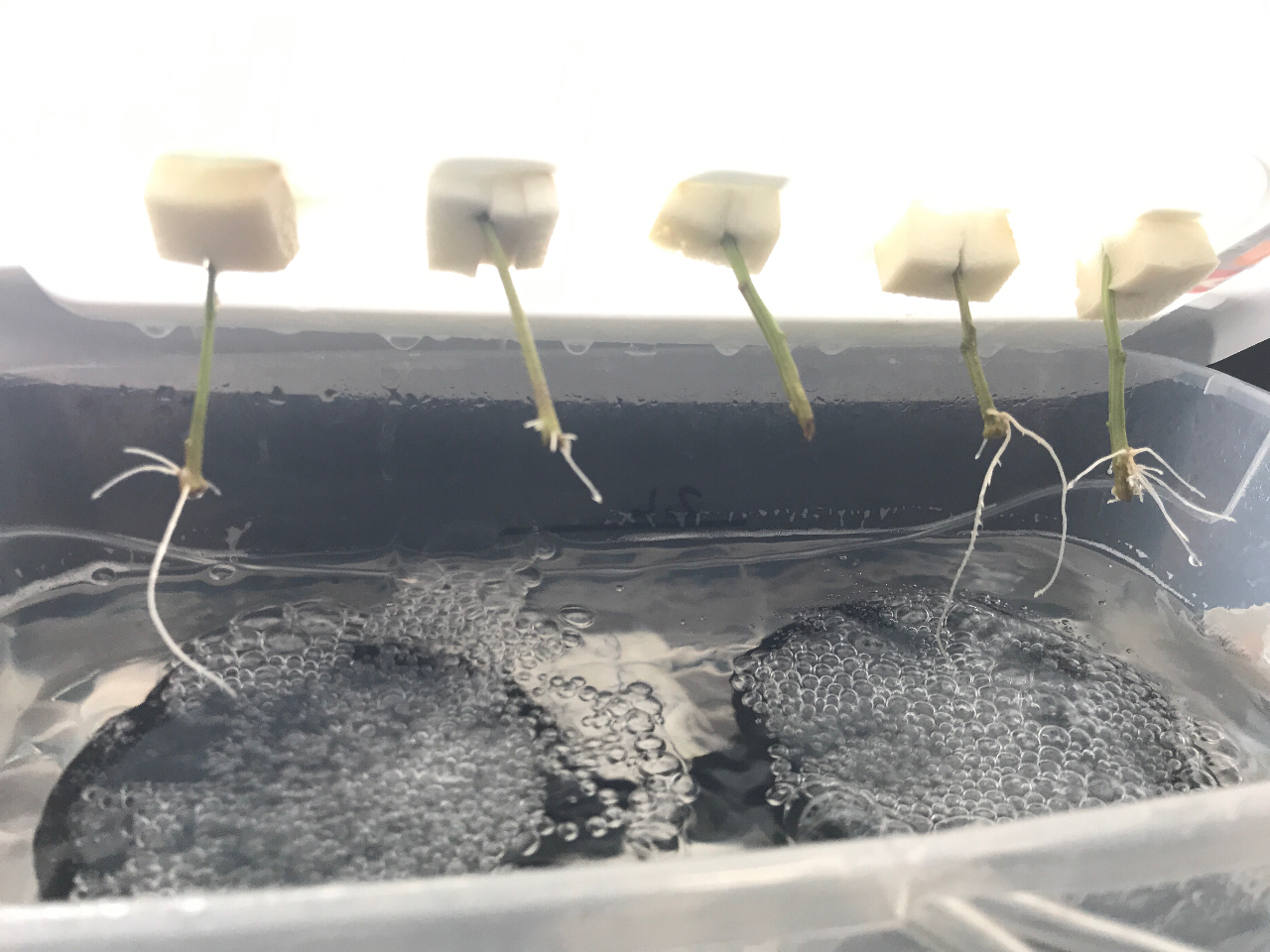 Secondary roots are coming in now
4 years ago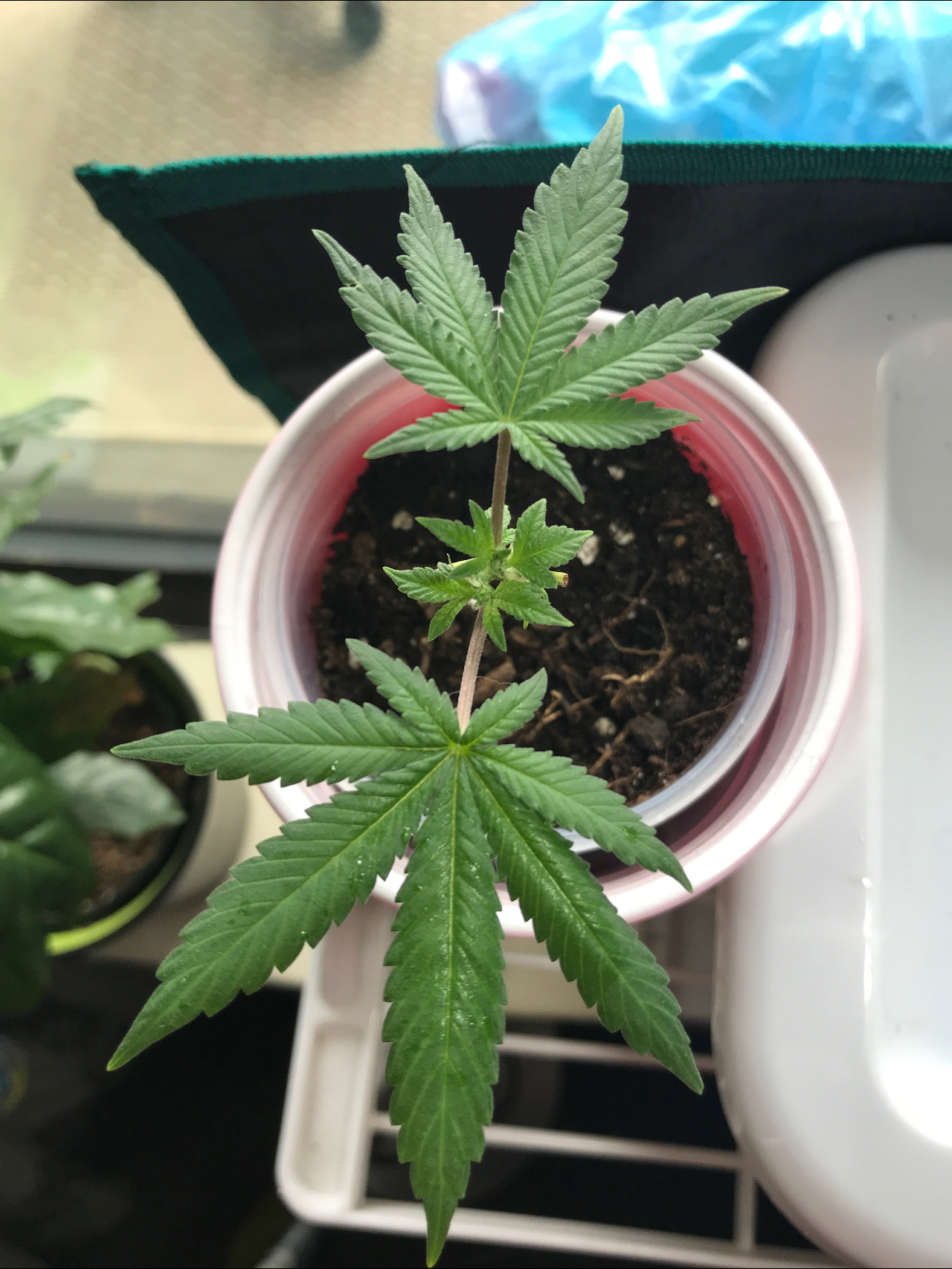 Once the roots pop through they grow pretty fast in this little bubbler. This things great for rooting clones, but I would be interested in building a dwc system combined with aeroponics to saturate the top roots twice a day. No nutrients still just foliar feeding.
4 years ago
Cjh807 Looks like success! Are you using anything in the water?
gabedn No nutrients just tap water- surprised how simple this setup is and they really like it
Cjh807 I have one just like it! Go on amazon and you can get the net pots and foam clone collars for like $6 and they work perfect!
View 2 additional comments
Water temps have been steady, The light is around 12" above.
4 years ago
Took cuttings out of cubes & placed in newer bubbler. Cleaned bubbler. Didn't add nutes, will just foliar feed. They were just about to start rooting. Placed the rooted cutting in solo cup with promix, str8 watered and drained. I'll add worm castings in a week or 2 when I transplant. Not sure where this round is going though lol might donate to a bud.
4 years ago
Made another bubbler; Bought those little makeup blocks to hold the cuttings, they're similar to neoprene. They're shapes are a little off though. This all just dollar store stuff tho lol I blocked the light with those tiles but I'm still gonna cover the container & leave a flap to open so I can peep the roots. Roots on that 1 cutting are growing steady & fast. The rest are just starting to pop through still. Ppm: 450 Ph: 5.5
4 years ago
Moved to window Placed 2 pc fans behind vented containers for air flow Installed 2 small LEDs: 1 has around 50 chips, about 24" above The second has 1 single chip with an optic, 3-5" above Roots are still popping through. Raised the cutting a little bit so they don't get too soft. Looks good- still gotta remake the container since it's transparent
4 years ago
Removed cutting from peat pellet and placed in bubbler. There was 1 healthy root but it broke off when I was inserting. Can see more popping through though. Cuttings Ppm: 160 ph: 7 water temp: 67-68 Cubes Ppm: 230 ph: 6.5 water temp: 67-68 Roots are popping through on the cutting whose bud I first removed. I cut the rest of the buds off. Also the extra oxygen certainly helped. Moved them close to my ac unit, by the window. Temps seems much more stable there.
4 years ago
Cut some of the buds off, should root faster. Turned the pump up to max. Should root faster w more oxygen I think? Raised lights up to 8" above Sprayed leaves
4 years ago
Water temps Cubes: Cuttings: Day 7 for the flowering clones. Switched water and cleaned containers. I had too many nutes in it (doesn't have roots yet dummy). Now there's about 1.3 L in both containers: 1 mL b52 .5 mL rapidstart (For stress & a boost) Cubes- Ppm: 155, ph: 7 Cuttings- Ppm: 140, ph: 7 Made a shitty lamp shade
4 years ago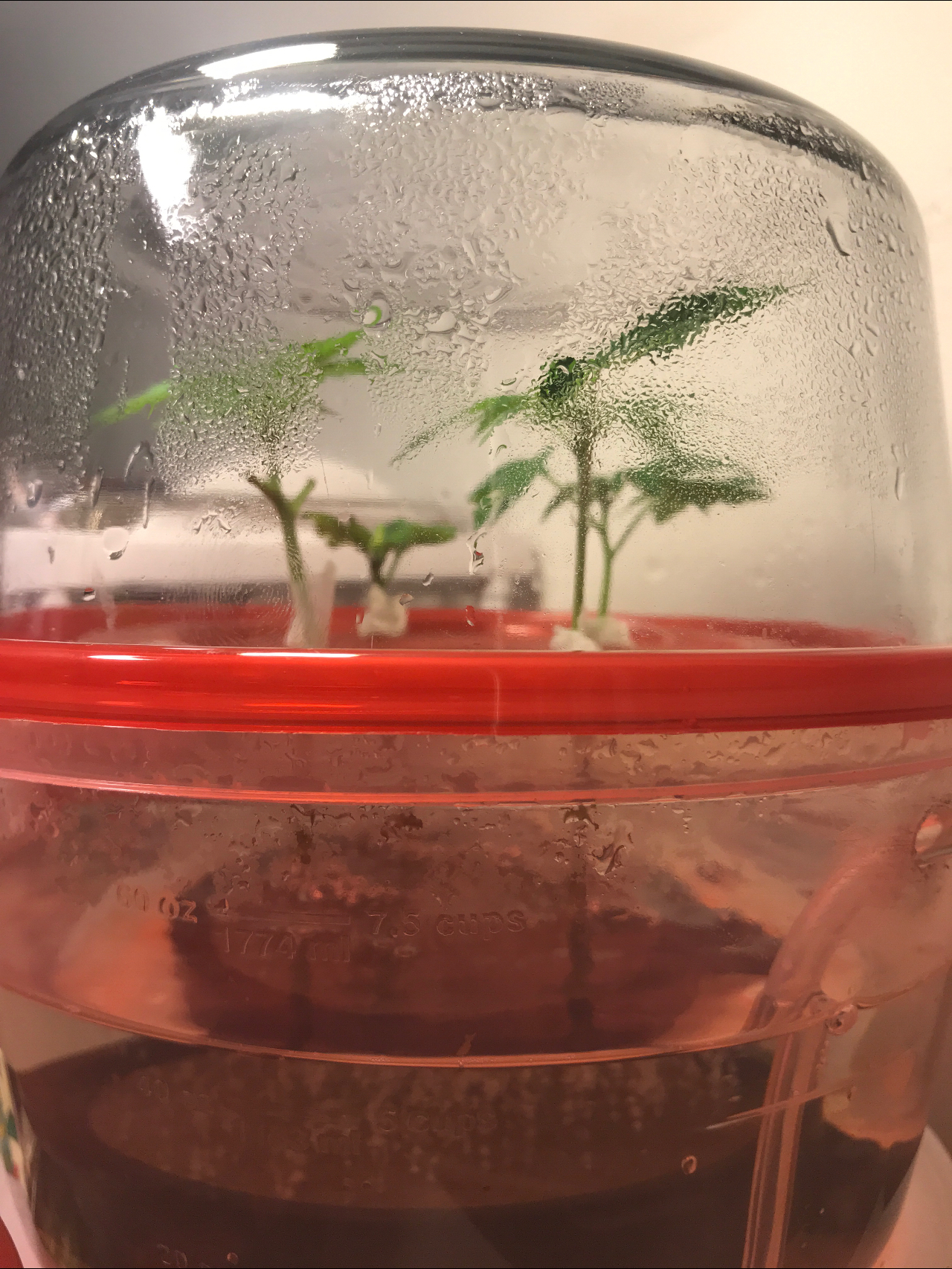 Ppm: 560 40 pts power than yesterday. Removed dome from cubes cuttings, felt it was unnecessary. Nothing new yet, but they look perky. Resoaked peat pellet.
4 years ago
Ppm: 314 Ph: 6 The one that almost died yesterday has already made a full recovery. I had low expectations; really digging the new setup. Placed glass cover over cubes. Lowered water level to 2" below cubes because the cubes are pretty wet to the touch. There's about 45 oz of water in there. Added 1.5 mL sensigrow to mix to lower ph to hydroponic standards. The higher ppm should be fine I think because the mother plant was getting 700 ppm around then. Ppm: 600 Ph: 5.5
5 years ago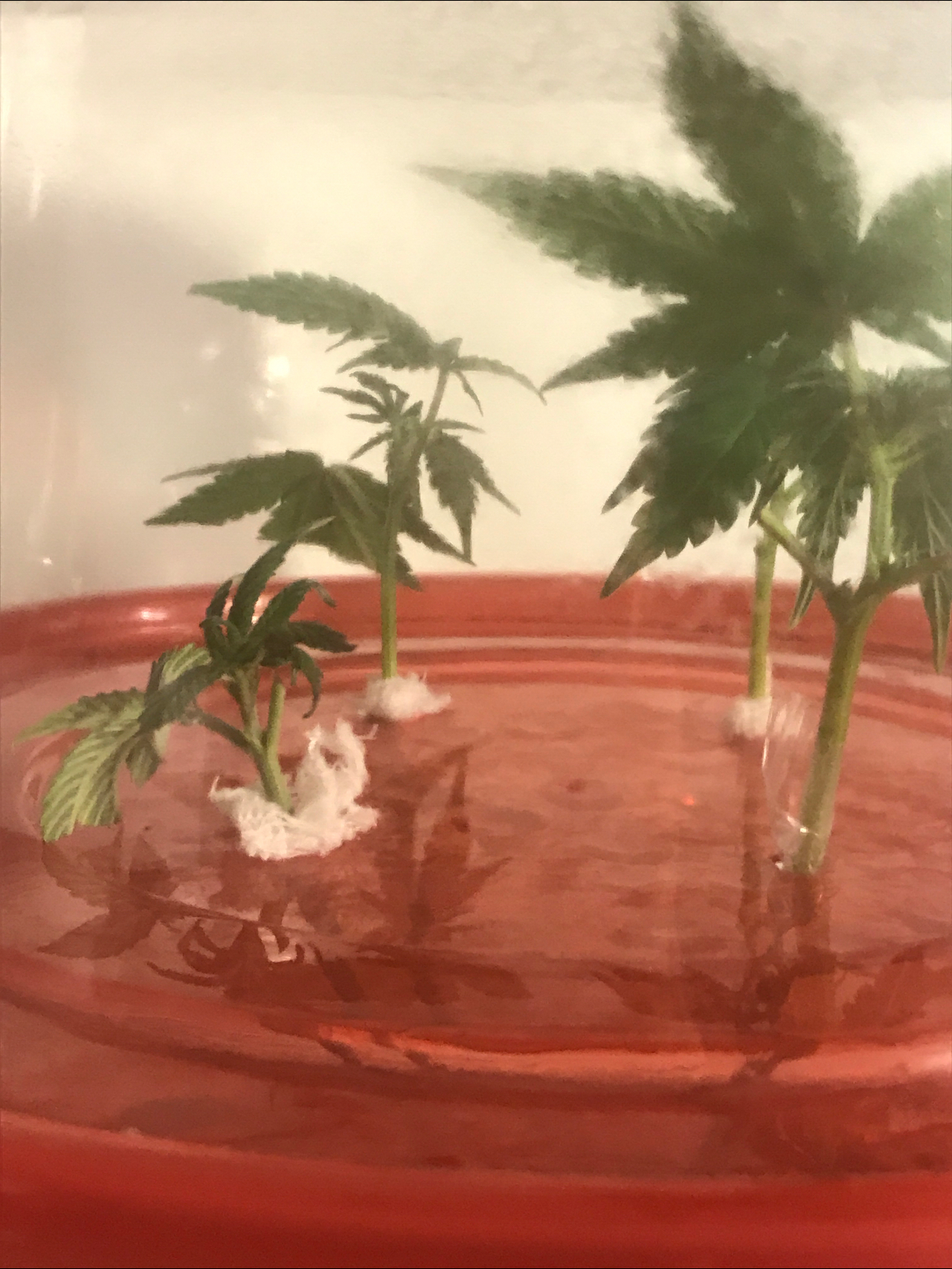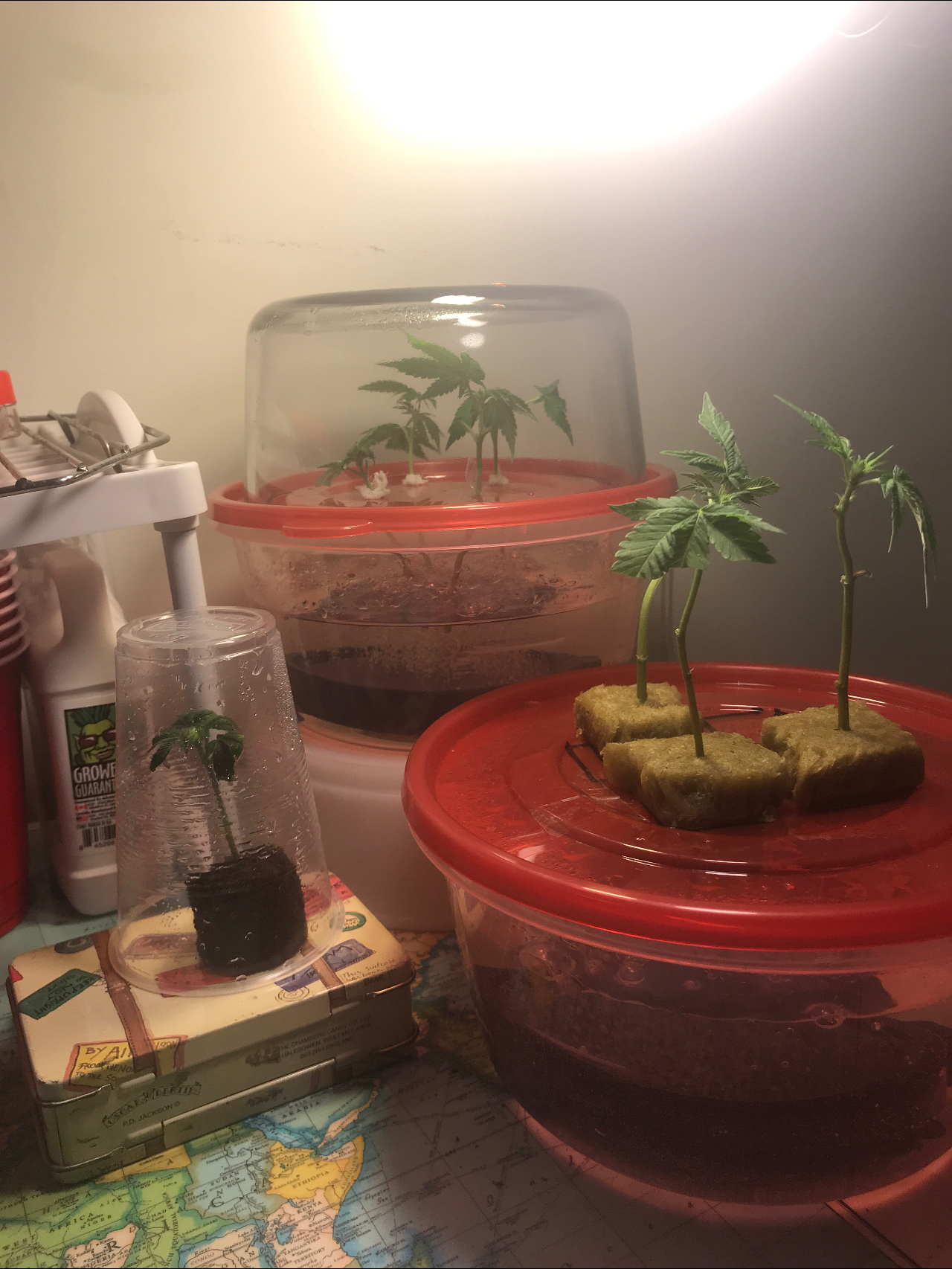 1 pellet dried out since I removed the cover/cups yesterday. I pull d it out of the pellet and stuck it directly in the water. It's come back already a few hours later. Improved design of DIY bubblers. Bought 2 L Tupperware containers: Placed air stone inside on low & enriched the water. 2L: 1 mL sensigrow 1mL b52 .5 mL rapidstart Ppm: 330 Ph: 5.5 I placed 4 cuttings directly in the water, into the mass of bubbles. They're supported by small pieces of cotton balls to keep them stable and at the top of the solution. The next 3 I placed in Rockwool cubes (ph 5.5) and raised the water level to 1" below. Will be an easy transfer over to either dwc bucket or soil for those 3 if I please.
5 years ago
Temp: 75–80 Snipped the leaves a little more. The pellet on the right is pretty damp. Removed the cups to increase airflow so there isn't mould. Looks good though.
5 years ago
Temp: 73 Seems fine. The new cuttings are doing well. Added the rest of the clone mute mix, and like 2 drops of rapidstart. Ppm: 180 Ph: 7 Should change water weekly, still clean so far though.
5 years ago
Air stone was floating on the top, so I taped the air tube to the box behind and it's a bit more stable. All the cuttings are fine, no wilting whatsoever. Ppm: 130, couple points lower than what I measured yesterday. Good sign I spose.
5 years ago
Placed an air stone in container with light solution of nutrients: 150 ppm, ph 7. Placed metal rack over container and set my first 2 cuttings on the rack with clear cups over them to insulate them a bit. I scored my 6 recent cuttings & placed directly in the oxygenated water, supported by modified clear cup. I placed them on the side of the container so that they aren't directly interacting with the air stone. Air stone set to low. Just playing around with stuff I have at home, would like to invest in a cloning system but diy is fun for when you're broke!
5 years ago
Cjh807 Awesome idea I've never seen it done like that. Do you just have it hooked up to a small air pump?
Hippiehighlife How long r u keeping the light on? They looking like fresh cuts, and need to still shoot roots before u go all in with flower or veg. I could be wrong
Looks hungry. Gave new foliar spray: .5 mL sensigrow a & b .25 rapidstart 1 drop ph up Ppm 400 Ph 6
5 years ago
Smyter Why did you cut the leaves? Sorry new to the game...
Temp: 78 ish Not much new. Couldn't get a pic through the bag of the other one.
5 years ago
Temp: 76-78 Moved lights up a bit. Snipped the leaves a bit more on the sturdy one. Sprayed the leaves and made the other bag are tight as well. Hopefully they root by next week. Fully recovered from wilt now.
5 years ago
Temp: 80 Gave them each their own pyrex/ziplock domes with lots of air in them. I slipped a straw in one and put a rubber band around it so it's 99% sealed. Just blowing some air in every few hours for co2 refreshment. Removed from tent and placed under 9w led and 13w cfl about 6" above. Daily mist and breathe.
5 years ago
Temp: 82 Daily breather and mist. Recovering from wilt now.
5 years ago
Temp 82 Moved the together into pyrex. Still wilted.
5 years ago
Temp 82 Daily misting & 5 min breather. The one in the Dixie cup is doing great. One is wilting badly, so I set it on the floor a few inches further. If it hasn't gotten any better by tomorrow I'll cut the fan leaves in half.
5 years ago
Temp: 79 Soaked peat pellets in RO water: 1 mL sensigrow, .25 mL rapid start. Ppm=300 Took 2 cuttings from lower branches of mother LB, soaked in RO water immediately for 15 mins. Trimmed their leaves to conserve their energy. Transferred to warm pellets. 1 pellet embedded in clear Dixie cup with worm castings & dark earth soil. Placed in glass Pyrex with zip-lock as a dome cover. This method allows me to see when the roots are growing. Placed about 30" under LED setup xl750 x hlg 300.
5 years ago