Peaches (Critical Mass Auto)
1/15/2023
Popped 1/14/2023 and was planted in 50/50 FFOF and Roots Organic with 2 cups perlite per gallon in a 3 gallon air pot.
Trichomes are still young and need time. Upper leaves are still fading. I was supposed to water today but they still have some weight
16 hours ago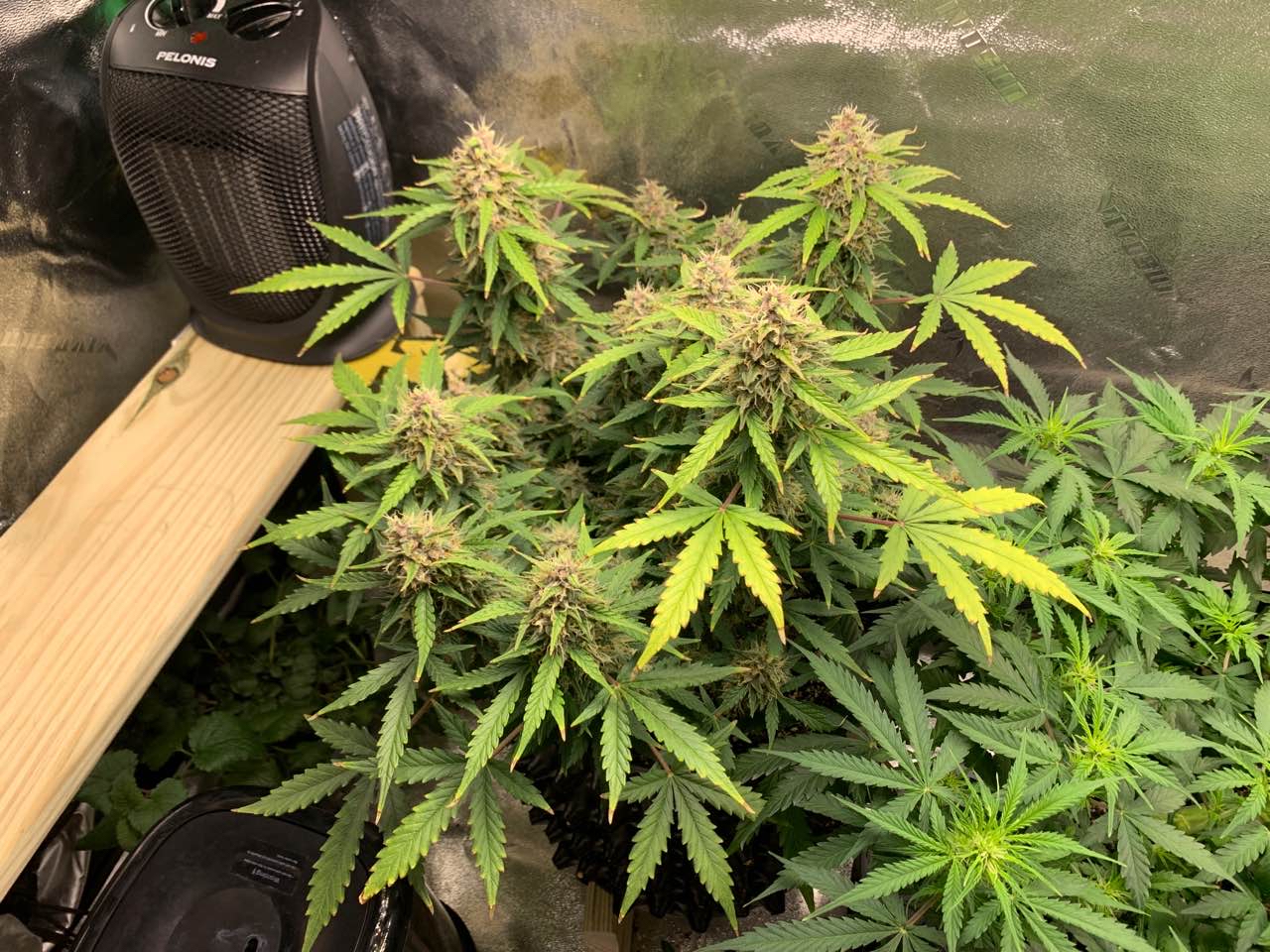 I'm loving the colors although they may be a bad sign lol, I think she's closer to the end than I think?
2 days ago
Watered yesterday and only fed her a tspn worth of tb and myco molasses. Trichs are still clear
3 days ago
Continues to yellow at the top slowly
5 days ago
Her leaves are yellowing on the top and starting to droop still even after feeding. And there's more orange hairs.
6 days ago
Fed her today 3/1/2. Her top leaves are looking a little yellow. Not sure what that's about. Trichs are clear still.
7 days ago
Fed her yesterday with 3 tspn bb, 1tspn gb, 2tb myco and molasses. She's starting to show orange pistols. Trimmed foliage for airflow.
9 days ago
Watered her today with just myco and molasses phed. Stacking heavily!
13 days ago
She's stacking a bat! And she has a beautiful deep purple coming through!
15 days ago
Gave her a full watering today with maybe a little less than she needed. Trichomes are forming. Accidentally burned the leaves with the space heater in here, oops.
16 days ago
She's starting to show the frost more!
18 days ago
Gave her a full feeding today with 3tspn BB, 1tspn GB, 2tspn TB, myco and molasses phed tap water. She reached upward quite a bit! I'm still surprised by the difference between her and her sister every day. Still chucking pistols, she's very thirsty already! May need to water her again tomorrow? She's also starting to show more trichomes finally
19 days ago
Gave her a full watering Monday into Tuesday, so a day early. I used filtered tap water this time and added the usual amendments with 3tspn bb, 1tspn gb, and 1tspn tb, realized I forgot to add the second, and then added it to finish watering. Noticed no difference the next day after using tap water! She's lanky but the longer ones are starting to fill up! I can see why her genetic is susceptible to mold. She grows very dense and I assume the size of the buds are going to be decent. This will make air flow a concern.
21 days ago
She looks very perky and is showing some trichomes! She's also puffing up finally
22 days ago
Watered today. 3tspn bb, 1tspn gb, 2tspn tb. Then added myco and molasses, but forgot to level the ph! It was around 6ph flat. Hopefully this doesn't do anything too bad. She looks much happier so I think the feeding is heading in the right direction! Leaves are more perky than not and at the end of the day this morning the leaves were up even though she was thirsty!
23 days ago
She doesn't seem happy today, I think the watering yesterday wasn't the best choice? Maybe she's hungry and since I didn't feed her yesterday this could be her response. It's only lights on so we'll see if she turns around.
a month ago
Going to water her today with regular ph water, molasses, and myco with NO NUTES. I switched the places with her sister and she's now sitting at around 730 par. I lowered the or because she's always droopy after light cycles and even after watering. She's starting to show some frost. She has two stems that are about two to three inches taller than the canopy which is annoying but not terrible. I also introduced the new ac infinity t4 I have and adjusted the fan to have a consistent exchange of air and to speed up as needed for heat or humidity.
a month ago
Gave her a full watering today with 3tspn bb, 1tspn gb, 1.5 tb with myco and molasses ph to 6.5. I added more water this time to really make sure everything is saturated. She got about 60% of a gallons worth of feeding. For some reason she's still droopy after lights on and feeding. I'm sure she'll bounce back though. I think her color is getting a little darker
a month ago
She still drops in the morning by the end of the light cycle… raised the light a little. I know she's not thirsty or hungry because I just watered her yesterday and she bounced back after. She's also chucking pistols. She perked back up my lights on of course and is sitting at 760ish par
a month ago
Gave her a full feeding today with 3 tsp big bloom, 1 tspn grow big, 1.5tspn tiger bloom to a gallon. Added myco and molasses ph to 6.5ish. She got half the gallon. She was droopy but bounced back after watering. She looks really light green still even after starting feeding. She's also still getting droopy at the end of the light cycle. Going to check the par later
a month ago
ZaddyXL Really? Compared to the other one she like very light, genetics?
Caliban What is the RH and temp? And how high are the lights from the canopy? Also what is your watering regime. 👍
View 4 additional comments
Raised the light this morning again because she's always so low and droopy by the end of the cycle. Seems to like the feeding so far. She's also stretching quite a bit! Maybe I forgot to account for that? At lights on she was ready for action, switched her sides and now she's sitting at about 750 par in the new spot
a month ago
Gave her a full watering and feeding with 3 tspn big bloom, 1tspn grow big, and 1 tspn tiger bloom, myco, and molasses to a gallon phed to 6.6ish and split with her sister. She started to look droopy at the end of the light cycle so I checked or and she was higher than her sister, but seems to like it. She's also a lighter green. Looking to feed today or tomorrow.
a month ago
Yesterday she started off strong! I realized I was giving her too much light potentially so I measured and it says about 800 pat which may be too high. Earlier by the end of the cycle she looked fine though… maybe she likes the light? She is also a lighter green vs her sister who has rust spots. Cal/mag sisters?
a month ago
ZaddyXL She's in flower, and my par meter isn't real it's an app, so I'm just using it for consistency really
View 6 additional comments
Gave her a full watering and first feeding yesterday. I gave her 2 tspn Big Bloom, .5tspn Grow Big, .5tspn Tiger Bloom with molasses and myco ph balanced in a gallon. This was split between both plants in flower. Both had a solid amount of runoff and were fully saturated. Pruned to shed light on lower center sites. Very happy girl!
a month ago
Moved her up on a stand so if the lights get turned up they don't hurt the lower plants. She's getting about 700 par now and seems to be loving the closer light! Flower is among us folks
a month ago
I think she's starting to hit flower! Gave her a full watering about a half gallon for the entire pot with myco and molasses ph balanced of course. Also one half of the rent is in flower, so the light has been turned up and raised just to note this change in environment. Pruned and exposed lower leaves
a month ago
Still very few white hairs showing, but she's filling up fast again. I have to prune soon
a month ago
Full watering with myco and molasses. Entire container saturated this time. Defoliated and trained. Also switched lights! She seems very happy still!
a month ago
Left her alone for the most part and her leaves are the happiest I've seen so far! Starting to see more white hairs!
a month ago
Did a lot of defoliating, goin to leave her alone for a few days to recoup. Almost every node is getting light. Turned the exhaust off to let the humidity rise.
2 months ago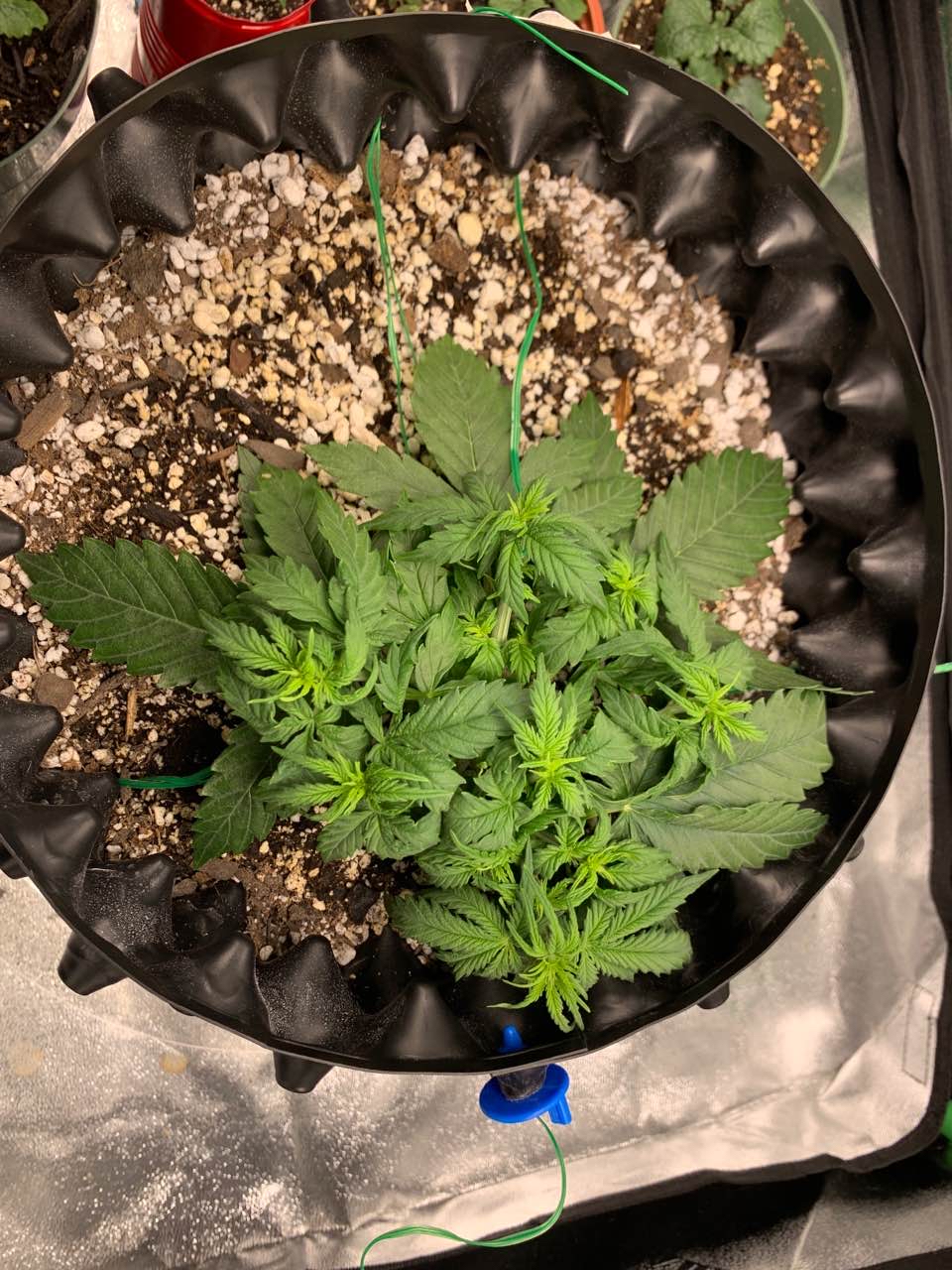 Gave her a full watering with myco and introduced 3/4tspn blackstrap molasses. Continued to tuck and defoliate where needed. I am considering removing that shoot on the bottom as it may not reach the light.
2 months ago
kadaji I would give her a couple weeks. She might surprise you.
Exposed the center further to allow light to penetrate. Tucked and trained a few shoots to allow light to the lower sites. May prune them off
2 months ago
Still vegging, continued to tuck leaves and expose lower shoots. RH when lights are off is about 60% but lights on is 50%ish. Should be watering today since I watered Saturday. The temp stays consistent with the exhaust on
2 months ago
She is vegging heavily! Lots of leaf tucking for the under shoots. Gave her a full watering on 2/4 with myco and introduced the exhaust fan while the lights are on. Also removed another leaf that was just prone to getting infected by laying on the wet soil.
2 months ago
Vegging hella hard, I was told that removing a fan leaf wouldn't kill off the shoot above it, so I removed two leaves that were shading EVERYTHING, so much better letting the light penetrate the shoots this way. I also noticed the first and second nodes are extremely close together, which makes training this early so hard. It also doesn't help that her foliage is super thick and hydrated like lettuce on the shoots. Lots of leaf tucking and trained 1 shoot since it was long enough. Made chicken with the leaf cuttings and she didn't have much of a unique taste. Tasted how she smelled 🤷🏽‍♂️ not anything crazy but I've heard, peaches and sweetness?
2 months ago
Moved the light down to 16" away from canopy and turned up to 70% to give her 569"par". Tucked leaves and continued to adjust the lst wires.
2 months ago
Gave her a full watering with phed water and mico. She still seems a little heavy on the leaves but healthy overall!
2 months ago
Gave some lst lovin and she is doing ok! Her leaves also have a smell but it's very subtle still. She also had 4 nodes and showed her first full level of 5 point leaves! Tied the tie around the third leaves to give a more gentle bend.
2 months ago
She seems happy, leaves look a little heavy and could be facing upward more but she doesn't seem to have any issues. Shoots are growing and overall vegging looks like it's speeding up. Bent her a little to begin lst.
2 months ago
I woke up and she was a little sad 😢 she progressively got worse. I realized the RH may be too high so I lowered it and adjusted the fan that was making her shake a little. She's also newly seated next to the humidifier so that may have been the culprit. Did a little leaning on her for the new side shoots. Gave a full water till run off and then some in the surrounding area when the lights came on. About a quarter of a gallon was all she needed. The water also had maybe a half a teaspoon of mycorrhizae. And I rotated the pot
2 months ago
ig:@eaegifts Just looks like she needs water but is otherwise very happy imo
ZaddyXL Just give her some water, I'll update later
She looks happy! She's showing her first side shoots too! Waiting another day before watering. Humidity has been a consistent 60%. I lowered the lights to 20" instead of 24". The pat reading went from about 220 to 360. Which is weird because the other light reads 300 at the same distance. Added co2 and left her alone. I went back and lowered the lights to the true 20" (not from the reflector, from the leds) and the pat reads 420 ☺️.
2 months ago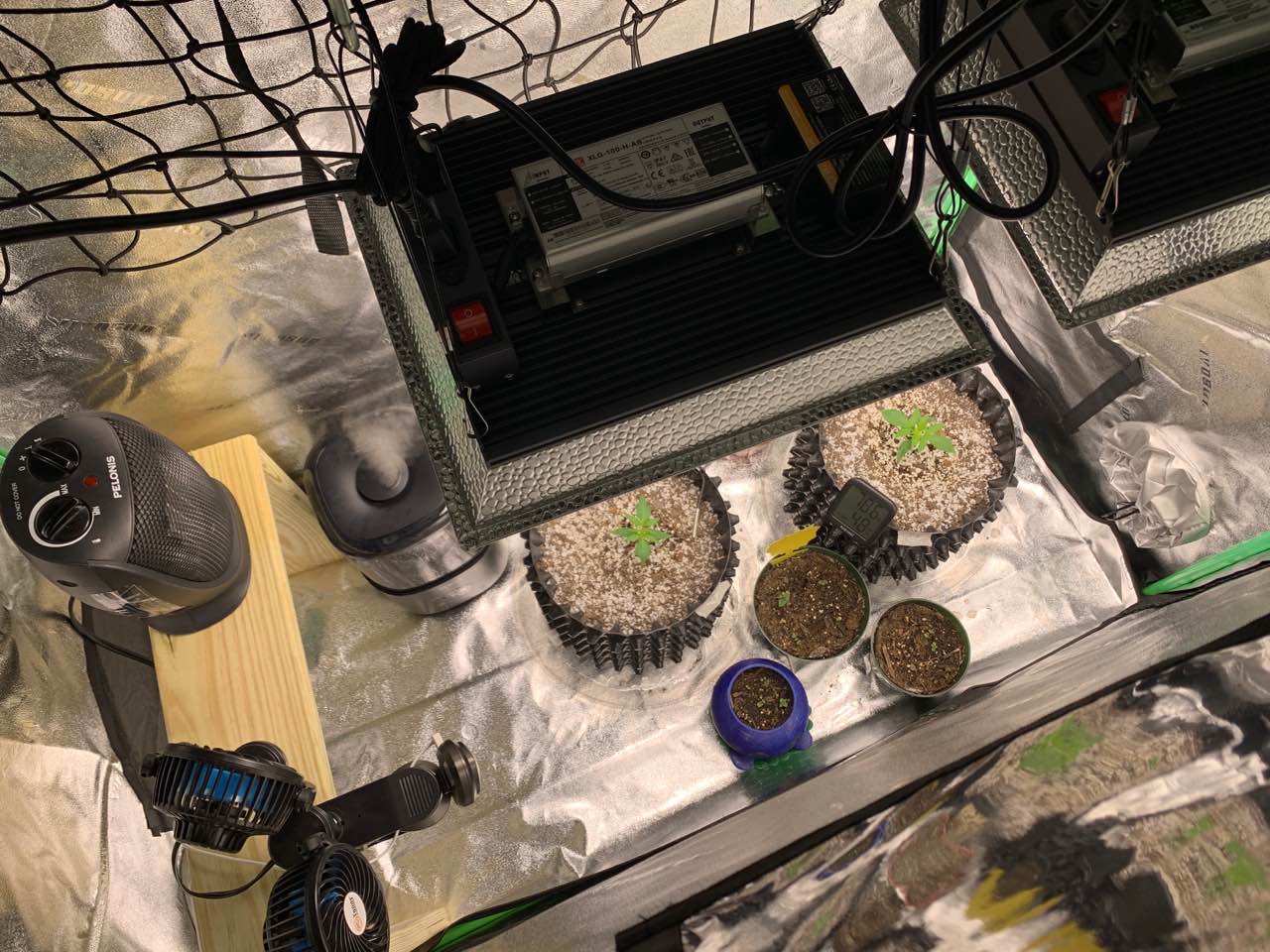 Looking great! Got the humidifier today and it's a consistent 55%-60% rh! Very happy girl! She's showing shoots from the lower nodes! LST soon. Fans on maybe 60% along with lights 60% still. One vent open and no exhaust.
2 months ago
Lots of growth on the second level, humidity was around 47% all day because the humidifier didn't show up yet. Squirted a lil co2 at lights on. Added a shelf to the tent to germinate on the side.
2 months ago
I gave her a good watering and topped off with a little mycorrhizae mixed in water. Lately I've been spraying the leaves a little as well. The color looks like it should! No more light green on the leaves after she drank. The lower scuffed up leaves look a little extra scuffed now for some reason. I closed a vent on one side to bring the RH up to 50%. May try some lst tomorrow. Should you lst just before lights out? Or just before lights on? 🤔
2 months ago
Snowy Roads Um, LST? What are you planning on training when it's that small? Also, you probably want your humidity around 60-80rh. 50rh is wayyy too low. Unless you're planning on harvesting it tomorrow. Just sayin Happy growing
ZaddyXL Thanks for the input! I thought it was too early too, but I've heard you can start whenever, so I figured start sooner when the stem is flexible. I have a humidifier on the way today to fix the rh issue too
Snowy Roads Yeah dude, you wanna have that stuff set up before you even germinate. Seedlings and little sprouts need high humidity and temp.
The lower leaves look terrible but they're working. The new growth looks super light idk why this girl seems so upset. Sprayed the soil and leaves lightly with water and CO2. Getting a humidifier soon but the rh has been ~40% all day and ~78 degrees. Lights at 60% and still 18/6
2 months ago
Nothing to report besides we're looking healthy and we're showing the first three pointers! The new growth is still a light green, not sure what this is about, but I hope maybe it's because the soil is a little hot and this happens with hot seedlings (or so I've heard). Soil is still moist. Trying sponges in a tray of water to fix the humidity, moved the fans closer to the tray.
2 months ago
Returned after a day of 50% strength lighting sand she seems to have taken some damage. Maybe she went too dry in the higher light power and curled up. There's also light green discoloration. Watered till dripping and removed the jar, lights at 60%.
2 months ago
The extra 20% of light (60%) stressed out the crit mass a little, when I woke up she was praying a little too much, almost curling. I had to add moisture to the jars since the exhaust and fans were on a lot to deal with the heat. Lowered the light to 50%. For today's run since I won't be able to tend to them till tomorrow. Soil seems moist enough for a dry spell, hopefully this isn't the wrong call and the roots go searching for water.
2 months ago
Woke up and she was droopy. Not sure if it is was the introduction of a lil co2 or too much moisture in the jar. Propped the jar up a little to see if that helps her out. I think the oxygen helped! She's bouncing back, but has a little lighter green spot on the left leaf. No water and keeping the jar lifted. Raised the lights to 60% and they both responded well. The extra 20% however is adding some heat so I added the exhaust and dual fans with a cup of water and paper towel for moisture now that air is moving.
2 months ago
I moved the thermo probe to the level of these lil dudes. It was about a degree difference. Grew a bit over the blackout. Does not need watering! She looks happy! Wondering when I should turn the lights up, rn at 40% @100W light. I also added a 2 second squirt of co2 from the tank into the jar before placing it down. I doubt it's doing anything, but we'll see!
2 months ago
She looks happy with the jar. The cotyledon leaf that was curled is no longer jacked up! No water needed
2 months ago
Gave her a full watering today since the media looked and felt dry. Also added the mason jars for humidity per suggestion from kushstreams. I noticed the first leafy thingy were a little wonky this morning
2 months ago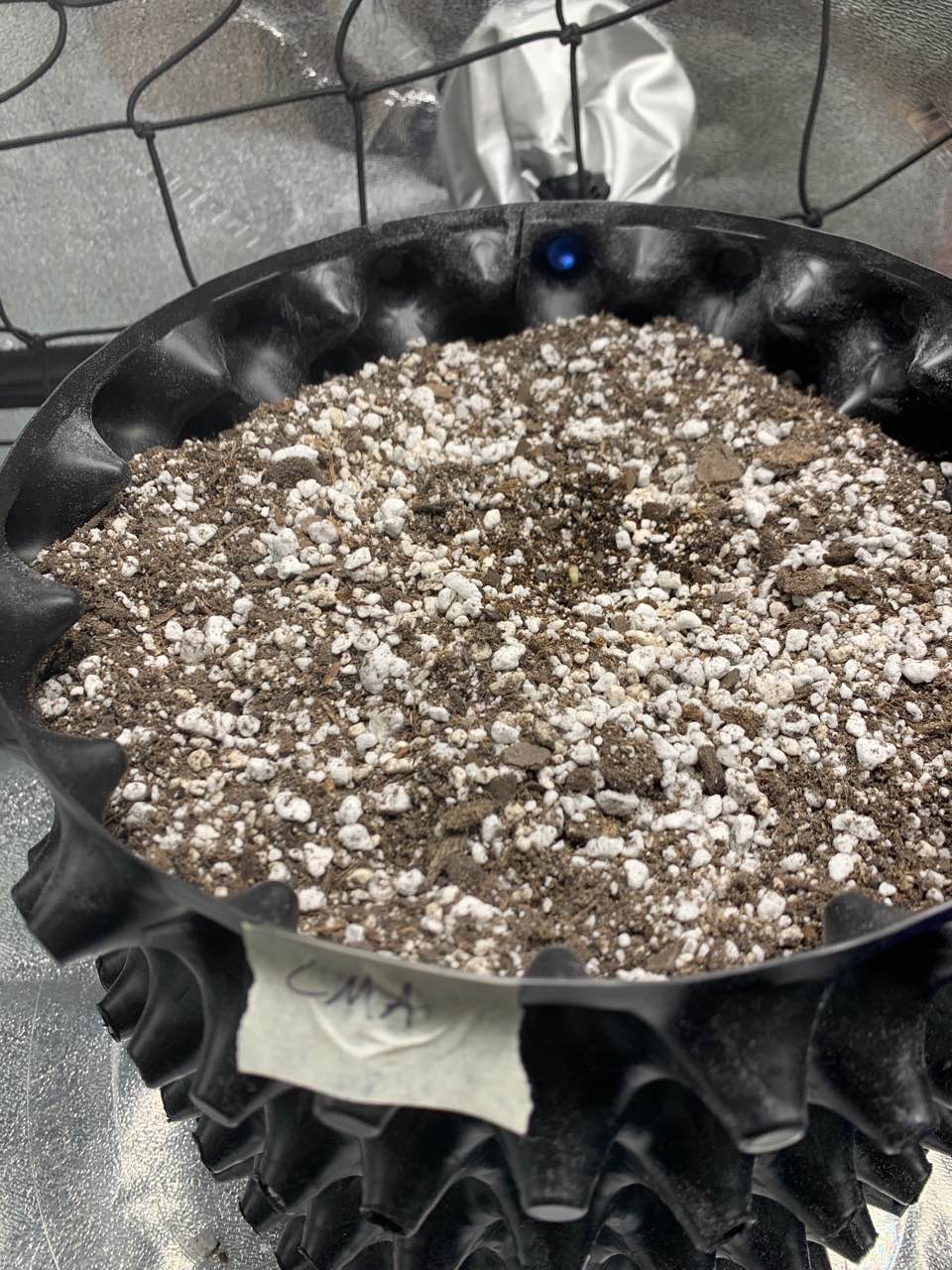 Critical mass has broken the soil!
2 months ago
1/14/23-1/15/23
2 months ago