beachboi
Black D.O.G
Indoor Grow
3 - Humboldt Indica Black DOG
Black D.O.G Indica Strain
Harvest day 3 ;)
4 years ago
Millhouse52 What all this is about! Congratulations man, that shit looks bangin'!
Beachboi Thanks man :) still have to do a final manicure but will do when I clip the buds :)
View 1 additional comment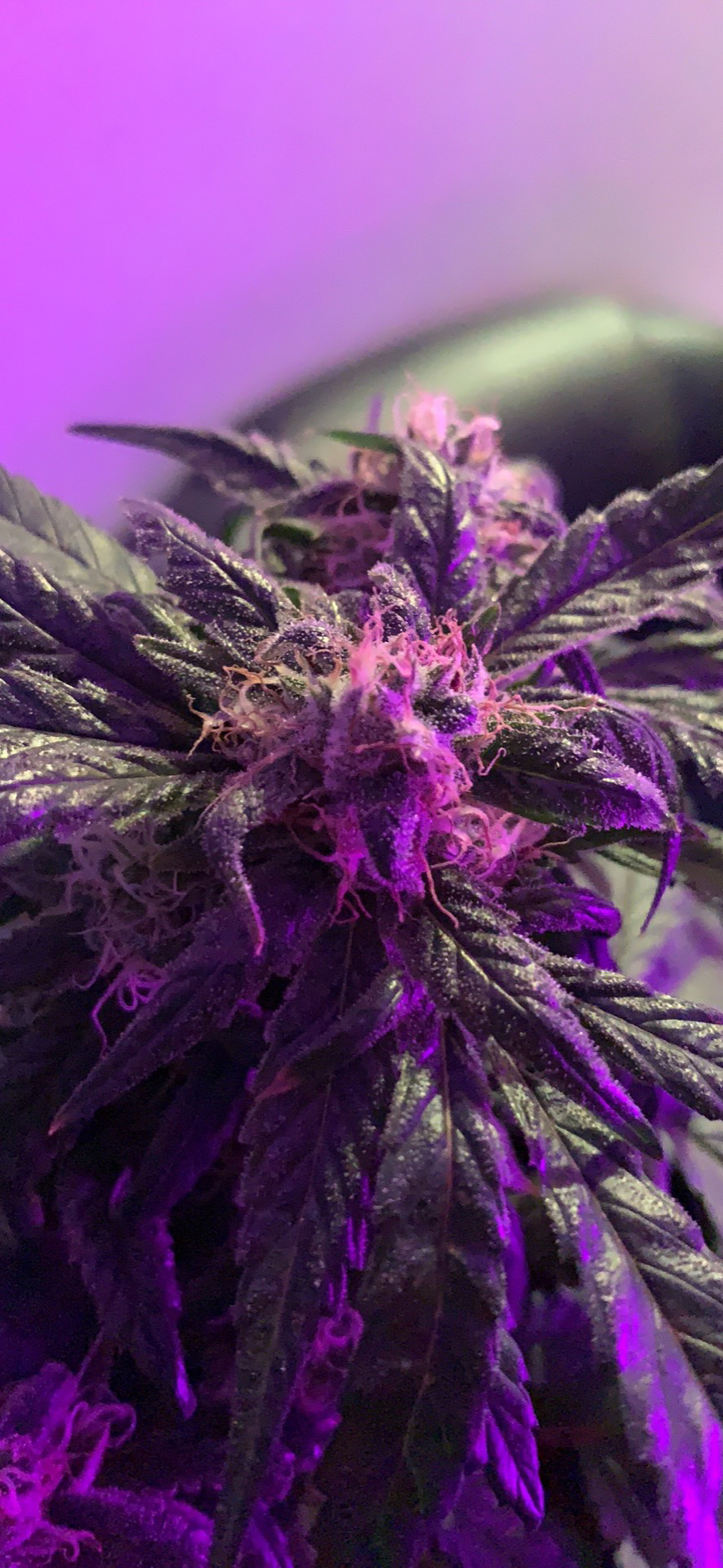 3weeks left guys!!! Dense buds, smells strong!! Frosty AF!!
4 years ago
Pic update - 3 weeks left :) can't wait!!
4 years ago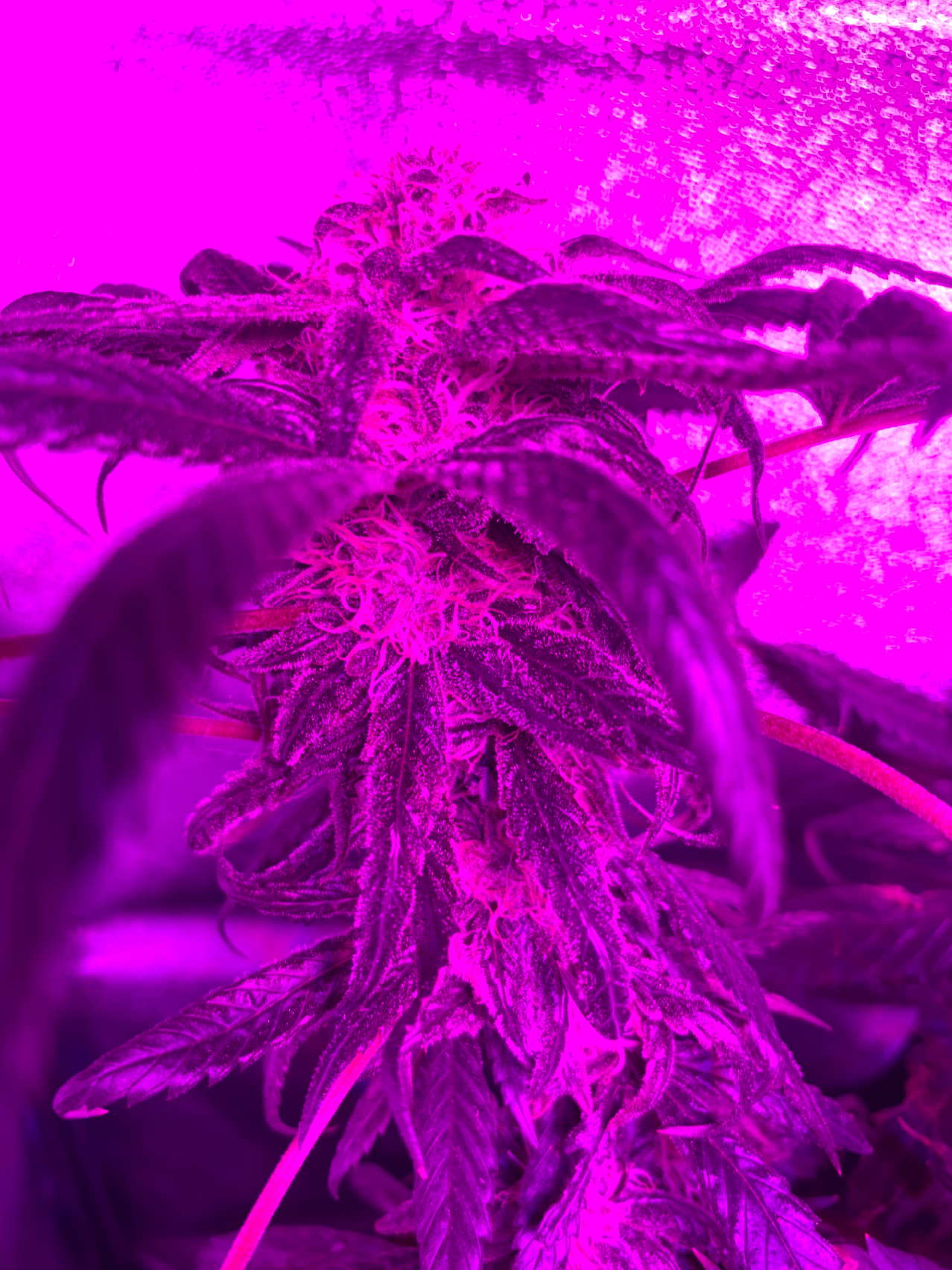 Picture update.
4 years ago
She is coming along
4 years ago
Starting to turn around from the nitro toxicity.. smells amazing.
4 years ago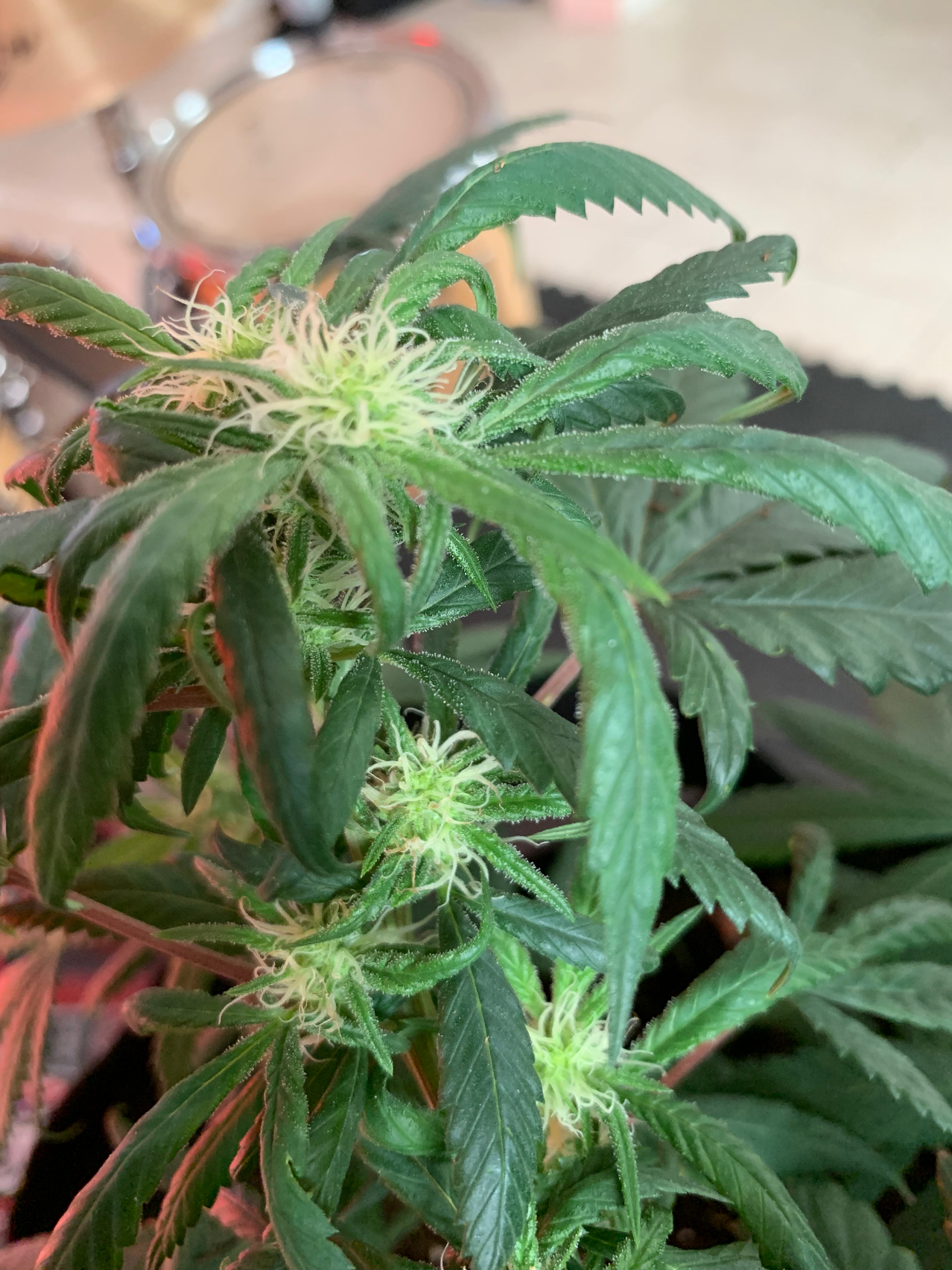 Little bigger!!
4 years ago
Slow growing!! Not sure why. Fox farm - Happy Frog / Ocean mix Ph - 6.0 Humidity - 45% Temp is 23 Celsius Nutrients: Beastie blooms .25/Gal Cha Ching .25/Gal Gold Root accelerator .5 ml H&G Soil A-B 5ml/Gal 1200w LED (flower switch) 3x3x6 mammoth tent 2 - 6" fans 6" induct fan Light is 12" away give it take.
4 years ago
Curing day. 100g. Had no jars:(
4 years ago
100g in total. Don't have jars at this moment, but this does work :)
4 years ago
100g - May 5th - day 1 of curing Had no jars this time. But this method works well.
4 years ago
Little bit slow during flower, I believe I had a overwatering issue. I'm hoping these flowers produce more in the next couple of weeks. 😳
4 years ago
Looking great :)
4 years ago
Hugo2112 I've grown this a couple times and am really happy to be moving another clone to flower in about a month. Mine have never turned the purples I see on some finished products but it's still a great strain.
Picture update :) pistols are coming in nice now :) will take better pics in a few days. I'm out of town atm.
4 years ago
1week and a day of flower 12/12
4 years ago
12/12 Low stress training Ph 6.5 Humidity 45% Heat - 21-25 Celsius Soil A/B nutrients Misted ph water on foliage
4 years ago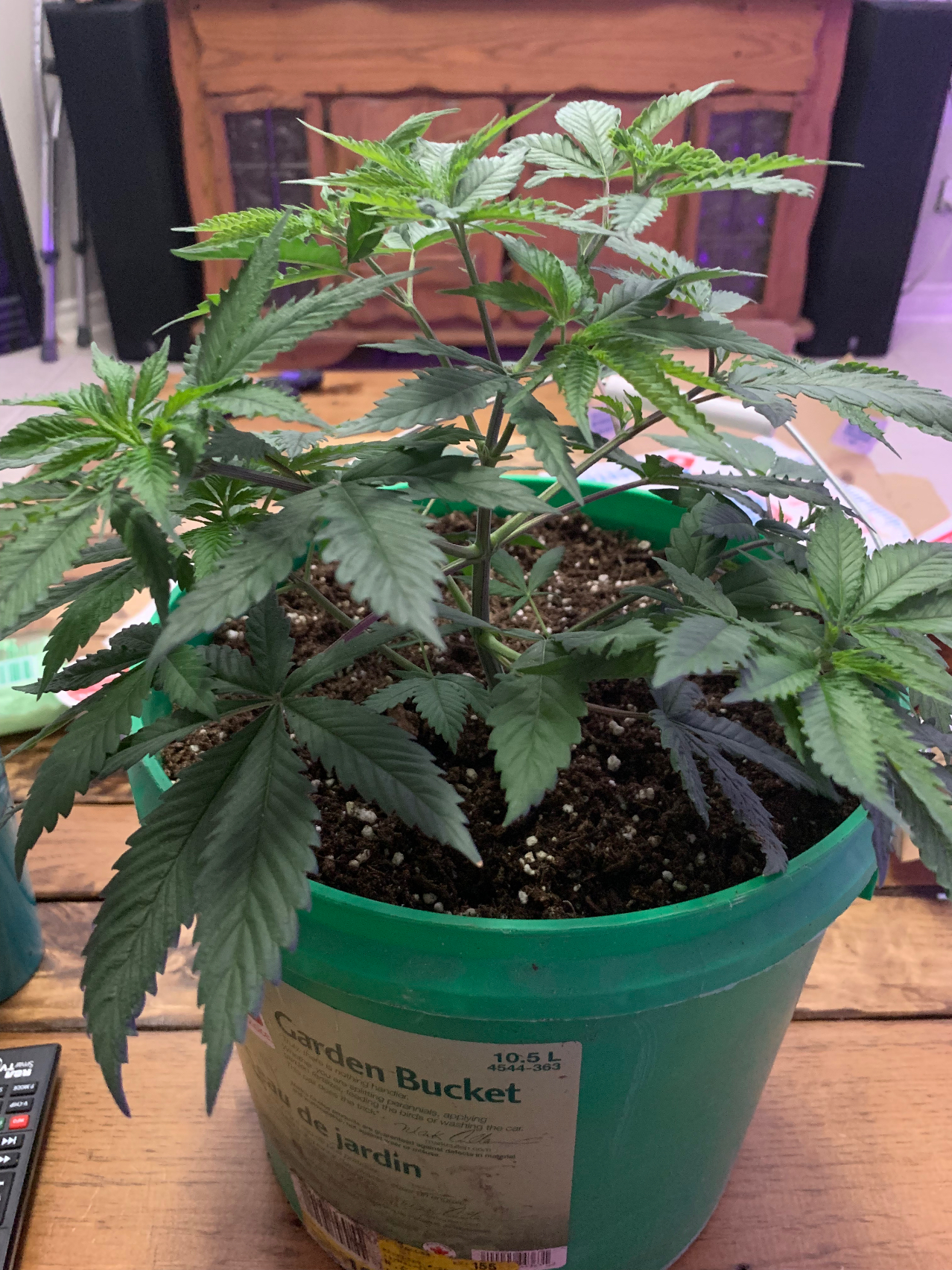 Growing great, very slow growing still. January 16th,2019
4 years ago
February 9th, 2019 Seems short but growing thick :) LST training is working very well. Ph - 6.0 2.5ml - 1 gallon of H&G Soil A-B nutrients Humidity- 70-77% Heat - 27 degrees
4 years ago
PotBot Mine stayed short all through veg, grew wide fast. Read 30 percent stretch but mine have double in size since I put them in flower.
Still having issues with two of the five. Again, all treated the same. 1 I know will not make it, second has not made any progress with growth. Other three are fantastic, little discolouration on two but beautiful so far.
4 years ago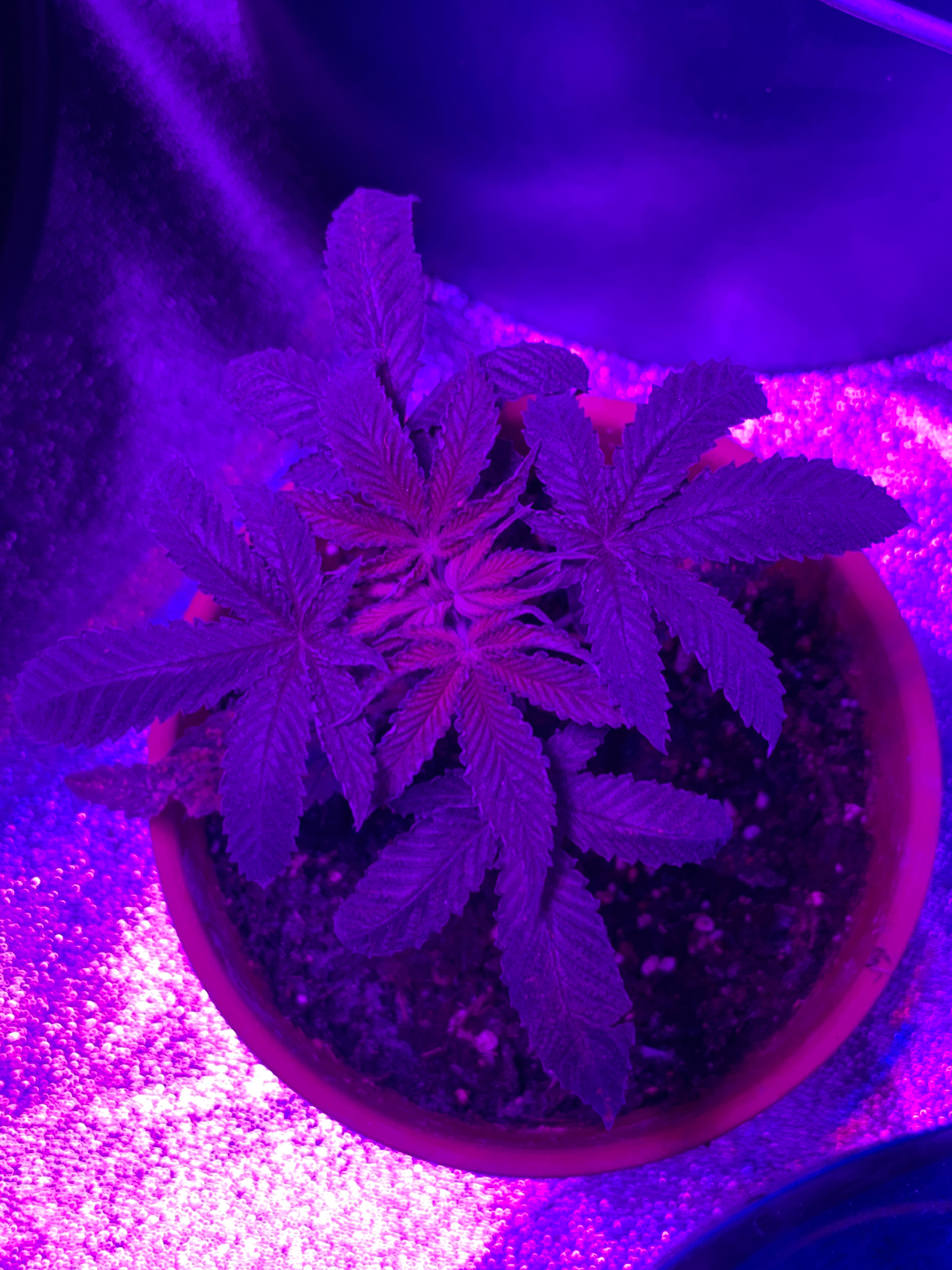 Growing beauty like it should. Lush green leaves. Very impressed on this grow so far. 2/5 seeds bought from Humbolt seed company have been growing completely different with some issues. Almost like a nutrient burn but all have been treated the same. But little thrown back from it. All but 1 have been topped, two started a strong LST. 1/4 of the nutrients needed to start a good regiment. Ph-6.0 House and garden - Soil A - B 27 degrees Celsius 70-77% humidity
4 years ago
genghis_quan Could be nutrient burn at this early stage because fox farms soil runs hot. It has high ppm straight out of the bag. You can combat this by giving it a good flush or two before your plant or transplant in the early stages or later on. Hope it helps! You grew amazing plants anyways
Beachboi Thanks :) yeah I flushed it for sure. Made a world of difference :) never had a problem with the soil before. But I also cut my nutes, back 3/4 of the strength as well. I find the black DOG is a very picky strain to grow. They act and grow different as well. Very cool grow so far.
Picture update - replant
4 years ago
Soil A/B Home and Garden PH - 6.5 Humidity- 70-77% 1200w Aglex Veg/Bloom Media- Fox Farm Ocean/Happy Frog
4 years ago
January 10th 6 - 1st week growth 6.5 PH 25 Celsius 77% humidity
4 years ago