2nd Feminized Grow
February 8th planted tap root
Kosher Kush from Seedsman, freebie, planted into root riot cube with meaty half inch tap root.
What's up guys, I'm thinking it's about time to flower this girl but I also am noticing a deficiency. From my testing and research I think I have narrowed it down to magnesium. My ro water has a very low ppm and the red veins along with the yellowing outer leaves. Any tips on how to proceed?
a year ago
She's looking good, not sure if it's having a deficiency tho. Any suggestions?
a year ago
Hammerhead420 Shes is tell me she is stressed by the purple stems and stalks. Could be light, temp. Fluctuating too much, look up purpling to form your own opinions or check to see the variants origins and if she come from a purpling strain. That may be affecting the nutrient uptake and starting a lockout of some sort.
Kazuma Thanks man I appreciate it, Ill go ahead and do that.
Hammerhead420 So then please explain why put ice on plants brings out the colors. Or why when lights were too strong the stem harden and turn purple. I know you know the most on this app so please explain the WHY? Genius!
View 6 additional comments
Small defoliation along with first round of training
a year ago
Cruising along, took off the top set of fan leaves in order to create space and more light pen. Was considering removing the other large leaves but I felt like it might be too soon for that. Slightly bent the topped split of leaves to spread them out more as a bit of lst
a year ago
Topped her today
a year ago
Looking very good, top dressed her today with Gaia greens 4-4-4.
a year ago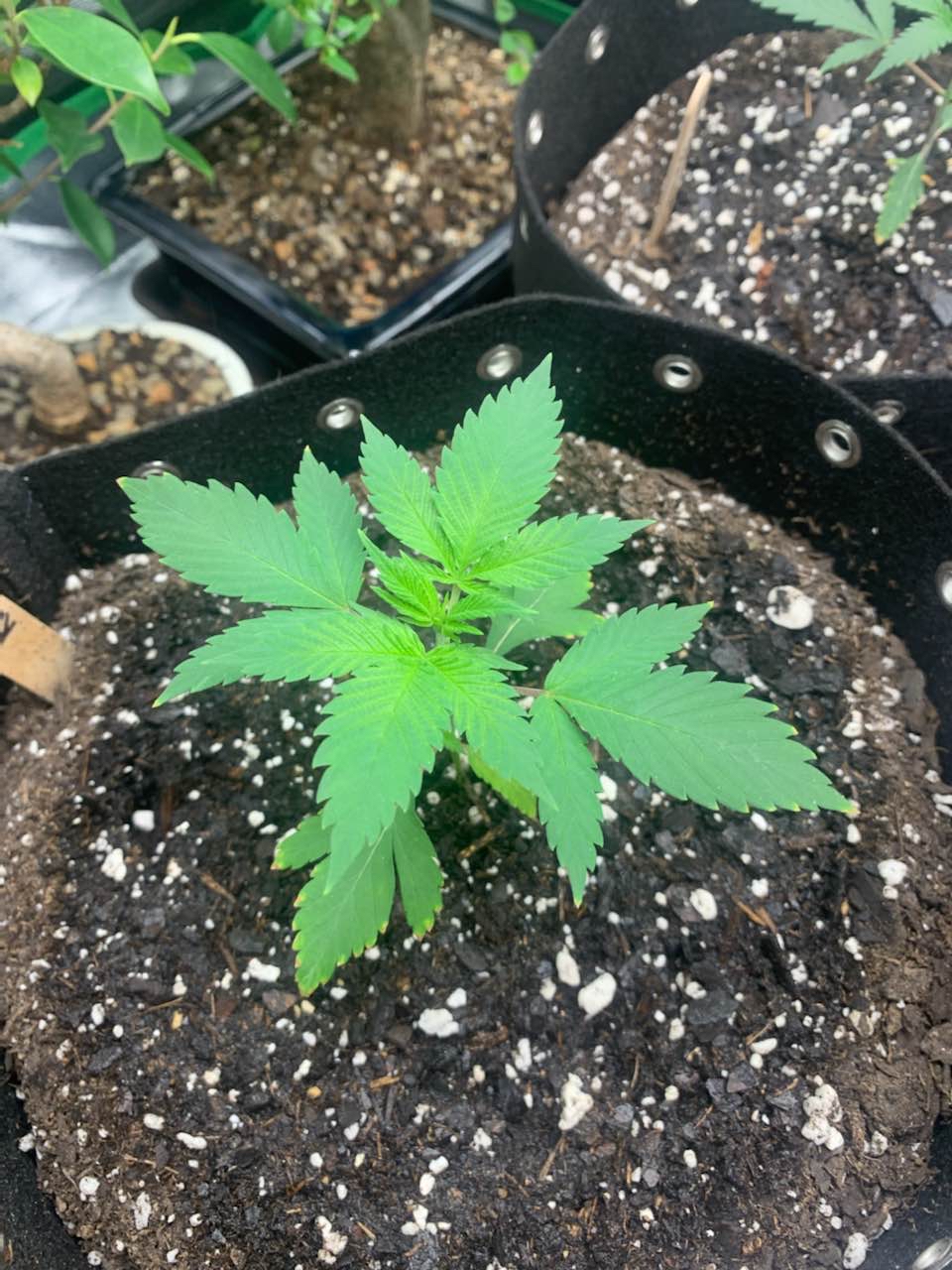 The fan blowing past her has helped a lot. Seems to have livened her up quite a bit.
a year ago
Good growth, she's looking promising
a year ago
Transplanted this young girl today
a year ago
Decent growth, also dealing with the browning on these too…
a year ago
She's looking quite happy
a year ago
Looking good, doesn't seem to have stretched anymore.
a year ago
She's truckin on! I believe the stretching seems to have slowed/stopped. Definitely going to have to transplant deep
a year ago
HammertimeAZ Support the stem with a chop stick or long toothpick.
I think this young girl stretched out a bit, not sure if I should try to add more soil. Turned up the light to about 20% at around 32". Trying to find a balance between this and the other plant I've got.
a year ago
MitchShunn She's stretching for the light . Bring it down 18-24 inches the closer the better without burning it by the heat from light
Sup everyone, took your advice and planted her, gave her 20mL of water since she was in basically dry soil. She looks happy!
a year ago
Looking good besides the fact I think it might be pushing itself out of the cube instead of growing into it, any tips? I tried to moisten the medium to see if that will help it penetrate into the cube.
a year ago
Caliban Plant her asap. Then you can buttress the stem by burying her for a nice root start.
Looking very good, not much to report.
a year ago
Unsure if the girl is stuck or what's going on
a year ago