malz
Auto grow 2
Mixed autoflowers
One freebie amnesia haze from Canuck seeds and 2 purple punch from Barney's farms and one blue dream from humbolt seeds. Doing drain to waste with gh flora trio. Coco and perlite 70/30 mix optic 4 gen 3 light 4x4 tent
Purple punch and amnesia haze
Some shots in the dark
3 years ago
Please stop getting bigger!!!
3 years ago
Smells so good
3 years ago
Starting to get frosty!!! The blue dream auto is a monster. Biggest in the tent now and the youngest. She also seems to be flowering faster than anyone else.
3 years ago
The plants are huge!! Was not expecting autos to get this big.
3 years ago
Heres a tent shot. The next four are purple punch 39 days. Amnesia haze day 39 blue dream day 27. And purple punch day 32
3 years ago
Yep out of space... could use more light too.
3 years ago
Might get a bigger tent for the next grow.
3 years ago
The ladies are stretching fast now. They're getting tied down every day. I cleaned out the lower growth on one of the purple punch plants. We will see how it compares to the other at harvest time. I also had to add a larger fan for air circulation. The ladies are super dense and I'm finding the odd wet spot in the canopy... we do t want any pm issues!!
3 years ago
Re arranged the tent a little. We needed better access to the two younger plants for Lst.
3 years ago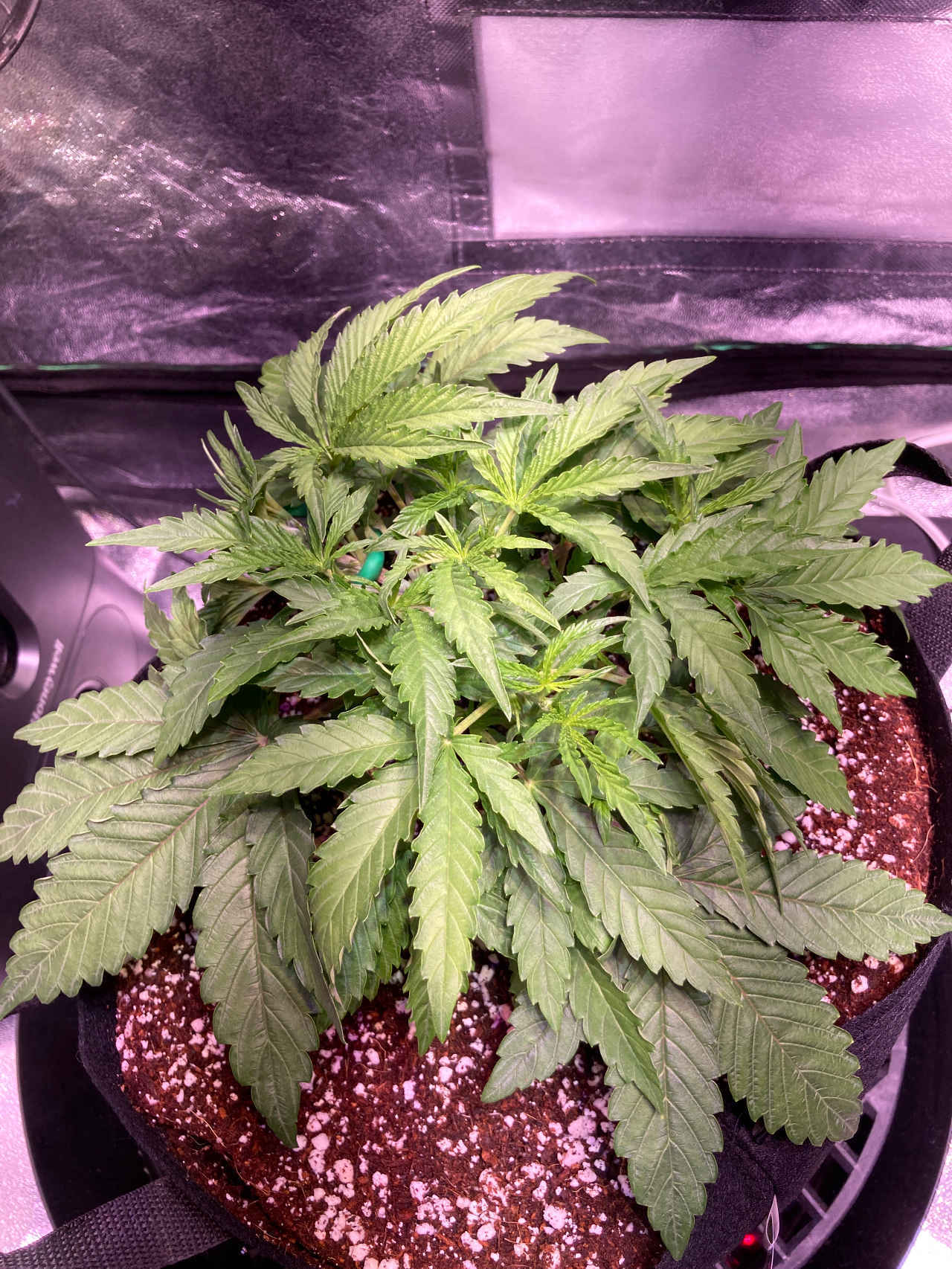 More lst and pistols!!!!
3 years ago
We have pistols
3 years ago
Moving along. We are feeding 1L per five gallon pot 3 times a day at an EC of 0.5. Plants seem happy and are consuming almost all the nutrients we give them between waterings. LST done on the two oldest plantain day 21
3 years ago
We are at 6-8 inches for the oldest two plants. Growth is taking off. The purple punch plants are both still having issues with heat stress so I turned the temp down to 23c (75F). Fed today week 3 ratios to all 4. Flooded the three oldest plants and the little blue dream just had a drink... I'll flood them all tomorrow with plain water and that should bring all 4 into the same schedule for the time being.
3 years ago
Coming along nice. The two big plants had their first flooding today. The two smaller plants a are 5 days behind and 8 days behind. Installed ink bird temp and humidity controllers. The temp stays at 23 -25C and humidity stays 58% +\- 2.
3 years ago
We are now up to 4. The newest additions is a blue dream. Everyone seems happy except the oldest purple punch.. she has a bit of lead edge curl.
3 years ago
Plants are up and growing. Two are 3 days older than the lastest sprout.
3 years ago