Deelite - take 3
Last seed of 6
Last seed left, no luck with the last 3
Finally got a chance to weigh this 1 girl. 👍👊 141 grams (5 ounces) total
a year ago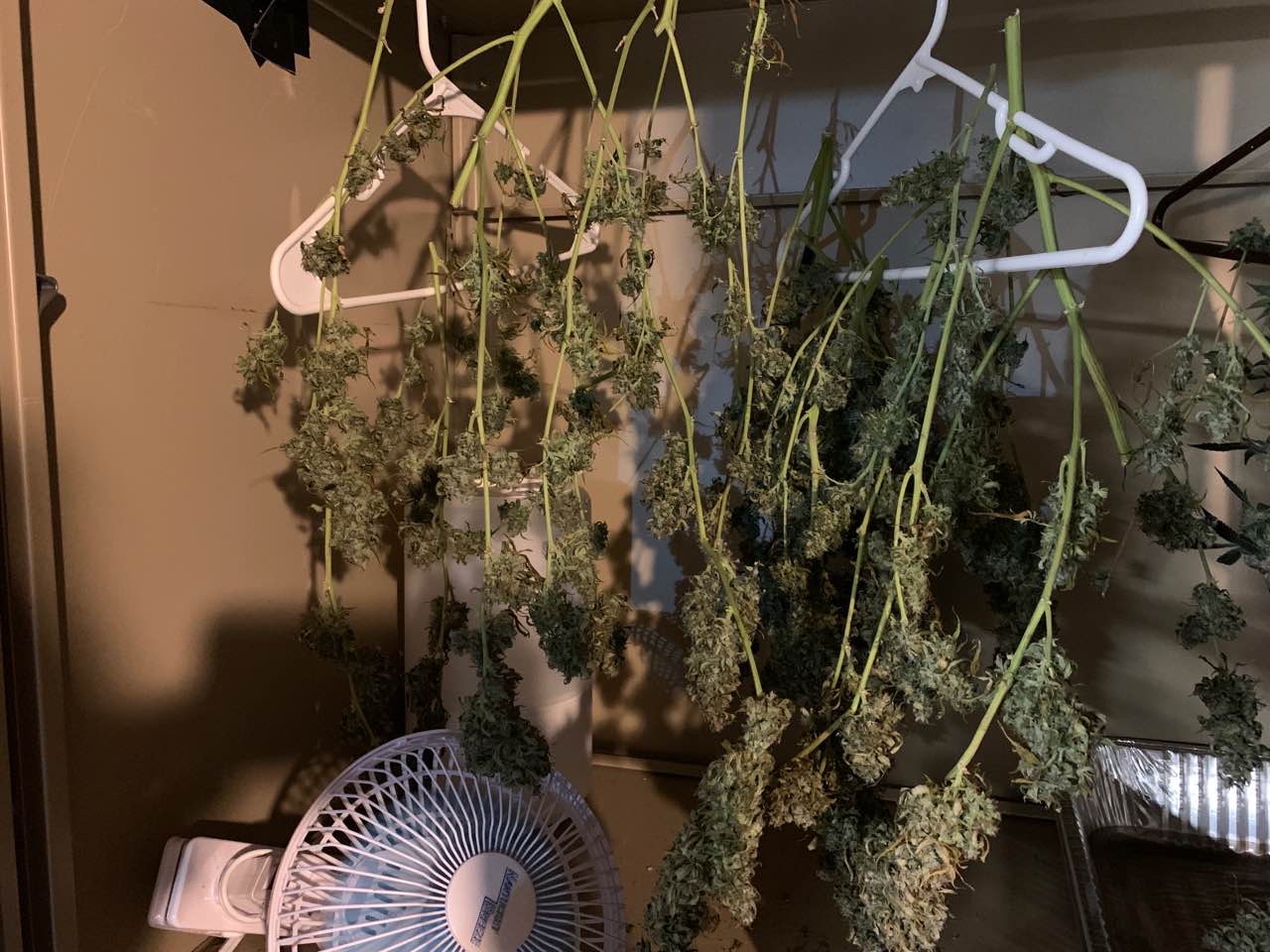 This girl ran her course looks like maybe a little more than the first Deelite run. Good backlog of couch lock for me 🤣😂
a year ago
Girl keeps getting prettier I think
a year ago
gpurps Maybe a little cooked now that I zoomed in 🤣😂 had a hard time keeping her out of the lights.
View 2 additional comments
Seeing some cool purple in her.
a year ago
Girl is looking ok I think considering this is the worse one closet to the light. Bitch just took off! 😂🤣Good problem to have! Other smaller Bruce Banners in the same tent and much smaller.
a year ago
gpurps New grow will hopefully be something all the same kind of plant started at the same time. SCOG think it's called.
ig:@eaegifts One of the troubles with autos lol they can be all different sizes. Run some fem photoperiod if you're gonna do a scrog 👍🏾👍🏾
She got all bent outta shape 🤣😂 nature is just friggin amazing
a year ago
gpurps Ok and maybe a few plastic clips 👍
Buds seem to be coming along nicely 👍 hopefully on cruise control
a year ago
Could probably use some thinning out now that I look at the pics I took.
a year ago
Did some trimming and attempted artwork 🤣😂
a year ago
gpurps Bent the tallest stalks sideways a little with clips since they were up into the light!
gpurps Thanks Organic 👍👊 maybe I'll smoke some more and make T shirts 😂
She seems to be loving life. Up to 80oz of water in just over a day. Been alternating between nutes and no nutes. Tips started getting a little brown so I backed off.
a year ago
Wow this girl is taking over the tent! Had to tie down the 2 highest stalks that were about to go thru the tent roof. Maybe now I can crank up the light intensity a little, only at 50% since the top leaves were looking a little crispy. She's drinking 1/2 gallon almost every day.
a year ago
She seems to have taken the 2/3 dose of Fox Farms nutes really well. This one is flowering way faster than my first grow. Gotta be careful cuz she's getting really tall, had to raise the lights up. May have to invest in another tent since now smaller ones may suffer due to less light 🤔🧐
a year ago
She's cruising along. Experiment by cutting off a few of the lower beaches that last time didn't produce good dense nuggs. Dipped them in Great White and into a solo cup. So far they're not dead 😂🤣 so that's a good thing.
a year ago
gpurps Thinking about sticking them in the outside garden here in NJ to see what happens.
She's growing nicely I think, 17" tall and starting to flower.
a year ago
Did a little LST and topping. She really shot up after the first dose of FF nutes and higher humidity. Did 1/3 of suggested dose
a year ago
gpurps Accidentally pushed the thermometer thru the lower branch on the right side. The ER put some duct tape on it but unfortunately after minutes of work and a few days in recovery it couldn't be saved 🤣😂
Did a little LST and topping tonight. Tried fimming the one to experiment. She's getting thirstier, 16 oz of clean PH 6.6 water. Finally broke down and ordered FF nutes. Decision based mostly on budget and amount of experience out there in using them. Have to be very careful with them from what I've learned.
a year ago
She's moving along nicely I think. 8" tall after burying around 3" of main stalk. 16oz of 6.6 PH water, no nutes. Thinking maybe she's ready for some nutes soon. Topped the 2 top ones today, maybe time for a little LST.
a year ago
Took her out for the first time. Lower leaves looking pretty cooked, watered another 150ml on top of the 250 earlier today, clean PH 6.6 water. This one is 1/2 OF 1/2 peat moss so maybe still too hot? She is a tent with another plant that's close to finishing so not ideal temp and humidity for her.
a year ago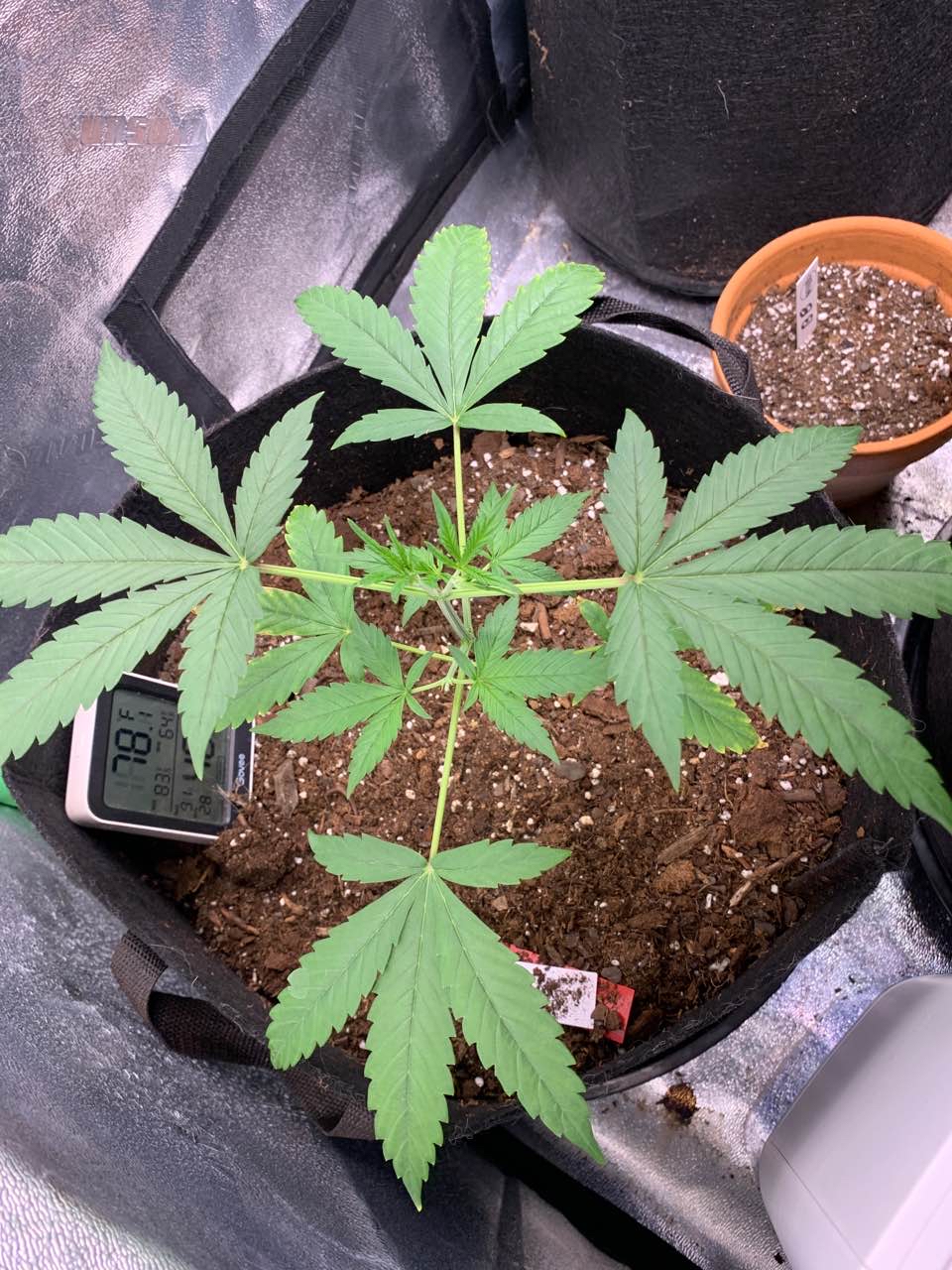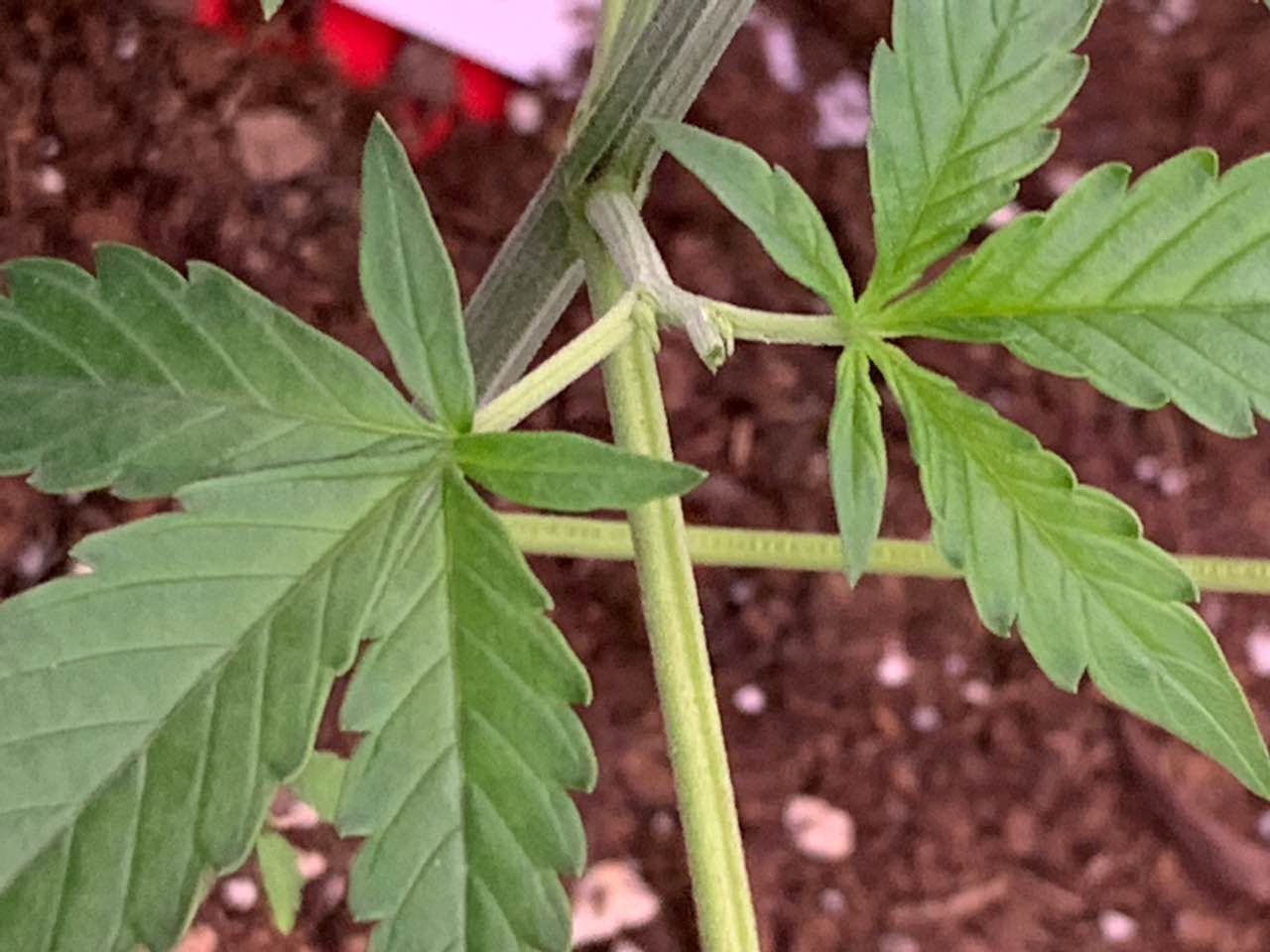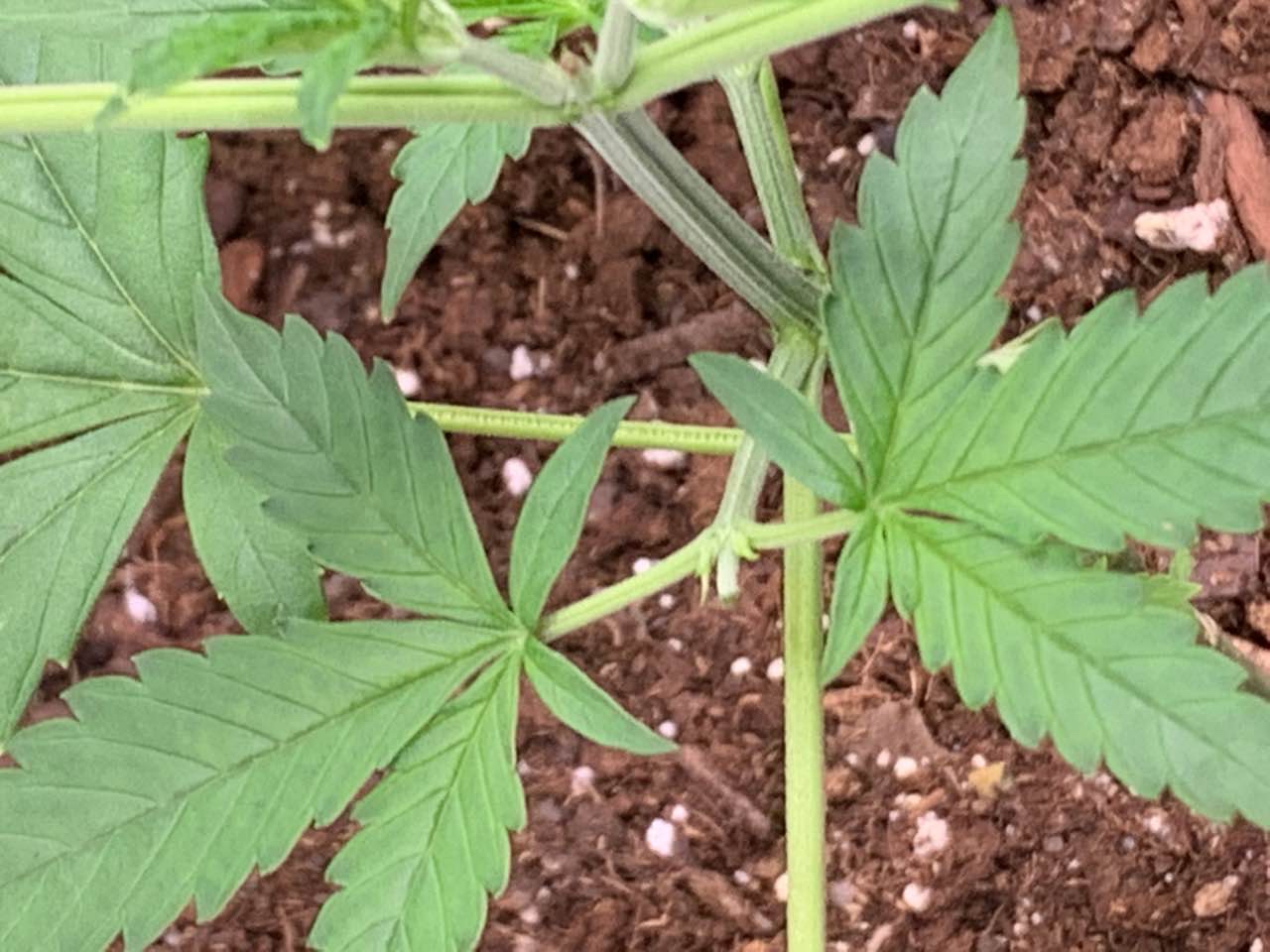 Did a little topping g today. LST planned for over the weekend.
a year ago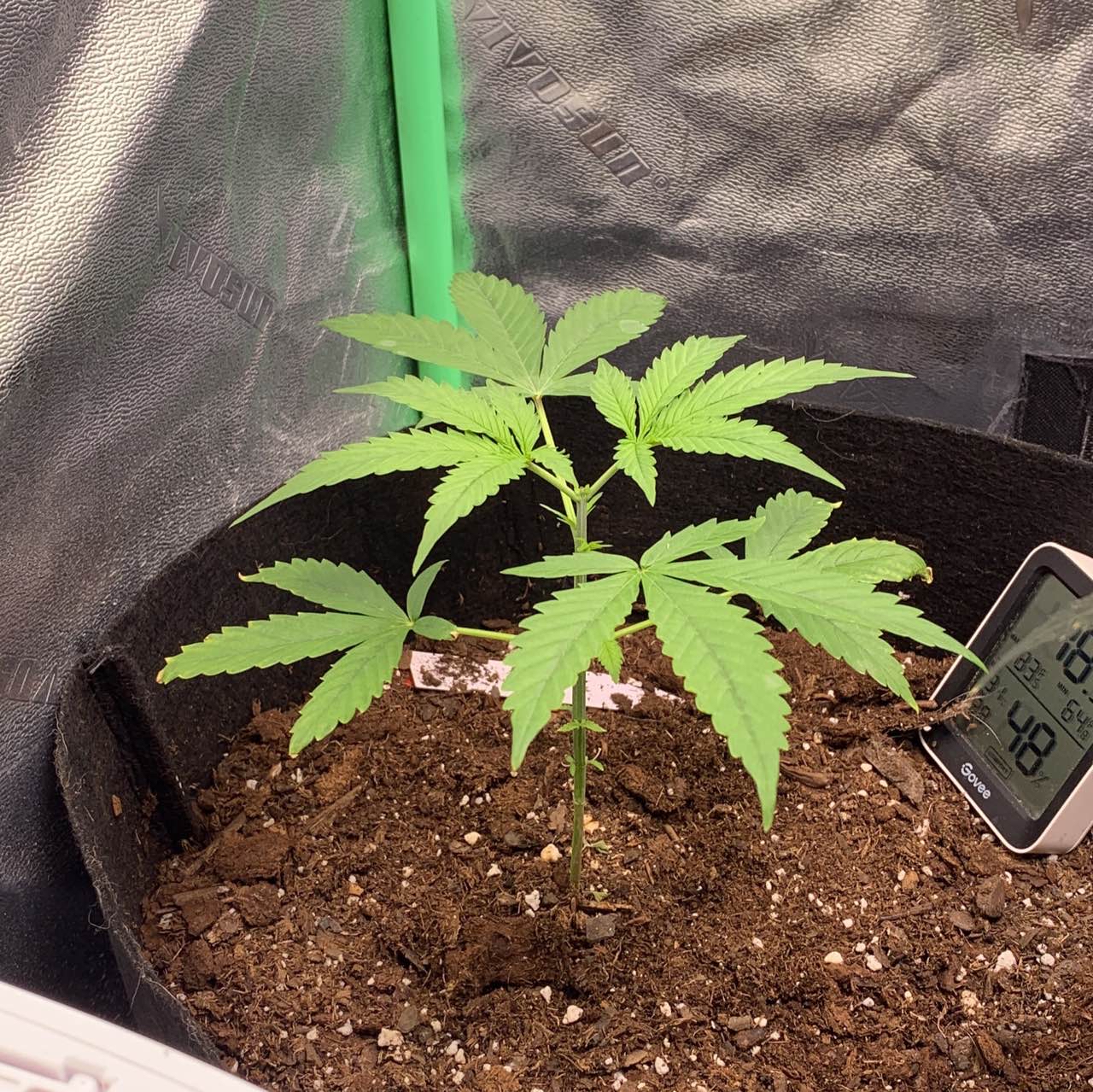 Topped the main stalk and plucked a few of the lower smaller leaves. (Coitus leaves? Lol) Think she may be stretching a little since lights are higher for the bigger plant on the tent but still looks healthy I think.
a year ago
250ml ph balanced water, 6" tall, seems happy with temp and humidity that's setup for the other that is close to harvest. Way better medium mix on this it seems. Nice to see some activity in the tent.
a year ago
She seems to be doing nicely. Upped her drink to 250ml of 6.5 PH water.
a year ago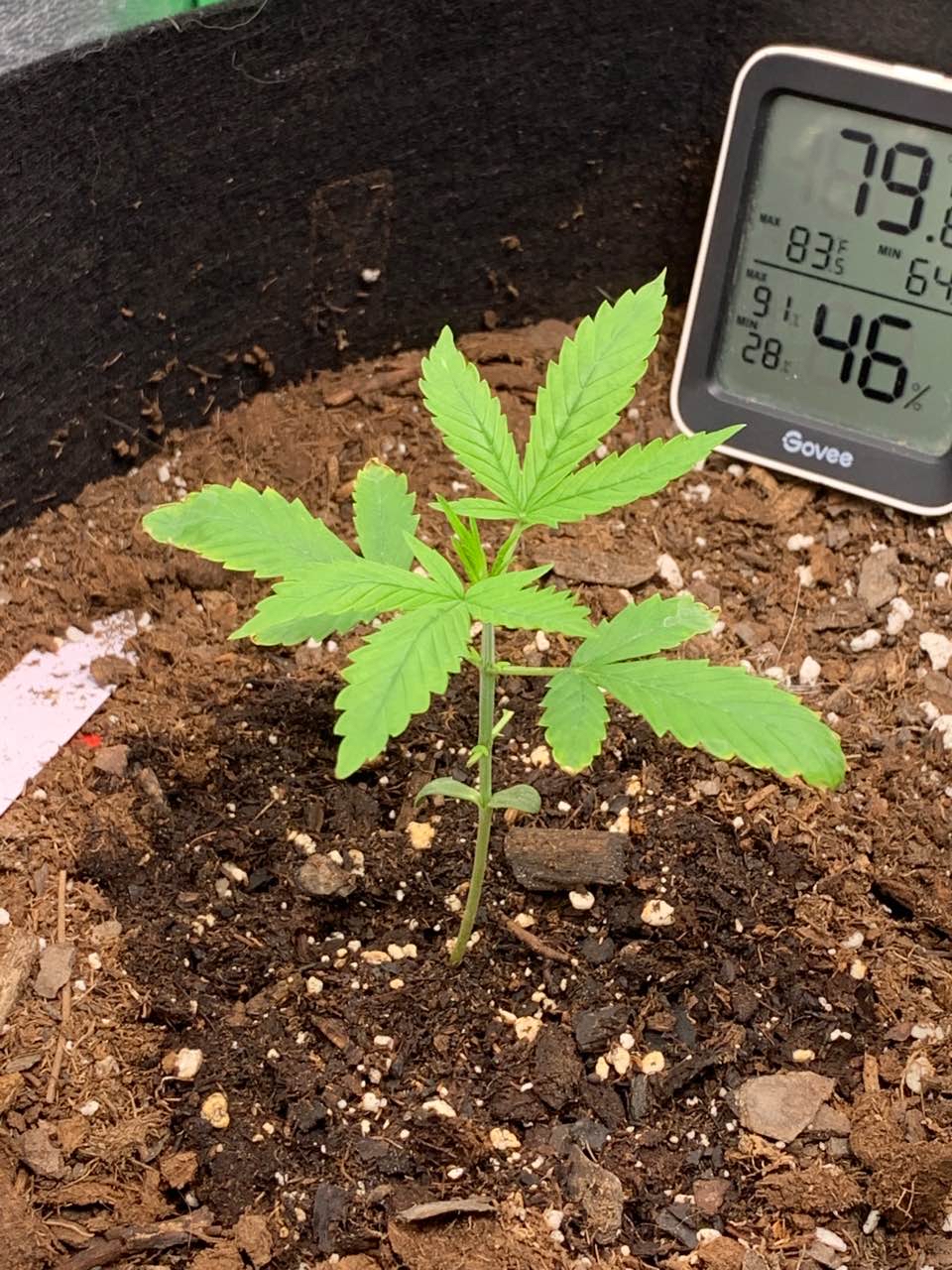 2nd set of leaves, 4" tall. In the same tent with other grow which has approx. 2-3 weeks to harvest. Happy that she's ok with the lower humidity I'm keeping it at while the other one is flowering. Might have to up my game and get a separate tent.
a year ago
gpurps Giving her 200ml of clean water every other day, no nutes. So far looking like mixing the FF Ocean Forest with peat moss I had from outside garden is to her liking.
She seems pretty content, 2nd set of leaves, have her 200ml clean water
a year ago
You can do it! Just gave 150ml of clean 6.5 ph water, medium is 1/2 Ocean Forest 1/2 peat moss I had here. Think straight Ocean Forest is too strong.
a year ago