OG Kush Auto seedsman
in Miracle Grow soil
I germinated this seed while waiting for my organic soil and coco to come in. So i had to drop this baby in Miracle Grow (was just too excited to get my grow started). I've only been feeding it PH'd RO water been fluctuating between 5.8 and 6.6 for PH. Started with 300w LED now using a 600w bloomspect LED
Day 1 of curing in these airtight jars Dry weight = 14.1 grams Dried her in the closet for 9 days She smells sweet and fruity 10/26/2020
3 years ago
Did a wet trim and this is day 3 hanging in the closet 10/19/2020
3 years ago
Another gallon flush
3 years ago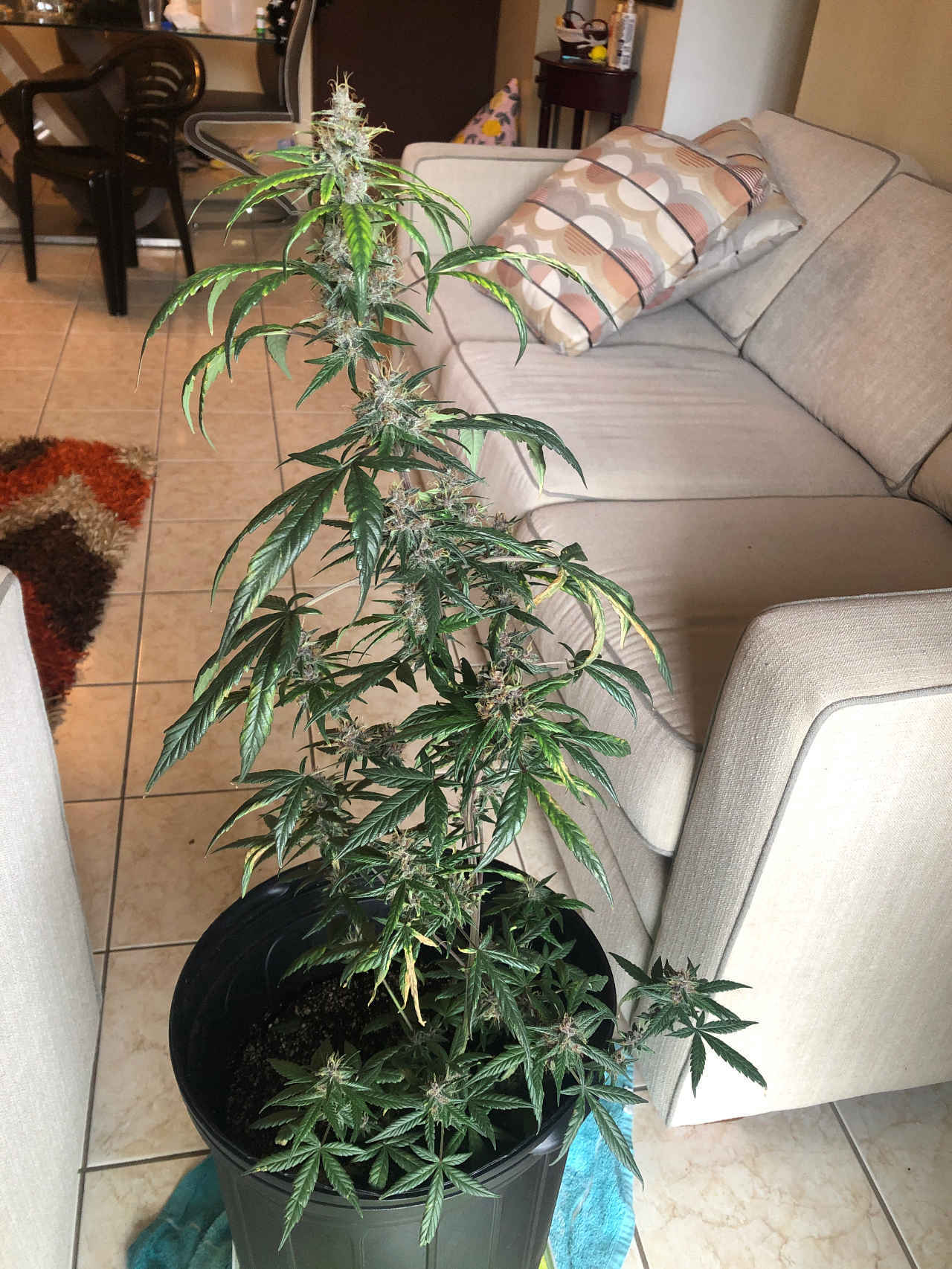 Began the flush with a gallon of RO water Probably should have started this earlier but my soil was taking too long to dry. After these changes that I've made to my closet it finally started drying out quicker 10/03/2020
3 years ago
Fed her a half gallon of RO water with 1ml of FloraMicro and 2ml FloraBloom Pulled some old leaves off too. This should be her last nutrient feeding. Only giving her water from here on
3 years ago
RO Water and top dressed with some seabird guano
3 years ago
Just fed and watered the following: RO water at 6.3PH 2ml Calmag 2ml FloraMicro 1ml FloraGrow 2ml Flora bloom Half gallon of water (all measurements per gallon)
3 years ago
Haven't measured her but she hasn't grown much on height since the last update. Hairs and trichomes coming in nicely though. Fed her RO water PH'd to 6 and top dressed with seabird guano from my local hydroponic store.
3 years ago
She measure about 30.5 inches now. I had to move her because she was too close to the 600w light in the tent. I set up a space in a closet so now she has a 300w LED above her and a 48 watt LED strip light in the corner to help get light from top to bottom. More pistols popping out and some leaf action tooo but still a few more weeks in flower still needed. I think maybe 6 weeks more or less
3 years ago
Just gave her RO water yesterday. Seeing some developments on the bud sites and still getting taller. But she's starting to show signs of light stress. I cannot raise the lights any higher so I'm going to set up a separate area with my 300w blurple LED. Most likely will use the closet in this same room
3 years ago
She's really been stretching lately. Gonna feed her later. Got the nutes in water already I put 2mg/gallon of calmag and 2ml of micro and 2ml of bloom from General Hydroponics.
3 years ago
Less than 48 hours and she shot up 5 inches in height. She's now 24 inches tall. Bud sites developing more and more each day but still very far from where we need to be.
3 years ago
About 19 inches in height now. Just fed her a half gallon of RO water with no added nutrients
3 years ago
She's reached 16 inches in height now and her flower sites are slowly but surely developing every day. Just noticed her tips on the leaves are clawing I believe this is from a little too much nitrogen. Probably due to her soil being miracle gro. Oh well it'll hurt a little but doesn't look like a really bad problem. It may also possibly be from me accidentally leaving the tower fan off for like 12 hours. Or both of those things
3 years ago
Fed this baby less than 48 hours ago and she's loving it. She's been growing pretty much on an hourly basis. Also she's starting to get funky already
3 years ago
Just fed this baby a half gallon of water with the following added per gallon: 2ml of calmag 1.5ml of floramicro 1.5ml of floragrow 1ml of microbloom I just defoliated this plant 4 days ago and you can see that new growth taking off now with more light hitting it
3 years ago
Looks like she grew an inch atleast over night
3 years ago
Plant is about 10 inches tall and has been on 24hr light since day 1. Only fed RO water and is in miracle grow soil. Started to show gender earlier this week maybe 4 days ago?
3 years ago
24 light and only RO water. Less than 3 inches tall
3 years ago
Started off pretty small I thought i stunted it from overwatering the soil before dropping the seed and maybe i had it a little too close to the light at first. I raised the pot and some boxes and had it about 22 inches away from the 300w LED. Eventually ended up lowering it to about 36 inches away
3 years ago
The day it broke ground
3 years ago