Limonese
Late fall - early winter 2020
These plants are using a new chemical base from Advanced nutrients. The chemicals are set at grand master grower level. The initial pictures are of the plants at the beginning of week four of bloom. These plants were in vegetative state for four weeks. I am overly impressed by the difference between these chemicals and all chemical bases used in the past. Just want to document this grow because it is kind of phenomenal for being eight weeks old
Lemon Chello mixed with Silver Haze
Sorry for no final pics, just wanted to update this primarily for myself. Everything was Premium. Main colas, even after drying and curing were still bigger than my open hand. Got a massive amount of the Super Lemon Haze, huge mugs on both the lemon and the Honeysuckle. The White Widow Extreme was not as impressive, but still yielded over 100 grams after dried and cured. Finishing up on the clones that were taken so as to clear out all the tents and get ready for the next real batch. Starting on the main grow room. Air conditioning is working well, we have ample water, but there is still a month worth of work to do on it. Plan on also doing 25-50 plants outside, since that one we forgot about and found just prior to winter was strong as hell. Going to mark the areas in an app called X-Hunt so I have better accuracy on the GPS locations. Next batch is going to be some gelato's, and a batch of AK-47's. Think that's about it for this update. I'll finish out ALL the clones now, and start posting again when we switch to the Gelato and AK.
2 years ago
SalCapone39 Hi , I'm new to growing and I've just popped my first seeds Obsession, northern lightsxskunk all feminised and purple haze auto feminised x 4 . At the moment I have them all under t5 light wave unit for propagation. At what stage do they need to be vegged? I will be putting the 4 autos in a separate ten under a 250 W hps to begin with, the other 4 will be under a 400 W hps. Sorry to hijack your post but you seem to know what your doing 😄 thanks sally
plantman Hi Sally, don't need to apologize. This forum/app is primarily for helpful tips to other growers, so you did good. To try to answer your questions, this post may become long, and it may contain things you already know, but in case you don't, they'll be included. New seeds: I generally soak new seeds in a warm cup of water for about 3 full days to help make sure they are well hydrated. After that, take a piece of paper towel and fold it and put it on a plate. Soak that towel lightly, and pour off any excess water from the plate. Then place your seeds (spread them out so roots don't get entangled) on the plate, and fold another paper towel and put it on top of them, and allow it to soak up the water from the lower paper towel. Put another plate on this one, upside down to create a dark growing environment. Check the paper towel daily and keep it moist, but not wet. You can lift the top paper towel each day to see if your seeds have cracked, and if so, how long the tap root is on them. Once the taproot is about an inch long, you can plant it. Remember, the root side down in the dirt. Be very gentle with the seeds and roots, because the roots contain tiny hairs that soak up your nutrients, and you don't want them damaged. A lot of people use a pair of tweezers to gentle pick up and move their seeds to the pot. I don't know what, if any chemicals you are planning to use for your grow, but Advanced Nutrients makes 2 products (tarantula & piranha). If you place 2 drops (literally, just 2 drops, the stuff is strong) of each of these in the hole where you plan on putting your seedling, before you put the seed in the hole, these will help increase the root mass a lot, which is something you need for a strong healthy plant. Water the new seeding lightly, you don't want the soil too wet or you may end up with root rot. In a couple of days, your plant will pop out of the soil, and you are on your way! By the way, remember, you have to use either distilled water (which is a very good choice for newer growers) or PH balanced water. Never use straight tap water on your plants. Distilled water is naturally the correct PH you'd want, which makes it much easier than testing the water and screwing with PH up and PH down chemicals. While I am at it, I'll toss this into this post. I, personally, am solid on the Advanced Nutrient products. They have awards for their chemicals all over the globe, and the research that has gone into their line of products is insane. For just about any grower, regardless of your level of expertise, the base chemicals (grow, micro and bloom) from Advance Nutrients also contains other interesting chemicals...their base line chemicals contain what is called "proper PH", and even when used with tap water, will automatically PH balance the water perfectly, every time. That is kind of a huge deal, since it is usually the water itself that you are using, that can screw up your plant, such as not enough nitrogen, or unbalanced PH. Just saves a lot of headaches in my opinion. They have a huge line of chemicals, everything from the hobbyist grower, to my level at Grand Master grower. If you research their chemicals, you'll fully understand what kind of research they've done, and why they have won so many awards for their chemicals, hope this helps. If you need more, feel free to ask.
plantman By the way, I'm now following your posts, but you don't have anything posted yet.
View 5 additional comments
Beginning flush week. Sorry, the pics don't do the plants justice with this lighting
2 years ago
plantman You may need to zoom in on these pics to get a better idea on the sizes
Throughout my grows, I allow the plants to retain a few small buds so that I can use them for testing along the way. I know these are little girls, and they would still have 3-4 weeks until harvest, but clipping them allows me to see the amount of trichomes better, have my testing crew smoke some and give me feedback once they have been dried and cured, so that throughout my grows, I can tweak things to get the absolute best Premium weed possible. These little girls still have clear trichomes, so they are obviously FAR from ready, but the feedback from my testing crew tells me a ton of information on smoke quality, taste(s), how long it takes to hit them, how high (low, medium, high, super high) that they get, and duration of high, as well as what kind of high (couch lock, energetic, calming effect, etc.). With this info, I can flush slightly if needed, change chemicals, and a lot of other factors that effect the grow and final outcomes of the grow. Just including this post to show current amount of trichomes with 3-4 weeks left...they will only get better from here...
2 years ago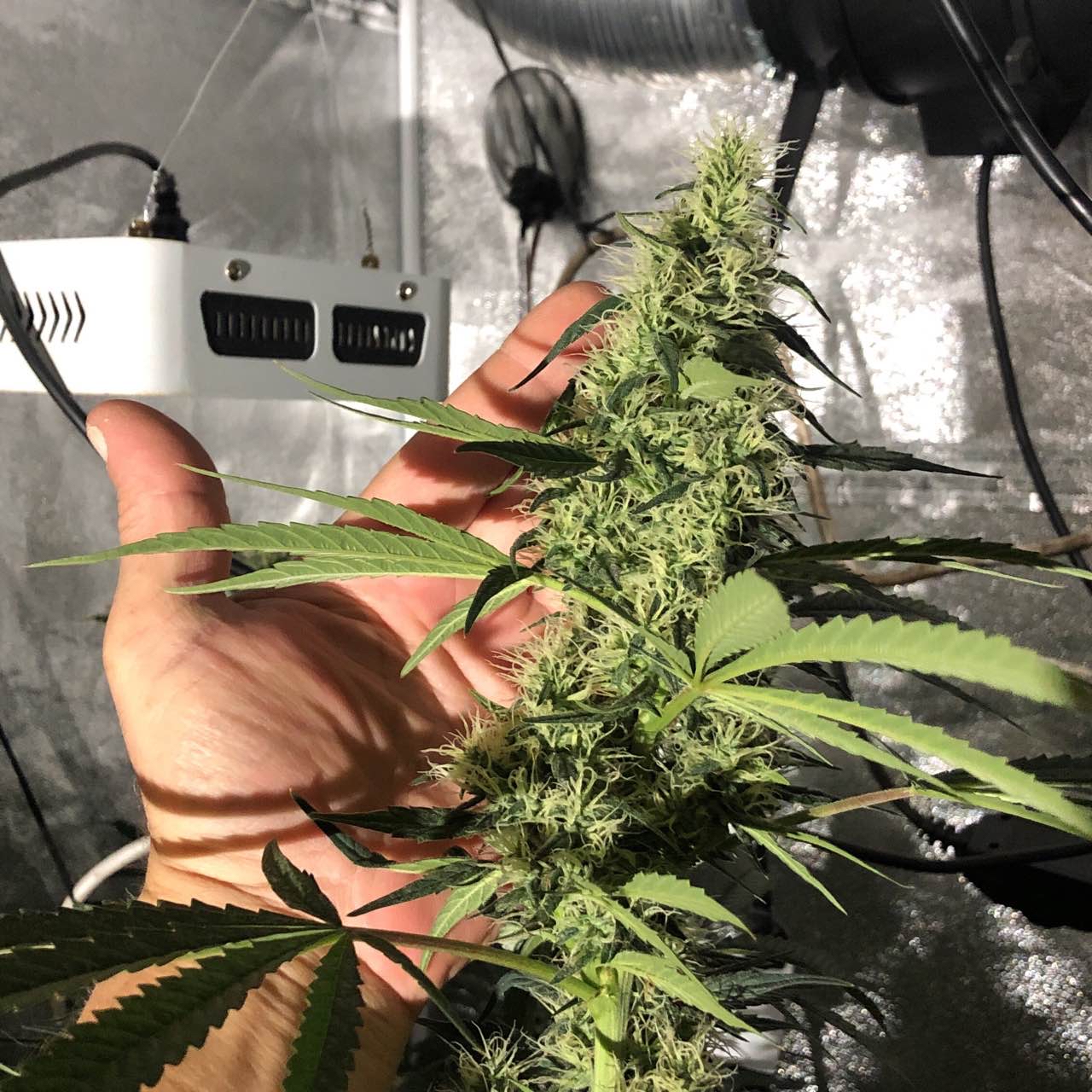 Size check - for what it is worth, I trimmed off a few buds that were lower on the branches, cause there is no point in wasting the energy on small buds. Anyhow, I dried them for 4 days, cured them in a mason jar for about 2 weeks, and my wife tried smoking them last night. After 4 hits, she said she was super high, but loved the taste so much that she went back for more. Needless to say, these were junk buds in my opinion, and the trichomes are, without question, clear, and far from ripe, but they did the job in about 3 minutes, and had her wanting more, and she is an avid smoker, so that was good news. Tells me a lot about what I can expect from the finished product in a few weeks!
2 years ago
plantman Thank you. 2.5-3.5 weeks to go!
Beginning of week 7 of 10-11 in bloom
2 years ago
plantman 3-4 weeks to go! This should be massive by then....not that they aren't massive already...
Beginning of week 7 of 10 in bloom
2 years ago
Middle of week 6 of 10 weeks for bloom on this strain. Plants are being fed every Saturday night just after lights go out, as well as every Wednesday night just after lights go out. Each plant receives a little over 1/2 gallon of nutrients per feeding. The picture that goes with this shows the actual chemical makeup for a full gallon of nutrients per feeding. You probably have to zoom in on the picture to see what chemicals and the amounts.
2 years ago
combatmedic81 Quick question- why water when lights go off? Does that not lead to moisture sitting in the dark
Just some picture updates
2 years ago
Pic updates - Lemon Chello Haze
2 years ago
Pic update - White Widow Extreme
2 years ago
Small white widow extreme
2 years ago
Pic update - Blue Dream
2 years ago
Lemon Chello Haze AKA Limonese
2 years ago
Limonese - largest plant
2 years ago
Close up of hairs on the lemon cello -fairly frosty already....that's a good sign of what is to come, considering overall grow time will be roughly 105 days or thereabouts.
2 years ago
8 week overall age. Beginning of Week 4 of bloom
2 years ago
Very impressed!
2 years ago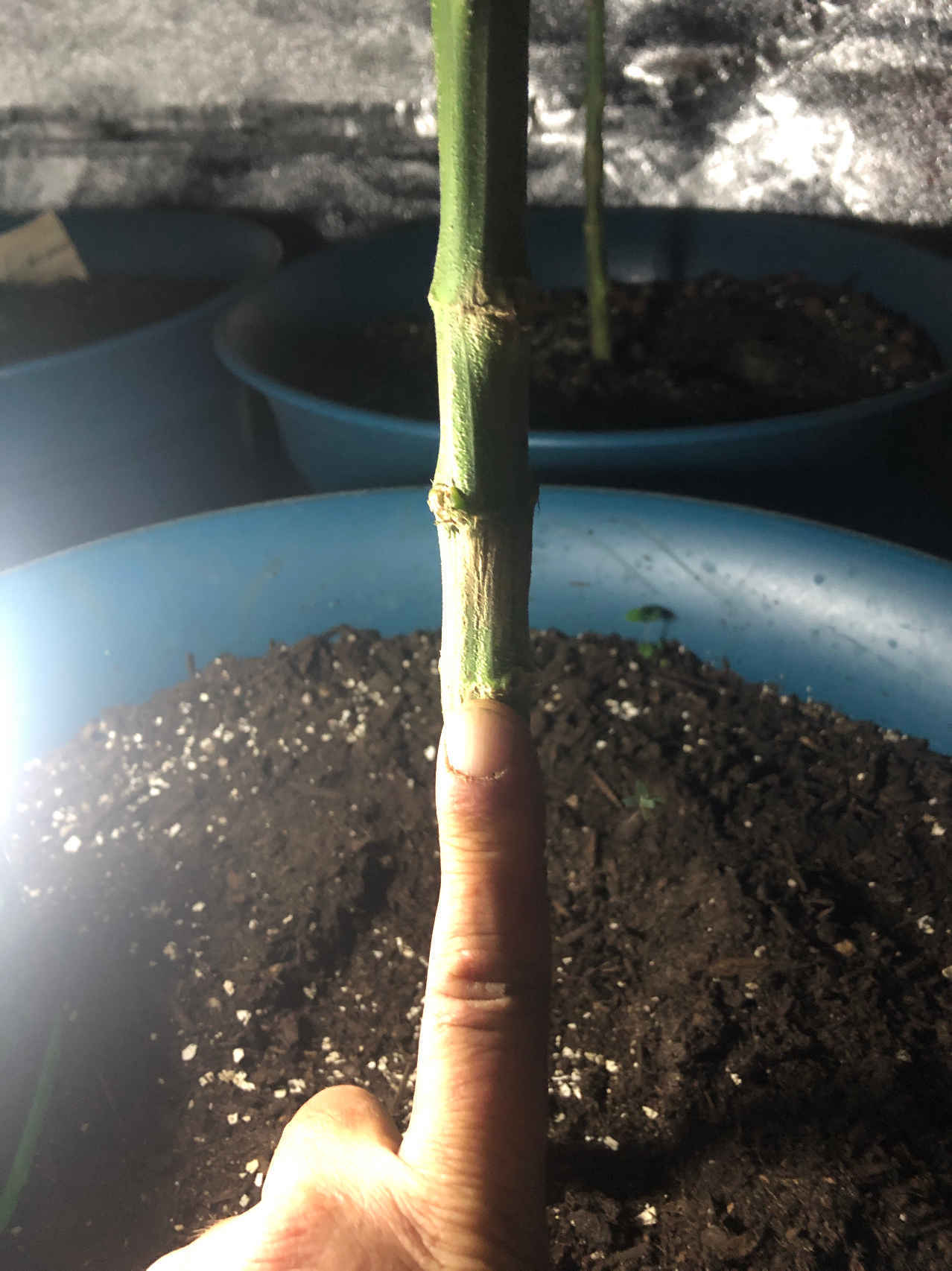 Thickness of stalk
2 years ago