Northern Lights quick grow
Germination Started
Northern Lights by Canuk seeds: up to 22% THC with a flower time of 50-60 days. I only have 3.5 months for this grow but we'll see what we can do, the short flower period will be beneficial. Germinating 15 seeds with the goal of culling down to 8-10 healthy plants early on with an end goal of 4 females. Im growing in a 2x2x4 tent so I'll only be using 1 gallon pots with soil; this is where the short veg time will be beneficial as I won't have enough tent or pot space for much more. My light is a Bloom Plus BP1000 and I'll be tracking PPFD, VPD and pH correcting my water.
What a beautiful harvest, definitely looking (and smelling) like my best grow yet. Ended up with 10.8g of dense, sticky buds. Going to cure for 3 weeks before smoking but Im expecting this stuff to knock me right asleep. Goes to show that at least some strains can grow at higher temps (avg 33C throughout grow) and short grow times if needed. Obviously more time would've got me a larger harvest and lower temps (or supplemental CO2) would get me better buds. But, for an experimental grow, I couldn't be happier with how this turned out. Cant wait to smoke. Happy belated 4/20 everyone!
2 months ago
View 1 additional comment
Finally harvest day has arrived. Im pretty impressed with the size of buds I got considering how short of a grow period I had. Plants were cleaned (5 gal bucket, 1 cup hydrogen peroxide) and then washed (5 gal, just water) and are hanging in a wine fridge to dry. I'll likely cure for 2-4 weeks after drying is complete.
2 months ago
Last dose of fert did the trick! Maybe 10% too much as a couple leaf tips are browned but overall this is one healthy looking plant. Buds are starting to look dense & juicy, got a couple more weeks to go until harvest. Can't wait to see how dense some of these buds develop
2 months ago
Defoliated further to reveal bud sites, chopped the buds that weren't receiving direct sunlight. Leaves are looking yellow, dosed with all purpose, power bloom and rock salt today (1tbsp each - top dressed). Hopefully she bounces back
3 months ago
Flower phase still going strong. Fed bloom and calmag nutrients and weekly dose of molasses yesterday. All is going well
3 months ago
Big trim day today. As much as this plant appears to have a very healthy root base it didn't veg for too long and wouldn't be able to fully support a ton of bud sites. As a result I removed the lower 6 branches and some of the large fan leaves blocking bud sites. The goal with this grow is quality instead of quantity, Im going for a handful of big juicy buds rather than a jarful of popcorn buds. Plant was also fed 2tsp of molasses with yesterday's watering, will likely fertilize soon once the plant shows early signs of deficiencies.
3 months ago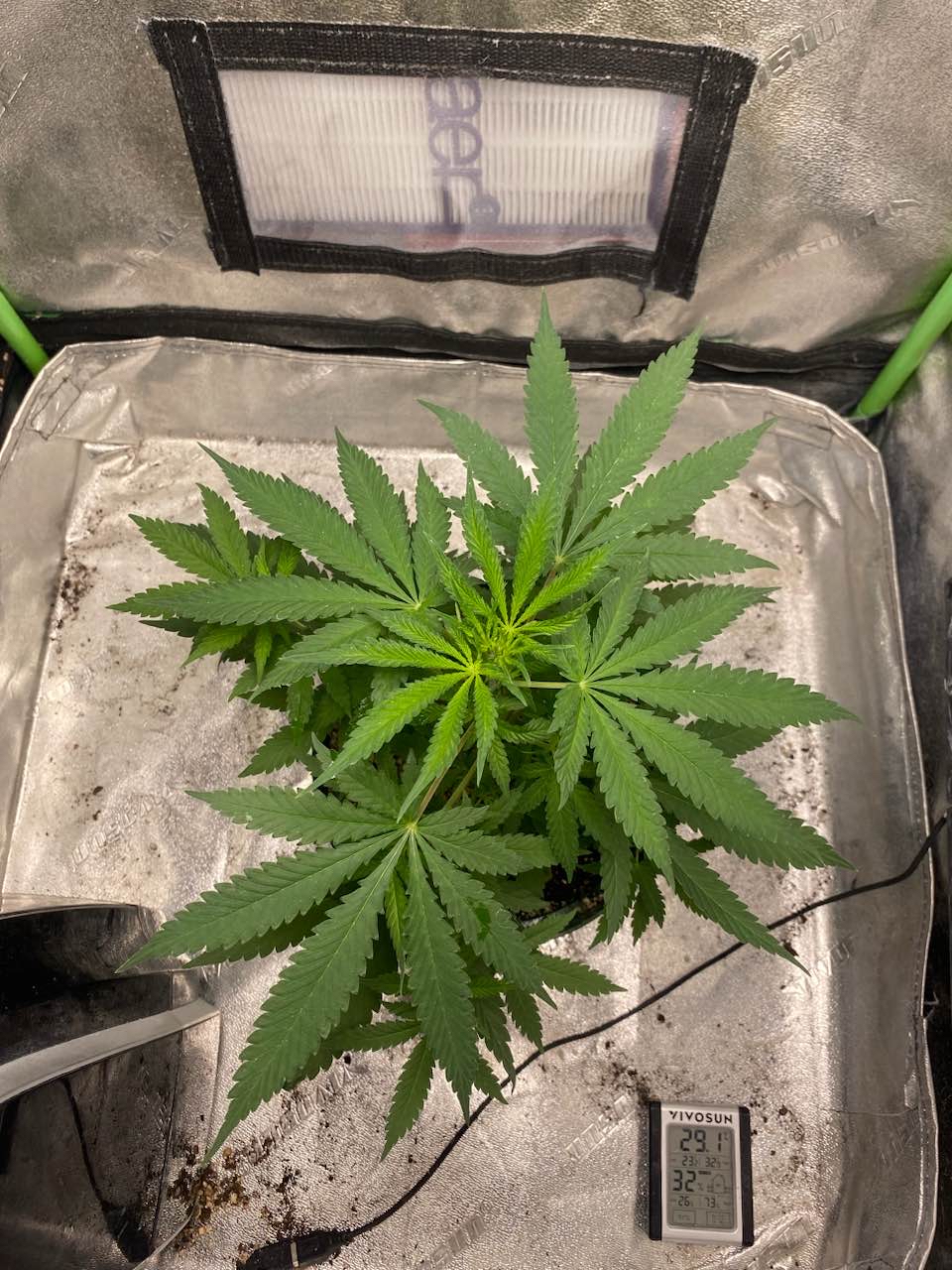 Bad news: with the worst luck I've seen in a while I got 1 female out of 8 plants. Good news: she's healthy! Plus Im not relying on this harvest for anything other than an experiment with hot temps and quick veg times. Showing no need for more fertilizer, still watering once daily with pH regulated water
3 months ago
Time to flower! Its been such a short veg but I need harvest to be complete by the end of April so its time to flip. Back right plant is drooping and was given extra water this morning. A few plants show slight nutrient deficiencies so I fertilized them yesterday with (each) 1tsp gaia green all purpose, 1tsp gaia green power bloom and 1tsp gaia green salt. Didn't want to overcomplicate the fertilizer mix until I've identified and removed the male plants and have fewer to focus on, then the second dose of fertilizer with be tailored to how each plant looks. Humidity sitting at 50% due to high temps in furnace room, hoping my hepa filters on intake vents will help prevent mold/fungi as the high humidity and temps put the grow at risk. Likely purchasing an air filter and supplemental C02 for next grow, this one is to experiment if/how well they grow without. As always my water is pH corrected and the light stays as low as possible without the centre plant's leaves curling to ensure the corner plants get sufficient light
4 months ago
View 5 additional comments
Plants have taken well to their new pots & soil mix, seeing some healthy new growth. Don't see a need for fertilizer yet, going to keep watering with pH corrected water and dosing with molasses every Monday (each plant gets 1tsp mixed in 5oz of water)
4 months ago
Moved from solo cups to their 1 gallon pots. Went with a 10-10-10 soil mix and mixed in perlite for an 8/2 ratio. Because the soil has nutrients I will be feeding as the plants show what they need, not on a schedule. Will be feeding molasseses weekly, first dose starting tomorrow (1tbsp per plant). Had to cut out my 3 weakest plants including one with heavily curled leaves, moved light to provide an average ppfd of 400 and keeping 50-60% humidity due to high temps. Going to flip to bloom in about a month and hope to see 4 females, fingers crossed!
4 months ago
Jan 25th: all plants have sprouted, seem healthy enough so far
4 months ago
4.5 have sprouted already, its almost as if they know they're on a tight schedule. Thermometer/hydrometer shows the 24 hour low & high, temperature hovers around 28.5-30.5 (oof) and my humidity was around 60-70% RH until I opened the tent which caused a temporary a low of 42%. All is well except temp, shame
5 months ago
Germination started (second wet paper towel and plate placed on after photo. Room is dark and temp is 24C)
5 months ago
11 out of 15 seeds germinated quickly, all were put in solo cups with sunshine #2 soil mix, light watering twice daily. Light is placed at 24 inches for 100-150 ppfd. Humidity at 60% and fans always on high due to hot room. Upgrades from last grow: HEPA filters on intake vents to prevent dust (large problem last grow & potential mold/fungus spores), tent pulled away from wall for better ventilation, hot vents in room outside are wrapped in reflective insulation. Still seeing temps up to 30C sadly but this may be the end of my fight against temps unless I think of other ideas. A swamp cooler is not sustainable (constant filling & no room to put it) & other AC methods would have nowhere to vent. Second Fan didn't change anything last grow so I'd rather save the money at that point
5 months ago
ScottyQ This was posted on January 24th but the events occurred on January 23rd