Raspberry Parfait X PPD
Humboldt Seed Co
Going to go organic again. Sunshine soil pro #4. Gaia Green:ap/bloom/glacier. Will use molasses. Will use myko during transplant.
Looking pretty good day after transplanting. Didn't water today. Pots don't need. If anything like last photo grows, I'll be transplanting again next week! LOL :-)
a day ago
Transplanted both little gals today. Nice roots showing and not rootbound at all. Transplanted into 1 gal pot amended with Dr earths veg, bloom and some worm castings. I switched from Gaia Green to Dr Earth. From what Ive read, Dr earth is pretty good and I look forward to seeing the results
2 days ago
zer0applied We just finished a study on their trubiotic at work.
cookredeyed What did the study show? I'm using xtreme mykos and azos. I dusted the plants roots as well as inside the hole for transplant.
View 3 additional comments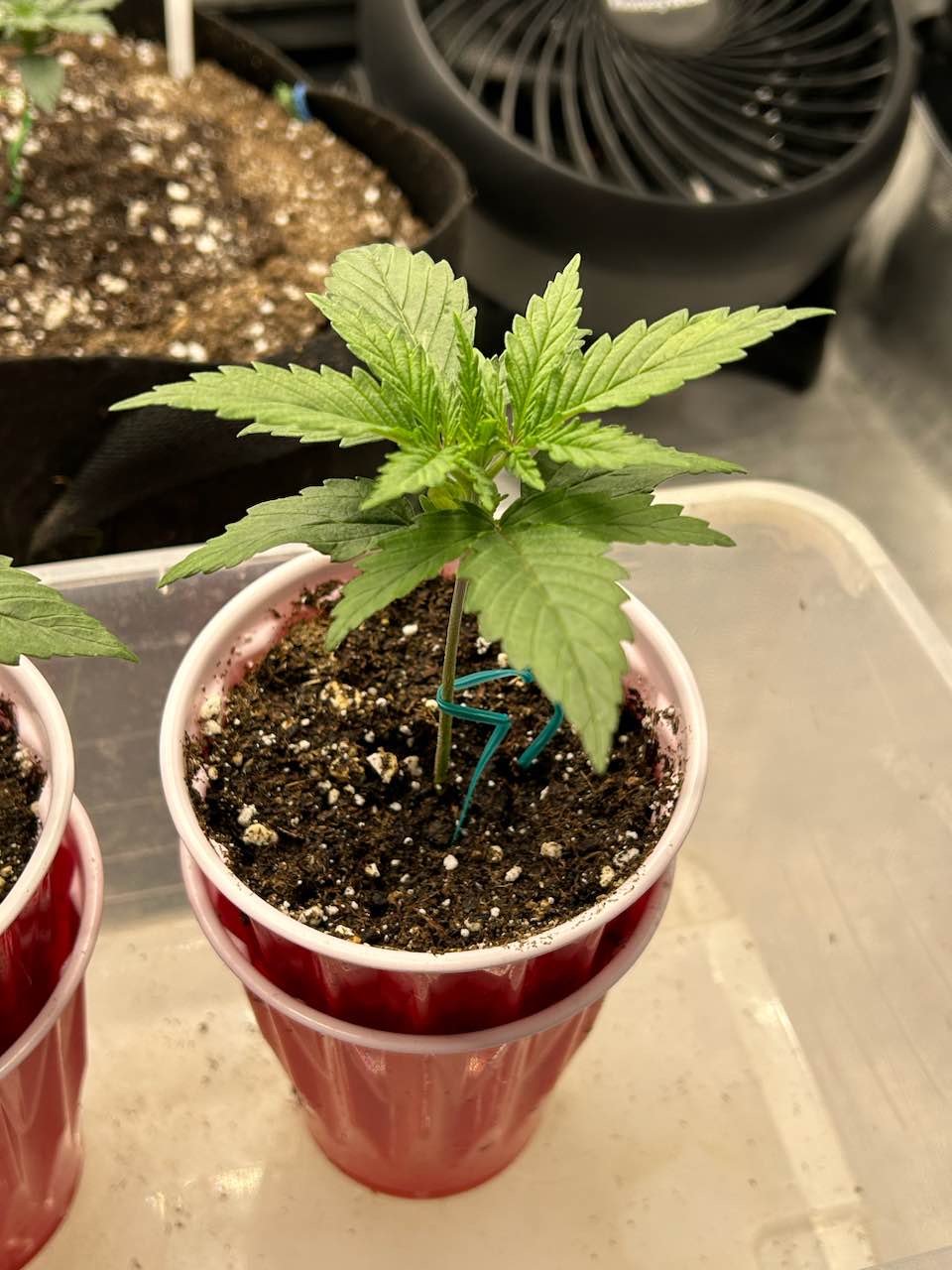 I may transplant tomorrow. I wanted to wait a few more days but tomorrow is my only day off and IDK how my time will be next week. Plants looks good. Stem looks nice and strong
3 days ago
Looking like pot plants! Gave a little water, been spraying medium daily and keeping rh up. I hope to transplant next week into 1gal plastic pots
7 days ago
amithus Do you have them elevated for drainage? The inner pot vs the outer pot?
cookredeyed Ya. These are elevated. Inside the outer cup I have a small wedge. The water around cups is just from me spilling a little!!
amithus When do you transplant? How do you know when? I'm trying this thing I saw combat medic or someone do where they put a clear inside an opaque so you can peel but it still protects the roots. But I can't elevate for drainage.
View 1 additional comment
Moved into the veg tent today! Life is back to normal!
11 days ago
zer0applied Pretty sure owning that $16 Honeywell fan from Walmart is a right of passage for tent growers lol
Little stretched. Will be going into veg tent soon. Thinking of removing dome too
12 days ago
amithus This is too funny. I just started soaking seeds to get ready to pop them. Our schedules seem to be lock step.
cookredeyed Nice!! Another race!! Lol!! What are you planting next? It's fun seeing progress w other growmies especially when timing is really close to your own!
amithus I'm popping more royal queen seeds. Running royal dwarf and sweet skunk. Autos for now. I'm waiting for my photos to show up. I'll pop those when my current run is done.
View 2 additional comments
Girls are a little stretched. I had light too low and too high. Turned power up to 75%. Both still have their little helmet on
15 days ago
Pretty stretched. Lowered the light about 5".
14 days ago
I got life yo!!
17 days ago
Getting it on! 2 seeds
20 days ago
RP X PPD is in dirt. Solo cups.
18 days ago