RichMcflyy
Og
1st Og dwc grow
Part of the same 1st grow w the Northern Lights,, both plants were popped,, planted,, and transplanted together.. Now we wait lol
Started flushing, the nute burn kept getting worse. I think I caught it in time for them to finish up nicely 💚🪴 ( week 5 day 5 of flower)
a year ago
Ok Og 👌🏾💚🪴 (Week 4 Day 6 of flower) She's coming along beautifully imo 😎💯 Gave her a tsp of tiger bloom and a tsp of grow big 🔥🔥 Got some issues going on with the lower leaves, but nothing enough to make me worry. I figure I'm doing everything properly with the environment so it has to be a nute issue 🤷🏽‍♂️
a year ago
Flowering nicely 🔥🪴 Fed again lastnight, 2tsp of tiger bloom 🐯💯 Starting to see trichomes 🤩🥳
a year ago
Gave the girls another feeding tonight 💚🪴 Also a defoliation, now they can breathe 🔥💯
a year ago
She's cruising along nicely 😎🔥 Gave her first flowering feed last night along with her sister 💚🪴 Phone died lastnight during update 💯
a year ago
Day 7 of flower 💚🪴
a year ago
Adjusted the ph today, stuck her bk under the scrog. Gonna flip to flower in the next few weeks…. Maybe 🤔 I kinda want to let them get bigger, and I need to fix heat issues before the flip. Working on controlling the temp inside the tent as well as outside of it 😂😂 If I put an ac in the room with the tent that will help lower the temps altogether I assume, it was cooler in there when it was cooler in here so 🤷🏽‍♂️ Heat been CRAZY lately though, fucking up a lot of shit, but nothing the girls can't handle 😏💚🪴
2 years ago
Gotta top her soon 😅 Pic 1 is the growth since the fim, you can see how the fanleaves grew after being "pinched" 😎🔥Pic 4 is the continued Lst 💚🪴Pics 2 n 3 are just showing new growth 🤟🏾.. Thinking of flipping to flower soon, after topping definitely though 💯 Will change bucket water later on tonight…
2 years ago
Successful Fim 😎👊🏾 Decided to start Lst on her because she was getting wayy taller than the other one, haven't really had to worry about it until recently because they were growing so slow 😅 But they're definitely taking off now 💯
2 years ago
She's recovering from a couple things 😅 But after installing the new light and the official air pump (that just arrived) she's perking up 🪴💚
2 years ago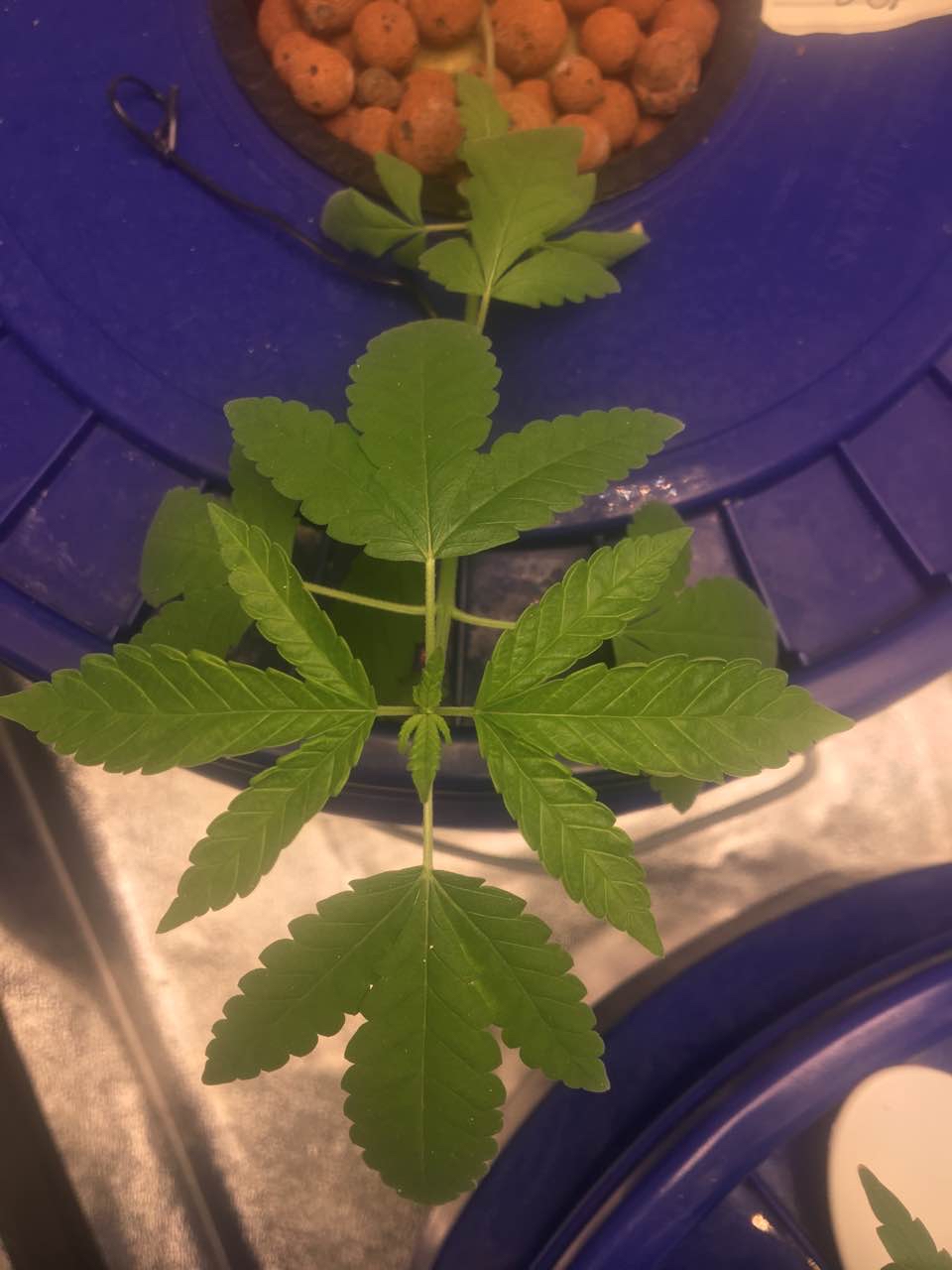 Leaves look sad, but not all of them 🤔 Changed the water in the bucket yesterday, gave bloom, ph'd water to 5.5
2 years ago
Og looking good 🤟🏾🔥🪴 I can truly see the difference topping and Lst makes, my other plant is filling out! I'm considering mainlining this one after the official light arrives 🤔 It sure is taking it's sweet time 😂 But I know it'll be well worth the wait 😏👊🏾
2 years ago
Mats hydro ts1000 will finally be here on the 18th 😎 Anybody know what's up with the 3 tip fan leafs 🤔
2 years ago
She's gettin pretty 💚🪴
2 years ago
She goin steady 💚🪴
2 years ago
Still growing 🪴
2 years ago
Changed out the water, first full seedling nute feed today. Last time I gave them a quarter feed, let's see what happens 🤞🏾
2 years ago
I was drowning the roots 🤦🏽‍♂️ I fixed the problem though 💯
2 years ago
Waitin on the official light still 🙄
2 years ago
Noticed the lil burn on the leaves yesterday and instantly changed the water in her bucket. I used a few drops of grow big in the bucket still, about 1/4 of the recommended seedling dosage (so literally just a few drops) just to try and pick things up a bit. She's grown since though so I'm not as worried as I was.
2 years ago
CoryTrevor Hey man if that's really all the growth you've had in 29 days that's not good at all, just start over or really adjust what you are doing.
RichMcflyy I was considering starting over, but before I do I want to try and figure out what I could be doing wrong to this plant. This is my first grow n I expected hiccups, but not like this. My other one is doing ok I think, but I'm not sure what's wrong with this one. Once I figure out the issue I'll pop another one and try again, thanks growmie 😎🤟🏾💯
First nutrient feeding today. Also put a humidifier in the tent and adjusted ph to 5.6. I checked the Og of the water before I changed it and it was at 7.8. Glad to have finally solved that problem, hope it helps.
2 years ago
She's still growing! This is my first grow and I'm growing 2 different strains, but I feel like this plant is growing EXTREMELY slow lol especially compared to the other strain. Any thoughts?
2 years ago
Slow and steady
2 years ago
Finally starting to see some growth on Kushy! Any thoughts on when I should give these girls their 1st feeding?
2 years ago
Got her in her bucket,, hopefully not too soon!!
2 years ago