Back to The Future 2
Winter '22
Two 3 gallon fabric pots. Coco coir/perlite. Humboldt Secret Base A/B and Cal Mag. HLG 300L Rspec
Back To the Future 2 - Tastebudz auto
Plant B took a long time but not longer than it takes my wife to get dressed🤷🏾‍♂️ so I'm pleased with that
a year ago
Plant B looking nice
a year ago
Smoke report on Plant A. Not fully cured but fully dried and slowly gaining its scent. Smells sweet, citrusy, and minty(?) for lack of better terms. Tastes earthy, with the strong citrusy top notes that leave your nose and face tingling. The High starts very cerebral the more you smoke the more it works into a couch lock. Slept for 4 hours on accident after a blunt of this.
a year ago
Plant B looking lively at 106. Got slight yellowing at the lower leaves. Gots to see it through my boy🫠
a year ago
3 marvelous ounces off of plant A. I just keep making myself more and more proud 🥲 can't wait to smoke this one
a year ago
GrowthNDevelopment Thanks @stick e I'm putting in work out of a 2x4 lol I need to upgrade to a 4x4 soon so I can start my perpetual harvest
seed2pot Definitely congrats can't wait to get there for my first time. Beautiful harvest 🤞🏿👏🏿
Andddddd Plant A is done. Waiting on plant B to get its shit together should be ready in another month or so
a year ago
Plant A almost done, just watering, no nutes. Plant B catching up doesn't seem like she'll have a lot of trichs
a year ago
NovaCanee Just went threw your days with this beauty and i would say you definitely know what your doing nice growing bro!!
GrowthNDevelopment Thanks man lol I'm just getting started tbh. Maybe been growing for a full year non consecutive. Keep what you got going brother and you can only get better
NovaCanee Thanks i actually still some what new been growing for about 2 years but took a break within the 2 now back lol appreciate the encouragement!!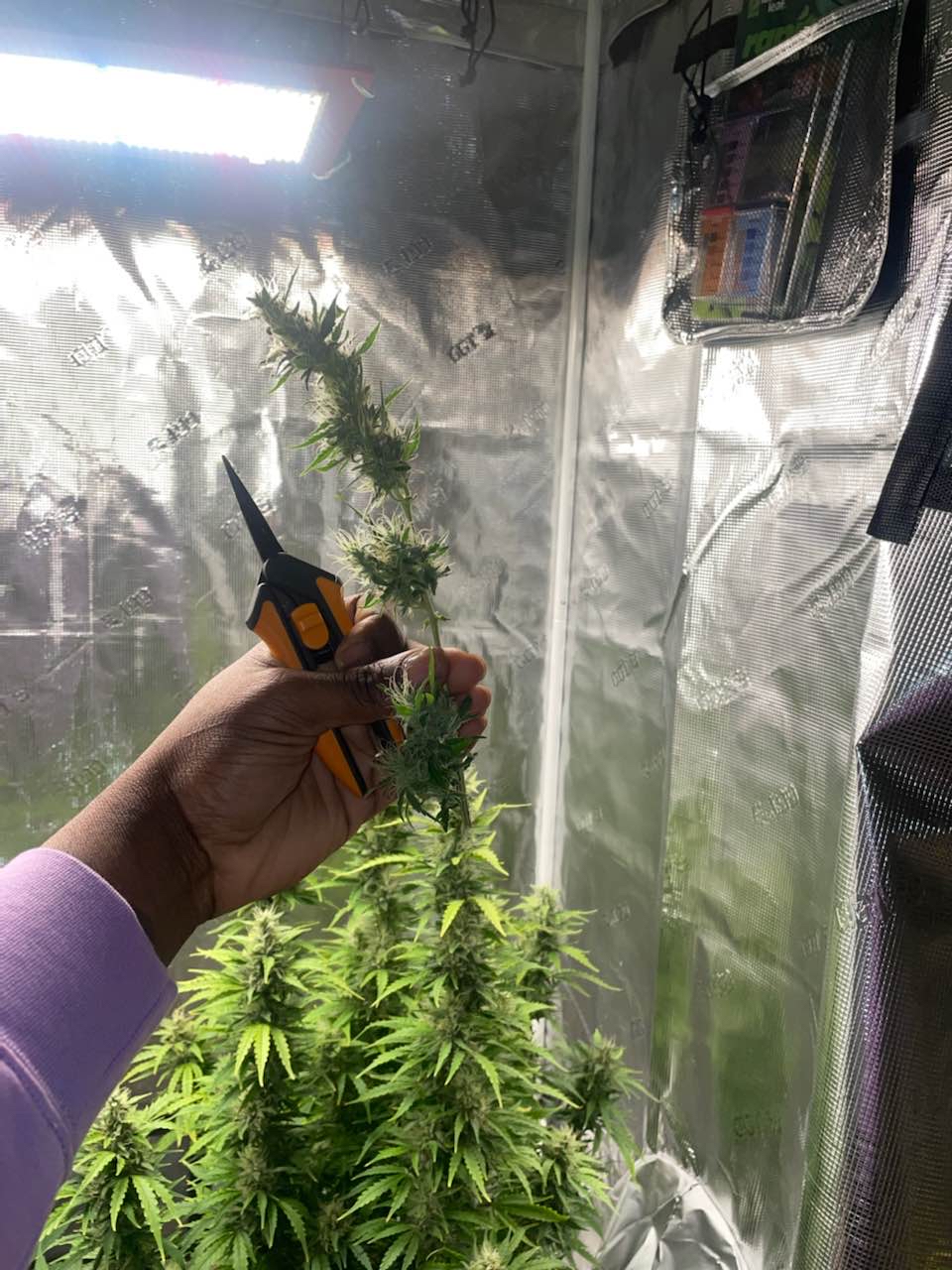 Collected a sample branch from plant A. Plant B is rolling into flower
a year ago
seed2pot Can you explain the sampling method my friend please 🙏🏿
GrowthNDevelopment Thanks man and hmm I generally cut a lower branch off about 2 weeks from my estimated harvest date, and try to dry and cure somewhat within that 2 weeks to get a general idea of what I'm working with
View 5 additional comments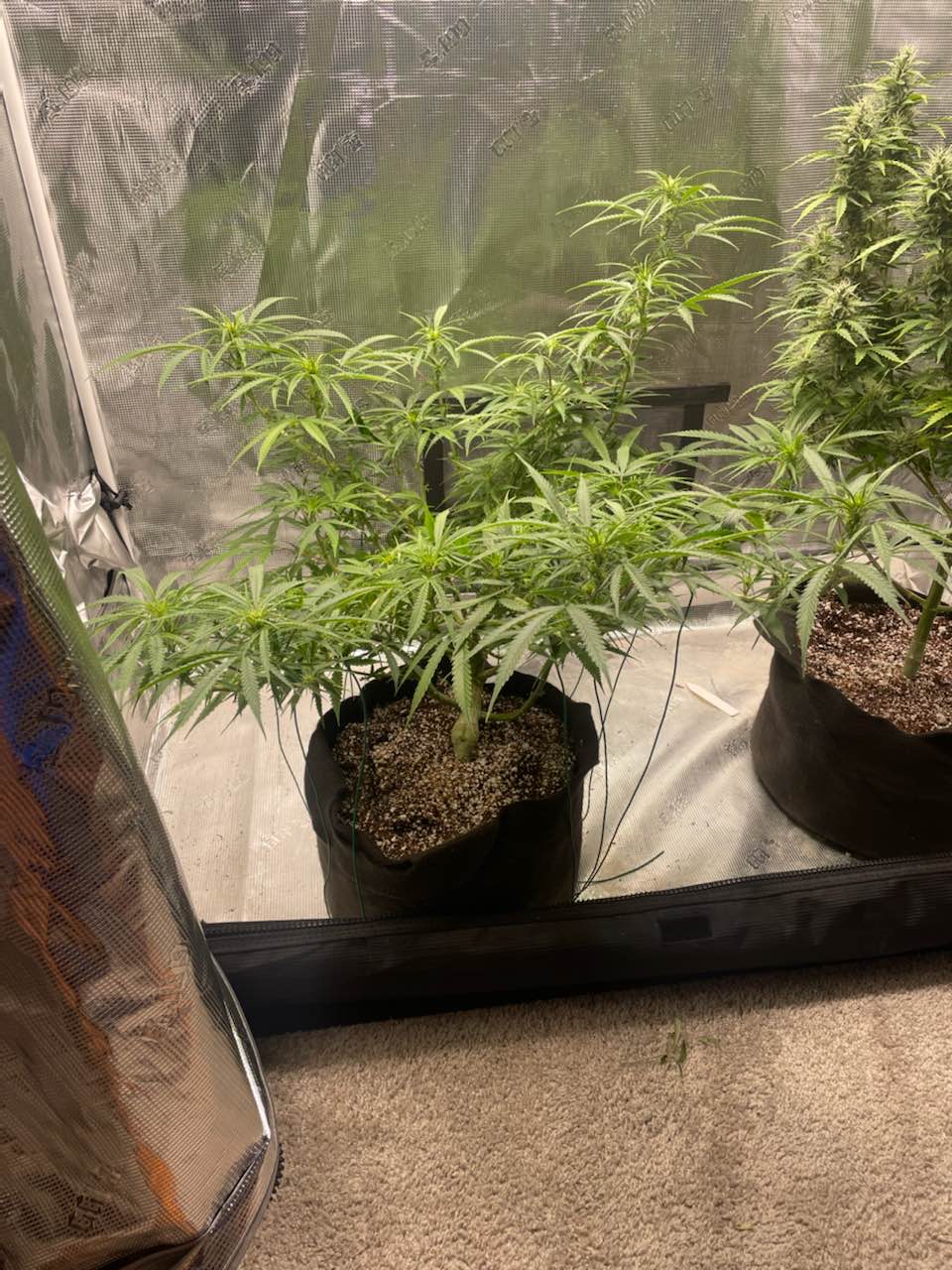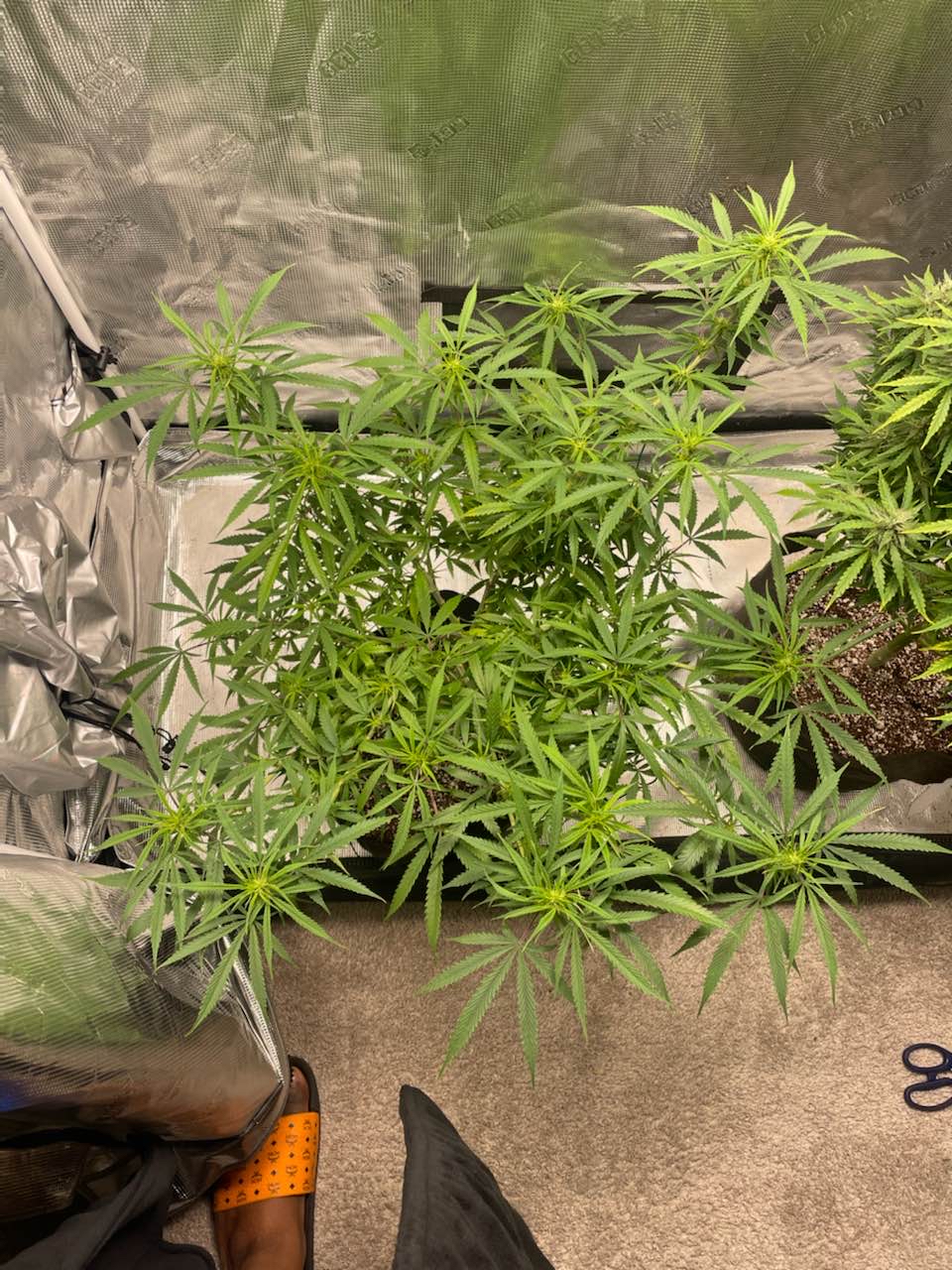 All I smell is diesel fuel🫣
a year ago
View 1 additional comment
Plant A starting to stack🫣. Plant B is a trooper🫡
a year ago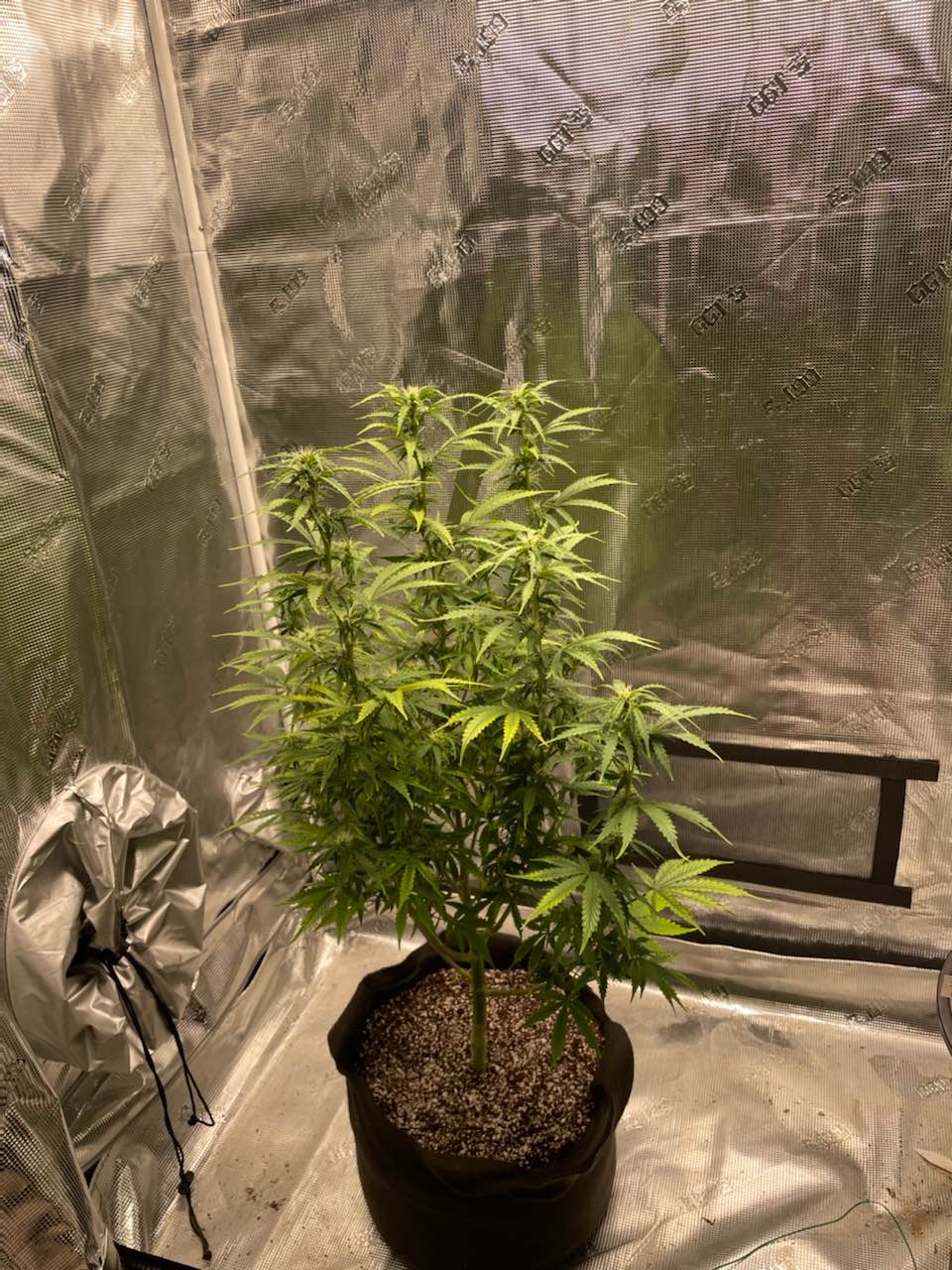 This strain has now become my favorite autoflower variety so far. Plant A had a very nice stretch while I was away for a weekend. Plant B did some furious bushing so I selectively defoliated both plants to open up bud sites
a year ago
GrowthNDevelopment Thanks man also I took your tip of watering more and they definitely shook back
Caliban Awesome!!! Look forward to seeing more.
Plant B perked right on up. Plant A looking pretty good
a year ago
Been so focused on her issues at hand and failed to realize that plant A entered its first week of flower, plant B is slowly moving behind her
a year ago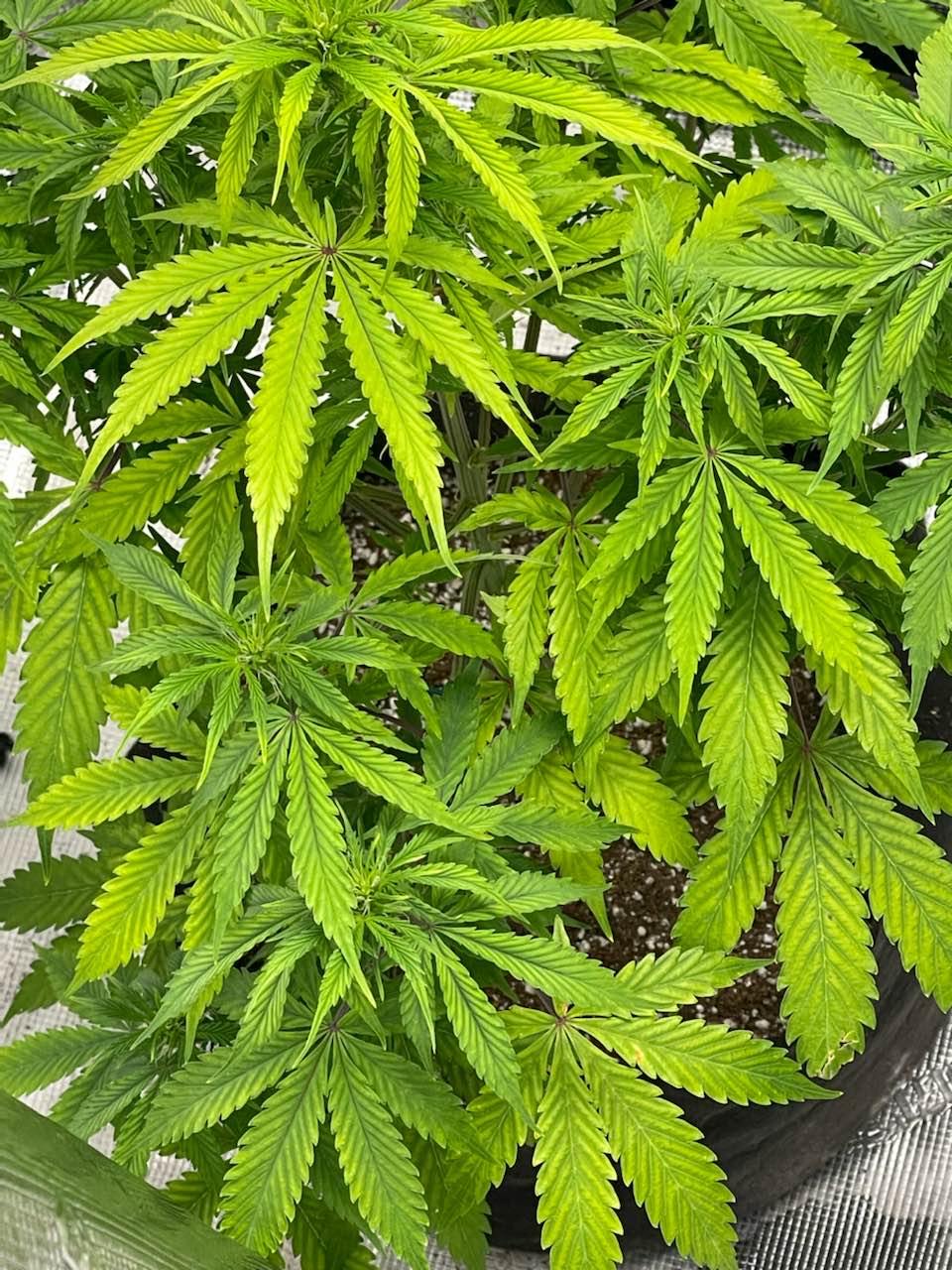 Can anyone diagnose these plants? Ph'd water with nutes is all I've been using
a year ago
Caliban Cal Mg deficient I would say and maybe N too.
GrowthNDevelopment Thanks for that information, I use humboldts secret base a/b and cal mag. Are you recommending that I up my dosages?
Caliban I don't know that brand but i use Epsom salts with my waterings for Mg/S. If you are giving them regular Nutes you may have a lockout. Or it could just be depleted soil.
View 6 additional comments
Wondering if I should defoliate here. What do you guys think?
a year ago
Plant A looking good per usual. Plant B recovered quickly from the snipping and LST also I propped her up so she could get more light than what she was getting at least 3ft away from the light
a year ago
Early update did a little snipping and tucking to both plants to give some air flow
a year ago
Plant A looking as beautiful as ever. Maybe should have put her in a 5gal. Plant B looking great gonna try to tuck and snip some leaves to open her a bit
a year ago
Plant A is going to be pretty tall if it has some good stretch. Dunno what the fuck plant B is doing right now
a year ago
HammertimeAZ Add a layer of worm castings on the top of the soil of both plants and watch them take off,
Doing well. This is the longest I've gone without issues out the gate🥳 gonna be a great harvest as of now
a year ago
Topped plant B (right) since I accidentally snapped it to see how bushy it will grow, Plant A is doing fine as of now
a year ago
Left for the weekend and came back with explosive growth
a year ago
Waited a tad bit too long to water, gonna try to water every 3-4 days
a year ago
Third one In the 5 gallon never popped so here we are with 2 looking to Max out on yields
a year ago
Happy New Year to all starting this year off fresh
a year ago