3 Trainwreck (Auto) and 3 Stardog (Auto)
2nd Grow
3 trainwreck (Auto) and 3 Stardog (Auto) in a 60x31x80 Tent with 4 Fecida 600 watt Led lights 2 plants per light fixture (have a extra light fixture in the tent that doesn't have plants under it so won't be on)18/6 light schedule we also have the Ac infinity controller 67 and 6 inch exhaust fan with carbon filter and 4 inch inlet fan (we are in the process of upgrading to a 6 inch Ac infinity inlet fan to hook up to the controller 67 also to complete the whole Ac infinity fan system) also have a Exhale 365 bag in tent growing in 5 gallon fabric pots with a 2 to 1 ratio of Soil with perlite and premium organic coco coir I will be using 3 different nutrients variants for each pair of each strain to see what works best so I will be testing "Old Truck" compost tea with 1 Trainwreck and 1 Stardog then try "Gardners bud" compost tea concentrate with 1 Trainwreck and 1 Stardog and then use Fox Farms Trio (Big Bloom,Grow Big,Tiger Bloom) with Fox Farms Cal-Mag for the last plants 1 Trainwreck and 1 Stardog will be using 6.0-6.5 Ph filtered water that I will also have sit out for 24 hours to make sure all the Chlorine is out of the water
Harvested yesterday this plants were a problem from the beginning the mixture of coco and soil was not for me at all or there was way to much coco in the mix either way I almost pulled them out 3-4 weeks in but my Fiancé told me not to and to just let them go and I did and I have to say it was a nightmare the whole way through and they had so many problems and deficiencies all the way till the end they were super tiny plants but I must say they are smelly and frosty as hell so frosty it's sparkling and it looks like it's wet and dipped in water lol oh well it's over now on to the next autos I have in germ and I have 4 photos going as we speak so the past is the past but this bud looks like it's going to be tasty
a year ago
Ok I need help from my Growing buddy's on here! So I haven't posted in a while to be honest my first grow went great almost too perfect and now in my second grow I been dealing with problems after problems so in the beginning I felt that this second grow was growing way too slow there was 2 weeks were I barley seen then even change so I figured out the issue and it was my soil mixture it is basically 50/50 soil to coco and I was fighting watering and nutrition feeding for the first month maybe a little longer then I figured out what to give and how much to water and let me say I will never I mean NEVER mix soil with coco again coco isn't for me I'm a soil guy I just wanted to add better drainage and thought it was a good idea boy was I wrong so lesson learned lol but now I feel I have them growing reasonably now and I ran into another problem my leaves are turning yellow with these brown spots on them every thing I looked up and everything I seen says calcium deficiency so I think that's what it is can you guys please help this grow has been a complete disaster compared to my first grow which went absolutely perfect and I have such a better setup now that stays absolutely perfect 74 degrees and 50-60% humidity at all times some one please be my doctor on this one is it what I think and what can I do to fix this quickly I know cal-mag but should I give it twice the dose since the deficiency is there already thanks in advance and sorry for the long novel lol hahaha and don't mind the plant on the back right it's growing like crap it was a seed that grew 2 plants and it's growing weird and crazy I'm basically just keeping it alive to see what it does lol cause I never seen a situation growing anything that 2 plants grew from 1 seed lol thanks again
a year ago
HeritageSecretGarden Brother you sound like you are on the right track you will need calmag+ cause of your mix so it can get all of the nutrients it needs and yes at their size I would do 10ml of calmag+ per gallon and with cocco mix you will prolly be watering more often than all soil and once they get bigger prolly get to twice a day. I made that same mistake many moons ago and will never do it again too high maintenance unless you get an auto feed system going but hope it turns out sticky 😎
Need help PLEASE!! Something else that this second grow of mine is throwing at me so I finally I got them growing steady now but now this is the new problem leaves are yellowing and that start to get brownish, rusty spots all over the leaves I read Calcium deficiency but I'm still new to growing so can I get one of you guys to help thanks again
a year ago
DaGr8estEv3R Thanks for the response @eaegifts and should I give it a double dose of cal-mag
@eaegifts What are you currently feeding? Do you check ph and runoff ph?
View 55 additional comments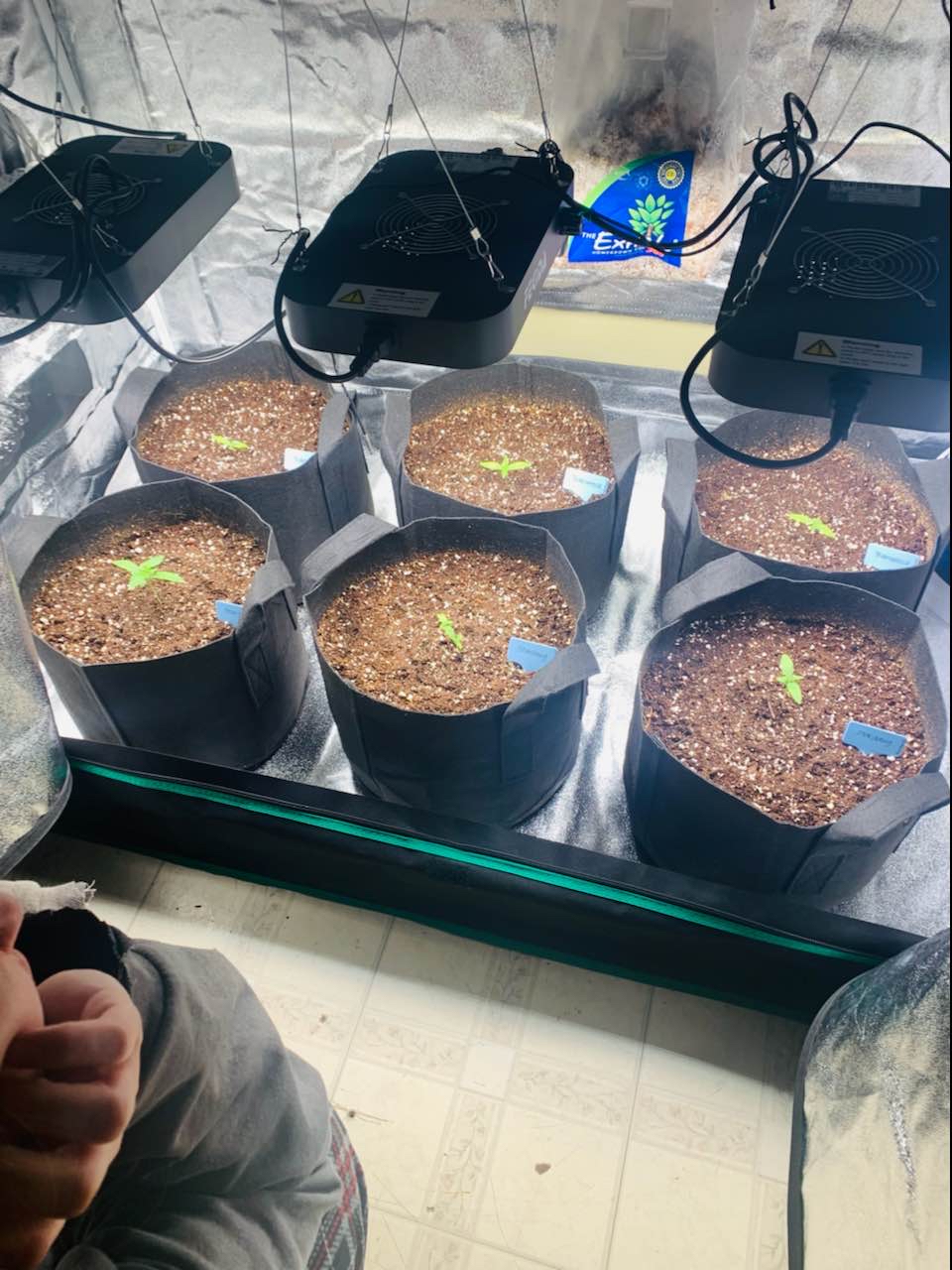 Day 17 from seed to now and the are growing pretty slow and I don't understand the temperature is 72-74 at all time when lights are on when the lights are off 68-70 humidity is 65-75% all the time the lights are on 18/6 schedule I gave them big bloom at half a dose and the are really green and healthy just growing slowly day 17 from seed by day 13 if you go by when they popped out the dirt and got light am I over reacting or is this really slow and they are really small at 13 days since they popped out the soil and got light they are green green and healthy so I know I'm not doing anything wrong that I can think off everything is perfectly set and the environment is great just don't understand
a year ago
View 2 additional comments
They are looking really green and starting to noticeably grow felt like they were at a stand still for like 4-5 days I was getting worried but I have had the temperature at 74 degrees and humidity at 70% so I knew I wasn't doing anything wrong they just look so small in the 5 gallon pots that they looked like they weren't growing lol I still can't believe I have 2 plants from one seed never see this before
a year ago
They are doing good!Temperature stays at 72-74 degrees and humidity 70-72% lightly spraying them every couple hours and giving about 15-20 ml of water each once to two times a day with filtered water that also sat for 24 hours to make sure no chlorine in it. The water is at 6.2 ph
2 years ago
All 6 seedlings doing great so far! Temps and humidity perfect also lights just turned back on so the temperature will go up to 74-75 degrees and the humidity will be at 65-70% this setup is crazy efficient and on point can't wait to see how this grow will go and how my little experiment that I am conducting will work all 6 plants will be in the same medium with the same environment with the same temperature and humidity the only difference is that I will be feeding each pair (Trainwreck and Stardawg)different nutrients so I know which direction I can go with in future grows. I have Old truck compost tea,Gardener's bud concentrated compost tea, and the fox farm trio (Big bloom,Grow big, and Tiger bloom) and since technically the only difference would be the nutrients if there is a difference in time,yield,smell, and taste then I would know that it was because of the nutrients
2 years ago
"Gardener's Bud" Concentrated Compost Tea, "Fox Farm" Trio (Big Bloom,Grow Big,Tiger Bloom), "Old Truck" Compost Tea.Those are the nutrient's that will be fed. In the Front row are the TrainWreck's and the second row is the StarDawg's.
2 years ago
Has anyone here ever run into something that looks like this? One of the StarDawg (Auto) plants looks deformed and totally off to me looks weird compared to the rest. If you have seen this can you let me know and did the plant turn out normal and grow perfectly fine? I would appreciate it! Thanks in advance
2 years ago
G-Thang Let it grow, looks like a mutant, they always become monsters!!!! Trust me!!!
View 3 additional comments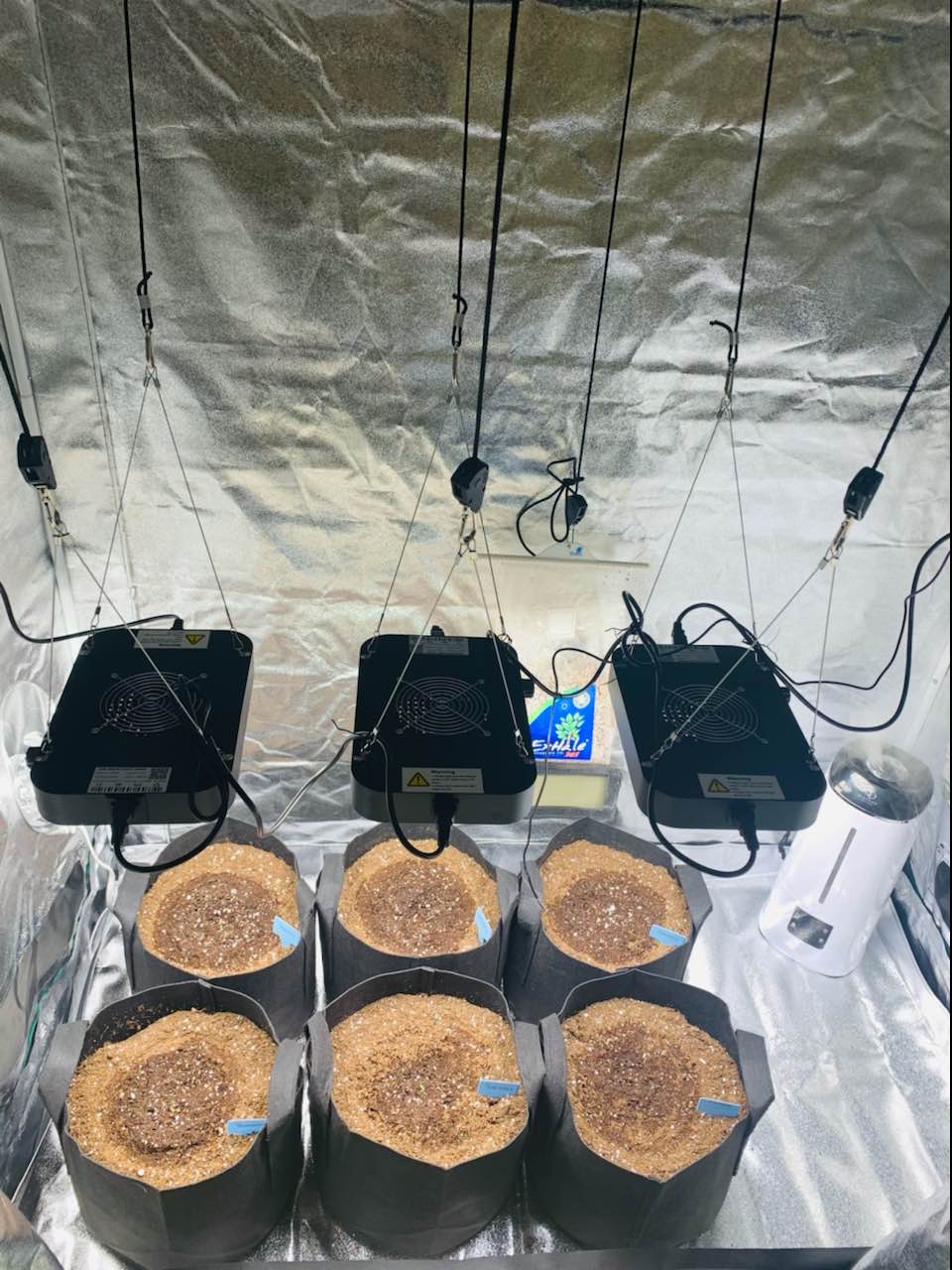 All 6 seeds popped and are now out in the world I'm so excited to get this grow going I am using this run as experiment and this grow will impact the way I grow and what nutrients I use for years to come I'm so pumped
2 years ago
Put them in paper towels and they started to pop alittle bit and I put them in the medium on March 22nd
2 years ago