grazek
Renegade Jax first grow
First Grow
3 seeds
They are now on day 3 of flower. I think I should have switched them a little earlier but you live and lean. The pics are just one of the two plants.
2 years ago
lettuce97 earlier? dawg you should've waited at least a month. this won't yield more than 10-15 g's
emaj7b5 I agree. Unless you have an extreme lack of space, these girls should veg a little longer. Veg out, man. 😆
grazek Ok thanks for info it's only been 2 nights of 12:12 so I'm putting them back to veg.
View 15 additional comments
Yesterday I took the plants out and trimmed some fan leaves. This is one of the plants before the trim. You can see the new double top from topping the plants the other week and the stump from topping as well in some of the photos.
2 years ago
Yesterday I did some watering and took these photos. The hand pics show size of leaves one plant is bigger and healthier it seems. The other two photos are the top of one of the plants showing the new growth since topping a couple of days ago. Yesterday I also smelled the faint but distinct marijuana smell when I opened the tent. I think they are a little behind where I hoped they would be but I made a couple of early errors and learned from them. Still 45 days after putting them in paper towel I'm happy where we are.
2 years ago
Peng I love it when they get big enough to do high fives
Began topping the plants. Was going to wait with this one a few days but decided it was ready.
2 years ago
This is the star plant. I removed the top but also a fan leaf with one dead leaf on the bottom, and another dead leaf. Also there is a significant tilt in this stem but will be doing LST soon anyway
2 years ago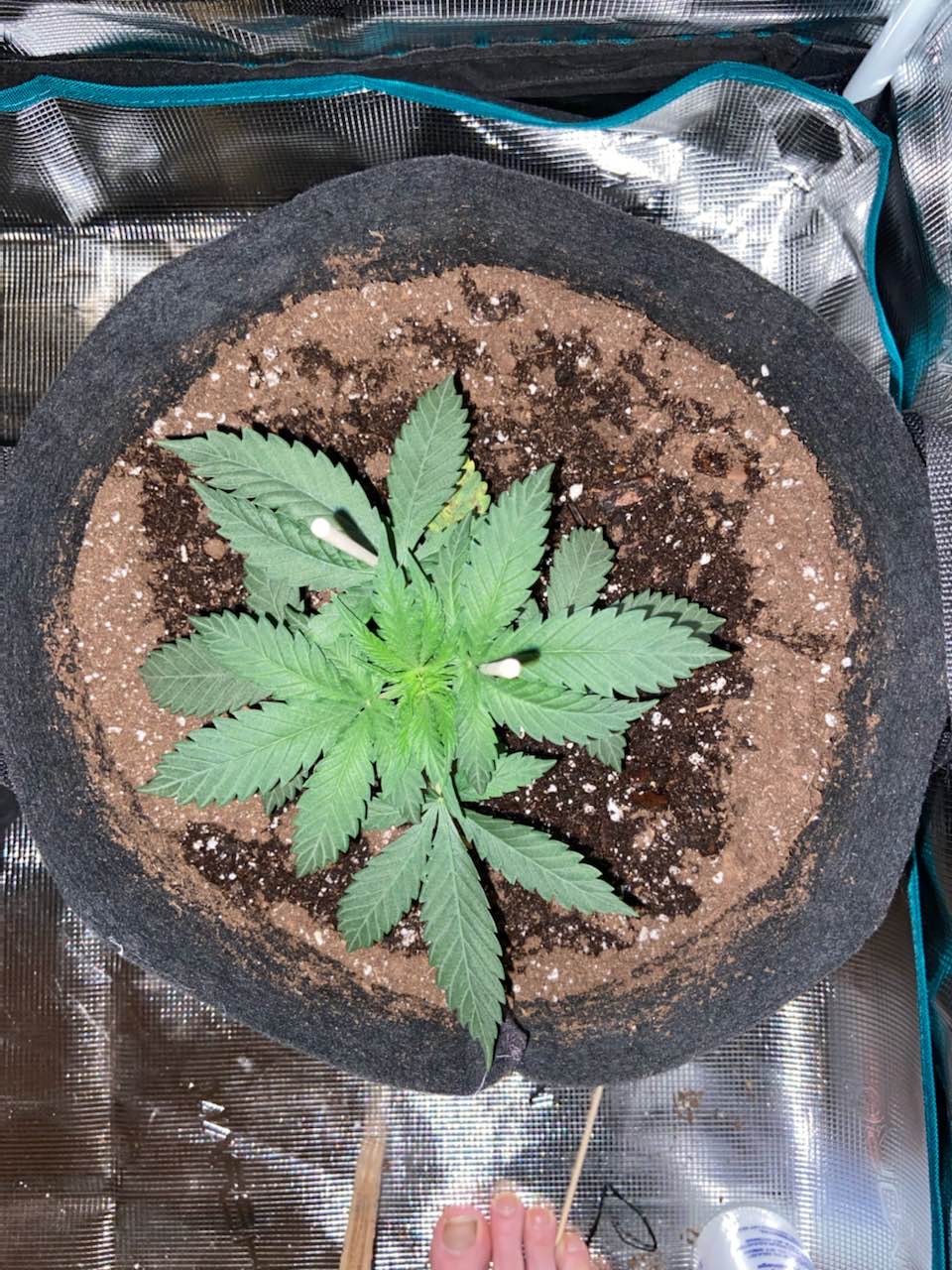 Had some leaf disclouring after transplant on my best plant, assuming transplant shock, there is a closeup of one of the affected leaves. Here we see three pics of each plant as of this morning. I have some bamboo sticks to help with stability but not sure if they are needed. Watered this morning based on feel of soil after 3 days since last water. Think I should be watering closer to edge of pot but water was leaking from sides of smart pot.
2 years ago
Plants have been moved into 5 gallon smart pots where they will stay until harvest. Happy frog soil. 18/6 lights via vipar spectra v450 LED light. Was going to transplant a bit ago but decided to wait a bit longer.
2 years ago
Transplant to 5 galleon smart pots likely to occur tomorrow or next day. The third plant didn't make it, it had trouble from the start including trouble getting the seed casing off (I eventually manually removed it) and it also stretched quite a bit. I'm down to two.
2 years ago
I've got one plant doing well, one in the middle and one slow and below average. The two that are falling behind stretched a little too much at the start and now I've got some support in there for them. Fan was added a few days ago to hopefully improve stem strength. I wanted to transplant soon but with the stem issue I may need to wait. Lowered my LED a few inches as well.
2 years ago
Fan added as second set of leaves forming on two plants and the third continues to lag behind the others
2 years ago
Kuramamama23 You like the blue light better then the purple?
grazek The light is purple when I look at it I think it just looks blue through the camera. I do think there is high blue spectrum - it's under a vipar spectra 450W light on the veg setting
Coming through the soil
2 years ago