MDB Crop #1
MDB
Log of progress from seed to harvest.
Margarita Dog Breath - Terrestrial Farms
The ladies are budding down nicely at this point. Each plant continues to drink about 1 gal water/nutrient mix per day. Did a bit more defoliation today, removing fan leaves and a few others showing signs of tip burn. This also exposed more underlying bud sites in the canopy. Should be ready for PK load them both about this time next week!
a year ago
- the plant canopies have filled back in since their last trimming and the plants should be mostly done stretching at this point. - Nutrients are now fully switched over to bloom from veg, after transitioning the past two weeks. - Plants are clearly showing signs of flower production
a year ago
- Lots of defoliating/pruning of lower and inner growth. The canopy is spreading out nicely and should fill the rest of the space here soon! - Plants are drinking appx 1 gal every 2 days at this point. - Flowering nutrients added to feed mixture (CX- Bloom Enhancer & CX - Head Masta)
a year ago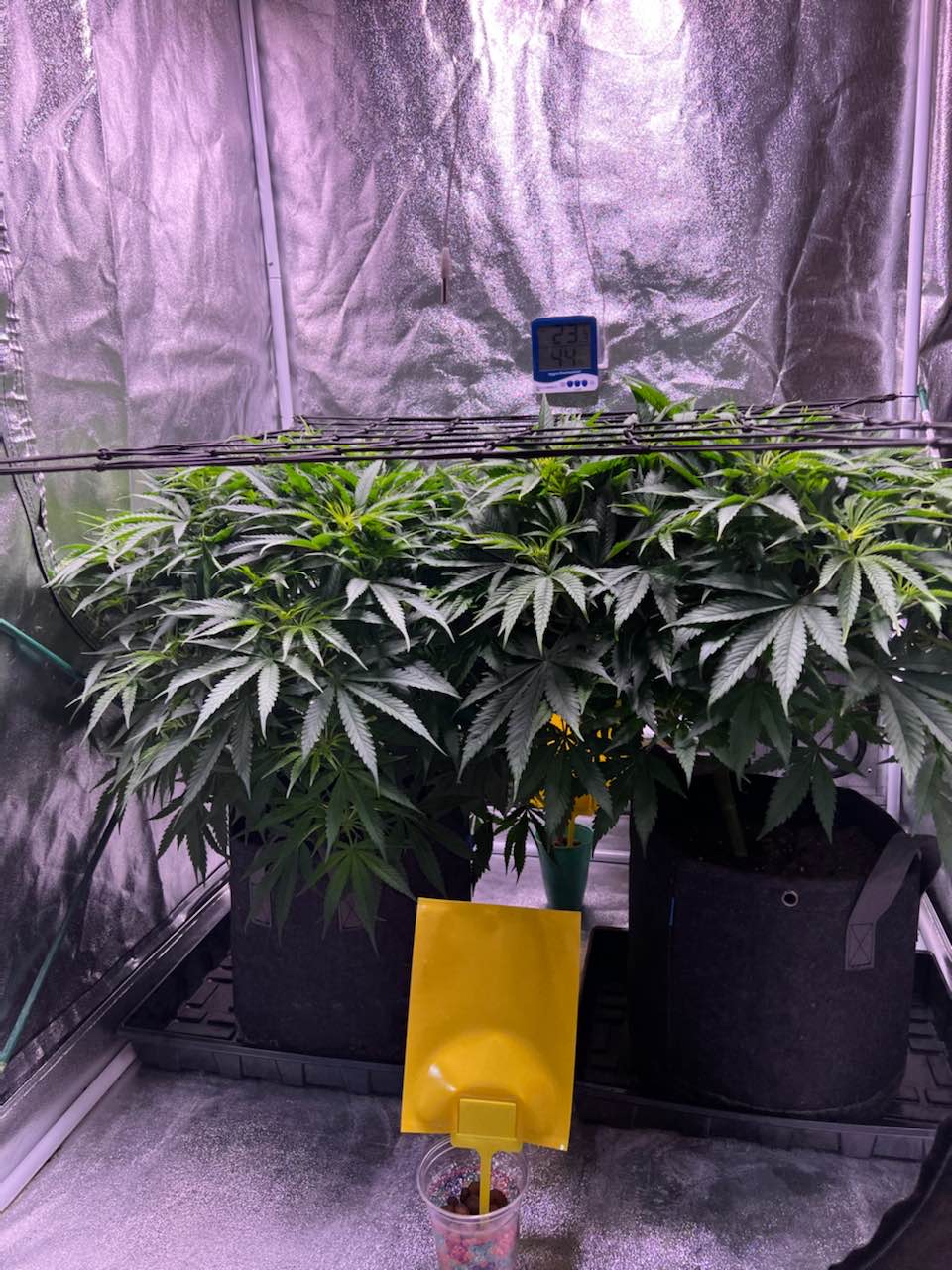 - Switched light cycle to 12/12 and began flowering - Removed lower fan leaves on secondary shoots and began to clear out secondary growth on lower branches on both plants - Last full veg nutrient feeding. Will start to add flowering nutrients and removing veg nutrients over the next 2 weeks - The plants bushed out quickly after their last trim. Vertical growth has moved much slower since topping and helped with creating a more even canopy
a year ago
Alchemist710 Are you going to wait for them to stretch to the height of the trellis before weaving and scrogging
Collie Man I am going to let them stretch through the trellis but I'm not planning on doing a whole lot of training. I'm hoping to have the canopy fill out a little more over the next week or two as I remove the lower/inner growth that isn't getting direct light. Really I'm just looking to provide support later on in the cycle when the plants have stopped stretching and are heavy with bud.
- Did some defoliation and topped both plants today - installed first net at the top of the canopy and will let the plants veg for another week before changing the light cycle - The plants grew another 8" vertically in the last 7 days - Each plant is drinking about a gallon every 24hrs at this point
a year ago
- Lost air conditioning yesterday for about 24 hours. The ambient room temperature was above target temperature for most of the outage - The leaves on plant #1 began to show faint signs of drooping this afternoon - Made nutrient mixture of 5gal water w/25ml each of: CX Horticulture growth enhancer, regenaroot, Hydro A, Hydro B, wilt guard - 2 gallons bottom fed to each plant. Will split the last gallon between the two. Before lights out
a year ago
- All 5 plants have shown their gender, 2 ladies and 3 gentlemen - Removed the Gents from the party this evening, it's never easy to say goodbye to a strong healthy plant, let alone 3 of them! 😭 - The two remaining ladies are looking super happy and healthy, excited to see how they fill out with the extra space over the next two weeks before they get flipped!
a year ago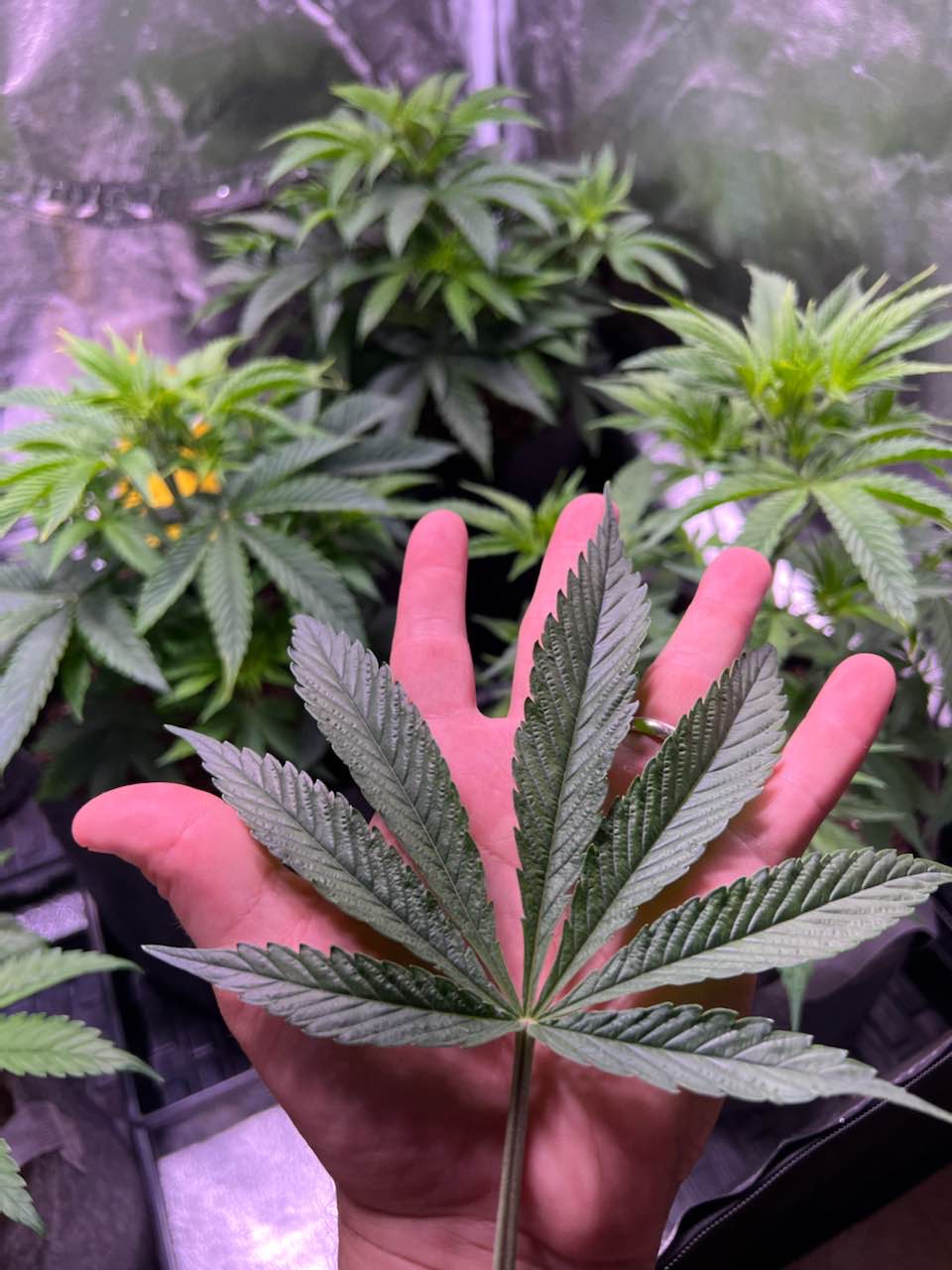 - Explosive growth in the last two days since watering/feeding - Plants have grown 8" vertically in the last 7 days - Removed 8 lowest fan leaves off each plants main stem to allow for better light penetration to the secondary shoots - Plants are beginning to show pre flower signs. 1&2 are most likely female 3&4 are most likely male. Plant 5 has not shown any indication which gender it is
a year ago
Caliban Nice job!! Looking good. Will you train the branches LST?
Collie Man Thanks! I plan on topping them in a about a week and then giving them one more week after that to grow into a net before flipping to flower. A second net will go into place ( a little higher up) in the following weeks as the plants mature and begin to flower!
- Vegging along nicely right now! - Gave them their first drink in almost 2 weeks because the pots were finally feeling light again - Made nutrient mixture of 5gal water w/25ml each of: CX Horticulture growth enhancer, regenaroot, Hydro A, Hydro B, wilt guard - Bottom fed each plant 1gal of mixture
a year ago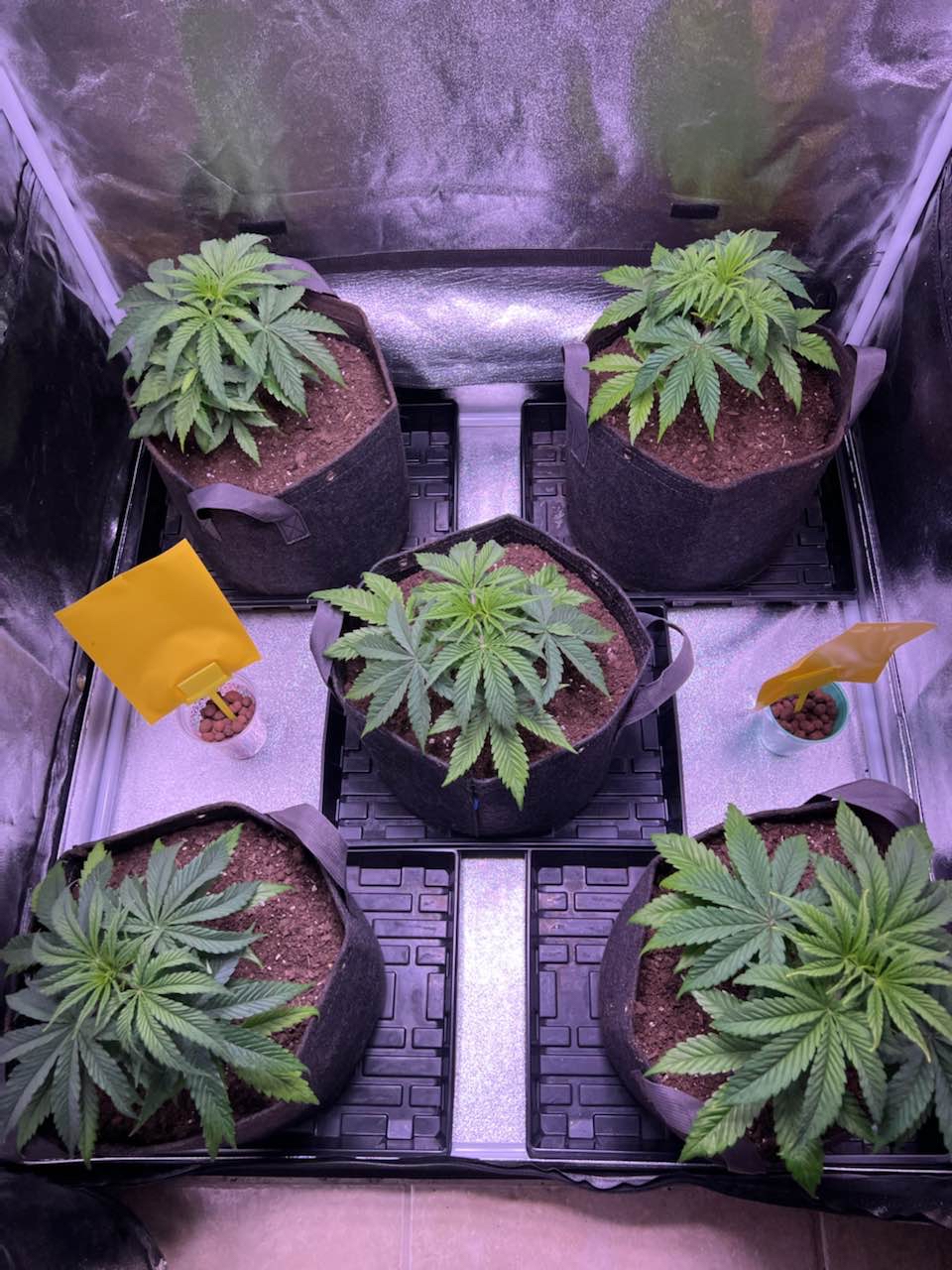 - The ladies are established after their transplant last week and starting to veg! - Performed some light defoliation, the two lowest fan leaves on each plant
a year ago
Caliban Looks good. No need to defoliate this early in my humble opinion. Looks like the plants getting enough light. 5 plants in a 4x4 will be tight. 😏
CJF Thanks, and I appreciate your insight on trimming as well! The 5 will be tight as long as they're all actually ladies. I'm expecting to have to pull at least one male out of the bunch after I flip the cycle to flower.
Caliban Ah understand! I only use feminized seeds these days and sometimes forget
-Moved from 20oz Cups to 5 gallon Fabric pots filled with potting mix -Plants placed in tent and light schedule set to 18hrs -Made nutrient mixture of 5gal water w/25ml each of: CX Horticulture growth enhancer, regenaroot, Hydro A, HydroB -bottom Fed each plant appx 1gal of mixture - top watered each plant with appx. 1/2 Liters water only
a year ago
- Seeds Planted In AeroGarden - images are hypothetical germ/veg/flower schedules
a year ago