Purple Punch Grow
Winter 2021
Purple punch
Another harvest down! Wasn't too proud of the finished product. Got about 3.5oz of larfy, seeded "buds" 😫😭 The seed was given to me by a friend so I'm assuming it was a bagged seed 🤦🏾‍♀️ still smokes well and was super sticky!
a year ago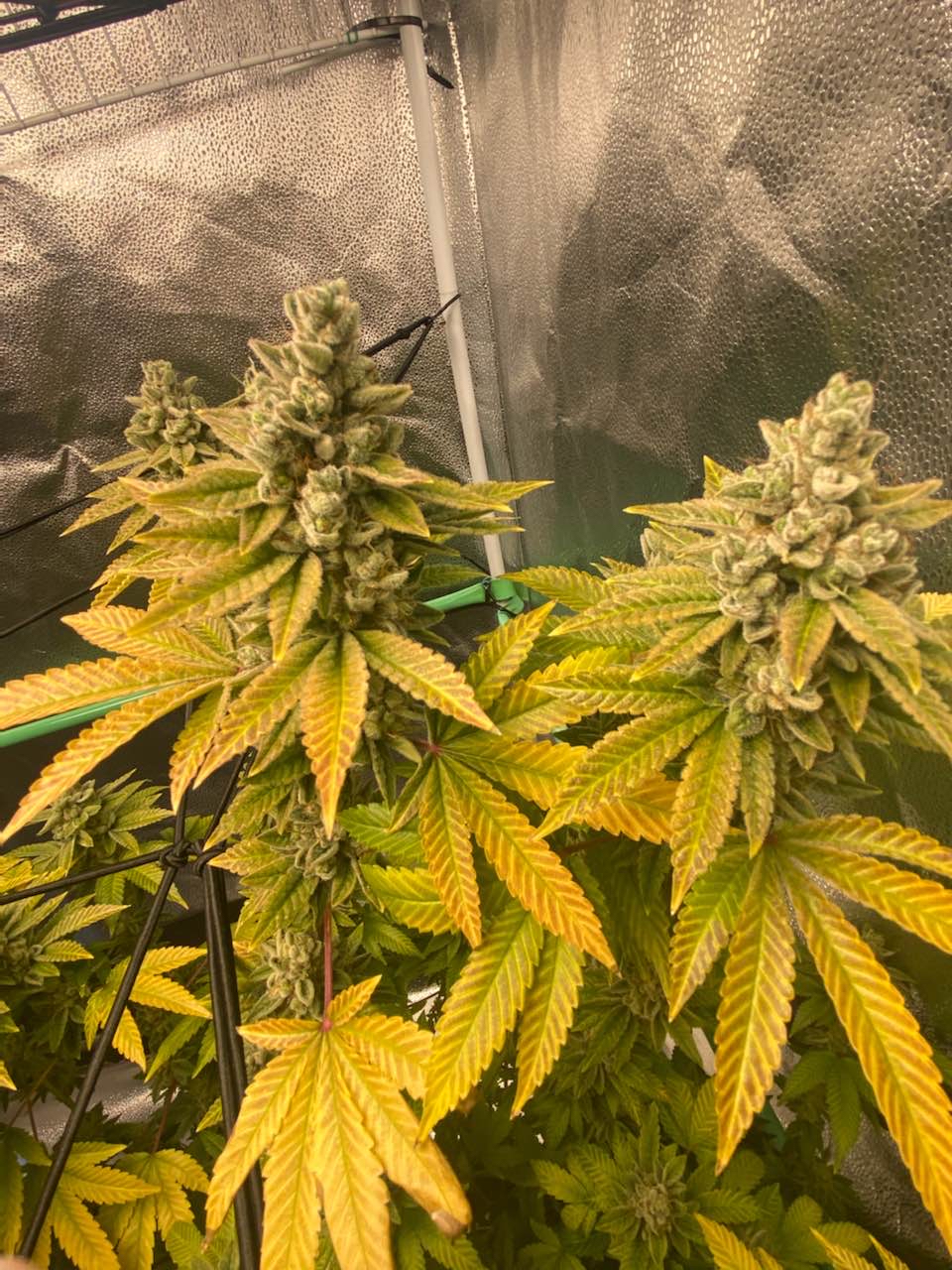 Week 10 of flower! 🌺🥳 she's been flushing for 1 week! Will flush her one more week than I will be harvesting her!! Can't wait! She smells good and she's just as sticky as my others!
a year ago
RichMcflyy Lookin good there growmie 🔥🤟🏾 I got sum purple punch seeds I'm gonna pop for my next run 😎🪴 Any tips on dealing with this strain?
phigtrees Hey! this was actually my first time growing this strain! I kept it on the same feeding schedule as my others! I was hoping to see purple but I guess it was recessive in this pheno ☹️(lowered my temps and everything !) hopefully you have better luck than me and get to see some purple! Happy growing 💚
She's growing nicely! Today makes week 6 of Flower. More light is definitely needed! Looking into more lights now! Overall, can't wait for her to finish! Smells great!!
a year ago
De-leafed, fed 750ppm and going into the flowering stage today!
2 years ago
I'm loving her shape! Will be deleafing soon and possibly another top will be done before I decide to flip her! She's been fed 700ppm of FloraNova
2 years ago
Trying to train her a little better than my last grow. I love how she's turning out. More bending and topping done here!
2 years ago
Went ahead and tied her down this morning. She's been transplanted into a 5 gal fabric pot. I plan to do a lot of LST on her!
2 years ago
Dec. 24 Had to go ahead and get rid of the runt. She wasn't growing and the bigger one was taking in all the energy based off growth alone. (She was getting huge quickly
2 years ago
One week down and they're definitely growing differently! One is much larger and working on its 2nd node! The smaller one is still growing.. I believe they are separated at the lower stem but still can't tell. Once they get a little bigger, I'll examine them more to see if I can separate them into different pots!
2 years ago
EternalToker I'd separate soon one is pulling more nutes more less bullying the other. great strain tho just finished a hefty yield
They're both getting bigger! I hope to keep them both!!
2 years ago
Peng Usually with poly embryonic seeds I think one should be like the original plant it came from
View 4 additional comments
Dec 8, 21 Both roots have sprouted!! I'm going to wait a little longer than remove the smaller one and try to transplant her into her own home!
2 years ago
Dec 7, 2021 I'm having twins 😍
2 years ago
phigtrees Thanks guys!! Can't wait to see how they grow!!!
View 2 additional comments