newgrower1
While we wait (first wave)
April 1
This guys been through it all , he has survived 2 mass extinction killing everything in the room but him/her I've learned a lot and Byron been there with me . The front leaf is starting to canoe think it because the fan was in her fan for a day or two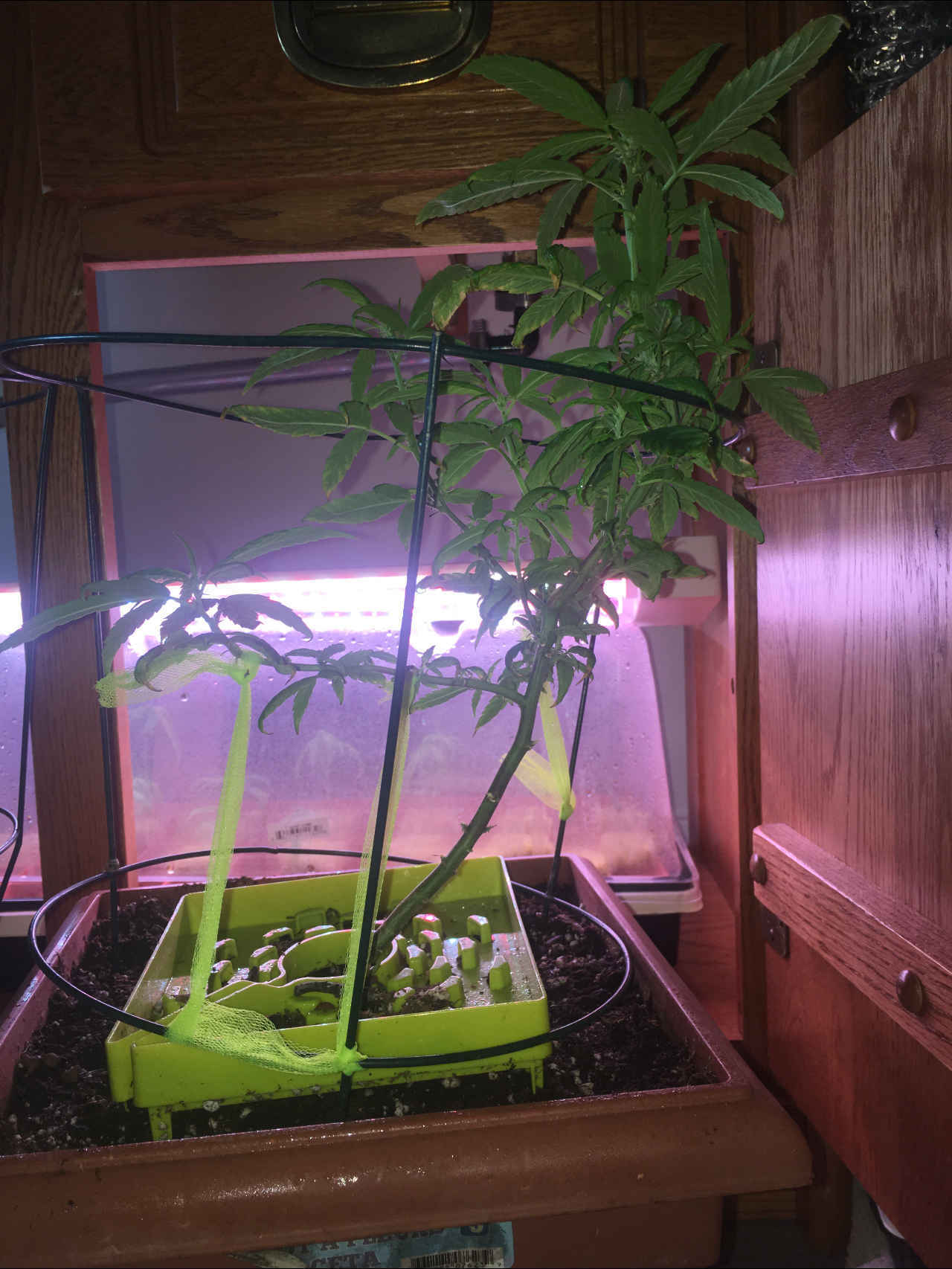 Just cloned her
4 years ago
Just letting her dry up
4 years ago
Just fed her. Following the nutrients chart plus 3mL of CalMag 1mL of phosphorus. Bpm = 970, pH = 5.8/5.9
4 years ago
Having issues , I found that my ppm coming out where way higher then coming in. So I starved her , but the leafs twisted and looked week , I feed her water and calmag but think I over did it ,soon leafs were light green and flimsy , I caved in and mixed some nutrients 3ml a and b and 3 ml grow burst in one litre and feed her
4 years ago
Newgrower1 Any ideas gentlemen , the plan is to let her dry up and hit it with distilled water and light nutrients or just distilled water to flush it
Newgrower1 U think she just deprived of nutrients all feeds since I got my metre have been low ppm570 but before I got my metre I'm sure I was unknownling dosing at ppm 1500
View 1 additional comment
Turned the plant 180 so I could add a water line and feed her ph 5.5 ppm680 but weird thing is she drained out ph 6.2 which I'm ok with and ppm 1400 any idea , she normally bone dry TIL I feed then repeat , even last feed was ppm 570 I believe
4 years ago
It working , bend and secured her down and she growing sideways
4 years ago
Newgrower1 Is she flowering don't know the seed ,or what it is , hoping to still be in veg
Ducatiboy Doesnt look like it but i swe something white. Looks like a pistol, if it is then she is. Looks like she is sick or something.
Newgrower1 The lower leave are from the learning curve all top and new growth is green and look right
So I'm trying my first lst training hope I'm doing it right , I wish to end up with a Jewish candle kind of plant , didn't have string hope this is ok
4 years ago
About to water. Been about four days. She's dry to the bone. About to start nutrients again. Looking a lot healthier lately. Growing rapidly. Adding potassium, cal-mag, root booster, a+b nutrients and grow burst. Ppm = 580 pH = 6.1 also got new pH and ppm meter today #lovemywife
4 years ago
Gave her a shot of potassium half a mL direct top fed and just water with a little calmag. Not sure what to do next.
4 years ago
Doing good might start on nuts again
4 years ago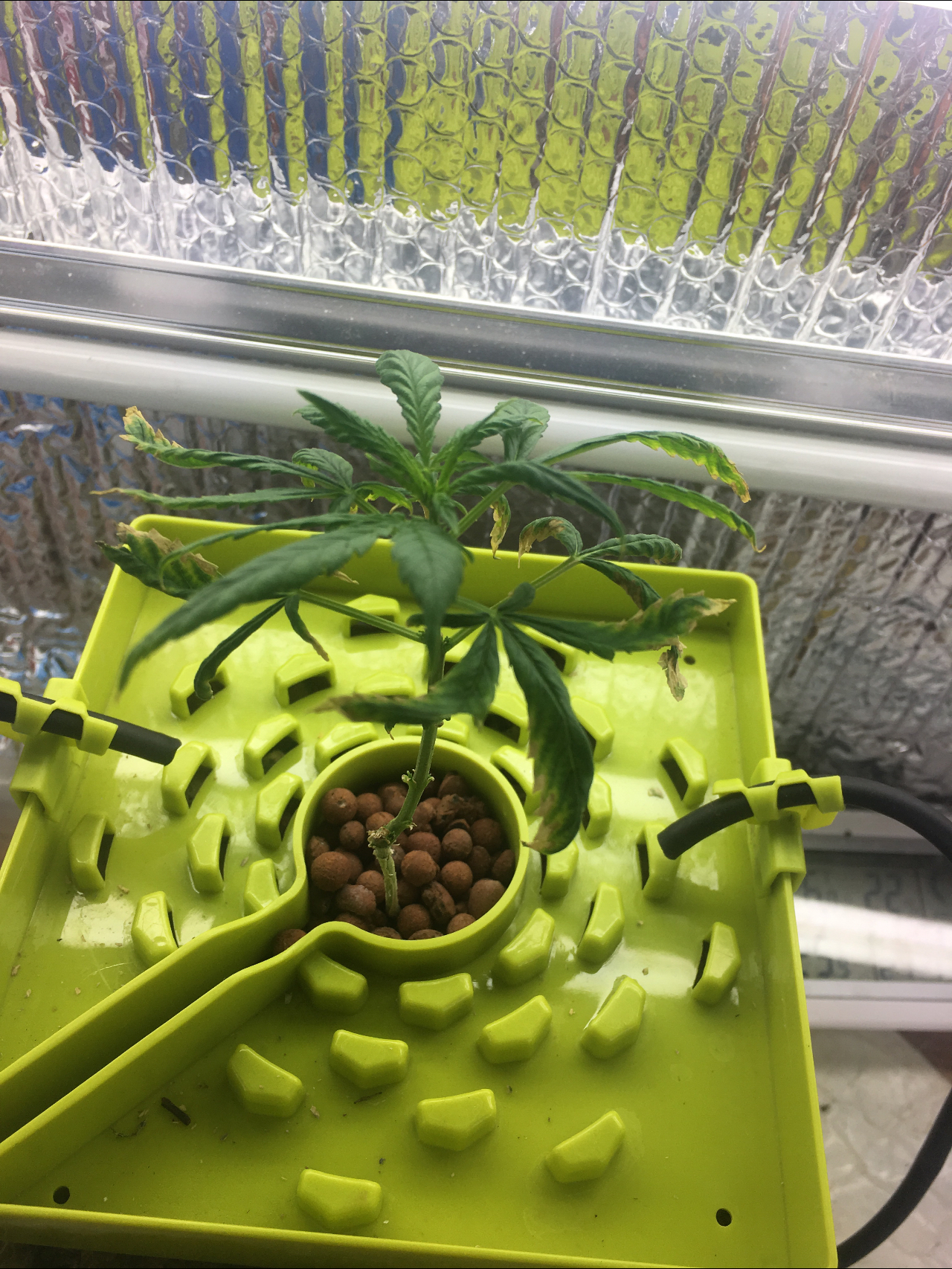 Thinking about turning my led light back on and water it tmr , but not sure she looks a lot healthier since the detox
4 years ago
Had a friend that grows for a while come over , few new things , we transplants as the root where breaking through , also he told me to flush the plant and run just water with cal mag for a week at least . The led is now off as it may have been to harsh . No more cutting leafs !!! I was talk to about the the scissors we're taking away from me ! And I was right she's a girl shalome!!!
4 years ago
Show I top this ? Ps boy or girl I think girl
4 years ago
Greenhouseguy95 Do not top it and it will not show you any sign of sex anytime soon. Google is your best friend right now buddy. We can help you out. But it sounds like you need to do some real research. These are very basic questions your asking. You woudnt see any growth on your plant for a week if you were to top it now. She's already stunted pretty bad as it is.
Ducatiboy This is why i charge consulting fees. Eventually you get tied of repetitive questioning. Yes stop pinching leafs off! Let her grow
View 1 additional comment
Growing nice just cut some lower leafs but the tips keep turning yellow , is this nutrients burn / ph swing or some deficiency?
4 years ago
Just change out the nut and added root grow hope this work well
4 years ago
Newgrower1 45 ml grow burst and 4 ml grow a and b of Dutch nutrients
Ducatiboy New grower but doing more advanced techniques. Wish you the best! Looking decent so far! Root grow should help!
She has a canoe going and tons of cuts on her from the countless mistakes , move the fan away , should fix this issue
4 years ago