Summer Grow
Afghani in NY
Want to grow a big bushy Afghan kush. Back when I was new, one got away from me and out grew the tent. Had to chop her down. I'm way more prepared now. These genetics from Rocket Seeds were strong AF.
Move this girl outside and she loves it too. Roots are popping out of the fabric pot and the leaves stay praying. Let's of growth up top and I'm pretty happy with the results.
6 months ago
Did a bit of super cropping on this girl. Hopefully her canopy grows in nicely in the next two weeks so we can start flower. Probably gonna grab a few more clone babies off her before flower. Maybe after flower starts I'll grab some more clones and make some monstercrop clones.
7 months ago
These shots were a couple days ago. Took off this huge fans and pulled three clones off her.
7 months ago
She's at a month! Just waiting for her to fill out so I can clean her u and pull some clones.
7 months ago
slowteek Leaf structure 🍃 is on point…. Beautiful 🤩
She's super big for just 26 days. She loves the soil and responded well to the topping. Gotta lay some straw down on the top of the soil today. She loved the compost tea yesterday so we'll just keep her chugging along.
7 months ago
Since the last update, had a bit of growth and topped her. Watering when needed and I also did her one month top dressing.
7 months ago
I don't know if this one is growing slow or what. She looks healthy. Maybe I just have her too close to the light for her pheno type. Clovers are coming in and she's responding to the her so I and the compost and casting tea she received this morning.
7 months ago
HeritageSecretGarden Looking good and healthy she prolly does have plenty of light if you want her to grow up lower her she reach up to get back to that light source but they look good 👍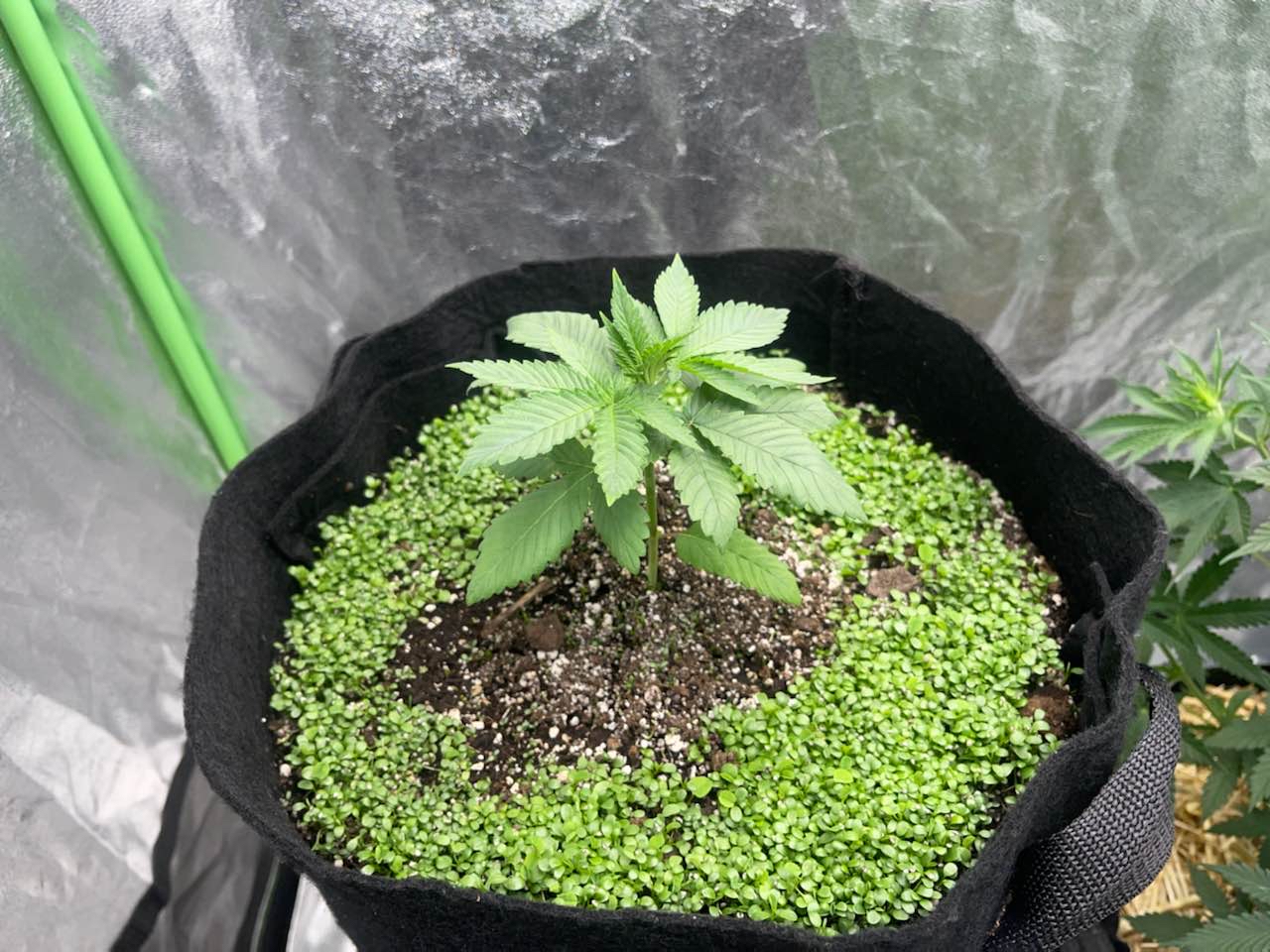 The Afghan Kush growing strong. Has new clovers growing in the bald spot. I love growing this way. Haven't put one ounce of bottle nutrients in there. Not even CalMag. Everything is in the soil..
8 months ago
Well, here she is. In her five gallon surrounded by clover sprouts. Had to put her in deeps cause she stretched out quite a bit in her nursery pot. Easy maintenance now. How many nodes should I let her develop? Maybe I won't too her since it's still June. Still can get some decent veg time outside.
8 months ago
BINAII Yeah? Just made sure to sprinkle some clover seeds on there in anticipation of this girl going in eventually. After the transplant I sprinkled some more seeds on there. They should be coming in within a few days. Thanks sir checking it out though.👍
View 7 additional comments
Wow…hadn't realized it's been almost a week since the last update. Let's see…..nothing much has changed as far as routine. As the potting mix dries back, I water a bit. She's growing just fine I think. Let's take a look. Five fingered leaves are coming in. Hopefully we get some sever fingered leaves soon. She's a bit lengthy but when she's transplanted, she's going in deep.
8 months ago
Grasshopper419 Do they throw roots out the stem like tomatoes do when you plant them deeper?
BINAII The plant is able to sprout roots on the stem all the way up to the cotyledons. So not necessarily like a tomato plant but you can bury it deep enough to get a bit extra rooting later in the grow cycle.
View 1 additional comment
I think this little girl is making good progress. She'll be going into a one gallon pot in like a week and a half. For now…..just soaking in the photons.
8 months ago
HeritageSecretGarden Why move her until she has out grown that cup which is at least a month bro it's less stressful when the roots fill their space and it comes out as one clump altogether, just my advice bro 😎
BINAII A month is too long. I move my photos up to a gallon when they're on their 4th node. Don't need them getting too comfortable in that little pot. The reason I do it so soon is because the roots grow out to the walls to tell the plant how much room it has to grow. I don't want her slowing down at all.
HeritageSecretGarden Do your thing bro I'm sure u got it under control I was just give u my two cents but just so u know I have grown a 1lb plant in a 1 gallon so I know for a fact they will grow just fine in small shoes as long as you are on point with your feedings and environment happy growing Brodie
View 1 additional comment
Dropped a little Poland Spring bottle water on her. Not really much to do.
8 months ago
Well, at least we know she has taken to her environment and is growing. Removed the dome and exposing her to fan breeze to make her strong.
8 months ago
She popped out. Let's start with the seedling soil mix. Pro Mix BX with Mycorrhizae Plus Biofungicide. Added some oyster flour, worm castings, seed flour, compost, and lobster meal. When this girl is ready to pull nutrients, they would have been broken down and ready for uptake. Have some coral and volcanic rock dust in there for minerals too. This is the third day since I dropped the seed in this medium. Can't wait to see how she really responds to it.
8 months ago