naynay11
Patio grow
2018
Kush plant first grow
DAT PURP!!!! Smells like grape soda!!!!!
5 years ago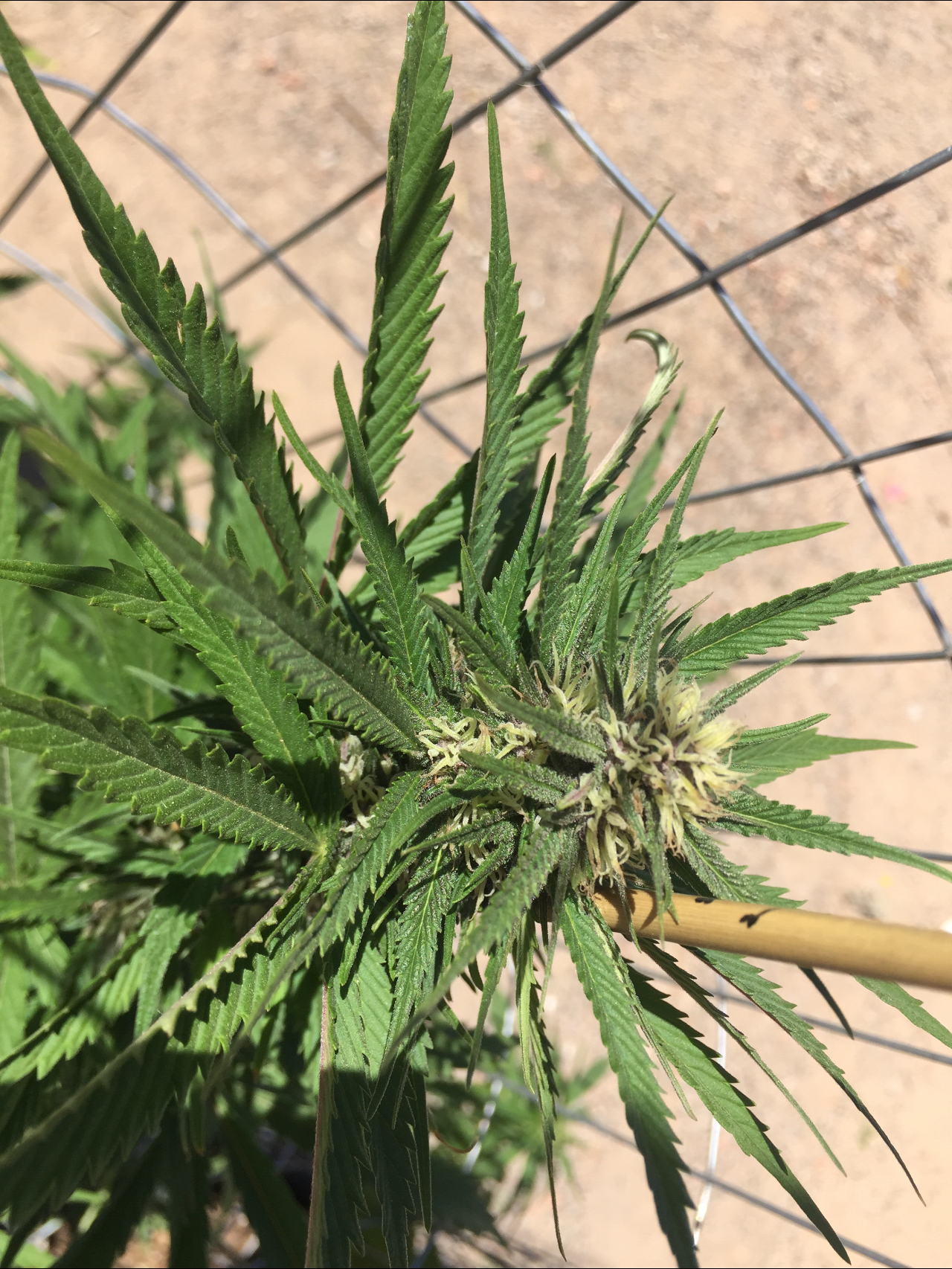 She has been suffering a lot! She was infested with mites and other bugs so I gave her a good old neem cleaning! She also let me know that I over did the nutes just a little this past week! She has been staked caged and trellised. Not much growth but I'm not giving up on her!
5 years ago
She is officially a female! She is flowering and she looks beautiful she got a trimming of all rest of her deformed leaves. And she continues to grow past the deformities. She got week eight of Foxfarm schedule with added Cal mag and seaweed extract.She got a light dusting of a pesticide on the soil because of maybe fungus gnats flying around.
5 years ago
She's growing exceptionally well she got a feeling yesterday and seems to be getting over her deformities on her leaves and starting to grow for more symmetrical leaves. That was all caused because of bad PH in soil and not ph-bring my water.
5 years ago
Got week 7 fox farm schedule! I clipped all her big fan leaves because first off they have a lot of damage from rain and hail. And second they where shading the new sprouts to much so they weren't growing to potential!
5 years ago
She got week seven of Fox Farms feeding schedule. She is still recovering from hell damage and transplant damage. I need help I have no clue why her leaves are still curling and why she looks so bad any help would be appreciated.
5 years ago
She got week six of Foxfarm feeding schedule. It rain in hell two days ago and she suffering a little bit of damage from the hail. I also transplant her into a smart pot. She seems to be growing more up top so hopefully she'll start gaining height now
5 years ago
Week seven of Foxfarm feeding schedule I have also put her in a fabric pot with new soil because of bad pH soil readings. I decided to transplant her in with different soil knowing that she might going to shock but the pH lock out I think is worse
5 years ago
She's doing good today a lot perkier than other days
5 years ago
She still having trouble shooting full leaves through her man cola! All the leaves keep growing in tiny and staying that size. They are still yellow on new growth
5 years ago
No water the past few days because of heat. She is now 5 1/2 inches. Yellowing has really slowed down and started correcting itself
5 years ago
Week 5 of foxfarm feeding schedule
5 years ago
She is in no shock now after fiming and back on schedule. Gave her water today. She has a fe yellow spots idk if it's just new growth or mag. Deficiencies
5 years ago
Just filmed the 6th node. Watered this morning, no bites
5 years ago
Switching to vegetative state 4" tall and 6"x6" wide
5 years ago
Switched to 5 gal pot
5 years ago
Growing it's first 5 finger leaf
5 years ago