behrski
Alaskan Purple Auto x 2 and Lemon Auto x 1
First grow spring 2021
Two Alaskan purple auto flower and one lemon auto in 3 gallon fabric pots. Fox farm ocean forest soil (75% FFOF x 25% perlite). Will be using fox farm trio nutes, starting around preflower period. Seeds from seedsman seed bank. In 2x4x5 grow tent under 600w led full spectrum light. 4 inch exhaust fan with carbon filter.
30 days in soil. Fed the girls 5 days ago and are responding well. They're drinking water up quicker now so I give them about 500ml of ph'd water every other day. New growth looks great and I'm pretty sure I'm in pre flower right now. Since this is my first grow, I'm curious to see how much these stretch up. I'm tight on space and I haven't been doing much lst. Lights are still about 18" from plants. Day time temps are in the mid 70s and night time is mid 60s. Lots of flower sights popping up! Trying to hold off as long as I can before I move the tent to the garage. I will probably need some ac unit or cooling decide in there. ANY SUGGESTIONS ON COOLING A TENT IN A GARAGE IN SUMMER would be much appreciated.
2 years ago
cHopz420 Looks great buddy awsum werk! If you have the funds go w a ductless .. or if u have ac <ductwork>..see if there a way way to cut in a 4-6" feed and run some flex ..also if that were doable id also add in a low return <6/8"> .. i know im probably wicked off from what youre working w but just trying to help .. Youre the man great looking grass buddy
Day 22 in soil. Start of week 4. All plants are growing well. They were fed almost a week ago so another feeding will happen this weekend. Temps hi=77F low=65F, and humidity is between 45-50%. I decided to test lst on Alaskan auto 2 yesterday because it was a bit crooked. It responded well over night so I applied lst to the other two plants. I'm hoping this will promote some more growth. Still keeping lights at 18" from plants. Right now I'm watering each plant with about 400 ml of ph'd water every few days and spray the top layer when it seems dry. I've also been spraying the plants lightly the past few days. From what I understand, these babies should really start growing at this stage. I'm hoping after a feeding in 2 days they will really sprout up. Right now I have my tent indoors, but in a week or two I will be moving it out to my garage. It's not cooled or insulated so I'm really hoping the heat of summer isn't too much for me to handle. I'm considering getting a cool mist humidifier to bring humidity up a tad and cool the air off a bit. 🤷🏻‍♂️ Week 5 update coming next week! Happy growing!
2 years ago
Day 20 in soil. Growth has been good. The Alaskan Purple Autos are at 3"-3.5"now and the Lemon Auto is closer to 2.5". I'm spraying the soil lightly with ph'd water in between waterings to keep soil moist. I will be giving them some more nutes in a few days. Lst will start next week, during week 4, as long as growth is strong. Temps have been getting higher so I've had to adjust the fan and exhaust settings a little bit to keep it under 80F in the tent. New growth looks great!
2 years ago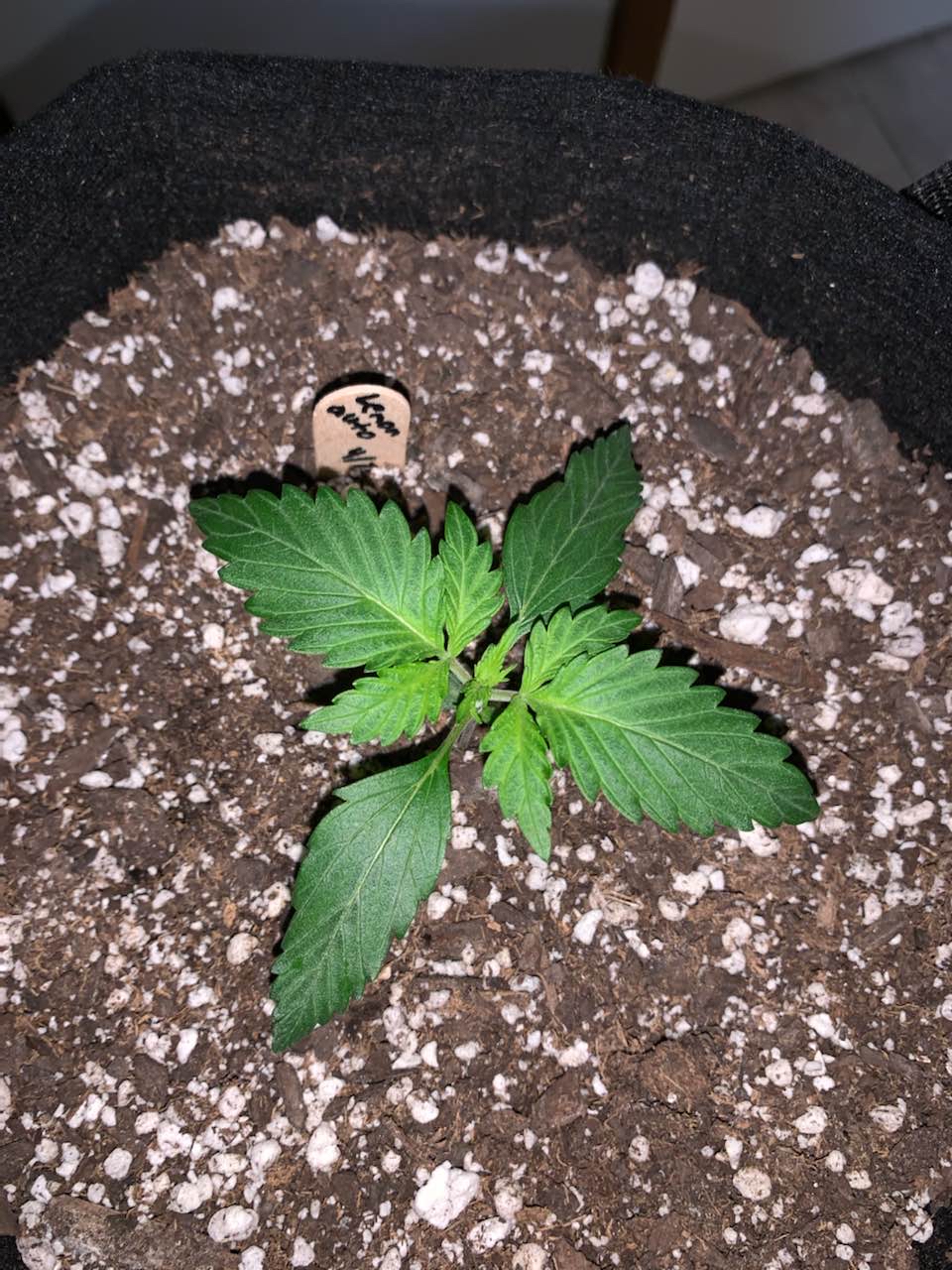 Day 17 in soil. Day time temps about 76 and night time about 67 with humidity between 50-55%. It's seen some good growth but I'm starting to worry it's getting wind burn. I have an exhaust but it doesn't creat any breeze, so I added a small Honeywell fan. Set it to low and pointed it upward toward the wall. It's possible it was still getting too much air flow. If you look at the last 9 pictures, you can see the leaves look a little crooked. From what I'm reading, it sounds like wind burn, because I'm for sure not overwatering. I haven't watered for just under a week and didn't until today with a light feeding. I added 1/2 tsp of big bloom and 1/2 tsp of grow big diluted in 1 gallon of water. Gave each plant 600ml. Lights have been moved down to 18". My main goal is trying to figure out a way to get a light breeze on the plants with my fan using cardboard to angle it different ways. I'm using a indoor camera to monitor how much the plants are moving around. Will update in a day or two on progress after feeding and if the plants get ant worse.
2 years ago
11 days in soil. I have been only misting the soil the past 4 days since last watering. The soil is still moist 1"-2" deep, but will water today about 1/3 of a liter for each plant. Growth is relatively slow, but still moving. Temp highs are about 76 during day and 65 at night, with humidity between 55%-65%. Lights are being kept 20" from plants still. Slight concern is that Alaskan auto #2's leaves are slightly cupped. It might not mean anything, but I'll be keeping a close eye on it. Haven't watered the plants enough to get any run off to test yet, but hopefully will today after watering. Ph 6.5 water has been constant during watering and I don't think the soil will change it much. Will update about soil ph when I can test it.
2 years ago
Day 7 in soil! Temps are keeping about the same and lowered the light to 18 inches above the plant. I forgot to mention, I'm using seedling heating pads under the water proof tray that came with the tent. My house is still a little colder this time of year and they help keep my lights on temps to about 72-75. The plants are about 2 inches tall now and I can see the second set of leaves starting to grow, as you can see in the close ups. I like how the lemon auto is looking the best. Alaskan auto #2's second set of leaves looks a little strange, but this is my first grow, so everything worries me. I'm pretty paranoid about over watering so I've been giving them about 1/3 of a liter of ph 6.5 water every other day. Along with misting the soil and plant tops every day with ph 6.5 water, the soil seems moist about 1"-2" deep 🤷🏻‍♂️ Things are going good and will probably water them again tomorrow.
2 years ago
Day 5 in soil. Plants have grown to just over 1 inch in height. Second set of leaves are to grow! All three plants look healthy. Set up heating pad underneath the water tray in the tent to help keep temps a little higher. It seems to have increased average temps about 4-5 degrees. Watered the babies today with about 400ml per plant of ph 6.5 water, aprox 70 degrees. Lights on temps 72-74 degrees with 65-70% humidity. Lights off 60-65 degrees, 65-70% humidity.
2 years ago
Day two of being in soil after germination. Light schedule 18/6 (on 6pm-12pm) and approximately 24" from plant tops. Temps at 75-78 lights on and 65-68 lights off. Humidity between 70-75%. Not much growth considering they've only been in soil 2 days. The two Alaskan purples germinated with root shoots fairly long, but the lemon auto was smaller. I was able to plant the Alaskan sprouts into the soil with green heads above soil. Alaskan 1 had the longest root shoot and seems to be more lopsided than #2. I fear #1 is undergoing some stress early on, but we'll see! Watered the 3 gal pots with 2 liters of ph 6-6.5 water. Just enough to saturate the soil. I plan on watering the plants with closer to 1 liter per pot after week 1 or 2.
2 years ago
Germination ended, planting seeds in pots. Pots are filled with 75% ffof and 25% perlite in 3 gallon fabric pots (mixed by hand in pot). Placed germinated seeds about 1 inch into soil and lightly covered. Watered lightly around planting site with ph 6.5 water (aprox 1/2 liter between the three pots). Will be checking on plants periodically between now and lights off too spray with 6.5 ph water to prevent the soil from drying out.
2 years ago
Germination begins! Placed 2 Alaskan purple and 1 lemon auto seeds in layers of damp paper towels and in Tupperware. Placed on top of aero garden light for warmth, wrapped in towel. Will check daily. (April 4, 2021 @1030 pm
2 years ago