med-is-life
First Grow
First Grow
Two sog in 5 gallon fabric pots with sohum soil and biobizz light mix
50 Shades of Grape - Mephisto
Chopped the 2nd one and jarred the first, got 4.25 oz
a year ago
Chopped the biggest bug and watered the rest of the plant, I'm thinking a few days longer for the rest of it
a year ago
Chopped this down and kept the second going.
a year ago
Watered 1-4-0-8, gonna chop the one in the 2nd pic in a few days. Other one might go another week?
a year ago
Watered today 0.5-2-2-2. Taking pictures of tricomes is a bitch
a year ago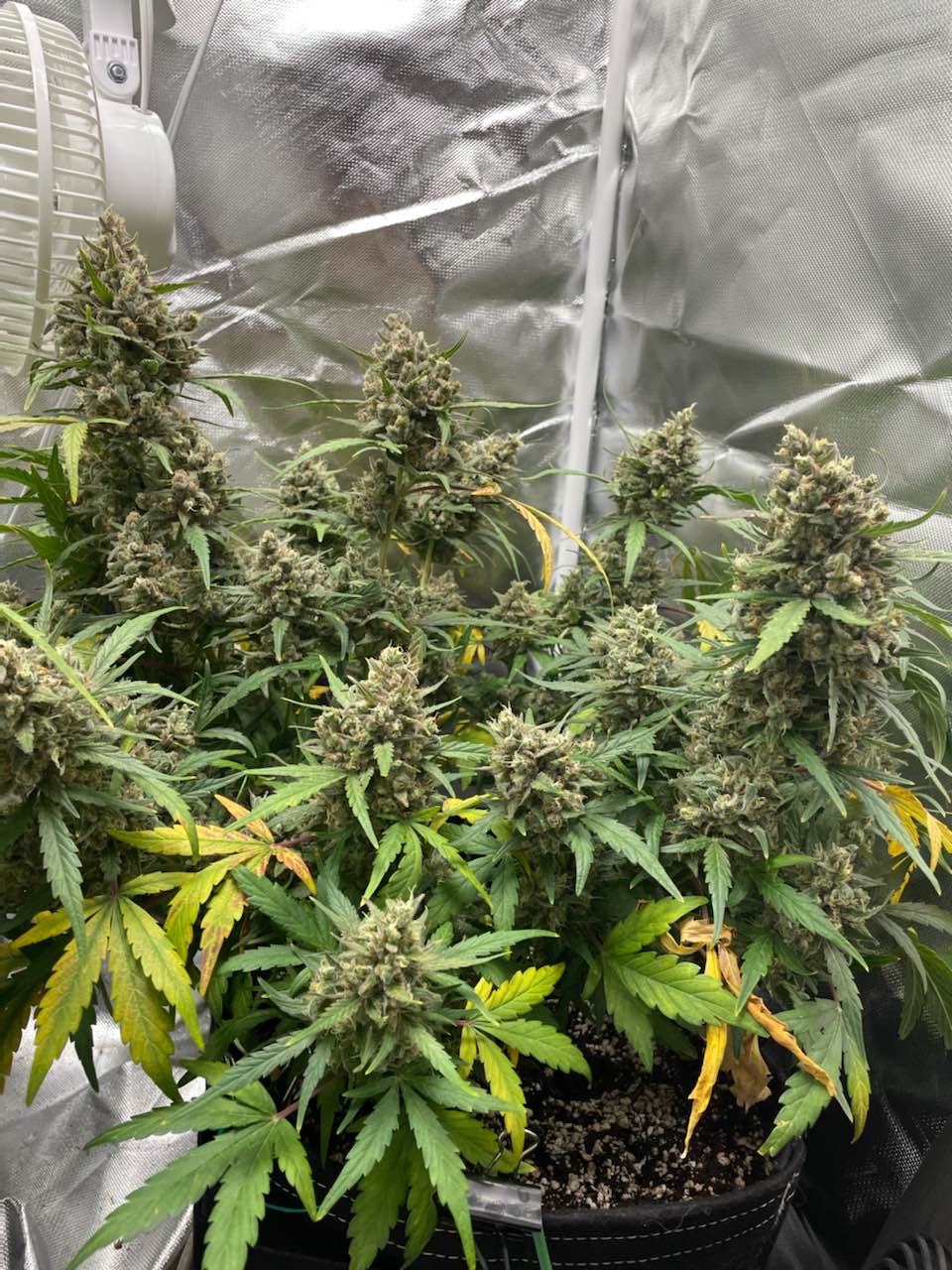 Watered 2-2-2-2, still packing on weight with no amber tricomes
a year ago
Watered 2-2-2-3, leaves are turning yellow and dying at the bottom. Would be more concerned but the buds look great, just trying to survive a few more weeks till harvest
a year ago
Getting thick, watered 2-2-2-3. Not sure if I'm getting a deficiency or fade. Likely a little of both lol
a year ago
Caliban Fade I think. Looking good. Top leaves are green. Bottom leaves will fade faster. 👍👍
med-is-life I didn't know fade started in the bottom leafs, thanks!
Caliban The plant uses energy from older leaves to support newer growth. Similar to mobile nutrients deficiency like N-P-K which often start in older foliage.
Watered yesterday and 4 days prior, 2-2-1.5-3. Also trimmed some fan leaves blocking bud sites
a year ago
Watered 2-2.5-1.5-4, also noticed the bottom leaves are still yellowing… i think they're just hungry. This time I fed 1 gallon each instead of 1/2 gallon each. Also measures run off ph of 6.1 and tds 680
a year ago
Watered 2-2-1.5-2-5, looks good. Btw ratio is ml of calmag-micro-grow-bloom
a year ago
Watered with recharge
a year ago
Watered yesterday 1.5 liters each 2-1-2-3 (I think). Finally realized the yellow tips are a potassium deficiency! I never checked the leaves at the base of the stem. When I did they were all bright yellow and dying. Hopefully I addressed this with the nutes
a year ago
Watered with 1.7 liters, started on nutes 2-2.5-1-3. Reddit said yellow tips were likely light burn
a year ago
Fed 2 liters of water with calmag, pretty sure the yellow spots is light burn. Switching to 20/4 and bringing up the light
a year ago
Noticed like spots with brownish tips, thinking Calcium deficiency but I'm not sure. Will add calmag again on next water
a year ago
med-is-life With the purple stems I'm guessing it's Mg deficiency. Will add extra cal mag on next watering
Preflower started. Fed 1.5 liters of water with CalMag, thinking the 2nd plant is starting to show calcium deficiency. Continued LST, looking like a lot of nice bud sites. Also raised the light to induce a little more stretch
a year ago
Fed 1.5 liters, continued to LST and started recharge 1/8 tsp. Looks like preflower started, it's moving quick
a year ago
Fed with 800ml of water and started LST yesterday. Maybe I should wait a little longer to start?
a year ago
Picture is from yesterday, fed 600 ml of water
a year ago
Increased the water to 500ml, growing at a good pace
a year ago
Looking good, plants watered today
a year ago
Second plant, she's a little bigger
a year ago