grower222333
Grizzly Crinkle Auto - 15 GAL
September 2021
3x3 tent, SF2000 light all to itself. Canna Coco nutrient line
3Bears OG x Sour Crinkle (illuminato)
Looking at a possible harvest tomorrow on day 80, otherwise Saturday, that mold gave me a scare so I'm trying to get her down. No mold in any other buds that I can see and you'd expect it to have grown by now so looks like I'm good
a year ago
Had to remove a very nice top cola with mold 2 days ago but it looks like it was just that branch, harvest this weekend.
a year ago
lettuce97 i was gunna say this is pure moldy paradise lol
grower222333 Yeah I'm not really sure how that bud got mold, it was like right in the middle and wasn't short or stuck in the foliage or anything. Have 3 fans and an AC infinity T6 so I don't know that I could do much more lol
Fat buds, glassy trichs
a year ago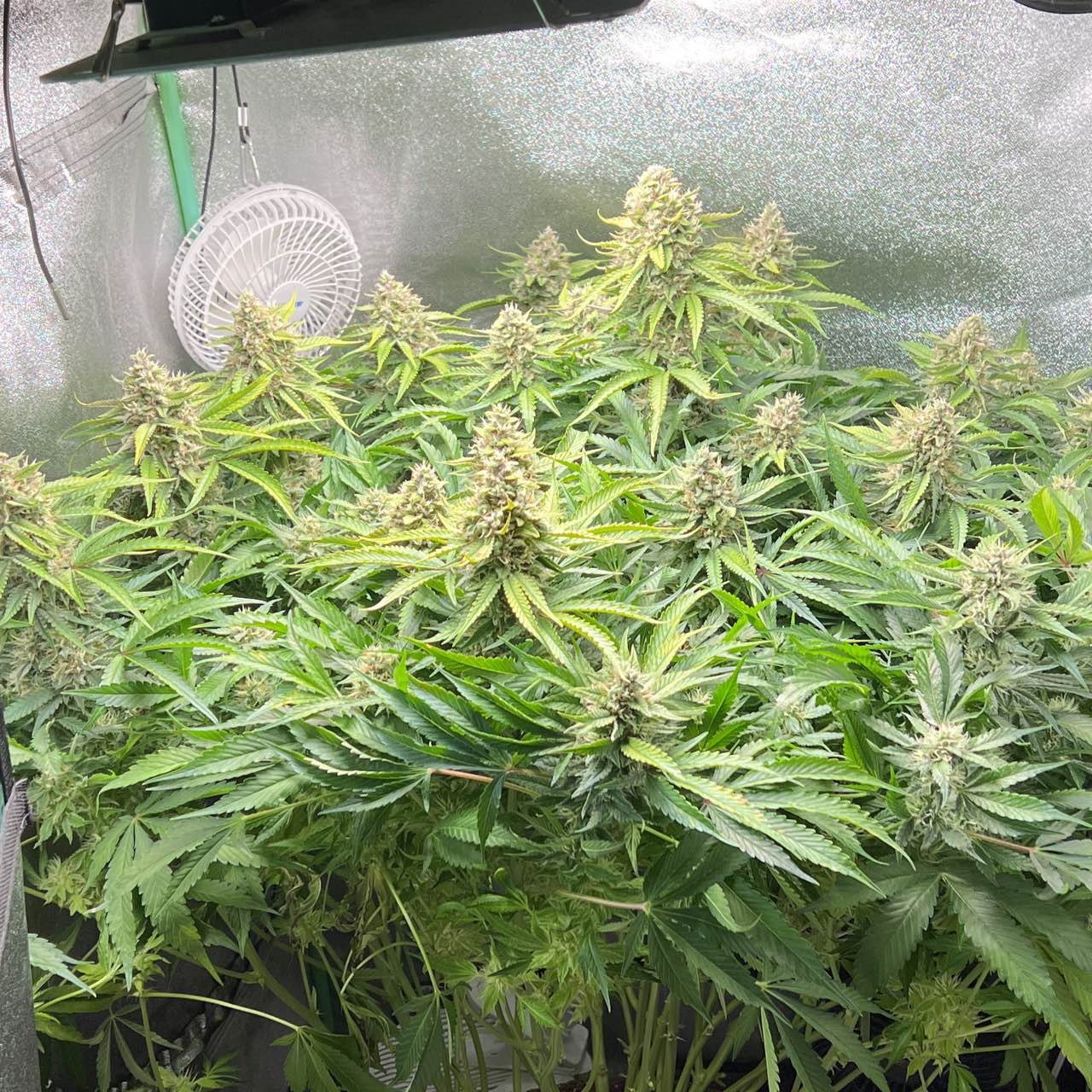 2 weeks about left probably, gotta grab a new microscope to check (trich pics next post)
a year ago
Looking fantastic
a year ago
Lookin good, had some concerns about root rot but not worried anymore
a year ago
GanjaMon You should rename yourself "The Bush Doctor" that's really nice 👍
Looking really good for its age, just doing leaf tucking and watering at this point.
a year ago
tbubz I just talked to two separate professionals on light distance. 700 par is your # but if you're using a pro led $1000 plus take the fixture to the top of ceiling in veg and turn it 3/4 power and leave it until flower. Download app for par chk.
grower222333 Mind sharing those professionals? I haven't measured my tent but I'm familiar with par being best in the range of 400-700, so you'd assume the best to be at 550, what were your professionals reasons for going to the high end of the established scale?
The jungle before/after clearing
a year ago
View 1 additional comment
Starting to throw out pistles
a year ago
Beyond impressed with her
a year ago
grower222333 Roots all along the bottom of the pot, very good indication of potential
Getting to about 4 feet tall
a year ago
mephhead Lol @ that base. Incredible growth, well done!
View 1 additional comment
grower222333 I wanna say she had a 2 day germination period. Scientifically speaking a plant starts when it pops out of the ground but for this plant it would be 33 days from seed
View 1 additional comment
Starting to stretch
a year ago
Starting to drink a lot of water, roots really poking out the bottom, had some concerns roots wouldn't grow throughout the container but I watered heavily to encourage it early .
a year ago
Missed about 3 days, lookin fantastic as usual.
a year ago
Starting to cover the pot
a year ago
Missed another day
a year ago
Skipped a day, LST has turned back towards the light but still hasn't reached the canopy yet so it still looks a little jumbled
a year ago
Before first day of LST
a year ago
Discontinuing cal mag
a year ago
cali916treez Keep watering with cal mag pretty much it's whole life…
Very excited about this one
a year ago
Looking very happy
a year ago
Trying to keep it upright
a year ago
Exploding in growth
a year ago
Some curling on first set of true leaves, lightly due to heat stress. Moved light back ~2 inches and turned up intensity , turned main fan on to 1.
a year ago
Very promising seed, came out of ground 1 day after being planted.
a year ago