Death Star outdoor
Summer 2020
One Death Star clone, first time it's been grown outside.
Chopped down my plant two weeks ago due to cold weather. It probably could have stayed for another week or so but after losing 3/4+ of the plant, I wanted to at least save some of it. Trimming and curing for the next month then I'll report back how the smoke was.
3 years ago
Tricomes are starting for cloud up a bit. The water only flush has started. 2 week countdown.
3 years ago
Just a cool morning picture
3 years ago
Lost about 3/4 of my 1 plant because I went on vacation and had no one to water it. Plus my main stem cracked and just rotted the rest. Still have this part going and is starting to stack up very nice. Little cold at night but doesn't seam to have much effect on her. Few more weeks. 🤞🏻 Hang in there!!!!!
3 years ago
Had a loss of about 1/3 due to vacation and had no one to water. Other than that the remaining plant is doing pretty good. It has tilted forward and started growing on an angle. Nurturants have been the same. Feeding every other water. Been using 5 gallons of water twice a day.
3 years ago
Built the support structure and started pulling leaves and tying off branches. Been a little heavy on nutes but also flushing with straight water.
3 years ago
The back side turned a little yellow, added some nutrients and hope it works itself out. Trimmed a little more and started building the fencing and grid for the tops to rest on and not fall over.
3 years ago
Trimmed the underneath and got rid of some of the lower branches to help with air circulation. Fed it some "Tea" from the hydroponics store and 5 gallons of hydroponic water change. Going into the store this week to buy some "budding food"
3 years ago
Very thick, this week I will be thinning out the inside and lower 3rd of the plant. Adding "Tea Nutes" from the hydro store.
3 years ago
Trimmed up some of the under branches and clipped the dead leaves on the inside. Super Cropping has done its trick and now have 2-4 new points on each stalk. With heavy rain a few days ago, can't figure out if I'm watering too much or not.
3 years ago
Added a handful of pure light and manure, sprayed for bugs again on top and underneath, did some super-cropping on most of the colas. Trimmed up the underneath to allow a little more air in. Temp has been in the 90's+ for two weeks and no rain. Been watering morning and night.
3 years ago
30 inches tall, just water the past week, going to start turning the branches to keep a low profile along the fence.
3 years ago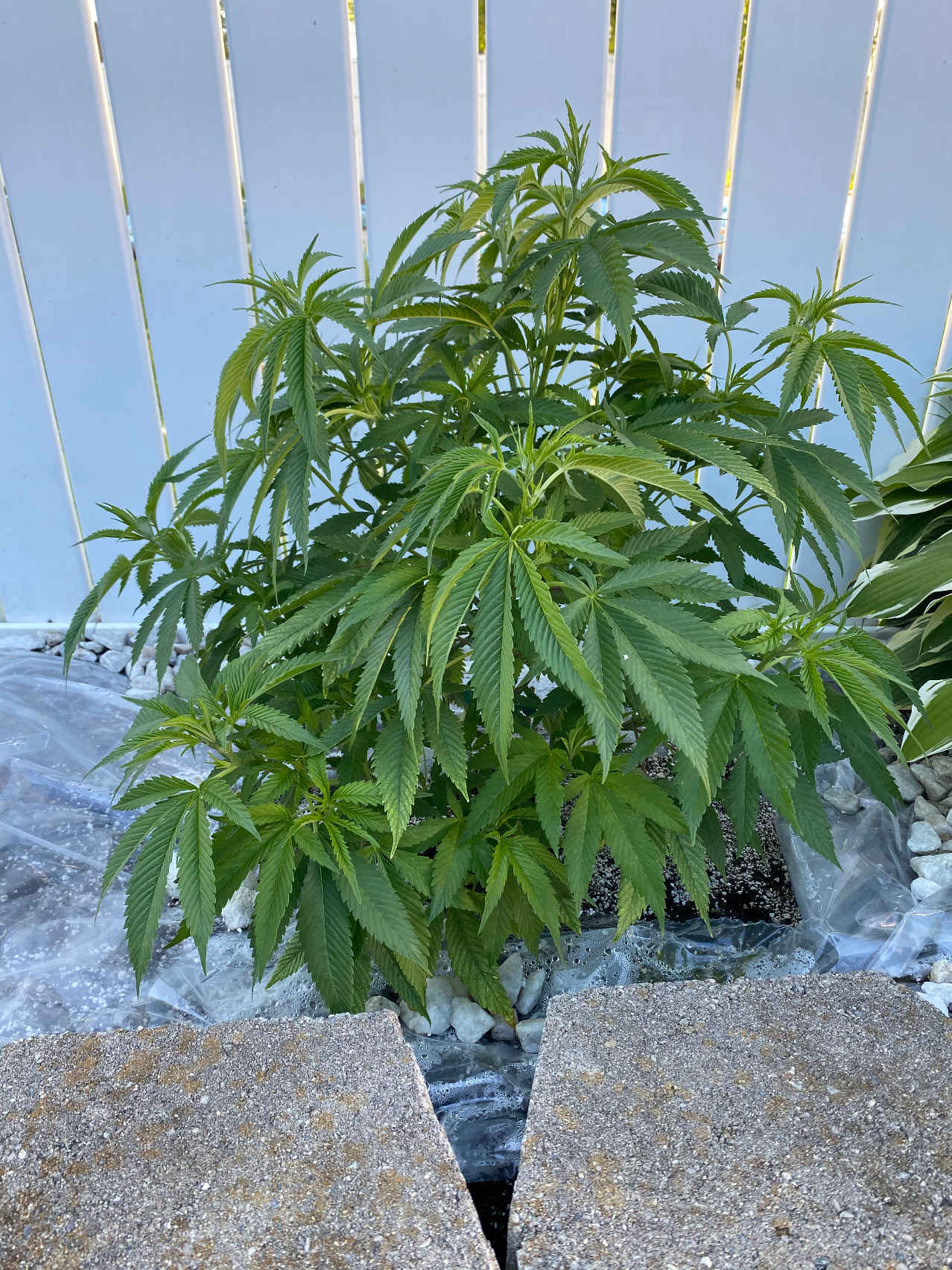 Growing very nice. Nutrition feeding once a week on Tuesdays. Still watering 2 gallons of water per day.
3 years ago
1 gallon of nutrients was added at 1:30 on June 2nd 2020
3 years ago
First outdoor clone is 15" tall. Made it through May 30'th cold night.
3 years ago
OptimusPrime80 Soil is Great Lakes Water Only Blue bag. Added miracle grow Perlite and 2 shovels of Earthgrow Organic Humus and Manure.
OptimusPrime80 Two pints of hydroponic plant food was added today at 1:30pm June 2nd 2020