Purple Punch Auto: MH SP3000, FFOF/FFLW mix
First grow!
After years of dreaming, I'm doing it. Stealth because I'm in a prohibition state. This seed was a freebie: still waiting for my two Fast Buds Northern Lights to pop. 🤞
Violet seems to be doing pretty well. Still bushing out big time. Her leaves look better. Still a bit of clawing, but most of the new leaves look pretty good I think. No hurry for pre-flower to start.
2 years ago
Noticed for the first time today that she's showing sex. Pre-flowering soon I expect.
2 years ago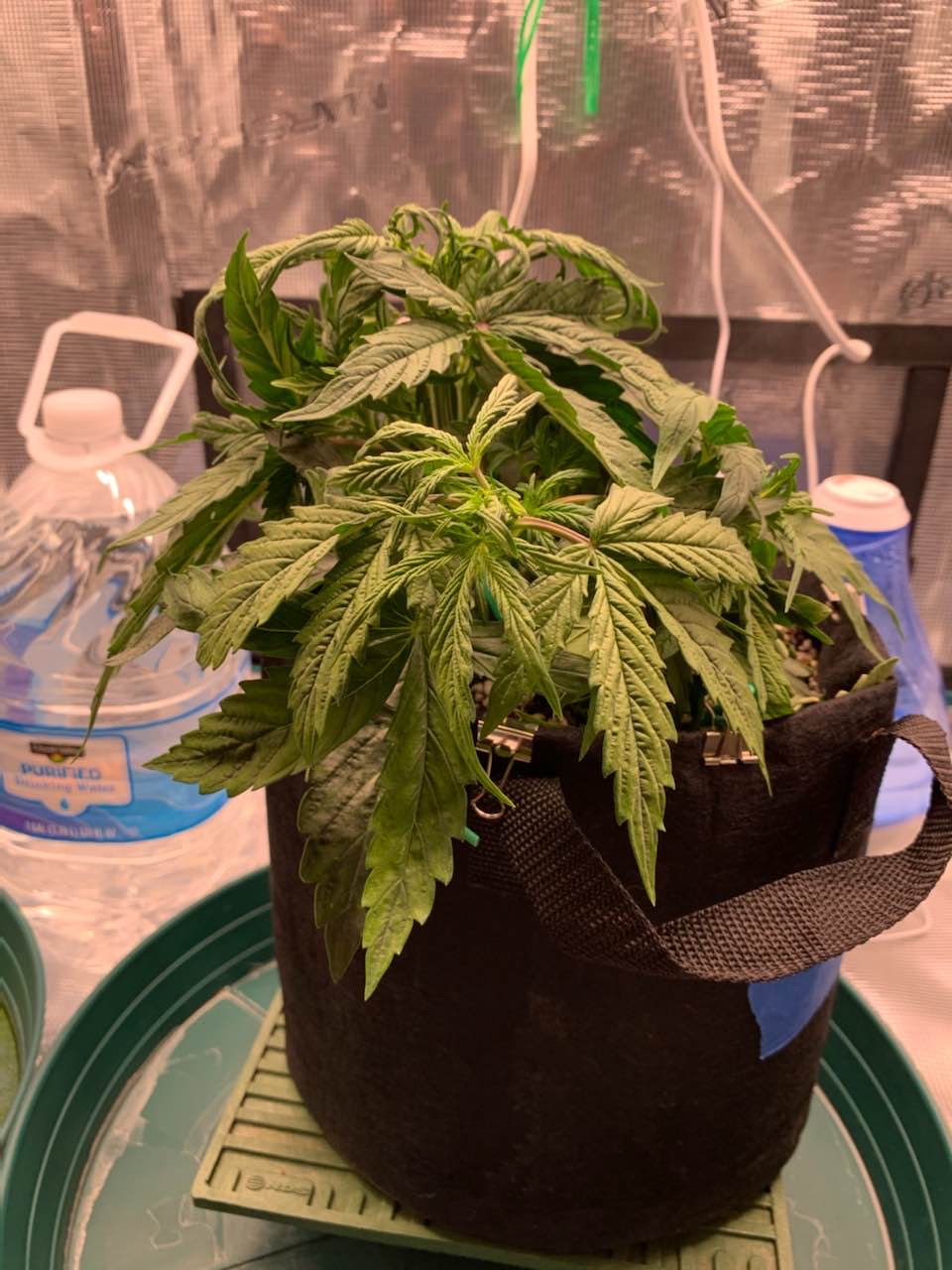 💦 6.8 🐠 💩 3 mg - yucca: Violet is looking sad after I opened her up a bit more. I think the clawing I'm getting is from light stress. I finally got good PH runoff numbers today: 6.4. Perfect, really. PPM out is down to 635, bit it was over 1100 a few days ago and this has been going on for a bit. I really need to start reading more about nutes and deciding what I'm going to do. She's three weeks in and I love her so.
2 years ago
sparkie Best advice is let that soil really dry out between the waterings, good luck!
lemonq I agree with sparkle, she looks a bit drowned mate- stick a finger 2 knuckles deep into the soil before her next feed, if there's any moisture at all, dont feed her yet, and wait a bit longer. She should perk up, good luck!
indicalla Thanks, sparkle and lemonq. She's had her issues, but I just don't see how overwatering her is one of them. If anything, I've been afraid I've underwatered her. She's been light and dry every time I've watered her. She seems to have a soil PH buffer issue and has been suffering from nitrogen toxicity as a result, causing her to droop a bit and claw on her tips. Also I think I had the light too strong on her. Newb problems, but I'm learning.
Shot her away from the bright lights of her SP3000 to show her actual color. The lights blow her out on my iPhone camera. Still some issues, but still growing. Pretty bushy for a 19-day-old I think.
2 years ago
💦 6.8 spring. Pinch of yucca powder. Man, this baby girl ain't fuckin' playin'. I can barely keep up with her growth. She's a challenge to open up because she's so stout, but I'm tucking fan leaves and getting those future bud sites the light they crave. Will open her as much as I can when I see opportunities. I'll probably need to defoliate this plant some. Her main stem is really thickening. I've got a bit more air blowing on her from a clip on fan to help her strengthen up even more. I fucking love growing cannabis, seeing this for the first time is almost religious.
2 years ago
I think this big girl is doing great. A little twisting on the ends of her we leaves, and I'll keep an eye on that. She's getting a drink in the morning, with yucca root for the first time. She's so compact, training has been minimal so far. I tucked a few leaves today, and bent the main stem just a bit more.
2 years ago
Started LST. Broke one of her branches because of course I did. I was too aggressive. It broke right by the stem so I can't tape it. We'll see how she responds.
2 years ago
indicalla It's an auto, and my first grow, so I'm trying to keep it simple! You know, by breaking it and all. 😂
So cool how quickly the plant rights itself after getting tied down.
2 years ago
Packing on more leaves, but something is amiss. Maybe it was just the lights, which I've adjusted, but I feel I might also be fighting against my "hot" Fox Farms Ocean Forest mix. It's probably 75% FFOF, 25% Light Warrior, and I think it's still just too hot. Or I'm just a newb and don't know what I'm doing. That could be it too. Tomorrow: LST begins.
2 years ago
This little girl is growing like a weed. So many leaves forming even before her two-week birthday.
2 years ago
She's back on track after her 6.4 watering yesterday. She'll get 6.5 next time. Her early leaves are still showing the signs of her apparent PH problem, but the new leaves look good and she grew a ton overnight. She's working on her first five-fingered leaves, she's growing four new leaves from her first node, and her fourth node is starting to form. Under the SP3000 at 75% and is about 15" from it. I would have planned to turn her up to 100% and moved the light to 22" soon, but I'll have to wait until her little sisters a bigger and stronger.
2 years ago
bud Bundy Hey I have the same issue with my sweet tooth Barney's farm auto and one of my photos. You said it's a ph problem? Cause I've tried everything I have and it's still happening.what should I do?
indicalla Hey, Bud. Classic TV character. I had started watering her with just distilled water, ph 6.2, but then when she started having problems I tested her runoff and it was like 5.2 or something. I think phosphorous and/or calcium were getting locked out as she started to veg because of her low PH. I'm a total newb, though, so I may be wrong. I really shouldn't be having PH problems in organic soil. I'm just trying to make sure I get the PH of the water right and hope for the best.
She's taken a turn in the wrong direction. I think it's most likely that the soil PH is too low, or that I'm under watering. Or, probably, both. Today I mixed dechlorinated tap water and distilled water (she had only had distilled before) and PHed it to 6.5 and watered her. Initially the runoff measured 3.2 PH! It settled at 5.8, and I want that up in the mid 6s. It had been four days since her last watering, and she's in soil in a three-gallon pot. I probably needed to water her yesterday. Hopefully she looks better in a while. My first challenge, but I'm up for it and it won't be the last!
2 years ago
Another day and the first fingers are really forming. Also another set of leaves has emerged. She'll really start picking up steam now I think. I dropped Fast Buds Northern Lights seeds in my other two pots this morning after soaking them overnight. If either pot has two seedlings emerge, I'll have to make a decision. Wouldn't suck to end up with three strains this grow. I found an ant in my tent this morning. First intruder. :/ Turned the dimmer up about 5%, to about 55%.
2 years ago
indicalla So if the first node is the first set of serrated leaves, as seems to be the conventional wisdom, Violet is working on her third node. One more and I'll consider her out of the seedling stage and into vegetative growth. At that point I'll have to make decisions on lighting, since I believe (hope) I'll have two other plants in early seedling stage at that point.
The fingers in her first fan leaves are starting to form. I've checked out photos of other autos on Day 8 and I feel like I'm (she's) doing fine so far. Today I moved her to the center position of my 2x4, which should have the effect of turning the lights up just a bit, as PAR output is strongest in the center. My other two seeds have still not germed, and this is the eighth day they've been in the soil. I think I may give them one more day, and if they don't get out of bed, it may be time for me to pull them and start over with my Fast Buds Northern Lights beans.
2 years ago
She got watered today, including her first 3 ml of Fishsh!t. She seems to be handling the additional light well. Still no sign of life from the white widows. They'll have been in the soil for six days as of this evening. Turned the lights up to 50% today. Low end of the range suggested by MH.
2 years ago
Questions this new grower has: Am I under-watering? She was watered to saturation on Saturday. It's Tuesday. I think she'll be dry enough this evening for another watering. Also are my light settings good? My SP3000 is at factory-suggested settings: 30% at about 14". A website I was reading suggests 100% at 36". She's not getting leggy, so I think her light is good.
2 years ago
iGrowCulture Keep the faith...Day 6 was a slow day for me as well. Lead development up next l🌱
heizenberg I'd pick up a light meter app for your phone. These things have some pretty great sensors on them for lights and cameras. Take the guess work out of percentage etc. I'm no pro but my 2¢... I like to avoid saturating the pot until the roots take off and she can drink it up. Usually just straight water as a seedling little bit at a time gradually moving further out with each watering. Not scientific just spending time feeling the plants out. Currently rambling in text after smoking a bowl. Good luck, looks great to me.
indicalla Thanks! I'll check out the light meter now. I'm not really guessing at the lighting, so much as following Mars Hydro's suggestions. I feel good about this Purple Punch so far. My White Widows that don't seem to want to germ, on the other hand....
She's coming along. Another set of leaves for the little beauty.
2 years ago
She got water today.
2 years ago
Isn't she a baby? This little girl popped first. Her name is Violet Beauregard. I'm determined to let her grow without messing with her too much, and to be careful with her environment and watering schedule. Not even considering nutes yet. Maybe after weeks 3 or 4.
2 years ago
heizenberg What kinda nutes are you going to use? Very exciting to watch them grow up.