adambritsch
Durban Poison
First grow
This is my first grow
Topped and a little LST. Increasing the nutrients also from my basic seedling mix.
5 years ago
Adambritsch So, I have some bad news; I just broke my fucking pH meter! I'm not sure what to do now. I have some distilled water and I think I remember the pH be in around seven. I'm gonna try one drop of pH down
Topped yesterday. End it off cutting one of the leaf and stem off. Hope she can bounce back. Started increasing the watering and feeding schedule. Will increase nutrients in about one week
5 years ago
Adambritsch Showing off a couple new upgrades. I'd get cooler stuff but this is what I can afford. Happy growing
Looks like I'm starting to see a growth spurt finally! Transferred her from an LED to an HPS and and ebb and flow set up. And in a bigger tent. I'm pretty sure it's the ebb and flow set up that triggered the growth spurt. I'm pretty sure I was under watering her before especially using clay pebbles. A good learning experience.
5 years ago
Twindad What led light have you been using bro?
Adambritsch It's a Bestva reflector "2000w" 12 channel. It was about $300 from amazon and pulls about 300w.
Adambritsch I don't remember what these things are called but I've been using it to top feed my girls, the problem is that I keep burning little spots on the leaves cause it splashed on them. Is there a smarter way to do this or should I try and stretch out my plants a little? I don't want to go crazy though because I'm limited on height. My tent is 6' but after the buckets and the fans and the lights it's probably like 4' of plant that can grow.
View 4 additional comments
Started a watering cycle for every three hours of pH balanced tapwater. I also cut off the leaves that were showing signs of nutrition burn. Plante seems to look perky again. :)
5 years ago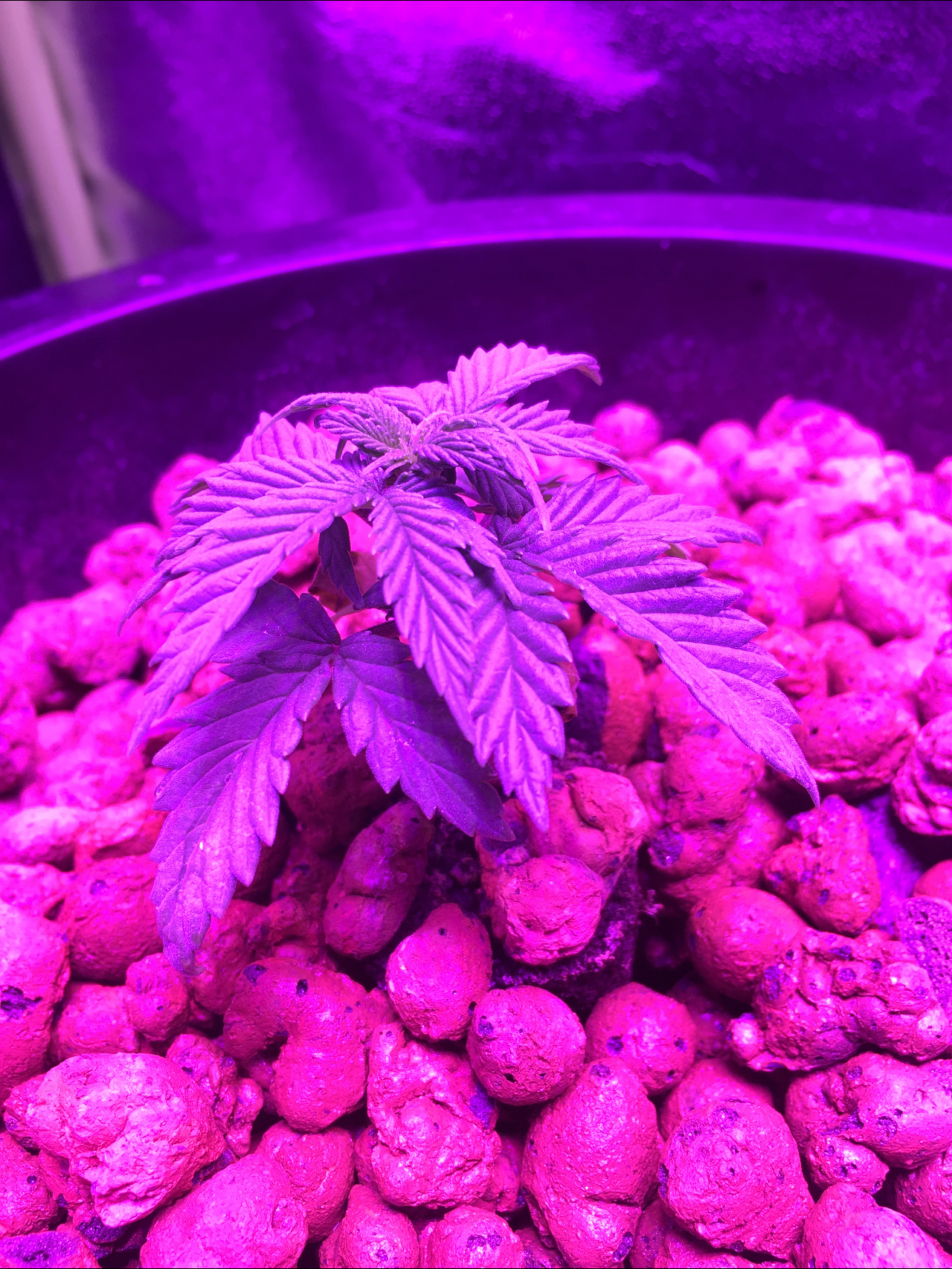 This plant is not happy. I think I gave her too much nutrients early on and I don't know if I'm still seeing after effects from that, or I'm currently feeding her wrong right now. I'm feeding three other plants including a younger cannabis plant and they all seem to be thriving. The humidity was pretty low, about 30% so now I'm keeping the humidity at about 65 and I'm seeing problems still that don't make sense to me.I think I'm seeing signs of overwatering and under watering at the same time. Any advice is appreciated, you're not going to hurt my feelings. I included a bunch of pictures from different angles in today's update.
5 years ago
genghis_quan The droopy leaves make me think you are over watering. Look at my plant, it looked pretty bad this morning from me feeding it too early on in its life yesterday. I think you'll be fine if all the new growth is going good. Just cut off the browning leaves and don't over water it. Try watering every other day
Adambritsch That's what I thought too but it turns out I was under watering. I transferred her to an ebb and flow setup with water every 3 hours during light and she perked right up, even hit a little growth spurt! I'm still top feeding my nutrients tho until I get a hang of this. I also cut the dead leaves off.
Definitely showing signs of nutrition burn. Leaves were drooping earlier this morning but since I raise the humidity they've perked up. I've only been feeding her distilled water for the past couple days.
5 years ago
It looks like I'm starting to see some nutrition burn on the bottom most jagged leaves. The two starter leaves look like they've dried up. Any advice?
5 years ago
Plante is showing signs of nutrient burn on the lowest leaves. I diluted the reservoir with about 5 gallons of tapwater and cut the feeding schedule in half.
5 years ago
Didn't water this guy all day.
5 years ago
Noticed two tiny nodes growing at the base of the first jagged leaves. She is every bit of 3 inches across at the widest point
5 years ago
Measured the second set of jagged leaves today and they were 2 3/4" across! That's about a half inch growth in one day.
5 years ago
First set of jagged leaves as a 2 inch wingspan. The second set which has three fingers has a 2 1/16 inch wingspan.
5 years ago
This is the first day of week three. Picture was taken about one hour after the first feeding of the day.
5 years ago