gonzo1974
Gonzo Surprise
Winter 2019
Started with MG organic and then also MG potting soil both 6 month feed. Also did a mixture of a green bad of potting soil also 6m feed
Trichomes showing
3 years ago
Taller than 6 ft. Starting to show more flowers and the smell is quite strong. Heavy aroma.
3 years ago
Over 6'0 tall and showing signs of flowers
3 years ago
Showing pistels now.
3 years ago
About 3'0 tall
3 years ago
Wonder what it will flavoring it will have. Tried this one with no help. Jus plan old homemade compost.
3 years ago
Lights are in a 24hr cycle. Just started to use the red grow light. That's a wellnis in a 24hr cycle
3 years ago
25" tall. A couple leafs were damaged but seem to be recouping good but slow.
3 years ago
21 inches tall
3 years ago
Main plant is 17" tall
3 years ago
Sunbathing. Still on 24/0 light schedule
3 years ago
Light cycle is now 24/0
3 years ago
On an 18/6 light schedule. Leaves look a lil yellowish.
3 years ago
The plant is 5 1/2" tall. Just spraying plant frequently.
3 years ago
Moved plant to a new pot. She has a lil lean to her going to leave them on the lights for 24hrs. After 34 day move to 18-6 Added 2 1/4 cups of To potting soil along with miracle gro organic again and miracle gro potting soil water control. Also added in some compost. See what kind of results I get. She is showing signs of a female but will wait and see, as I believe it's to early.
3 years ago
Plants have all the lights on them and trying to cover 3 of the plants with sandwich bags, that have the corners of the bags cut for air flow and humidity. Seems to be working. This is the poor mans grow room.
3 years ago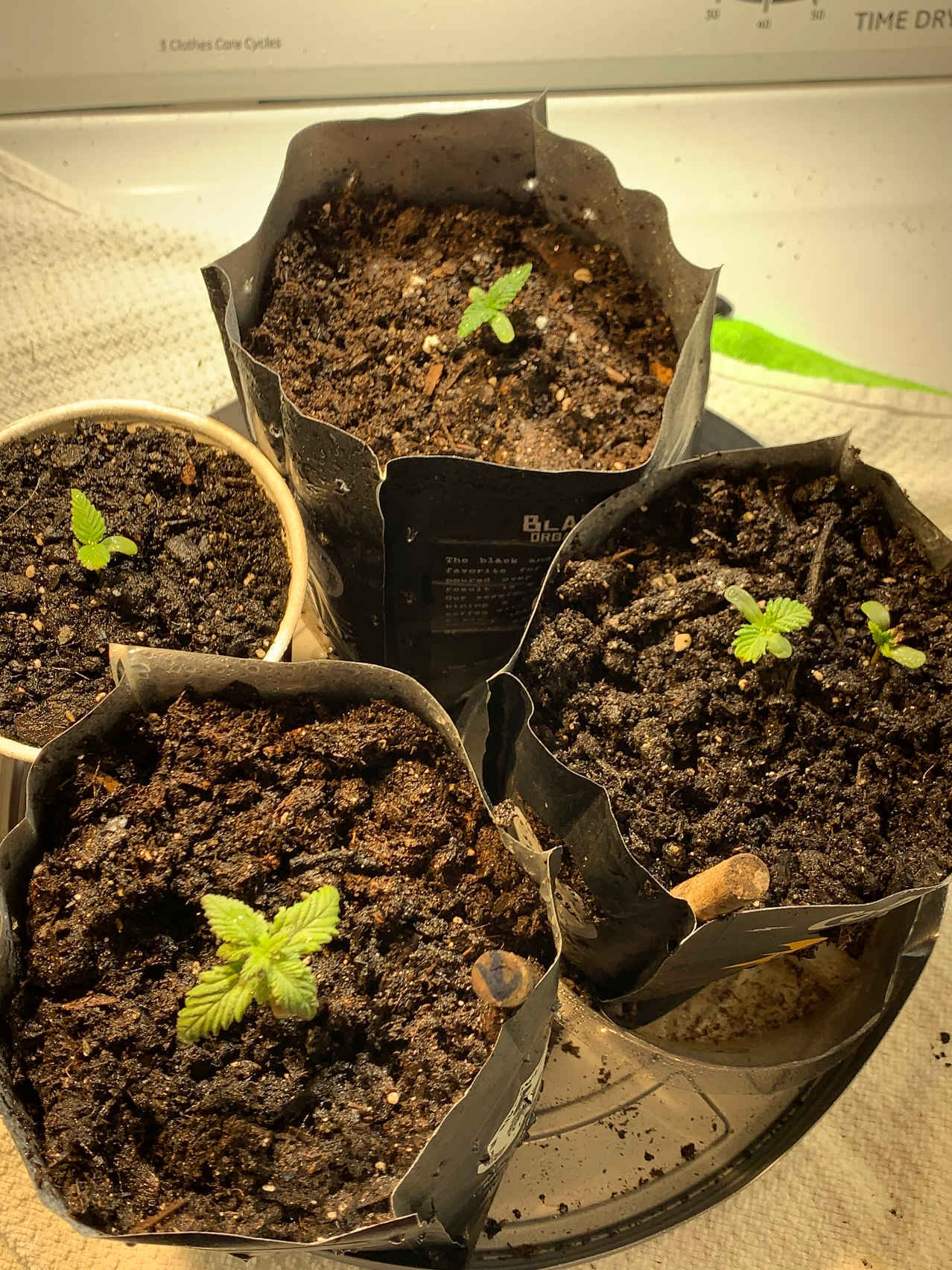 These are the seedlings that made it. One is coming along really well. Showed signs of what I believe to be nute burn but is still trucking along. I will being to practice LST/Bending to being some plant training. All plants look healthy but one looks emerald green almost. Looks the healthiest of all. I used a mix of compost and organic soil
3 years ago
Replanted all them and they
3 years ago
Gonzo1974 Comparison photo. Day 14 compared to Day 26
Back from weekend get away and the plants were on lights 24hrs for the entire time. Gonna give them a lil rest with no light for 8-12 hrs. Left the big plant on the main light so it produces some humidity. Seem dried out and looks a little shabby. Have to transplant the lil guy to a new pot due to the leaves obstructing view.
3 years ago
Gonzo1974 Added more vitamin mix to each plant. Submerged with water left out to Oxidate and mixed with vitamin mixture
This lil one was hiding in the shadows. I transplanted it to another pot and watered. I turned off the light for all the plants and I am giving them 10 hrs sleep/darkness. 😴 💤 🛏
3 years ago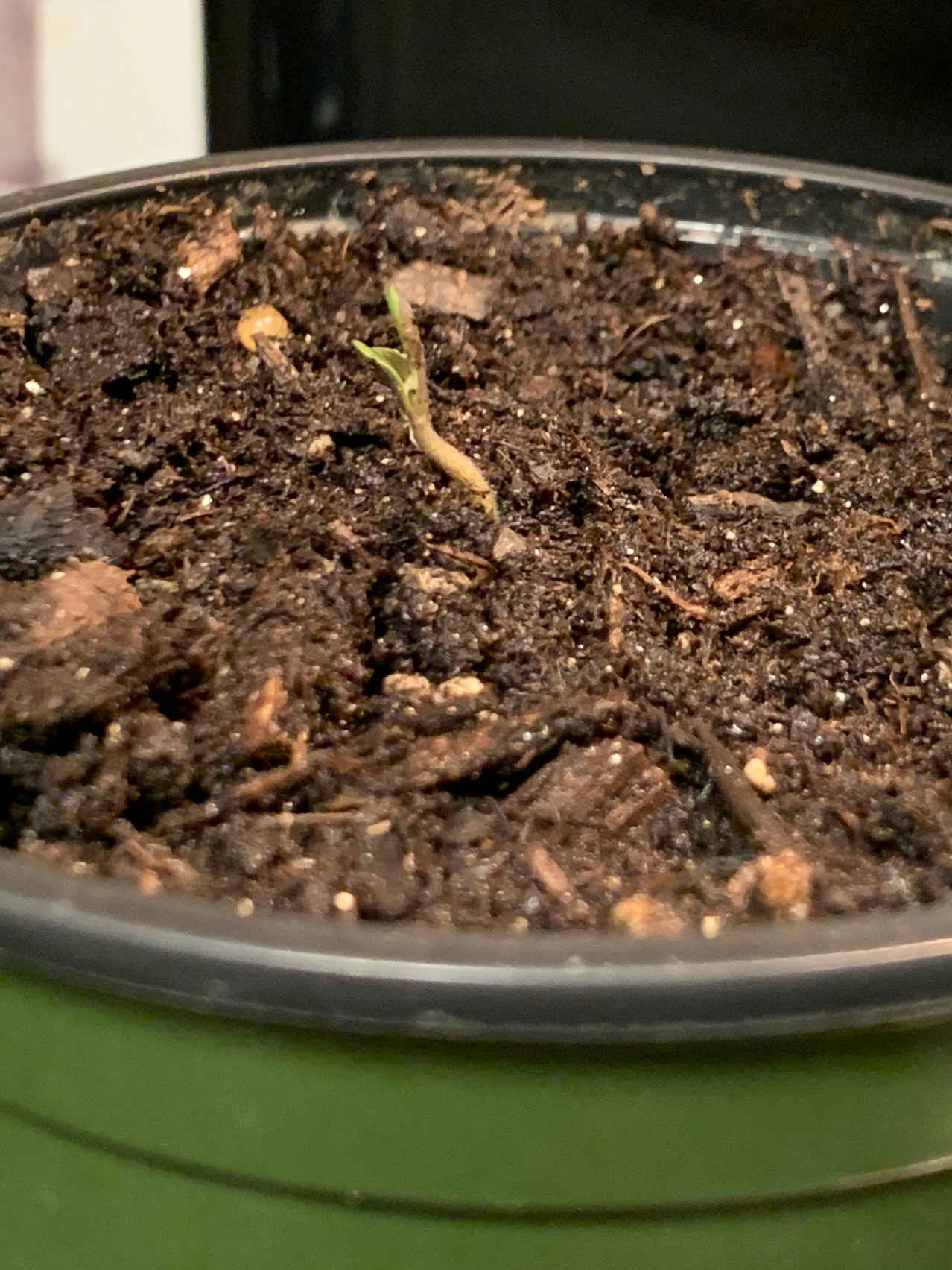 Still blooming along well. Leaving for the weekend leaving lights on 24 for the next 3 days. Filled bottom of pot with 1/4 of vitamin water mixture. See how this pans out 🤨
3 years ago
Gonzo1974 3 more seedlings sprouted and are looking promising. The 1st one that sprouted seems strong, green and healthy. Still just using centrum and natural compost
After the replant it seems the seedling is healthy. Lights are 18/6
3 years ago
Gonzo1974 Cover with a ziploc bag for humidity increase. Seems to have worked out well
Replanted seedling.
3 years ago
Another one has sprouted. Used crutches up centrum women's vitamins to experiment with. Sprinkled a layer over the soil and watered.
3 years ago
Gonzo1974 After day 6 seedling still seems weak. Going to replant in worm casting mixed with soil.
MG organic potting mix. 6m feed
3 years ago