Autumn grow
Autumn 21 with 4 plants
Each plant are in 12L pot under ATS300 leds on 18-6. Tent is 1,2x1,2x1,80. Soil and substrate from plagron
Wedding cake fem & Gorrila Expert auto
CHOP tommorow ! 🤩🥰 i just can't get enough 😅 everything looks good , yellowing leaves , trichomes about 30% amber, 2 weeks flush and brown pistil ! What else ? Can't wait !🤪
10 months ago
CHOP is comming.. one week more flush and i ll chop 🥂 🥳 trichoms are 20% amber at the moment… lets see in a week.. leaves start yellowing it feels good 👍
10 months ago
Use a loupe 🔍 and decide to wait one week more before flush and stop nutrients… lets see what happen bcause she only start now thé yellowing of her leaves.. in her 7th week of flowering only … #adviceme #whatyouthink
10 months ago
mystrain420 _@eaegifts Go by the loupe, fading and colors mean nothing. The fade and colors are what some ppl go for while others finish plants completely green and healthy so I'd advise going by the trichomes only. Once you see the rite amount of milky and amber start your flush if that's what u do. Green=chlorophyll=longer curing to remove chlorophyll 👍🏾👍🏾
Watering every 2 days. First yellowing leaves on first and second stage .. 10 principal buds at all .. soon stop nutrients ?.. i use plagron 100% natural ..any advice? #help #advice
10 months ago
TooManyKidz I love your plants! They look similar to mine but I'm still waiting on pistols to start turning color etc. you are 1-2 weeks ahead of mine by it's look. And yes. Definitely start the flushing process. But only last 2 weeks til harvest and you look like your THERE :)
Come to end. Start with only water next week .. cut in 2 weeks? what you think ? #advice #help
a year ago
RawVibez Beautiful!! Do you have a jewelers loupe? You want to peep those trichomes, when some start becoming amber chop her!!
tom8935 @RawVibes i dont have this :/ any idea of quantity (g)for this plant ?
dadude Without a jeweler's Loupe it'll be very difficult to time your flush and harvest.
View 1 additional comment
Nutrients + water a each watering.. humidity is around 65 i try to correct it .. but seems good !
a year ago
Buds getting bigger :) i continue giving nutrients 2x/3.. stop defoliate now and let her in peace :)
a year ago
tom8935 Tks ! Hope buds will get awesome too !
Defoliate + LST and continue bloom nutrients .. flower apparing and good size for the space i think.. watering every 2 days 2xnutri 1xwater
a year ago
Flowering well starded since a few days.. adding flowering substrate slowly for 1st time … also add wind extracter
a year ago
Only water since 6 days and leaves feel better .. seem start flowering..lets see in a few days
a year ago
Switch to 12:12 and transplanted in bigger pot (les racines avaient remplies tout l'espace du pot de 10L et la plante avait les feuilles petites et tombantes )… waiting for flower .. watering only with water for thé next 2 weeks
a year ago
First leaves are yellowing , i may have to add new soil
a year ago
Pull her down and stop LST
a year ago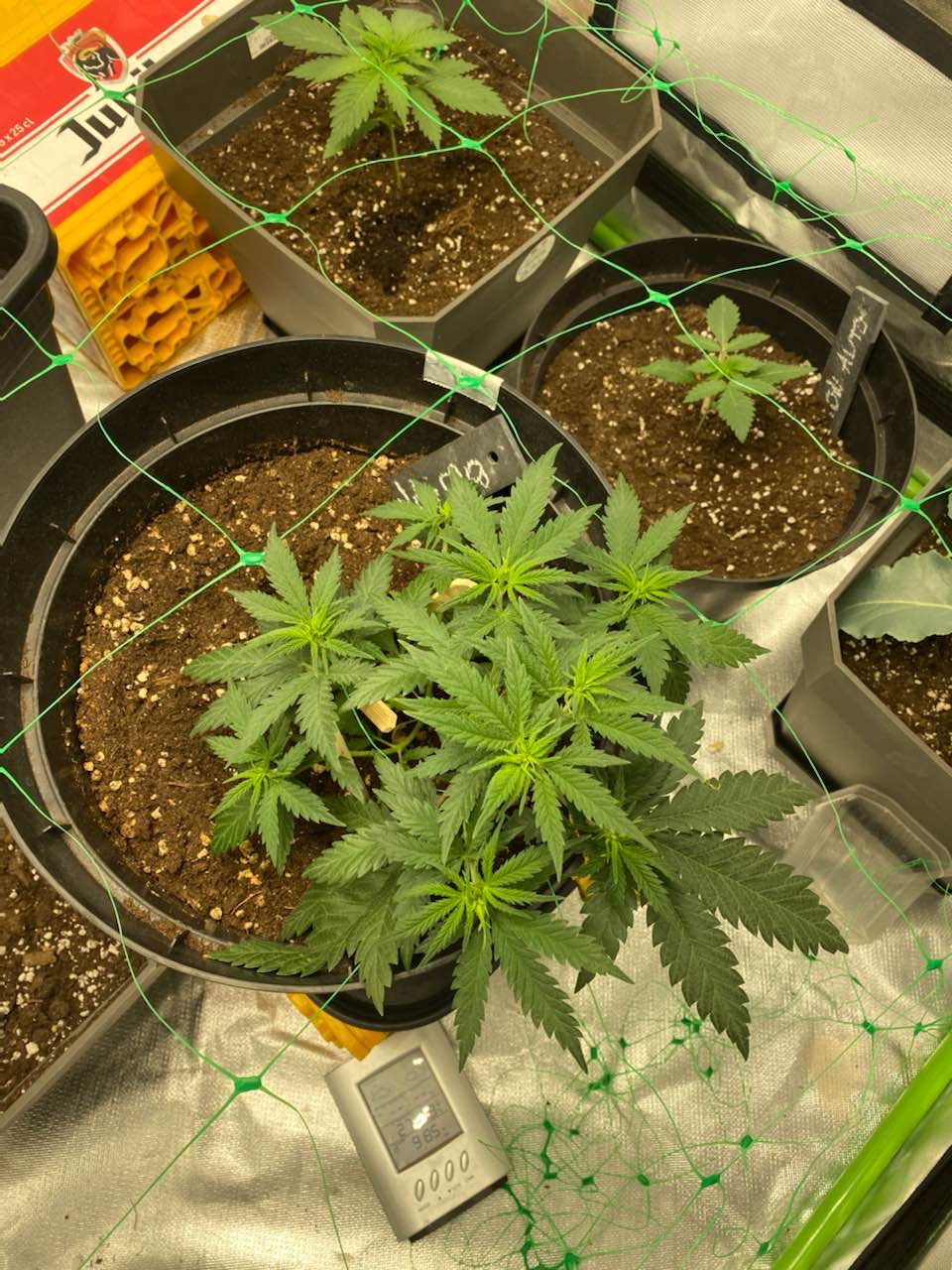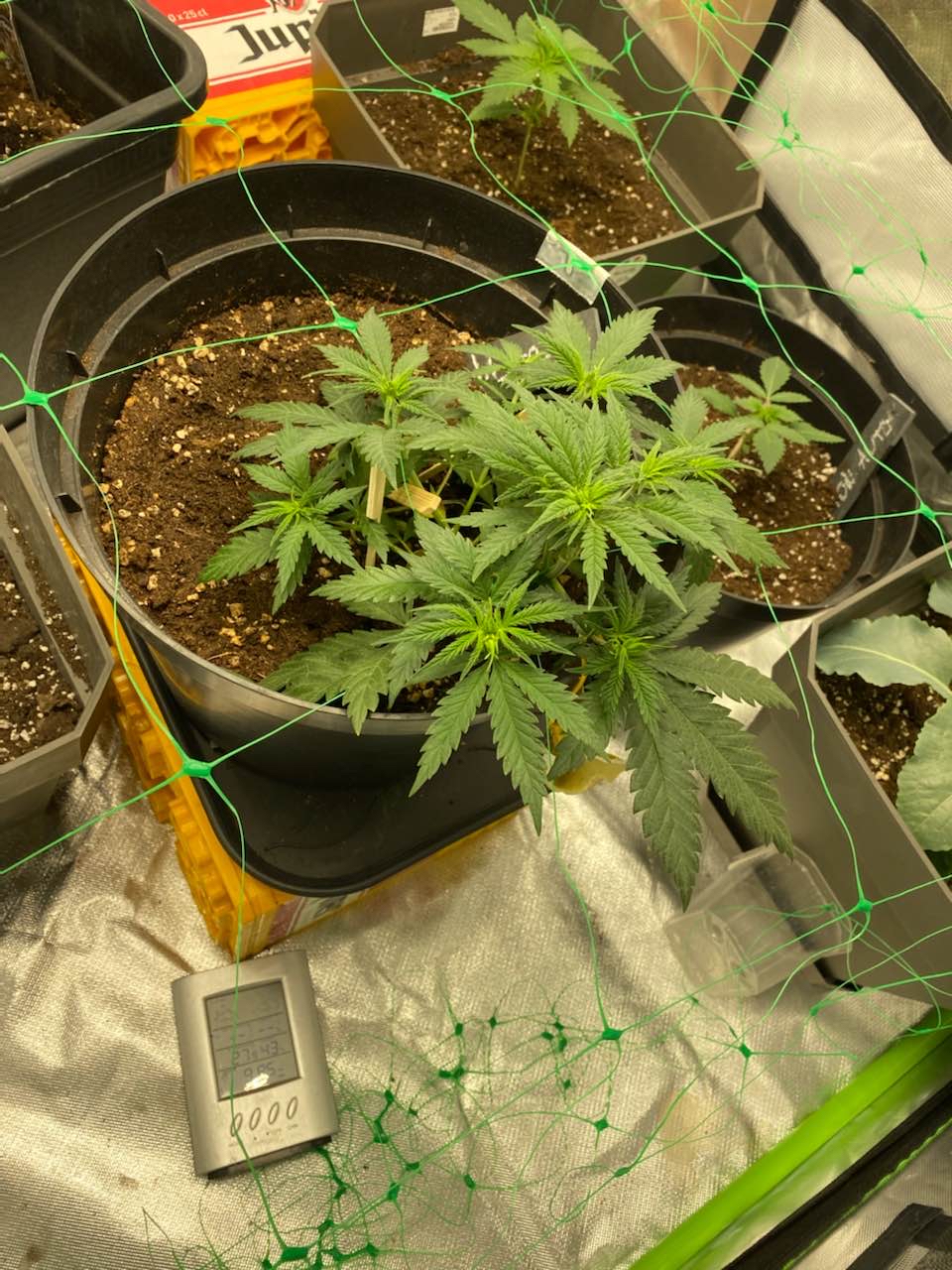 Keep growing.. i adjust substrate traitment : not 1 Time a week but the same quantity in 3 times .. always on LST
a year ago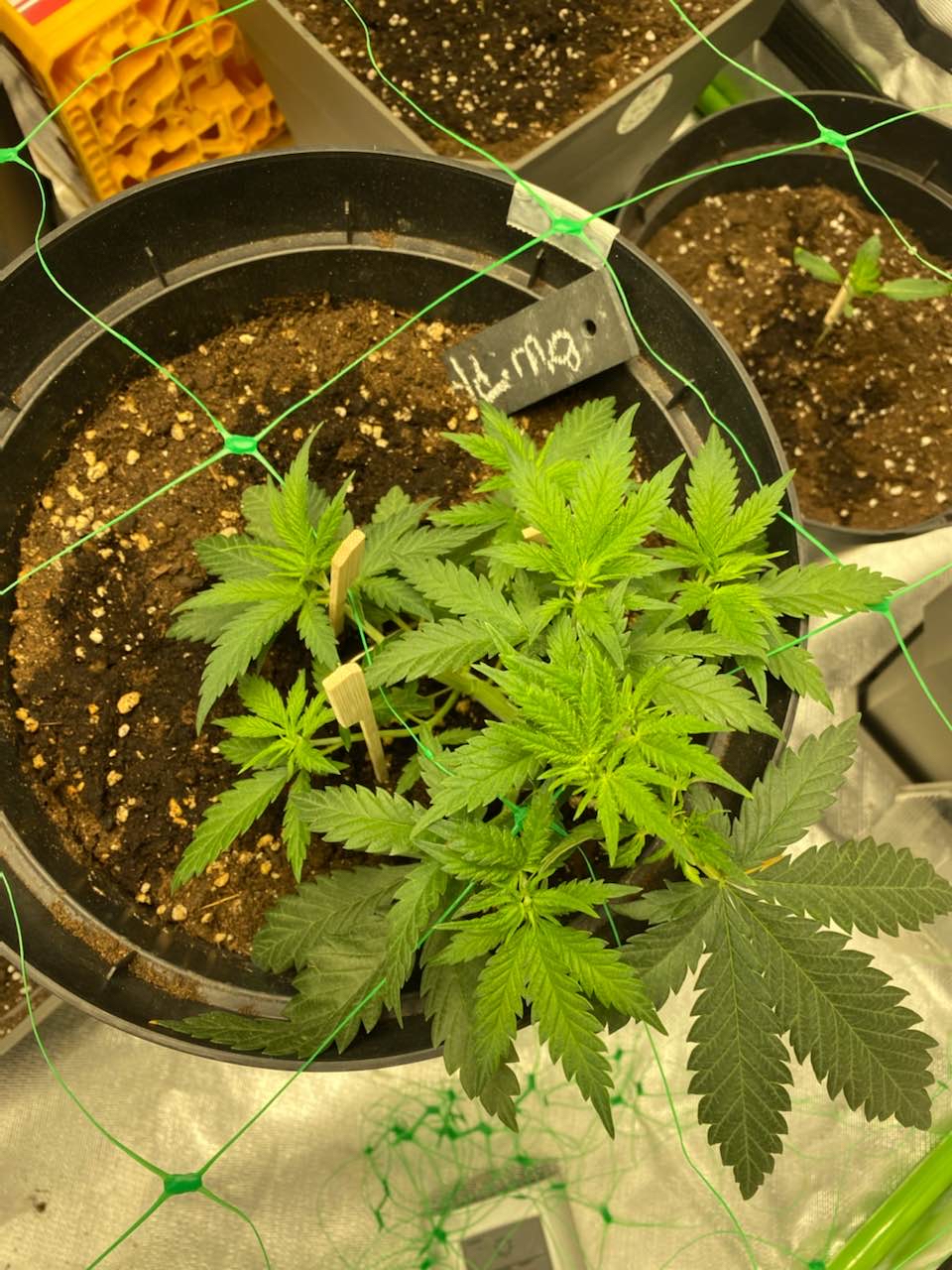 6 Days since topping and LST … not much but feel healty
a year ago
Wedding cake.: Top her and fix on the side of the pot. What do you think ? Feel good?
a year ago
Wedding cake feel good. I lie her on her side for the first Time.
a year ago