Purple kush
Feb2021
5 gallon fabric pot, bottom pro mix, top seedling mix. 1000 watt Mars hydro LED, 2x2 grow tent
bud Bundy Have you used this method before? And if so does the moisture get trapped in the cardboard like a banana in a brown paper bag, is that the concept?
Bonsorelli Yes, this is how I've been doing it. I assume it had the same effect as a brown paper bag. I just hand them until the stems snap and then trim them up a bit and jar it. I'll burp twice a day to bring humidity down and usually in about a week my humidity stabilized at 64% and then I'll put in a boveda pack
Huge buds looking great probably a week or so left. Flushed and ready to go
2 years ago
Huge buds and ugly leaves fed 800 - 1400 came out. Better water next time ph was 6
2 years ago
Fed 1200 - 1480 came out I don't know if it's old age or what but the leaves are getting ugly but the buds are nice and big
2 years ago
Fed 950 of bloom - 1540 came out. I'll water a few times to bring that down to 950 and then fed again. The deficiencies were my fault ! I lost track of what week and didn't switch to bloom on week 5 so these last two weeks I've been giving the wrong supplements. Oops
2 years ago
6ph/880ppm Had some spotting. Appears to be phosphorous deficiency. As a result I watered and checked my run off and sure enough around 7ph. Re watered with 5 ph and it's sitting around 6 ph now.
3 years ago
Fed 800-1100 came out
3 years ago
After some training and trimming she's a little sad but will bounce back. Last feeding was 880 came out 1200 had a watering since.
3 years ago
After a few days of stress from trimming and the "top cropping" looks like she's back on track
3 years ago
Training day. I squeeze and roll the stem until it's soft and squishy. Then I fold it downwards and tie it to the plant itself. In a few days the top branch will grow upwards and all of the other branches will race to be the top cola. As a result I expect a more even canopy and buds that are around the same size. We will see
3 years ago
After some drooping earlier it perked up with a drink. So I decided to do some early defoliation so the important branches get the energy.
3 years ago
Did some trimming and trimmed 4 fan leaves. The plant looks sad now leaves are dropping. I watered today and will let it dry out to determine whether it's over water or under
3 years ago
relapse Definitly not under. You're overwatering bro.
Bonsorelli I don't think so. The symptoms are the same, if you look at the update on the same day after I watered you can see how it perked up. Either way I'll have to keep an eye on it
400 ppm feedings every few days
3 years ago
Fed 550 ppm. This plant is growing very fast.
3 years ago
First feeding/550ppm/6.8ph
3 years ago
Spray twice a day
3 years ago
So far so good
3 years ago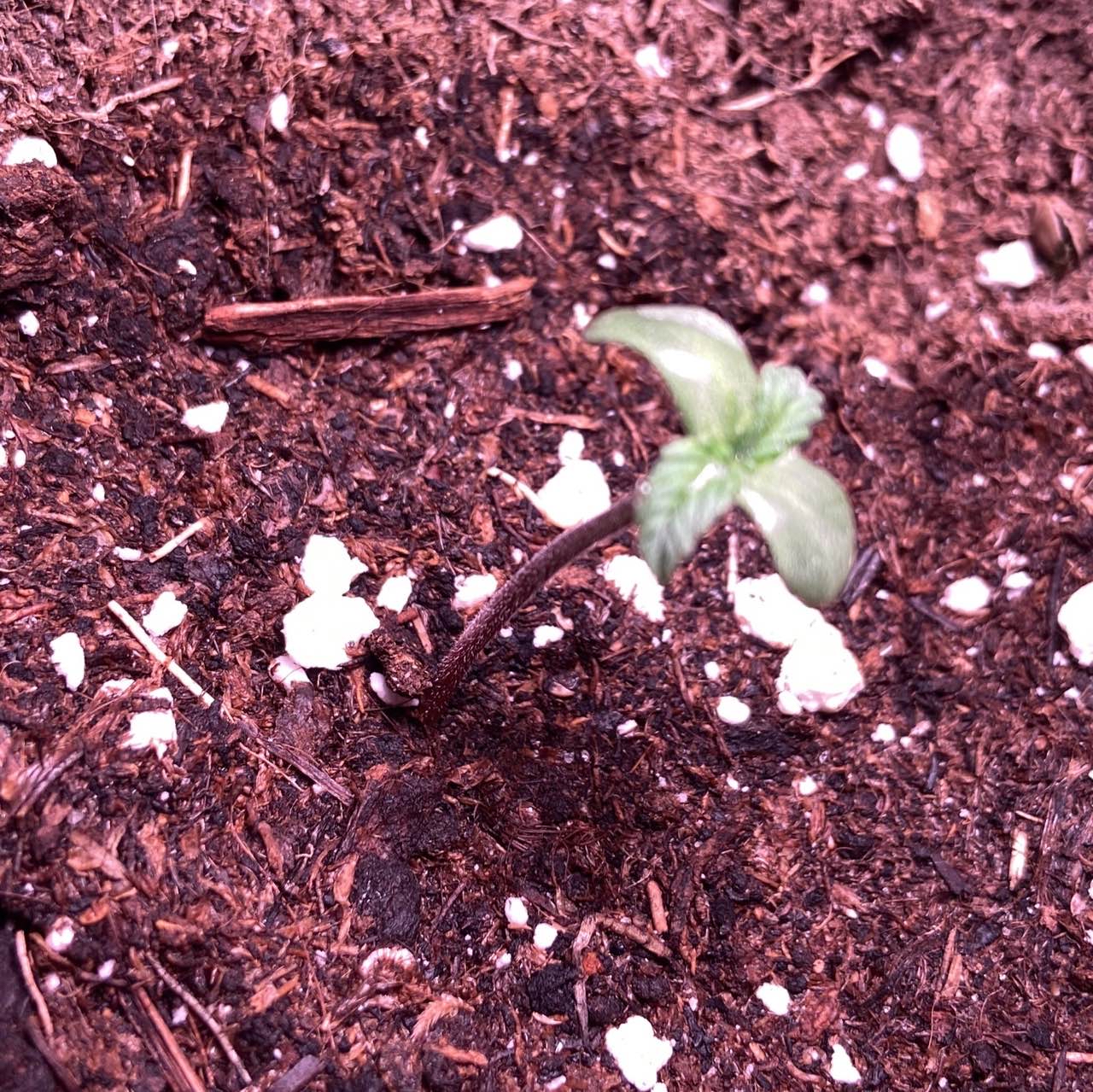 Just popped this morning. Had a helmet on it, after eating a 5 pound bag of pistachios, I just gently with a pair of scissors pried it apart. Looks good
3 years ago