CaptainRex
Hello World v1.1
First Grow - Summer 2020
Follow link for details in sister grows info: https://growbud.co/shared/sharedGrow?plantId=n7rwzdGM0Y This gal is growing in MotherEarth coco mix, will be running Dyangro, and enjoys long walks on the beach and a mid-day toke.
Mephisto Auto Forum Stomper x 3BOGS
Chapter 20: Weigh and Cyph After a week of drying it's weighed in at .45oz! This is great considering the stunted growth this plant evidently had. I haven't smoked this plant yet, but I smoked v1.0 and it was phenomenal. See v1.0 for details!
3 years ago
Chapter 18: Bravo Six Going Dark Entering pre-cut darkness. I think it may be a little early for this one however I think most trichs are at least cloudy with some amber, and it will continue to change after chop. Can't wait to see the results!
3 years ago
Chapter 17: End of Summer I left the ladies for a week and they seem to be about as well rested as I am after that break. Fall colors certainly coming in, and this gal might be ready sooner than her sister due to the obvious stunted growth. Very excited regardless, hope you enjoy my subpar photography.
3 years ago
Chapter 16: Old but Gold This lady has made her saving throws. On deaths door step, she is a plant that will live so that's all that matters. Certainly a runt compared to her sister, after plenty of defoliating dead leaves I think it may survive. Let's enjoy an average looking plant:
3 years ago
Chapter 15: Push it to the Limit Just kidding overfed these kiddos by 1000EC fuck. Check your units!!
3 years ago
Chapter 13: Every Day is a Winding Road I guess I haven't updated in a bit when I look at the last photo. This gal has gone through a lot, and although I think these photos look a lot worse I may not have posted in the peak of her deficiencies, so this is actually looking better. It's stressful to watch, but I've not given up yet! I would like to note that I don't believe the deficiency a plant shows necessarily matters if you are managing pH, NER, EC, and heat/humidity. If it shows a deficiency, it's likely one of these are off, not that it needs to be supplemented with a specific nutrient. Lock out from pH, nute burn, overwatering, poor VPD are the root problem when it's showing a deficiency, likely not the nutrients going in. At least that's my take away from lots of reading and posts about "is this an X deficiency". Worth consideration moving forward, thinking your plant is not getting enough of a nutrient being provided is not because it's not present.
3 years ago
Chapter 12: Color Me Concerned I really have no clue what's going down with this plant. Some obvious major deficiency, but the definciency isn't my concern it's what's causing it. My other plant is getting the same nutes on the same cycle and is flourishing. I've tried flushing with pH'd water, flushing with pH'd cal/mag, testing that it's getting enough individual water, testing in and out pH and EC. All the numbers are "good". Who knows what that means. pH was 6-6.2 end of last week, which is not ideal, but now is 5.53 which is perfect. EC has been roughly 1200-1300 in and around the same out, which ideally it'd be higher but I've checked I'm getting my 20% runoff. This baby may get away from me. I'm sad about it I really am but I'm lost as to what to do. May she go in peace or come back stronger than ever! You're in my thoughts v1.1.
3 years ago
hashCompany Yeah that's super weird man. Honestly though that new growth is pretty sexy looking. Hope she makes it man.
Chapter 11: In Sickness and In Health This beauty has begun to demonstrate some signs of sickness. Past two days drooping leaves. I removed approximately 8-10 leaves that were majority yellow. Still looks worn out after this though.
3 years ago
Chapter 10: Stress Management These gals have been on a practical luxury vacation since my return, and it's really showing! About a week into flower now, and although this one is a little smaller and harder to LST both because of size and cabinet position (I cannot remove the plants from the cabinet!) flowering is really coming along. Dynagro nutes keeping them healthy for sure. Carbon filter added to keep the dank in! But boy is it sweeet! See growth pics below :)
3 years ago
Chapter 9: Beauty and the Beast There's a saying, Twins come in twos, and these fraternal twins encapsulate the ol Beauty and the Beast moniker. While her sister is a fooking beast, a legend of the cabinet, this gal is a beauty blissfully entering maturity and flowering with grace after a challenging teenage years. The adjustments made to the reservoir and nutrient mix seem to be paying off! Let's continue to follow her journey into full Flower!
3 years ago
Chapter 8: Brown is the New Green Day 27 since sprout I had a week get away and the girls were left to fend for themselves. Gluttoned by beautifully prepared nutrient mix the first 6 days and maybe the 7th only slightly, the 8th and 9th (today) surely were drier than they should have been. A "recharge" of calmag and a foilar of Bloom nutrients has begun to help recovery. Close attention and new nutrition schedules will bring these newly flowering ladies to new heights! Bush enthusiasts beware! (Please note that I have returned more tanned and vivacious than ever, which will certainly infect my own plants will for life!) Check out my photo shoot below (last ones portrait mode)
3 years ago
Chapter 7: Summer Camp These sisters are living it rough for summer camp, getting the full adolescent experience. Unmonitored by their guardian and care-taker, it's some much needed time of self-discovery and mischief. Hopefully this will allow them to blossom into beautiful young plants upon my return. They grow up so fast 😪 See v1.0 for some irrigation updates. Day 18 since sprout!
3 years ago
Chapter 6: Growing Pains Progress has slowed down and this ones a little smaller than her sister. Hopefully she is able to easily adjust to the recent watering changes!
3 years ago
Chapter 5: how do you spell Algae 9 days since sprout Finally exiting the seedling stage, at this point treating much the same as v1.0. Same food and watering schedule. Have NOT been pHing the water, because my meter is busted and I have no distilled water to calibrate it in, I just let it sit out for 24 hours before use to let chemicals evaporate. Haven't noticed any ill effects so far.
3 years ago
Chapter 4: Slow and Steady? While certainly smaller and a bit slower than her sister, this seems to be paying off with her newest set of leaves coming in fast!
3 years ago
Chapter 3: 'Wet 😐' She's certainly smaller than her sister, but puttering along! Broken ground for real this time. Managing humidity careful to keep these girls growing! W E T :|
3 years ago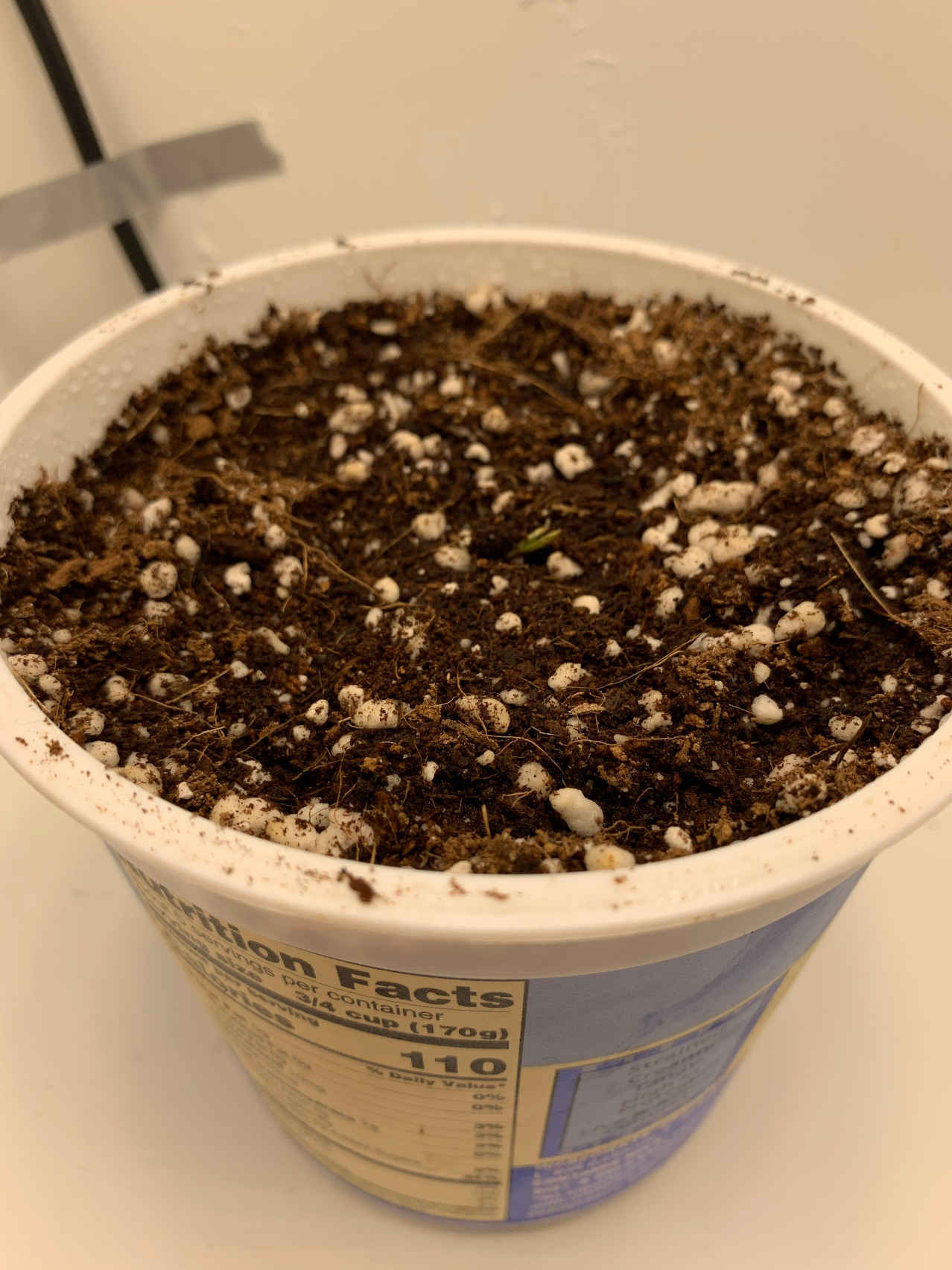 Chapter 2: Lift Off! Slightly behind her sister, here she is just peaking through the soil. Great work!! Keep it up! See Hello World v1.1 for set-up updates.
3 years ago
Chapter 1: Deja Vu All Over Again Hello World! Sitting in the back left of this photo. Lots to of changes to come in, although technical build updates will be featured in Hello World v1.0
3 years ago