col_forbin
Mephisto Double Grape Auto
1st grow
2 plants in 5 gallon felt pots. 24/0 cycle. Happy Frog soil, 240w 3000k QB, no nutes yet.
Happy Day 60!!! Buds still look good but they aren't growing much anymore. Been checking trichomes every day with the loupe. Amber on leaves but nothing in the buds yet. Do I need to worry about the trichomes not maturing for some reason? Hope not. Being patient. Cheers y'all happy Friday!
2 years ago
Chugging along
2 years ago
Still not sure how to handle this deficiency but the buds look amazing and I'm just taking this opportunity to stop worrying and appreciate what I've been able to accomplish on my first grow. I owe a lot to the genetics! Been feeding like normal, bloom nutes to 600-700 PPM and 6.5ph. Took some nug shots today just for fun. Trichomes are cloudy but only amber on the leaves so far. Unless anyone thinks I have reason to worry, i'll keep em going til that amber shows itself. Happy growing ☺️
2 years ago
Toss2Moss Man, I'm jealous! Already so frosty.
SwanOrganics Keep em flowering until you are happy with the trichomes. Patience is paramount at this point
LOOKING FOR ADVICE!! I've been dealing with what I'm pretty sure is a phosphorous deficiency on this lady for a couple weeks. It started low and moved up, I've had a lot of leaves turn completely brown and crunchy, with a discoloration that moves in from the sides, causing brown and yellow until the leaf falls off or crumbles. I tried to stop it by flushing to 6.5ph w/ a bloom nute solution and it may have slowed, but it never stopped and by this point the leaves attached to all of the main bud sites are yellow with brown/red colored splotches. What's left of the lower vegetation actually looks great which makes me wonder if this is now a new or additional issue. The buds themselves seem very healthy but I think they have stopped chunking up. So I need advice. Do I keep feeding? Start on only water and head towards chopping? How much do I have to worry about this leaf issue affecting the buds if it continues? Thanks in advance if anyone has a suggestion!! Blaze on!
2 years ago
Col_Forbin Cloudy and well formed but only a few dots of amber here and there
Ok lots of updates since last. After flushing both plants to get the runoff ph right, the issue seems to have slowed considerably on Plant B, which had more vegetation and not much has spread to flower leaves. I have since fed a ph-balanced mix with 2 tbls Buddha Bloom and 1 tsp CalMag. She looks great and flowers are really pumping out the frost. She shows no sign of slowing down so I'll keep feeding her for now. Plant A on the other hand...the issue seemed to progress even after flush so I watered her again (a tad early) with a ph balanced solution with 2 tbls Budda Bloom just to get her some food. Since then I *think* it has slowed a little but it hasn't stopped and is affecting upper leaves near bud sites. Is this a big problem? At this point I'm thinking about harvest and whether to continue her on nutes for another watering or just plain water and let her just absorb what's left from the green leaves. Anyone have a suggestion? Pics 1-3 Plant A Pics 4-6 Plant B
2 years ago
CRISIS!!! Lots of progression on my yellow/brown/dying leaf issue. It has spread now to some of the leaves at the very top of the plant. After spending time researching, I'm almost positive this is a phosphorous deficiency. I decided to thoroughly flush both girls with a 6.5 ph solution of water and a small amount of Bloom nutes to replenish lost NPK. Testing runoff after each gallon, initially I was getting readings of about 5.7-5.8. It took a lot of water to get the readings up to 6.2 and it didn't want to budge from there. I finished by removing a few of the almost completely dead leaves. I HOPE THIS WORKS
2 years ago
Gdfm Could be phosphorus or maybe also nitrogen with it combined. Which size are your pots? I had the same experience.. autos grow good in my soil but then they had deffiencies when starting to flower. Add nutrients yes
Col_Forbin Pots are 5 gallon. About to post another update
Watered yesterday. 1 tablespoon Buddha Grow and 2 teaspoons CalMag per gallon (per plant). Still worried about yellow and brown leaves. Bought a PPM meter. Nugs are starting to look frosty! Different smells already coming from each plant. Very exciting. Hoping I can make it to chop day without too much more damage 😬
2 years ago
Watered today! Each lady is drinking exactly 1 gallon with a little run off. Added 1.5 tsp CalMag and 1 tsp Buddha Bloom. Hoping to push the nutes a little harder soon, but I needed to get this lower leaf death issue under control. So far they seem pretty happy so hopefully that solved the issue. I think my LST is working. Colas looking more even and spread out now. Hopefully it all fills in nicely 🥳
2 years ago
Batjezzy804 Looking sweet man can't wait to see finished
Watered yesterday. Used 2 tsp Buddha Bloom between both plants. Lower leaves definitely showing a big deficiency, lots of yellow and brown. I need to add Cal Mag next watering. Should have been using it more but I haven't had PH Up to balance it out. Rookie mistake. Ordered and should be good to go. On plant 2, the main cola is the furthest one to the bottom right in the picture
2 years ago
Plant 1 looking very nice. Wondering if I should even continue to LST or just let her grow into herself. Plant 2...not sure what it's going to look like. I think she's gonna be talllllll...temps have been 80-83 and humidity 60-65
2 years ago
Watered today with 1 tsp Buddha Bloom and 1/2 tsp Buddha Grow between both plants in about 2 gallons. Big differences between the two. Plant #1 is shorter, vegetation is less dense and flowering started more quickly. She is responding really well to training and now the flowering sites are clear and spaced out. Plant #2 is bushy as all hell and is finally starting to flower, and I am considering some defoliation on this one. Plant #1 (left) is almost standing up straight, plant #2 (right)'s main stem is bent almost 90 degrees to the right
2 years ago
Watered today- 1 tsp Buddha Grow in aprox. 2 gallons of water between the 2 ladies. Ph of water was 6.2-6.3. Runoff was 6.3-6.4. No progression of any leaf issues. Flowers are starting to form :)
2 years ago
More LST. Things are looking good I think?? VERY slight burnt tips on a few leaves. Too heavy on nutes or maybe my ph was low on the last feeding.
2 years ago
First signs of deficiency (I think- mag?). Watered both girls to slight runoff (almost 2 gallons) with 1 tsp Cal Mag and 1 tsp Buddha Grow. Spots and discoloration seem to only be affecting a couple leaves on Plant A so far. Hopefully the Cal Mag will nip it in the bud.
2 years ago
Gave about 2 cups of water to each lady as top half of soil had dried but bottoms still wet. Will feed with next round of Buddha Grow when it's all dry again. Untied them from LST to get a look at the progress. How do they look?
2 years ago
Chugging along
2 years ago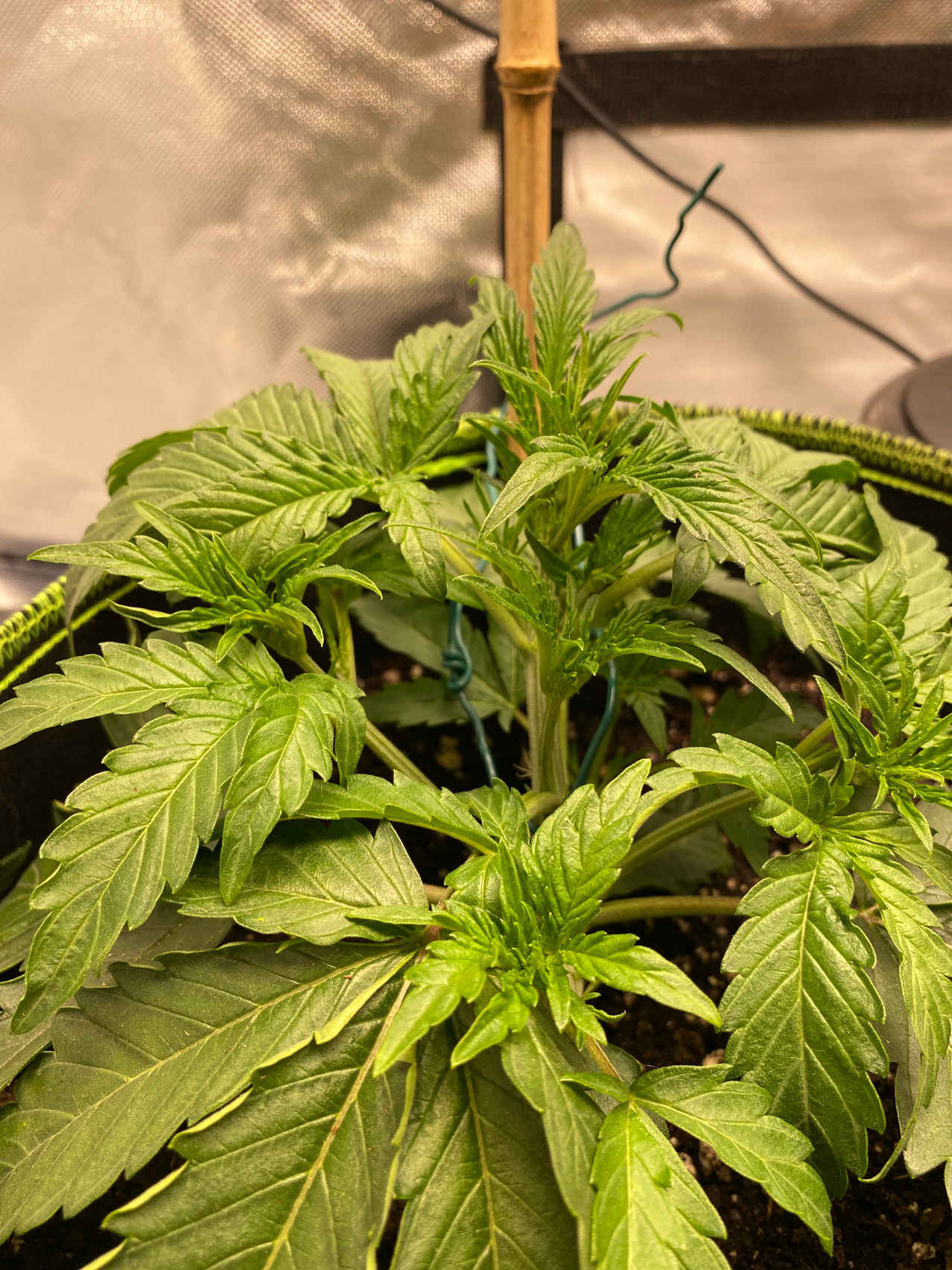 Yesterday (D17) fed 3/4 tsp Buddha Grow in a about 1.5 gallons of water between the two ladies. Just enough to pool a little at the bottom. Later did some low stress training which I think I understand but that still makes me nervous. How am I doing?
2 years ago
Gdfm LST is great in this stage.. try to give good light to new growing sites. It will give you a lot of extra buds :)
Col_Forbin Thanks for the encouragement! I think I've gotten as many bud sites as possible exposed to the light thru bending the top back and tucking fan leaves behind. Other than that kind of winging it. Hopefully I'll know when it's right to move things around for even coverage
Lots of growth over last couple of days. No change in curling of older leaves but doesn't seem to be a big problem overall. Aaaannndd....pistils!!! They are in need of a drink and I will be putting in Roots Organic Buddha Grow at 1/4 strength for their first meal.
2 years ago
Slight curling up at edges of leaves. No change with watering. Raised light a couple inches and turned down to just below 50%
2 years ago
Gdfm Check it first. But maybe spraying with water could also be good. If the place where they are is too dry. Another thing that could cause that is having a fan too close. The lights can also be the issue, yes
Col_Forbin Thanks for the advice! I have been playing around with the humidifier and the light dimmer a bit and no real change. Newer leaves appear unaffected and doesnt seem to be an ongoing problem so far!
Col_Forbin Could definitely have been the fans being too strong for the little guys early on
💧💧💧 3 cups water per plant
2 years ago
Day 10 since seedlings popped. Lights 2 feet away at half power. Gave 1 cup 6.5 ph water to each plant to wet top layer of soil.
2 years ago