omaroso
Blue Dream and Jack Herer Clone
2 clones
One Blue Dream and one Jack Herer plant in a 2x2x4 GrowTent.
Finally dried and cured. Smell is amazing, they lost their smell to a "flower" smell after the second day of drying But when i cured them for 6 days in mason jars their smell came back better than before.
5 years ago
Harvested Did not weigh (waiting until they finish drying) Far is Jack Herer, near is Blue Dream About 1.5 oz. of JH and 3-4 oz.of BD
5 years ago
This is one of the last days before harvest, most pistils are starting to have an orange color.
5 years ago
Blue dream bud
5 years ago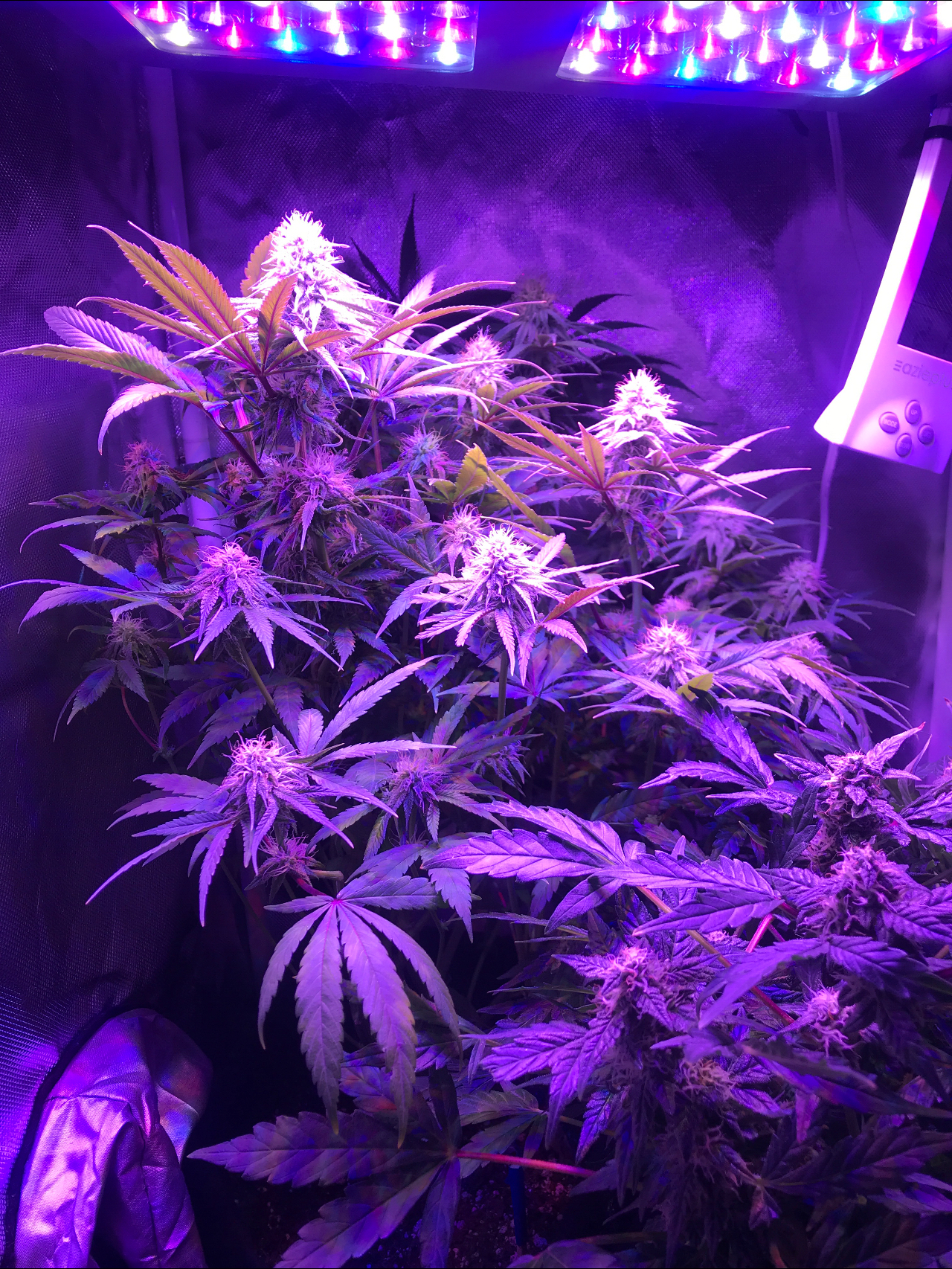 Still on the same cycle and nutrients, buds are getting bigger.
5 years ago
Plants were fed bio bloom and bloom booster. Heavy feedings on both. And the blue dream plant has finally stopped stretching and started budding.
5 years ago
Close up of blue dream buds
5 years ago
Today both plants were fed 1/4 gallon water mixed with biobloom and bio bloom booster.
5 years ago
Buds starting on the jack herer
5 years ago
That blue dream just exploded 😂. Fed them today some bio bud grow, bud fertilizer, and squid supplement(small feeding).
5 years ago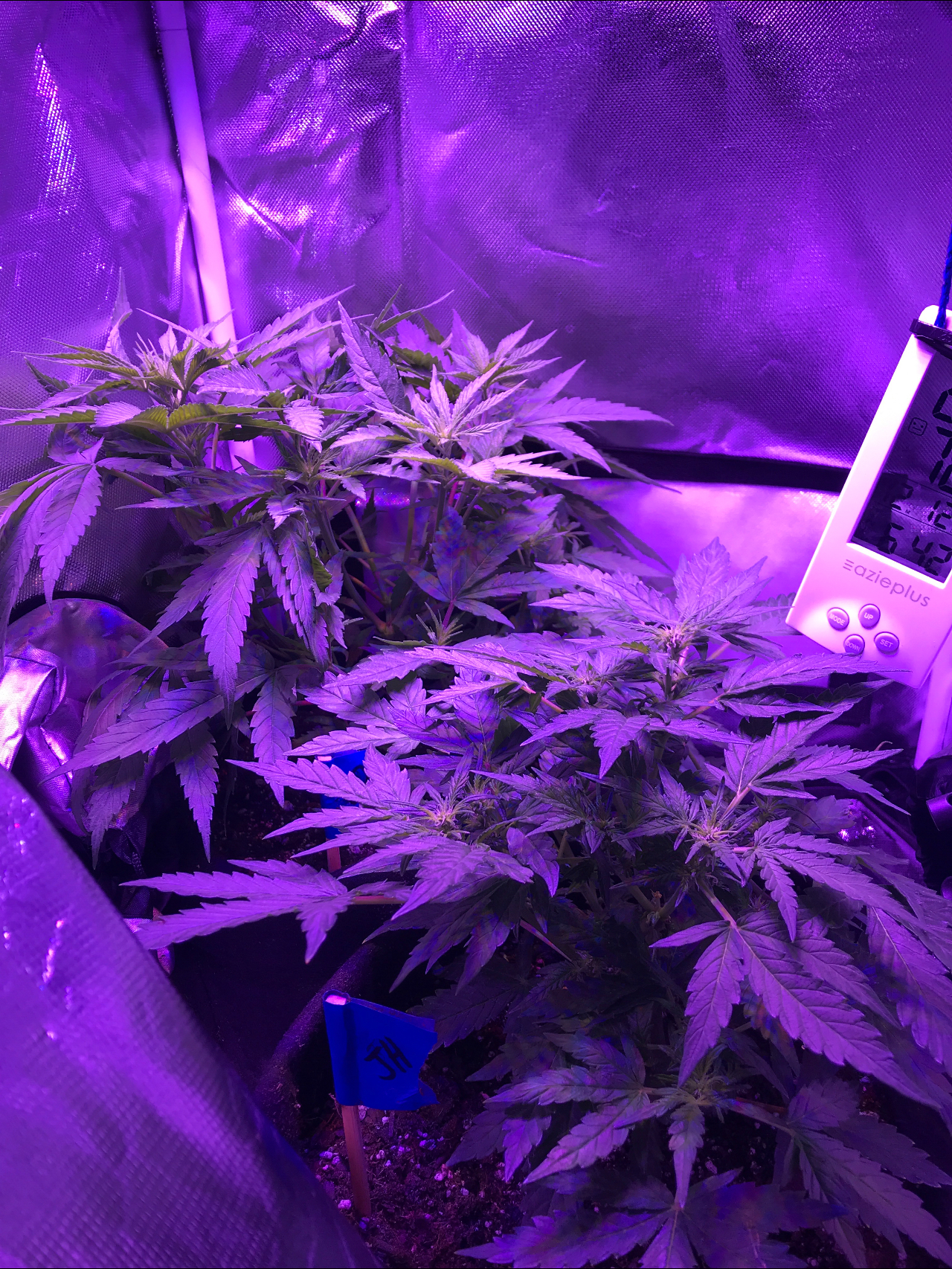 Blue Dream is about 16 inches tall, JH is about 12 inches tall. BD looks bushier But JH seems to have more budding sites.
5 years ago
Plants had a small feeding today. In 2-3 days soil should be dry enough to water again.
5 years ago
Nickkhansen Jack is the best shit I smoked! My next plant will be a jack too!
omaroso @Nickkhansen thank you, yes i really enjoy the jack herer high, i just sprouted 2 white widow seeds and 1 jack herer for my next grow. I originally planted 2 and 2 but one of the jack herer seeds didnt sprout.
Currently on a 12/12 schedule. As you can see the blue dream exploded with foliage out of nowhere and its only been a couple of days since the last picture. The jack herer has also been growing but the blue dream definately stands out.
5 years ago
Last feeding for growth in about two or 3 days i'll be switching it to bloom fertilizer and switching the light schedule from 16/8 to 12/12.
5 years ago
Plants have been growing more, specially the Blue Dream. I cut its top leaves off and know its back to having big fan leaves
5 years ago
Trimmed them yesterday. Giving them a few days to recover and then a week more to grow and then switching to a 12/12 hour cycle.
5 years ago
Leaves on the jack herer seem to be yellowing, i believe it might be too much water I last watered the plant on day 25 and will wait until soil looks a little dry before adding water again.
5 years ago
Watered and used bio-thrive grow and bio-root grow yesterday. The blue dream looks like its growing faster. The jack herer looked like it started to wilt so i removed some the water stagnating on the bottom and two days later its back to normal.
5 years ago
Today I used a mix of bio-grow and bio-root grow. That made the ph go down to 5.3 so i used ph up buffer to bring it back to 6.7. Used 3/4 of a gallon to feed both. Tomorrow i will add more soil.
5 years ago
The plants are about 6 inches tall going with a 18/6 hour cycle. Feeding once every few days or when soil feels dry
5 years ago